TRI247 Workout Series #118 – '60 Minutes of Jinx'
Wednesday, 29th

 April 2020 7.00pm UK time on Zwift
Ok, so triathlon racing might be over for quite a while – but that doesn't have to stop all of your training, particularly cycling from the comfort of your own home / pain cave! Thanks to Zwift, you can self-isolate, train hard (or, as hard as you want), and get your fix of social interaction all in one, thanks to the TRI247 Workout Series!
We've got another brand new addition to the TRI47 Workout Series this week. A member of the Great Britain Olympic Triathlon team at the Athens Games in 2004, long-time Pro triathlete and coach, Marc Jenkins, is your ride leader and has set the session this week.
If you are new to Zwift and are not sure how it all works, it's well worth checking out these recent articles we've published to find out more:
The Session: 60 Minutes of Jinx
This week's session will involve intervals extended 'under/over' intervals, below and above Functional Threshold Power (FTP) level. The structure of the session is:
10 minutes progressive warm/up
Prep Set – 3x 1 minute effort, 1 minute recovery
Main Set – 5x 7 minutes as 5 minutes varying above/below FTP, 2minutes recover.
(***Note*** the final 5minute block is a a continuous effort. Feel free to increase / decrease power target through the Companion app to find a level which you can hold for the full 5 minutes).
5 minutes warm/down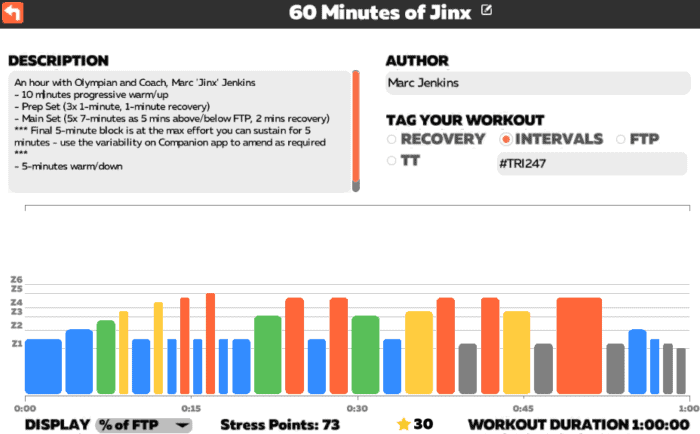 Tonight's ride leader: Marc Jenkins
This week's session will be lead by Marc Jenkins (aka 'Jinx'), one of the UK's top professional triathletes for more than two decades, representing Great Britain at the 2004 Olympic Games in Athens.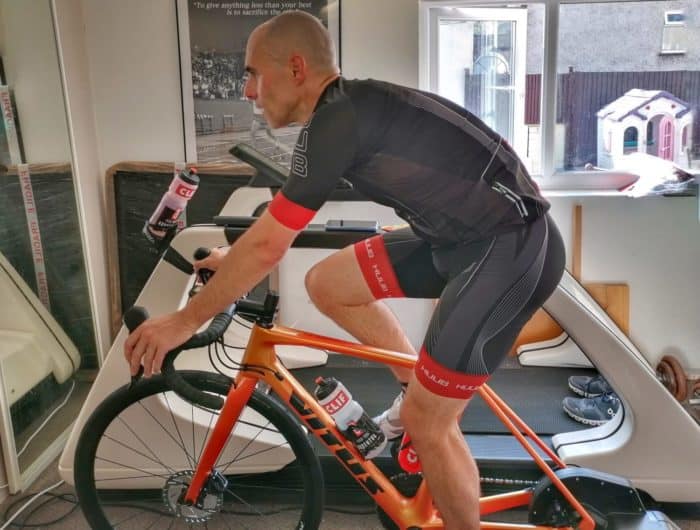 Marc was a British Champion, twice represented Wales at the Commonwealth Games (2002 and 2006) and represented Great Britain at multiple European and World Championships, ITU World Cup events and more. In 2015 he was presented with British Triathlon's Gold Pin Award in recognition of his contribution to the sport.
Since 2007, Marc has been the coach to his wife, Helen Jenkins, a 2-time World Champion and 3-time Olympian. He brings that wealth of experience and knowledge to the '60 Minutes with Jinx' he has set this week.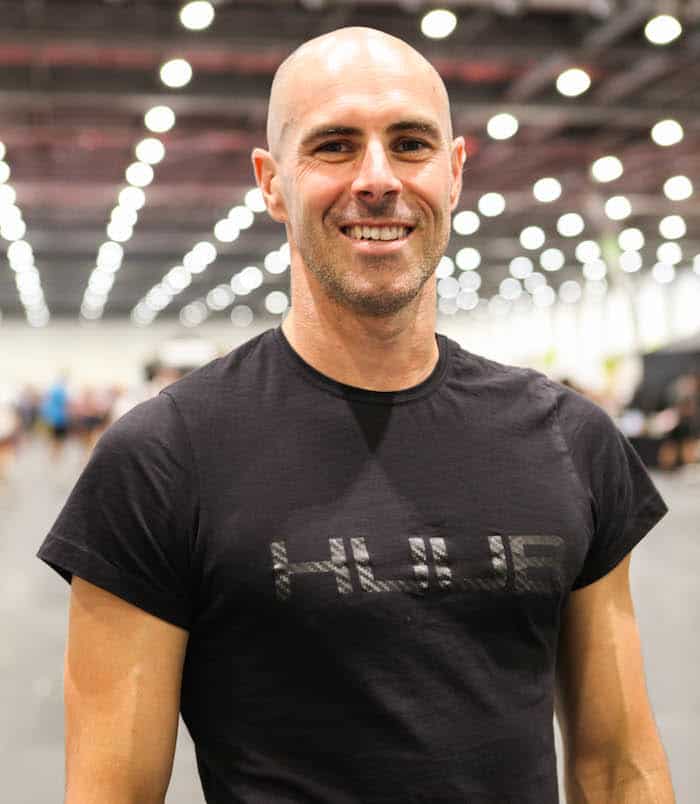 Join us at 7p.m. on Wednesday 29th April 2020 (UK time) on the virtual roads of Watopia. Set your reminder now on the link below or via the Zwift Companion app.
[TIP – It is always worth having the (free) Zwift Companion app to hand on your mobile device. Within the workout screen you can toggle your FTP by +/- 10% 'on the fly', which will immediately change your power targets during the session. Legs feeling heavy, can't quite hold your power targets? It happens! Rather than can the session, how about moving your targets down 5% first, before giving up completely? Alas, the body isn't a machine and can't always deliver as you hope/think it should, so a bit of flexibility and not getting too obsessed with the numbers can be a good thing!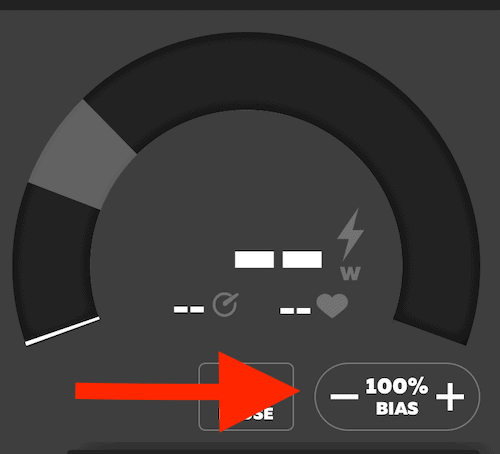 On the flipside, perhaps you are having a good day or increasing the overall training stress of the session better meets your own training goals for that day? In that case, you have the option of nudging your baseline up in the same way.]
The session is genuinely open to everyone of ALL abilities. Group workout mode works fantastically in Zwift and ensures that the power targets are tailored to YOUR level. It makes no difference if your FTP is 400 watts or 100 watts, the targets you see will be specific to you – all while being part of the on-screen group.
Joining Instructions:
The workout will begin promptly at 7.00pm UK time, Wednesday 29th April 2020. It is worth logging in 10 or 15 minutes before the session to make sure you are set up and ready to go, where you will be able to warm up in the virtual 'holding pen'.
Look for the TRI247 Workout Series event in the list on the right of the screen once you have paired your sensors. Click to JOIN and you will be taken to the start line ready to begin the workout.
Make sure you have set your FTP level correctly before you join the workout as all the intervals are based on a percentage of FTP so it is important to get that right. If in doubt, dial the FTP number down 10 or 20 watts as it is better to finish the session than to feel like it is too challenging.
If you have never used Zwift before but don't want to miss out, head to the Zwift support page for tips on how to get the most out of your setup.
After the session head over to the TRI247 Facebook page for some post ride chat.
Zwift Group Rides: TRI247 Workout Series
The cool thing about a group workout on Zwift is that varying levels of ability can ride together in a group and all finish the session together having done the same relative effort, even if the actual watts are significantly different. It is not a race, but a shared goal to get a good session in the training log.