If you're racing at the Ironman World Championships in Kona for the first time, you're probably going to be filled with a mixture of nerves, excitement and a touch of fear as you countdown to race day. The hometown of long distance triathlon, Kona is steeped in swim-bike-run history.
It's a place where records are broken, champions are crowned… and even the strongest of athletes can fall foul of the infamous Kona heat, humidity and crosswinds. With titles on the line and dreams to be realised, the Ironman World Championships in Kona is a race where anything can happen.
Four top tips for Kona novices
It's understandable that Kona first timers will approach race day with a heady cocktail of nerves, excitement and trepidation. To help alleviate those pre-race nerves, we caught up with seasoned Kona age-grouper Yvonne Timewell, and sports psychologist Dr Josephine Perry to share some tips to help you make the most of your first Kona experience.
AG 55-59 Triathlete & Zwift Academy graduate
Yvonne is no stranger to racing in Kona. Hailing from Penticton, British Columbia, she first competed in the Ironman World Championships in 2018. The next year she became a part of the Zwift Academy Tri team. Racing alongside her team mates with support from Tim Don and Sarah True. It was an experience she describes as 'surreal and epic'. In 2022, Yvonne returned to the Big Island to take the top step in her age category.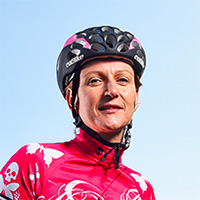 DR. Josephine perry
Chartered Psychologist at Performance in Mind
Josephine works with both elite and age-group sportspeople to help them overcome barriers and perform when it counts. Her own experience racing at Ironman Melbourne in 2013 prompted her journey to become a sports psychologist. Faced with crashing waves and driving winds, she realised that her reaction to fear was a choice she could control. That race became her fastest Ironman to date, and prompted a full career change into the field of performance psychology.
1) Familiarise yourself with the climb and descent at Hawi
Yvonne recommends making the trip out to Hawi ahead of the race if you're nervous about the Kona cross winds. "Make the trip out to Hawi so you can practice what position on the bike has you feeling the most comfortable and confident when you're descending in the cross winds. Try to stay relaxed!"
To help with those notorious cross winds on the ride down from Hawi, Yvonne's top tip for race day is to watch the riders ahead of you. If you spot them being moved around by the wind, you can prepare for the approaching gust.
2) Soak up the race week atmosphere
Don't let the pre-race nerves stop you from enjoying every experience the Ironman World Championships in Kona has to offer. Yvonne suggests taking a swim out to the coffee boat, participating in the annual underpants run and going to the welcome banquet to have that proud "I've made it to the Ironman World Championships!" moment.
Head down to Huggo's On The Rocks any morning during race week, and you'll most likely catch Bob Babbitt with one of your favourite professional triathletes filming an episode of the legendary Breakfast with Bob. And make sure you stop and soak up the famous Kona sunsets for a moment of calm amid all the hectic pre-race preparations.
3) Don't forget to stay hydrated during race week
Despite all those fun pre-race activities to experience, it's also important to schedule in some time to get off your feet and rest up ahead of the race. Staying hydrated is also key to make sure you don't hit the start line on race morning feeling dehydrated.
4) How to calm your pre-race nerves: "Embrace the fact you get to have an amazing adventure."
Lining up on a start line alongside the world's best can feel intimidating. If worries about how the race might play out or nerves about not being able to perform are starting to run wild – we've got some words of wisdom from sports psychologist, Dr Josephine Perry:
"We remember people and adventures far more than we remember results. When you add this to the fact that no race ever goes exactly as planned, especially not a race like Kona, then instead of fearing the unexpected and a result that feels slower that you deserve, embrace the fact you get to have an amazing adventure. See it all as part of the brilliant story you will have to tell for years to come."