IRONMAN 70.3 Bahrain – Saturday 7th December 2019
As you may well remember, I had my second visit to the capital city, Manama, for the 2017 edition of IRONMAN 70.3 Bahrain. I was there hosting the live stream commentary for IRONMAN, while my wife took part in the race. Having visited the country three years previously (the first edition of the race in 2014 was, at the time, Challenge Bahrain), it was good to be back. We thoroughly enjoyed it – and hope to return again in future years.
Bahrain may not be the most obvious destination for a British / European based athlete, but both of my visits – consistent with the feedback I got from other British athletes who visited and who I spoke to – was that it really should be. It's a surprisingly 'easy' journey, relatively inexpensive and importantly a well organised race with some special touches that you don't get at other events. I tried to summarise those in the following articles (which I've updated for 2019), which are well worth revisiting if you are considering the event yourself.
Having covered travel, accommodation and the race in the first two, here is a bit of an insight in to a few of the 'non-triathlon' things you might want to consider adding around your racing experience – and that may be appreciated by your support crew! If you are at the race this year (which takes place this coming Saturday), here are a few non-triathlon suggestions for you…
---
The IRONMAN 70.3 Bahrain experience: Part 3 – Tourism
If you are going to travel, you may as well see a few of the 'sights' while you are there – beyond the Expo tent – right?!
Bahrain is a country in the Arabian Gulf which is made up of more than 30 islands. Bahrain is an interesting place in that unlike for example fellow Dubai, its tourism is not significantly based around its beaches. Here are a few places to visit and things you can fit in to your trip while taking in the event.
Al Fateh Grand Mosque
In 2017 we stayed at the Wyndham Garden Hotel in the Juffair district of Manama. This is also the location of the Al Fateh Grand Mosque. One of the largest in the world, it can accommodate more than 7,000 worshippers at one time.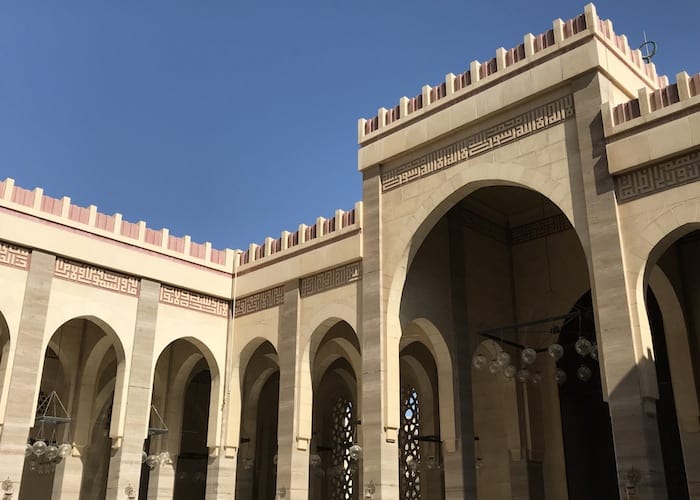 An incredible example of Islamic architecture, it is also one of the premier tourist destinations in Bahrain and open for tours (in a variety of languages, including English), from 9am to 4pm (closed on Friday). Worth a visit? Absolutely – it's rated at #2 on Trip Advisor of things to do in Manama. Entry is free and the tour guides are very welcoming and knowledgeable. Only around 4km away from the race HQ and transition, a short taxi ride out will be well worth and hour or so of your time there. More information HERE.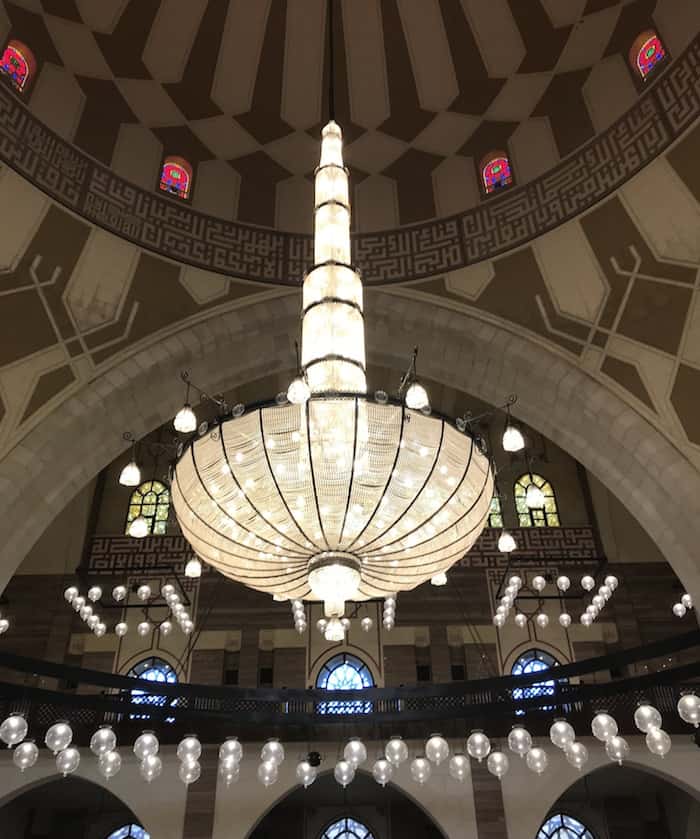 Bahrain Fort – Qal'at al-Bahrain
Qal'at al-Bahrain received UNESCO World Heritage Site status in 2005. A 10-minute drive from central Manama, this impressive archaeological site tells the heritage of the former capital of Dilmun, the area which historically encompassed Bahrain, Kuwait, Qatar and elements of Saudi Arabia.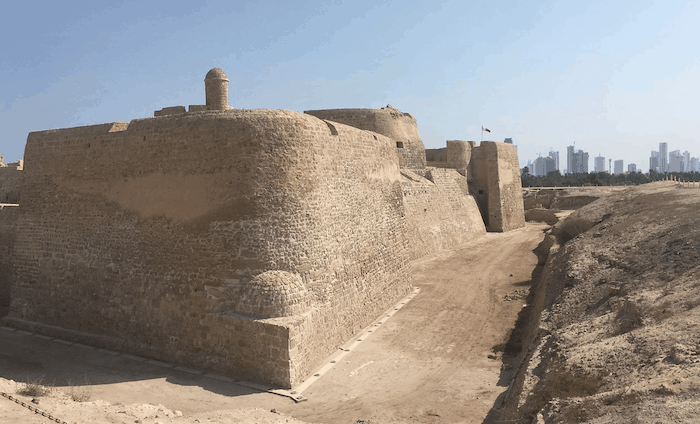 Open 8am to 8pm Tuesday to Sunday, the site includes the Bahrain Fort Museum as well as the 4000 years of architectural history. If architecture and history are your thing, it's another must-do. It's free to visit too. Perhaps pop in to the museum first to give you the context of the site and remains (which are incredibly well maintained).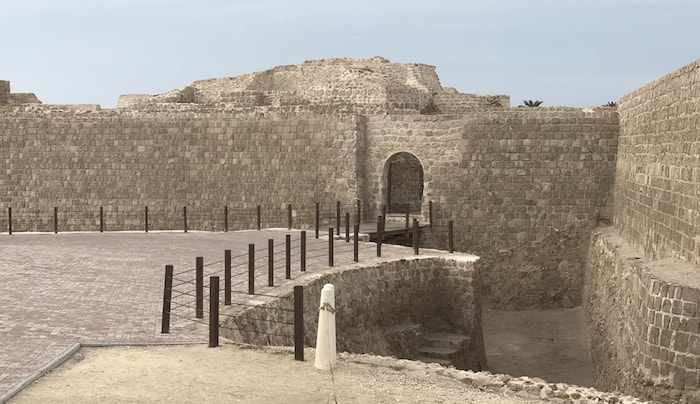 The excavations over the past 50 years have revealed residential, public, commercial and military structures that testify to the importance of the site over the centuries. These findings are brought to life by an audio guide available at the site museum.
Lunch at the Ritz Carlton Hotel 
Ok, not 'tourism' as such… but if you are travelling with a non-racing partner, how about treating them to a rather nice lunch in impressive surroundings? As its name would suggest, the Ritz Carlton Bahrain Hotel (website) is a five star luxury hotel. It has its own white-sand beach, private lagoon, island and spa – but before you think we've gone totally 'off budget', you can experience a piece of it, without totally breaking the bank.
You can go the full two Michelin Star experience if you want (and can afford it), but perhaps more realistically, go for the daily lunch buffet option in 'La Med' or some All Day Dining or Afternoon Tea Experience in the Lobby Lounge.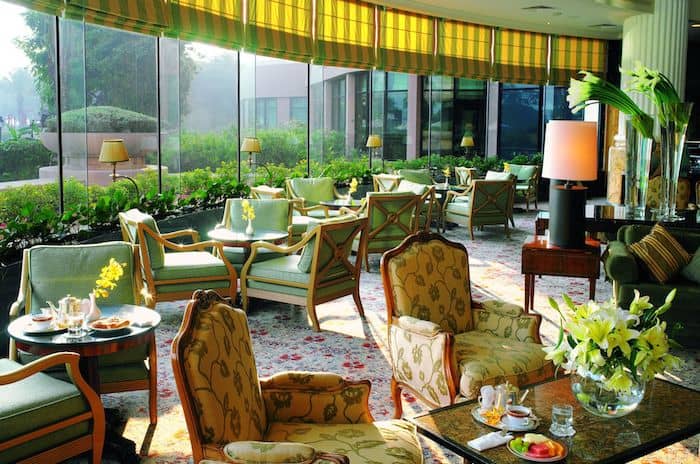 Perhaps surprisingly relaxed and unpretentious (they even have pasta and pizza on the Lobby Lounge menu, if you are still in race mode), it's a very nice place to experience a bit of luxury for a couple of hours. Your better half will almost certainly appreciate it, especially if they are going to be spending the majority of their time in Bahrain listening to you talking about aerodynamics, watts and heart rates.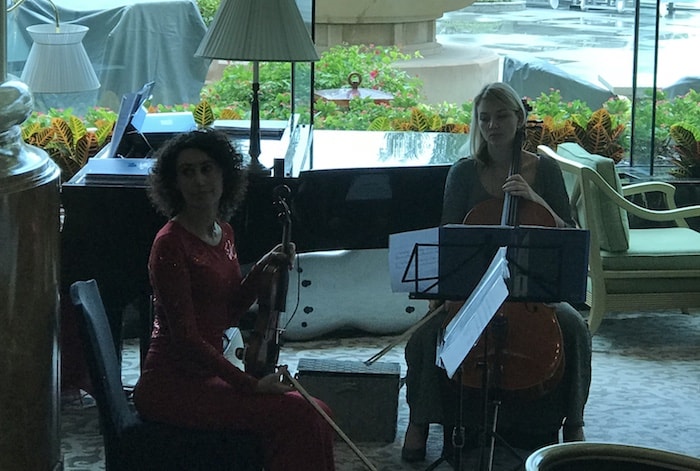 Bahrain International Circuit
While you'll get to ride on the Formula 1™ Bahrain International Circuit (BIC) during the race, a visit to the venue (www.bahraingp.com) may well still be on interest if you want to spend more than a few minutes on the high speed tarmac.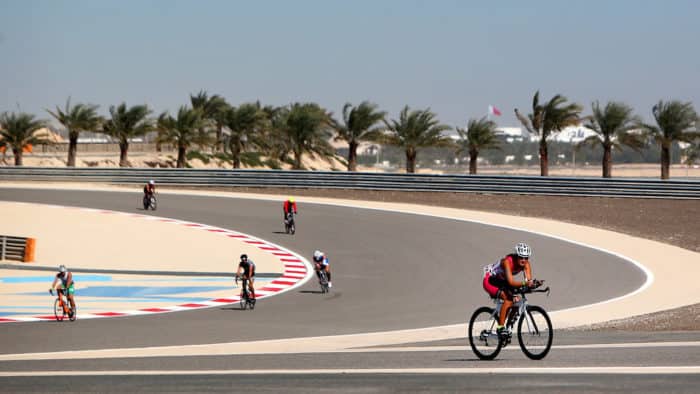 You can have your own 'driving' experience at the venue, with Karting available (details HERE), which Alistair Brownlee and Chris McCormack have visited, along with a host of other driving experiences.
https://www.instagram.com/p/Bb9krqyBSNV/
Unlike all of the previous suggestions, bear in mind that the Bahrain International Circuit is around 30/35km outside of Manama, so you'll have to consider transport beyond a 10 minute taxi ride.
Shopping
I'll include this for completeness… while at the same time admitting that I'm the last person to be giving advice on this! I personally try to avoid shopping at all costs, but accept that for many, it is considered an 'attraction'. In that sense, Bahrain has plenty of large-scale and varied malls of all types to suit all budgets.

Perhaps best to determine exactly what you are shopping for first, but the many options available include the Al Aali Mall (website), City Centre Bahrain (website), Seef Mall (website) and right by the race venue, The Avenues (website).
For more details on attractions and things to do in Bahrain, try out the following links:
Bahrain Tourism and Exhibitions Authority – www.btea.bh
Trip Advisor's 'Best things to do in Bahrain – CLICK HERE
Time out's 10 places to go in Manama – CLICK HERE
Other links in the '70.3 Bahrain experience' series: