IRONMAN 70.3 Bahrain – Saturday 7th December 2019
While the 2019 triathlon season is drawing to a close, there are still some significant events remaining on the schedule to look out for and follow before you stuff yourself silly with Christmas turkey…
One of those is IRONMAN 70.3 Bahrain – the IRONMAN 70.3 Middle East Championship – which in early December will offer Pro athletes a total prize purse of $75,000 ($14,000 for the winners), along with two male and two male qualifying slots for the 2020 World Championships in Taupo, New Zealand.
12 months ago, Norway's Kristian Blummenfelt set a world best time of 3:29:04 at the speedy Manama-based event, to take the win ahead of Gustav Iden – who would go on to became IRONMAN 70.3 World Champion in Nice, France. Kristian will return this year, as will Great Britain's Holly Lawrence (who was second in Nice), both seeking a third consecutive Bahrain victory against what will be quality fields.
If you want to join them, alas, you are too late as this popular event has been sold out for several weeks now. Much of that popularity is with British athletes, both ex-pat and those travelling, who make up more than 250 of the total entries in the sold-out field.
We visited the event in 2017 (and indeed the very first 'Challenge Bahrain' in 2014), and put together a mini-series on our experiences, which may well prove useful for you if you are heading out there this year or considering it for 2020 or beyond.
With the 2019 edition fast approaching, it was time to refresh and republish those to help readers who may be looking for first-hand experiences and tips.
---
IRONMAN 70.3 Bahrain 2017 – Part One
Five years ago I had an enjoyable few days in Bahrain with my family when we visited and took part in the much-heralded debut of Challenge Bahrain. With a $500k prize purse, not surprisingly, the race attracted a stellar Pro field, with the races being won by Helle Frederiksen and Michael Raelert.
Shortly after returning I wrote an article – The Challenge Bahrain experience – reflecting on our own (non-Pro), experience of both the race and Bahrain generally. It was certainly a trip we enjoyed.
Such is the way of the sport, politics and whatever may or may not have happened behind the scenes in the months following that race, Challenge Bahrain never made it to year two – but Middle Distance racing did continue in Bahrain in the form of the IRONMAN 70.3 Middle East Championship. As you'll likely know by now (recap it HERE if you've forgotten), Holly Lawrence and Kristian Blummenfelt won very close Professional races last year, the fourth edition of the M-Dot event.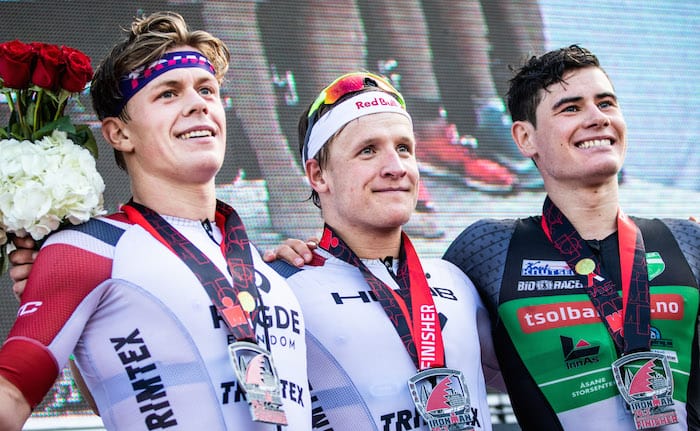 Thanks to the kind invitation of the Bahrain Tourism and Exhibitions Authority, I had the opportunity to return to Bahrain in 2017. With so many options for overseas races now available, should Bahrain feature on your list for consideration for a late season half distance race?
This is part one of our first hand experience to help you decide if Bahrain should be on your 'possibles' list. First up, some of the practical basics on travel, hotels and costs.
Travel
Getting to Bahrain – especially if you are based in the South of the UK as we are – is a pretty painless experience. Bahrain is three hours ahead of London time wise, so there is nothing significant in the way from jet-lag related issues.
From London – we flew from Heathrow – flying time is around six and a half hours. There are direct flights to Bahrain from LHR with both British Airways and Gulf Air. Gulf Air is the principal flag carrier of the Kingdom on Bahrain and for the event in 2017 they were also the partner airline to the race, [UPDATE – they are for the 2019 race too] offering 20% discounts on both Economy and Business class flights and carry your bike at no extra cost if you book with the discount reference. So, well worth checking that out when comparing prices and options.
The nature of airline pricing means that the, "how much would a flight cost?" question might well be, "how long is a piece of string", but very roughly, perhaps £400-£500 might be the approx. sort of area you are looking at? [UPDATE – that seems consistent with flights searched in November 2019 at the time of writing also – and that's before applying any partner airline discounts, so may actually be a little cheaper].

Our flights times were very pleasant – depart 9:30am (London time) and arrive in Bahrain at 7:00pm (local time). We travelled out on Wednesday (the race is always on the Saturday), and return flight wise, we travelled back late on Sunday night / very early Monday morning (local time), which gets you back into LHR early Monday, around 6:30am. So, if you can sleep on a plane, that 'overnight' return can feel much more practical and pleasant than the flights times look on paper!
Those times are very much in line with what we did in 2014 also, and in my view are ideal for the trip, providing sufficient free time pre/post race, while minimising days required away from work for example.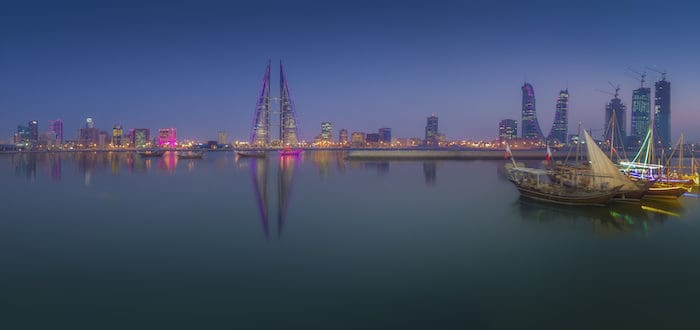 Given those flight times you could – and some British athletes did – quite realistically race on the Saturday and be back in London before 7am on Sunday! It'll take a bit of planning (and probably packing your bike box in a hotel reception or similar…), but is a realistic option, as you'll likely still have 12 hours from finishing the race to take-off. With the airport 10 minutes taxi ride away from the city centre, no long transfers are involved either.
More generally, given the typical 'return' flights times from Bahrain to London, the result is that you likely need one less hotel night than you may initially think – thus reducing your potential costs. For example, in our case – depart London Wednesday (a.m.), arrive back in London Monday (a.m.), you only need four nights hotel accommodation (check-out on Sunday), as by Sunday late evening you'll be making your way to the airport. With so many flights around these times, you'll find that the local hotels are well used to requests for them to store your luggage – or perhaps negotiate a slightly later check-out time? It also gives you all day on Sunday at your leisure (I'll cover a few of those options in part three).
Hotels
One thing that is unlikely to be a problem in Bahrain is finding a hotel room. While the arrival of circa 1500 athletes and friends/family can cause the 'no vacancies' signs to appear widely in some venues, there appears to be a large and increasing range of accommodation available in Manama. An event like the IRONMAN 70.3 is not going to cause a hotel shortage in a major city.
The race is based in Bahrain Bay, central Manama – the capital of Bahrain – and is a fast-developing city, driven by it's increasingly prominent role in the banking and financial services world. A side effect of that is the vast array of quality accommodation available within easy reach of the event venue, much it within walking distance or a five minute taxi ride.

The swim / T1 / T2 / finish all take place within the shadow of the 5* Four Seasons Hotel, set on its own exclusive island. The height of luxury, should budget be no object then you couldn't more be more readily placed… though, for the vast majority, a slightly more value-driven offering might be what you are seeking. [UPDATE – while still in Bahrain Bay and in practically the same water, the swim start/finish/transition did move from 2018 a few hundred metres to The Avenues, making it even more convenient and closer to central Manama].
As with the airline, the race does have a partner hotels (more HERE), which this year is based in the Seef district of Manama. Again, discount offers are available on rooms, food and beverages – so worth checking those out against what else is available in the plentiful supply of accommodation.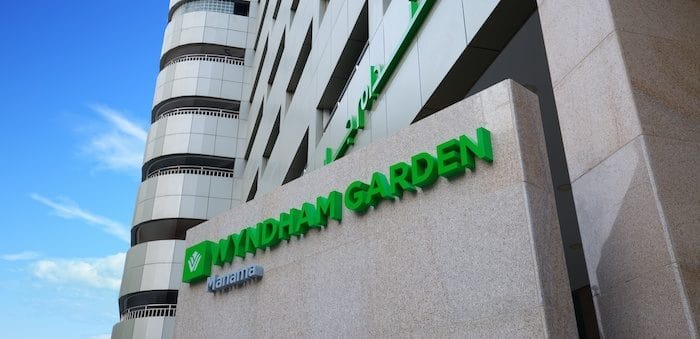 As if to emphasise my point about the hotel 'stock' in Manama, in 2017 we stayed at the only just opened Wyndham Garden Manama (Website) – not to be confused with the Wyndham Grand Manama (which is quite literally a stones throw from transition). The Wyndham Garden is a 4* very large (well over 400 rooms), brand new hotel which is based in the Juffair district. It had literally only been open a couple of weeks when we arrived. Our stay there was faultless.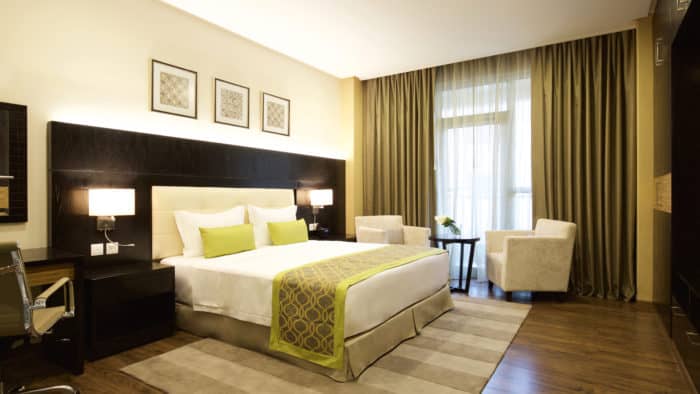 As with many of the hotels in Bahrain, they have a very international feel – our waitress was Kenyan, Restaurant Manager Indian and the Head of Food Services was from Yorkshire – and despite 20 years of working overseas, his accent was as broad as ever! Being so new, I think we got lucky with what appeared to be an upgrade to a suite – kitchenette, two (!) bathrooms, study area, huge bedroom. Big tick, and way more than enough for our (modest) requirements.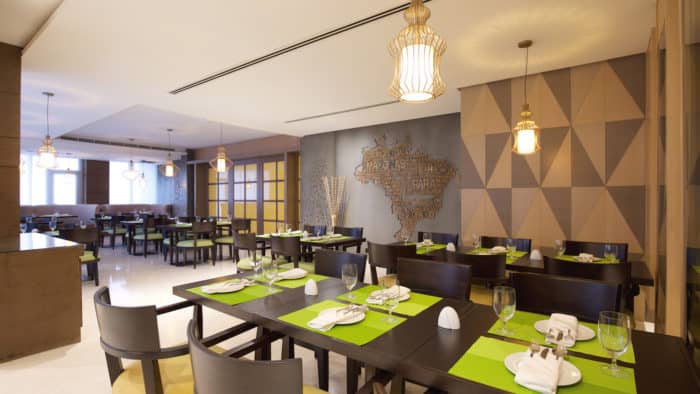 The hotel also had a gym (which we used), swimming pool, spa/jacuzzi areas. From a practical (work) point of view, I found the (free) WiFi to be excellent and consistent. Breakfast (and restaurants) at the hotel are on the top – 28th – floor, which give pretty spectacular views, especially at night.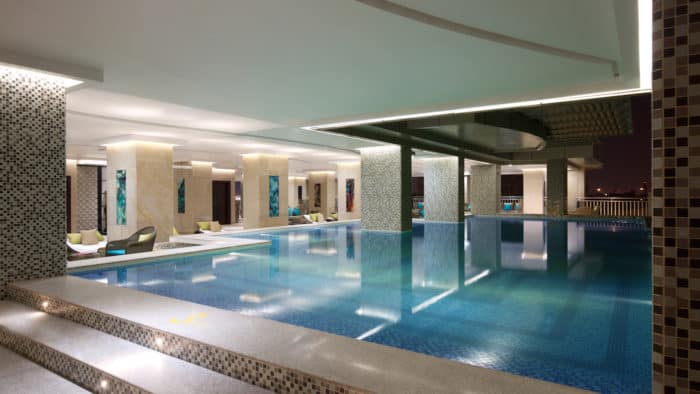 One very special touch that shocked us – after arriving, we thought we would go up to the top floor to take a look around, when the restaurant manager, Pratamesh, wandered over and said, "Ah, you must be Mr. John, welcome to Bahrain, we've got a table all prepared as we were expecting you!". A very nice surprise. Joking aside, the staff were incredibly helpful and attentive throughout. And yes, you can order a beer with your meal in the hotel…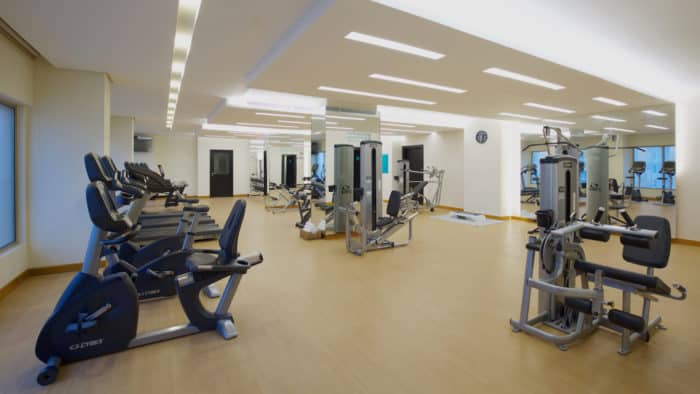 The Wyndham Garden Manama hotel is based near to the Al Fateh Grand Mosque (more on that in Part three), and a short drive from the race venue (circa 4km perhaps), and also only a 10 minute drive from the airport. Taxi prices are quite reasonable (I suspect the Uber service is also available, but we didn't try it), and, while we didn't use it ourselves, I believe the hotel offers an airport shuttle service too for a small fee. While the Wyndham Garden was not one of the official race partner hotels, looking at their Facebook page at the time, they did offer a great deal to IRONMAN 70.3 competitors. Worth checking out for future years, as they are clearly well aware of the event.
Having the airport so close to where you are likely to be staying just adds to the simplicity of the overall 'admin' aspect of the event. Having done plenty of overseas travel to events that require extensive transfers / driving / split transitions / tolls and the like, IRONMAN 70.3 Bahrain is refreshingly simple in all of those regards. For those reasons, it's highly unlikely that you would want / need to hire a car – at least, not for the full duration of your stay. Peak rush hour times in Manama are very busy in terms of traffic, so best avoided unless you like sitting in a car and not moving far.
Room rates at The Wyndham Garden Manama, Bahrain start from £38. For more information or to book, visit www.wyndhamhotels.com/wyndham-garden/manama-bahrain/wyndham-garden-manama/overview.
Costs
The local currency is the Bahrain Dinar, and at the time of writing one Bahraini Dinar = 2.05 GBP. That makes things pretty simple calculation wise – just double what you see in BHD (and a little bit!) = the approx. sterling cost.
If you are anything like us, extensive shopping is not really part of our 'triathlon travel' menu. The limited expenditure we did have – a few coffee shop visits, and a post-race pizza (!) – seemed pretty comparable to UK prices. If you don't want to miss out on your regular Starbucks / Costa Coffee or similar treats, fear not, you can find them in Bahrain too – and they won't break the bank either.
Ok, so that's the basics done – in summary, Bahrain (and the Manama race venue), is very simple to get to – direct flights, short transfers, lots of hotel options and reasonable costs. So, how was the event? That's coming up soon in part two.