Claire Hann: from "rock bottom" confidence to IRONMAN 70.3 Pro winner
Another week, another (new) British winner on the international racing scene.
A slight exaggeration perhaps, but we are certainly seeing several new names adding themselves into the already deep talent pool of British middle and long distance success in recent months. NikkI Bartlett (IRONMAN Lanzarote), Katrina Rye (ETU Middle Distance Champs) and Frankie Sanjana (IRONMAN 70.3 Les Sables d'Olonne), are just three recent examples of first-time British Pro winners.
The fourth edition of IRONMAN 70.3 Jönköping in Sweden recently (HERE) provided another name to add to that list, Claire Hann, and here is your chance to get to know her better.
From Age-Group success at ETU/ITU level, it's taken a few years – some of them very difficult too, mentally and physically – to even start a Pro race. From getting her "ass kicked" last year, to feeling "marginally less fraudulent", it's not been easy progress, but hard work has lead the accountant to the top step of the podium, ahead of no less than the London 2012 Olympic Games Silver medallist.
Here is the inside track on that very close race in Sweden and an honest insight into what it has taken to reach this point in her triathlon goals.
(You can follow Claire on Instagram HERE and Twitter HERE)
---
The Background…
For those that don't know you, tell us a little bit about your triathlon journey?
I only started triathlon in my late twenties but in my youth I was a national level swimmer. I stopped swimming competitively as a teenager and I focused on school and exams.
I started running a bit at university and someone suggested to me that as a swimmer who could run, I should give triathlons a go. At that point I didn't even own a bike. I finally bought my first ever bike in my mid-twenties and then had to learn how to ride it. I was not good, but I persevered!
In the summer of 2010 my then boyfriend and I decided to enter a sprint distance race, an Olympic distance (London Tri) and a middle-distance race (Vitruvian). I did really well and completely fell in love with triathlon.
What were your best Age-Group results and when did you start racing as a Pro?
I did some Age-Group racing in 2011 and 2012, not taking it massively seriously but when I found out the World Champs in 2013 were in London, I really wanted to qualify. 2013 was a breakthrough year in that respect. I was the overall winner at the European Age-Group champs in Alayna and then came second (behind the amazing Laura Siddall!), at the World Champs in London.
I did my first IRONMAN 70.3 in Staffordshire in 2015 where I won my category, was within 8% of the female Pro winner and would have been in the top five Pro women. I had a similar result at IRONMAN 70.3 Dublin in 2016.
In 2018 I thought I would try mixing it in the Pro ranks. I didn't think I would do brilliantly, I wasn't a 'real Pro'. I just wanted to have a go and see what I could do in a different environment. Also, being a 'Pro' I could enter races much later than I could as an Age-Grouper (as you didn't have to worry about them selling out), and I could potentially win a tiny bit of money to make my very expensive hobby slightly cheaper! At this point, I was working part-time as a manager at Ernst & Young.
The first part of the 2018 season I felt like a complete fraud and that I didn't deserve to be there. I had my ass kicked decisively in Staffordshire and Edinburgh, effectively performing worse than I had in previous years as an Age-Grouper! The first race where I felt marginally less fraudulent was Challenge Turku where I came fifth which helped to boost my rock bottom confidence slightly. The latter part of the season improved and I finally felt like I deserved to be racing in the Pro-field when I came second at IRONMAN 70.3 Ruegen in September.
https://www.instagram.com/p/Bo7SzkPlC71/
I have just turned 36 so my window for racing at this level is reasonably small. From March 2019 I agreed a career break with my firm so that I could focus on training and racing to try and reach my potential while I am privileged enough to have this fantastic opportunity.
We reported earlier this year on Challenge Lisboa, where you had a strong swim-bike performance, but then withdrew (planned), because of an injury. What was that – and are you fully over it now?
I tore my calf in March and just as I thought I was getting back up to speed, I tore it again. It was incredibly stupid of me but I learnt my lesson. The second time I listened to the physio's advice, rehabbed sensibly and built up the running really slowly. I knew I couldn't risk damaging it again by running in Lisboa which could compromise the rest of my season.
My initial thoughts were 'if I can't race properly, then what's the point of going to Lisbon?', but Andy helped me to see that it was actually a great opportunity to gauge where my swim and bike were and to deal with any pre-race concerns and nerves having not raced since September. Flights were already paid for, so I had literally nothing to lose.
Despite not running being the plan coming into the event, it was unbelievably frustrating to stop part way through a race! But, I knew it was the sensible decision and I was pleased to have tested myself over the swim and the bike and go through my transitions.
https://www.instagram.com/p/BxnOAMqBr5h/
IRONMAN 70.3 Jönköping
You exited the swim with Lisa Norden in Jönköping, and then when she got away on the bike it looked as though Pernille Jensen closed the gap to you relatively quickly. From there though, it looks as though you worked hard to ensure that you could stay in that mix for 2nd/3rd place at T2. How tough was the ride?
The plan from the beginning was to try and swim with Lisa and get a gap on the rest of the field. While my biking has massively improved, I knew Lisa was in a league of her own (as recent Swedish National Road Race champion!), so biking with her was probably not realistic. Hopefully a strong swim would give me a head start on the bike over the rest of the field. So the swim went to plan, but as expected, Lisa biked away from me.
On the bike, in my mind I split the course roughly into about 3 sections; 25km of climbing, 40km of rolling roads and 25km of (non-technical) descent. I lost pretty much all of my two minute swim lead over Pernille on the climb. I thought I was climbing reasonably well and pushing good power, but apparently not compared to the other girls! Once she went past me I knew riding with her on the rolling section would pay dividends, so I was not going to let her ride away from me and slightly adjusted my plan. She was little and light, so on the ups I was battling to try and keep her in sight and then on the downs trying to be as aero as possible and reel her back in.
We rode within 30 seconds of each other most of the way to the finish on the bike, staying away from the rest of the girls.
Starting the run almost five minutes back on Lisa – and after your recent injury issues – did you have any thought you could win the race at that stage?
Absolutely not! Frankly, I was amazed to be within five minutes of Lisa coming in to T2, she is an insanely strong biker so before the race I thought the gap would be even bigger. I had no idea how far ahead she was but I imagined that any gap would be completely unbridgeable. The thought of catching her hadn't even crossed my mind.
I could see Pernille in front of me though, so my focus was on her. I caught her towards the end of the first lap (of three). We then ran shoulder-to-shoulder for the whole of the next lap. I eventually managed to put a few seconds in to her at the end of lap two, but she stayed within touching distance.
I felt much stronger on the run here than I did two weeks before in Elsinore (where I went backwards through the field!), but had no idea whether I would be able to hold it together on the final lap.
10km later, with the gap pretty much halved, did those thoughts change?
At the end of lap two, Andy (my partner and coach), told me I was catching Lisa. I just ignored him as I just didn't believe that this could be possible! I couldn't see her ahead of me at this point, so my focus was still on just maintaining my pace and the small gap between me and Pernille.
With 2km to go, there's almost nothing between three of you – how were you feeling and what was going through your head?
Coming up to 18km I saw Lisa in front of me. When I caught her there was no option other than to go straight past and try and push my pace. I still wasn't distancing Pernille at all, so I just had to keep going and not look back. I thought Lisa might sit on my shoulder, but on a small out-and-back section I saw that she had dropped back and Pernille was passing her too. It was only then that I had the fleeting thought of, 'I could actually win this!'
At which point did you take the lead – and were you confident you could hold it to the finish?
I only took the lead with about 1 km to go. I knew how close the other two girls were, so I had no idea whether I would be able to hold on or not. I just gave the final 500m everything I had left. I didn't look back and just hoped that what I had left was enough.
When you hit the red carpet and know you have got the win, what was the feeling like?
The finish line crowd was fantastic, but I didn't really make the most of the finishing chute, no hi-5's, no dancing, I just wanted to cross the line as those girls were still running strong behind me! In the end I won over Pernille by about 20 seconds, with Lisa a further 30 seconds back, but I didn't want to take any risks.
It was such an unexpected result that it didn't seem real at the time! I had a quick cry on Andy, hugged the other girls and just couldn't stop smiling! It's still only just sinking in now.
The first slot to the 2020 IRONMAN 70.3 World Champs in Taupo was the icing on the cake!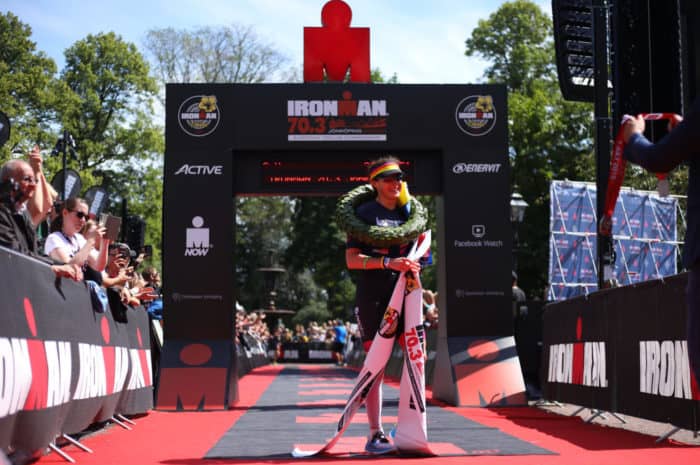 Confidence…(and sometimes, lack of it too)
How important that result for your triathlon career and confidence?
As I said earlier, initially I didn't feel like I belonged in the Pro field. This result has definitely been a massive confidence boost and while part of me just feels like I got lucky, I know how hard I work and that I can't be completely devoid of talent to end up in this position!
Anxiety has been a real issue for me and I struggled with mental health issues alongside my marriage breakdown and divorce in 2016/17 and hit a real low in confidence at that point. I was pretty run down, broken physically and mentally.
I met my current partner Andy outside of a triathlon context and he now coaches me. He has been fundamental in helping me get stronger again and gave me the confidence to try racing as a Pro in 2018. Without him, I can definitively say I would not be where I am today.
I have a lot more self-belief these days but still struggle a bit with anxiety and feelings of not being good enough. But those feelings are much less frequent and don't define me. I just feel very fortunate to now be healthy and happy and be able to train and race in a sport that I love.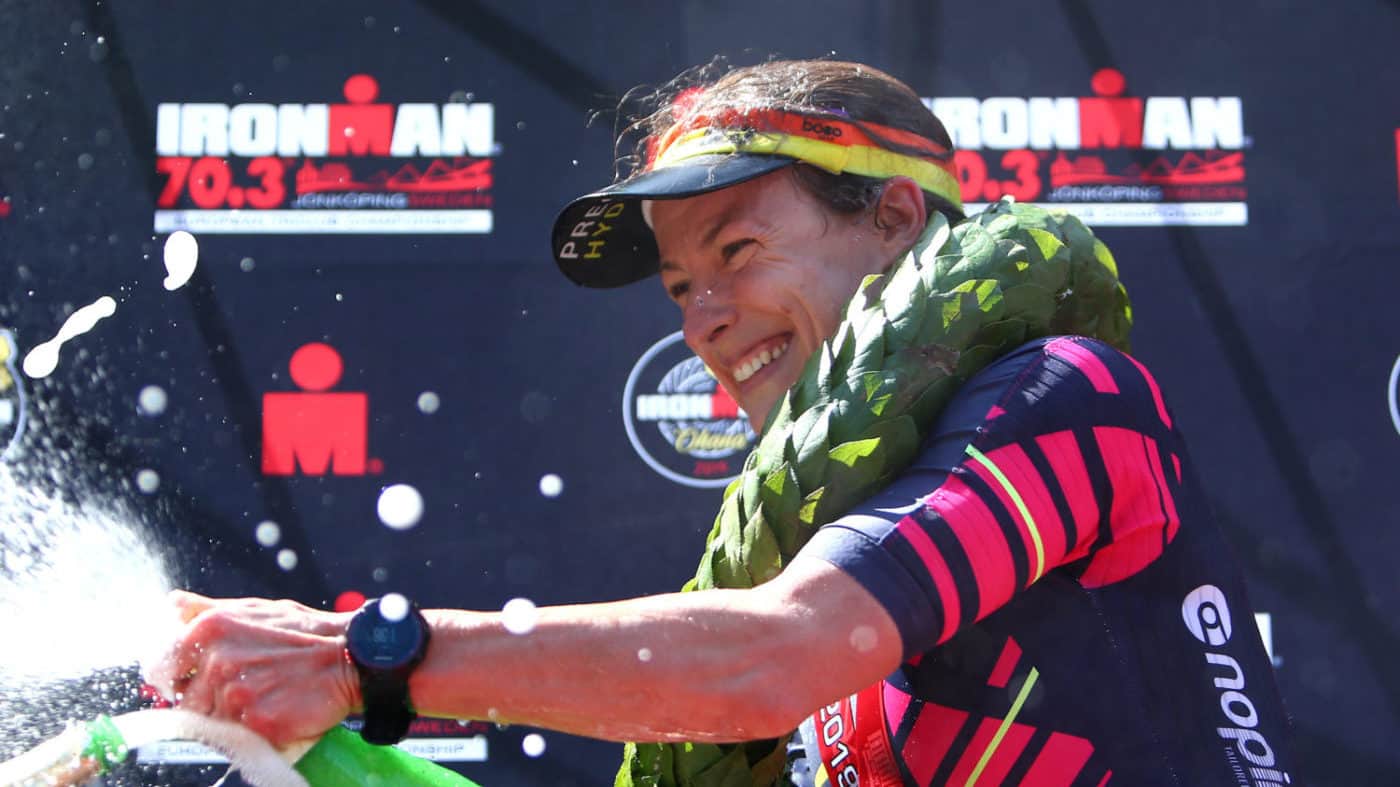 What else is planned for the rest of 2019?
My next race is IRONMAN 70.3 in Gdynia, then I hope to redeem myself at Weymouth after the conditions got the better of me last year!
There are a few other 70.3s on the maybe list and I am toying with the idea of doing my first ever full distance, but it's all a bit up in the air at the moment. I'm just so incredibly grateful to be in this position and to have these amazing opportunities. I just need to work out how to finance it all!