It's Kona #5 for Corinne Abraham – aiming for her best result yet
The countdown to the IRONMAN World Championship continues. It's been a quiet year for British Pro Corinne Abraham (www.corinneabraham.com), but her one race was an IRONMAN victory in Tallinn, Estonia.
Perhaps forgotten in all the hype from the record-breaking 2018 race, Corinne was third off the bike, her cycle leg almost identical to Lucy Charles-Barclay. She eventually finished in ninth position – her best year – but hampered by a running injury, a fit and healthy Abraham could well be challenging for a much higher finishing spot this time around.

---
Let's start with what you've been up to this year. Last year you were busy (and very successful) race wise, with wins in Lisbon, IRONMAN France (Nice) and Kalmar. This year – until Tallinn (!) – very quiet?
Yep, all quiet for the first six months of the year. We were trying to buy a house, life stuff played a big part, the body wasn't feeling 'ready' for a heavy training load or racing, so I didn't push it. Time marched on as it does and I needed to get on a start line! I fancied a go at Hamburg, Tallinn or Copenhagen and Tallinn won out based on location, as I'd never been to Estonia before.
You qualified and won at IRONMAN Tallinn – how would you assess your performance there?
Of course it was great to win and it wasn't easy to do so! But, performance wise, it was a bit of a mixed bag. The swim was so-so; certainly better than Nice last year and some of my previous swims, so that was good, but I still feel like there is more to come on the swim front and I keep working away at it!
For the bike I worked hard to catch up with Kimberley (a repeat of IM Kalmar last year!), and I managed to catch her a bit earlier in Tallinn I think, then we rode together back towards T2 and she took a bit of a gap in the last 10km while I fuelled up ready for the run.
I see that Tallinn is now marketing its self as Europe's fastest race or something? Well, the run certainly isn't fast (unless your name is Kristen Liepold!). It was hilly and with cobble stones aplenty. Once I was in the lead I worked for a bit of a gap then just tried to maintain it to the finish. Performance wise it was enough to win and I was certainly happy with that!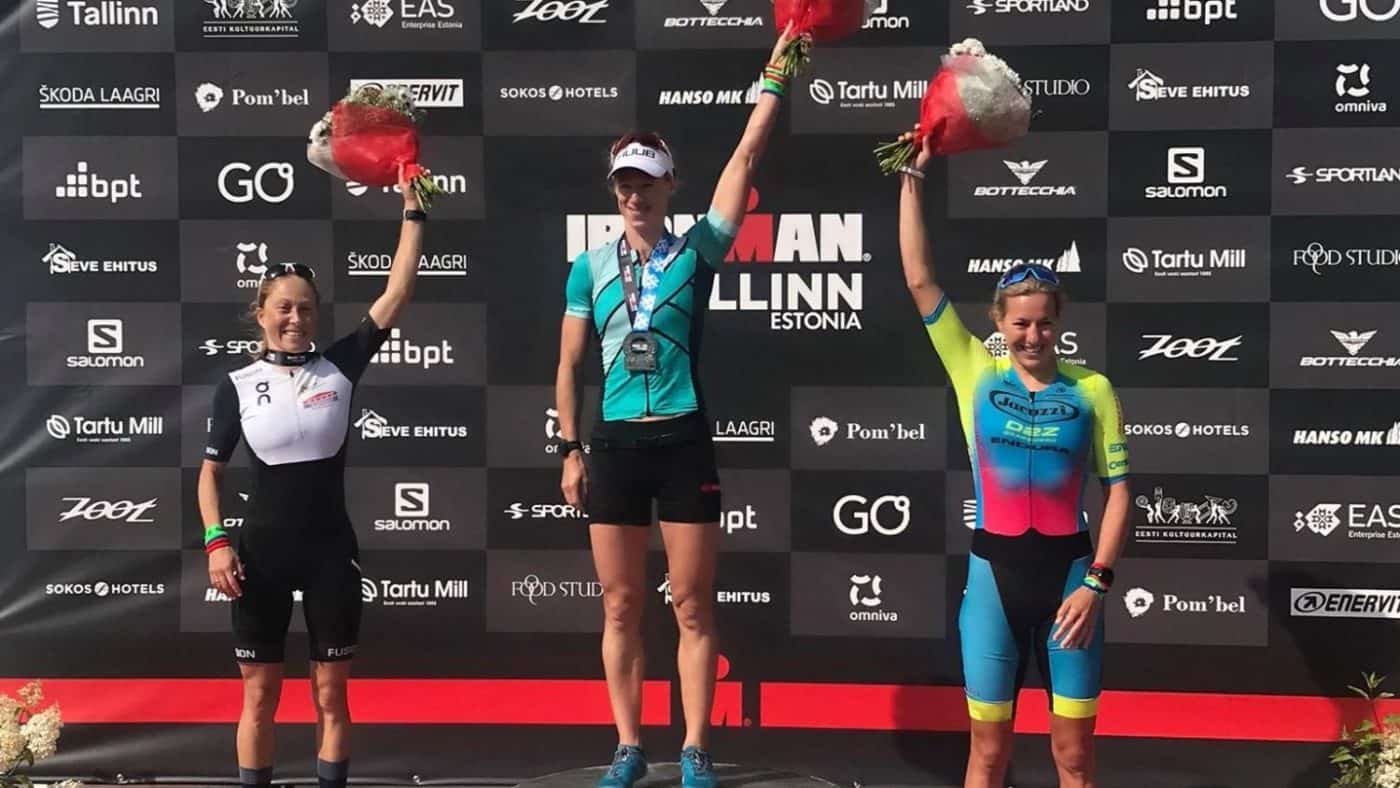 Looking back, you were third off the bike last year and had a calf injury that restricted your training in the lead up. You ran 3:16 – but have previously clocked 3:02 in Kona – which would suggest that, on a (more) perfect day, there's still significant upside? That must be a motivation – that objectively, you've not maximised your potential in Hawaii if all the pieces of the jigsaw come together?
It was definitely fuel for the fire. I finally felt like I had a performance that reflected my capabilities and to come out of the water with the main pack and off the bike in third has been a real motivation for coming back 'one more time'!
Given that… how is the body holding up ahead of the race this year?!
All good so far! It's funny though, because I've been here 'feeling great' in the past, and not been able to deliver the performance on the day… but I feel like I'm ready to see what I can do come race day and looking forward to 'round five' on the island!
Conditions were particularly swift 12 months ago, especially on the bike. As a strong rider, would you prefer a bit more wind on the course this year to split things up further?
I think that a stiff wind is good for the bikers, yes! But, I'll try and be careful what I wish for; it's a tough day however the weather turns out!
https://www.instagram.com/p/Bo_I3pnjvP7/
Part of your result last year must go down to a much-improved swim, relative to previous years (very close to Susie Cheetham, Emma Pallant and Laura Siddall at T1). Do feel you can do similar again this time around?
I hope so! I did my first sea swim on Friday and I felt good in the water… but I wasn't particularly fast, so that was a bit frustrating. However, I did jump in with the masses for the swim on Sunday and I was MUCH happier with my pace then! I'm ever hopeful for a repeat (of the faster) performance on race day.
This is, I think, your fifth time in Hawaii – is it a place you feel comfortable in and enjoy?
I do like it here. Generally speaking I like the heat and warm places, I love the ocean and I love seafood. We've made friends on the island and it is always nice to return.
https://www.instagram.com/p/B3TgngYIwdi/
Tell us a bit about your bike / kit set-up for this year – what will you be riding?
I've teamed up with HUUB this year and so I'm in their Albacore Swimskin which I feel is a really good fit.
Bike wise I'm on Scott Plasma, and Strada Handbuilt Wheels made the wheels for me and I'm super happy with their handling in the wind. I'm riding a deeper section rear wheel than I did last year but I've kept the front the same for handling in the wind.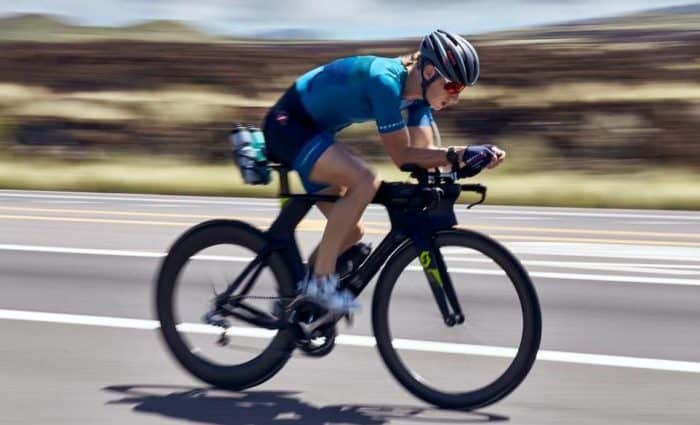 I 'upsized' my front chain ring as well this year (I ride a Rotor ring), in the hope that I would not spin out as much on the tailwind and Hawi sections. A bike shop in Switzerland (Rochat Cycles) service the bike for me and make sure that it is in tip-top racing condition. No excuses then!
Any thoughts as to what you would regard as 'success' this year?
Well, if I can repeat the performance from last year (or improve on it obviously!), and back up the swim and bike with a good run… that would be success for me I think!
If you weren't to win… who would be your picks for the podium on the women's race?
Well, I think it's hard to bet against Daniela. She's delivered time-and-time again so if she's ready to race again this year, I still think that she's the one most likely to finish on the top step.
Otherwise, of course Lucy's performances have also been consistent, but there is Anne Haug looking to back up her race from last year, Sarah True, Laura Philipp and Daniela Bleymehl on the start line, Imogen Simmonds having a great year and of course Heather Jackson, Rinny, Sarah Crowley, Susie Cheetham… sorry! I know that I'm not being very specific and I'm sure there are other contenders!
I think that the podium places are very open this year and that it will be a great race. That can only be a good thing!

Corinne Abraham – Ironman Record
Race

Cat/Pos

Total

Ironman Regensburg 2010 (Age-Group)

3rd Overall, 1st Age-Grouper

9:41:21

Ironman Hawaii 2010 (Age-Group)

10th Age-Group 30-34

10:09:02

*** Professional from 2011 Onwards ***

Ironman Texas 2011

n/a

DNF

Ironman Wales 2011

n/a

DNF

Ironman Texas 2012

4th

9:18:39

Ironman Frankfurt 2012

3rd

9:21:03

Ironman Arizona 2012

3rd

9:15:10

Ironman Melbourne 2013

Winner

8:10:56 (shortened swim)

Ironman Lanzarote 2014

3rd

9:51:41

Ironman Frankfurt 2014

Winner

8:52:40

Ironman Hawaii 2014

11th

9:25:04

Ironman Texas 2015

5th

9:12:20

Ironman Cozumel 2015

Winner

9:06:40

Ironman Cozumel 2016

4th

9:19:14

Ironman Lanzarote 2017

2nd

9:44:29

Ironman Austria 2017

2nd

9:08:03

Ironman Copenhagen 2017

2nd

9:08:06

Ironman Hawaii 2017

16th

9:30:37

Ironman France 2018

Winner

9:11:39

Ironman Kalmar 2018

Winner

8:45:06

Ironman Hawaii 2018

9th

8:58:54

Ironman Tallinn 2019

Winner

8:55:22