A frustrating year… but Laura Siddall is excited to be back in Hawaii
Perfect training, career-best form and a string of confidence boosting wins. That's what every Pro athlete would like to arrive in Hawaii with before the IRONMAN World Championship.
Alas, ticking all of those boxes is a difficult ask at the best of times, and Great Britain's Laura Siddall (www.laurasiddall.com) has had a frustrating year, dealing with a mid-season broken collar bone and struggling to find the consistent form that has been the trademark of her Pro career.
There have been highs – notably winning IRONMAN Australia for a third consecutive season – but it's not been an easy ride, as an honest Laura reveals here ahead of her third race in Kona.

---
A couple of weeks on now from the IRONMAN Wales experience that we spoke about after the race, how has the body bounced back from that effort? After last year – winning the ETU Champs at Challenge Madrid three weeks before Hawaii – a whole month to recover must seem quite long!
It does feel like an eternity! Ha ha! Not really. I'd like a few more weeks, but that's not from Wales, that's just trying to find the fitness and form still after the past few months, and the sudden realisation with all my focus being on Wales, as stupid as it sounds, I think it's just dawned on me about Kona! I'm feeling pretty good after Wales, still riding the high from an incredible week and race experience there, in Tenby; the people, the place, the course and having my family there.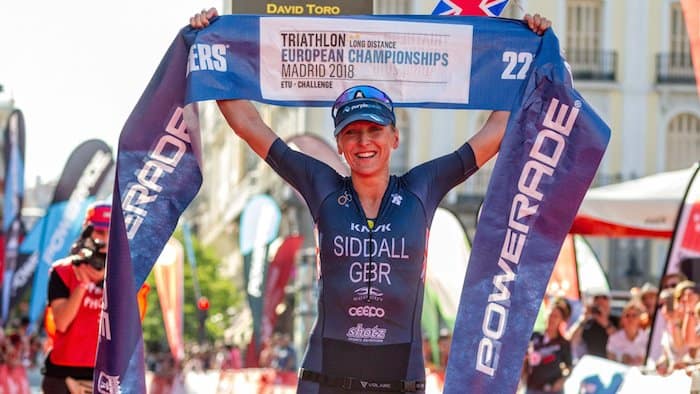 It feels like it's been a strange / frustrating year for you (?) – disappointing races at two of your favourite races in New Zealand, then bounce back and win a third IRONMAN Australia in a head-to-head battle with Caroline Steffen… and then a few weeks later crash your bike and break your collarbone. Even by your renowned abilities in regards to consistency, resilience and continuous improvement, how challenging has this year been?
Yes, it's been a really odd (?), frustrating year. A really mixed start with frustrations in my racing, then the incredible high from IRONMAN Australia. Then the disruption of the collar bone and just more of a struggle to find the same form again as I've come back. So, it's been quite up and down on and off the race course, which at times you just roll with and at other times, it's been harder to manage.
I've been incredibly lucky to never have broken anything or really been injured in my life or sports career, so it was bound to happen, and to be honest a break is probably a 'good' injury if you can have one. It's pretty black and white. Whilst obviously wishing it hadn't happened, I was positive and a little excited about the opportunity it presented. A forced break to then reset to try some different things bringing myself back stronger and better at least than before. Some new experiences and I felt I embraced them. But it never quite works out how you think it will. The last few months have been really mixed, as I've not found the form, and I've found that difficult to manage.
https://www.instagram.com/p/ByhwZH9BuFA/
Given what went before, after Wales you said that third place and your performance there probably represented 'over-performing', relative to your fitness/training. Were you able to take some confidence from that ahead of Hawaii, that perhaps you are in better form that you thought?
Yes, I guess from that respect I take some confidence from that (thanks for the nudge there!), and that I was perhaps able to step up on race day from training. However, Hawaii is a different beast too and another level. I'm still very aware that I'm likely to be exposed in the race with my form and may struggle to be near or in the mix. But, I'm going to take it with a pretty open mind, and just try to enjoy the race this year!
https://www.instagram.com/p/B2e03TDB1_S/
You've always taken your own path in your Pro career and never been 'all in' on Kona, with Roth / Australia / Wanaka etc being just as key for you. 15th (2017) and 17th (2018), is it an event you can 'look forward' too?
Ha ha! Yes, I often get quizzed as to "Why are you going again?", but there's obviously something that draws me back and to be part of Kona again.
I can honestly say that I'm actually really excited this year (at the moment at least!), I can't say why exactly. I was just at the airport in Barcelona and suddenly just had an urge and excitement, about getting to Kona and the race, that I haven't had in the last two years. Maybe it's the new bike 🙂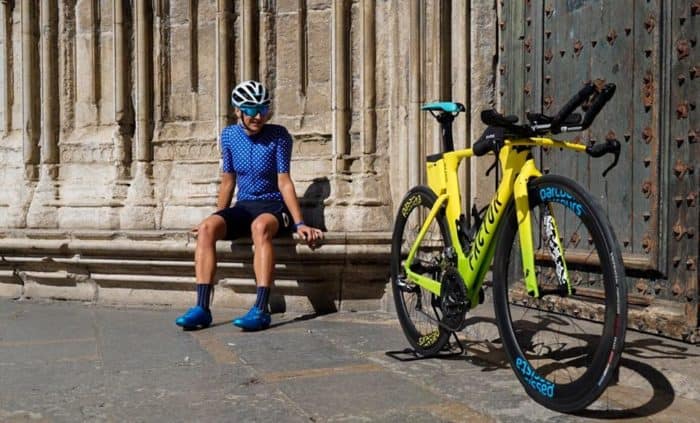 It's such a tricky one for me. There are so many awesome races around the world, in different places. That's what I love about the sport and the people you meet. Perhaps also I don't like doing the norm and following the crowd. I've always tended to do things a little different, yet at the same time want that sense of belonging, and that sense of being something that Kona brings. I don't know also if perhaps it's some self-conscious mechanism of protectionism, of never having the confidence that I can do well there and belong there, and so never fully commit in order to protect myself.
Given the ups and downs of your year and racing IRONMAN Wales recently, I would imaging that having a good feel for your potential in Hawaii this year is a tough task. In one sense, might that take the pressure off a touch and provide a bit of freedom as to how you approach the race?
Maybe that's where the excitement came from? That I'm so not on the radar and so under no pressure (apart from what I put on myself!).
Although I've been trying to unlock that bit of freedom of racing for years, and that's where a lot of the frustrations came at the beginning of the year. I always feel I have the handbrake on, but I'm excited this year. As much as I hate the elevated status this race has, it is also a special event, and means a lot to so many people and I respect and admire that.
It's easy sitting here though on a plane to say all this. I'm fully aware that I'm going up against the best in the world, who have been training and fine tuning for this race for the whole year, or even several years, and it's hard to go into that arena when you aren't in the best shape yourself or have the confidence you've committed to the race like they have.
One thing I'm sure you will be looking forward to is a new present from your bike sponsor, Factor. Tell us about your experience on the 'SLiCK' this year… and how cool does the new ride look?!
I think this is definitely helping my buzz for Kona this year, as the new Kona 2019 custom-painted Factor SLiCK is just stunning! The level of detail is amazing with all the Hawaiian themes incorporated. I'm hoping it brings me a sense of calm on the island, and happiness. Factor have really gone above and beyond, and it's always great to work with brands that you genuinely feel want to work with you and work together. So yes, what's not to love about a new bike!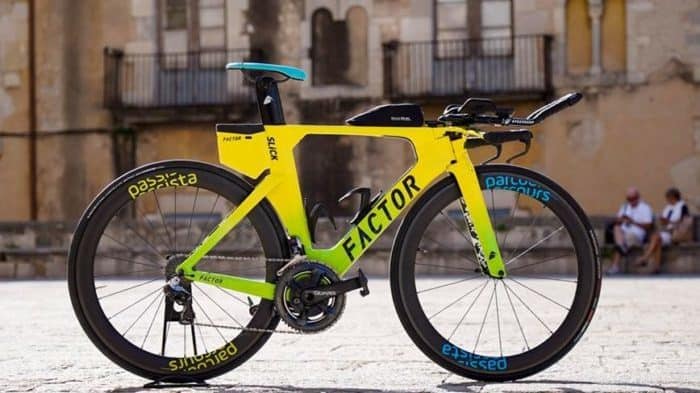 You've always been someone who is very active with your sponsors, charities, media and the like. Alongside the racing, what else are you up to in Kona this year and where can people meet up with you there?
You know you're not in the mix in Kona when you don't get an invite onto Breakfast with Bob… gutted! I've made it on his show the past two years, but this year… nope!! Ha ha!
I'm always very open and welcome to anyone just coming up to say hello and have a chat. You can normally find me grabbing a coffee at Day Light Mind or similar on most days. It's one of the things I love about this sport, the people, and I've been fortunate with all my racing all over to meet some awesome people and friends.
From a print perspective, I've got a couple of articles coming out with Red Bull. On the ground in Kona, I'll be trying to head up for the Witsup Brunch (Wednesday 9:30-11:30am), always an awesome event in race week, and I'll be hanging out with the Kona Kids, a local after-school program to help children in the transitional housing area just outside Kona (https://konakids.org).
I'm pretty sure there will be a Purple Patch catch up, and a Fitter Radio coffee catch up as well, and I'll be spending some time and obviously giving some shout outs to my partners – Kask (Lava Java Café), Hoka One One (who will be all over Kona and the race), Factor, and Deboer for a start.
If you head to Lava Java, look out for my special meal on the menu. If people order it, take a shot of the meal and you in it, post it on Instagram and tag me… I'll send out a few prizes after Kona, for the best post. You also won't miss my Factor SLiCK, but also in the swim! Deboer have made me a custom swim skin, with lots of messages incorporated into the design from a competition we ran a week or so ago. The swim skin I've heard is also bright yellow! So, there will be no blending into the background when I dive into the ocean at Dig Me Beach!
https://www.instagram.com/p/B21eDLgBCxJ/
Finally, you keep a close eye on the Pro scene in your media work – can your forecast anything other than a fifth victory for Daniela Ryf in the Women's Pro race?!
I think Ryf, of course, is the strong favourite for that fifth victory, she's just so incredibly impressive and tough. Her resume and results here over the past few years, but just in all her races, speak for themselves and I'm sure will be putting some fear into the men. But, I do think she is beatable.
As an athlete lining up against her we have to think that, we have to believe that on any day, it could and can be our day, to beat anyone. But also with my media hat on, and looking at some of the women in form and on the start list, I do think that she can be beaten.
Ryf has, for sure, raised the bar, but the Pro Women are now stepping up to her challenge. They may respect her, but they want her scalp, they see the target and they want after it. They want to be the first woman to beat her. Kona is always, an explosion too, particularly for the women. We never have races with so many of us on the start line, and that creates a completely different dynamic. Last year we saw a huge chase pack out the water. It's then a different tactic as to who can manage that situation, but also keep their own head in the game to make the right decisions. Alternatively, someone may take a risk and it may pay off.
We saw the women right up in there for a lot of the race in Nice [Ed. at the IRONMAN 70.3 World Championship]. They were challenging for the front. I think we'll see that again and it's going to make for a really exciting race, and I think some of the women are due and will have really amazing performances. Whether anyone can beat Ryf on the 12th October 2019, well, we can only wait and see.