A confident Joe Skipper is ready to take on the world
Let's be honest, you'd be surprised if Joe Skipper wasn't bullish about his prospects today at the IRONMAN World Championship! When you train as hard as he does, you have earned the right to be positive about your ability.
Unlike many of the top contenders, he doesn't come into the race with a season of race wins on his C.V. – he's actually spent most of the year injured. And yet, timing is everything, and despite what would have been setbacks when they happened, there is very good reason to believe that Joe could well produce his best performance yet in Hawaii.
Just four minutes outside the podium positions last year (seventh), he will hope – and expect – to be racing head-to-head with the biggest names in the sport on the lava fields.

---
From the outside, it looks like you've had a very different year to one you would plan – a couple of below-par races early on, injury, DQ's etc – and yet despite and/or because of that, you can arrive in Kona both fresh and really confident in your ability to put together a great race. In big-picture terms, would that be consistent with your feelings?
Hi John, yeah that's right, it's definitely not gone to plan. Luckily I managed to qualify at Texas in May. I tweaked my back a week out from the race, so was really struggling to push decent power on the bike. It was fine on the run. Despite not being happy with fourth, I was pleased to at least be able to walk away with a Kona spot.
After that I got an injury which kept me off running through June, July, and half of August. So, to have a goal to focus on I decided to race the British 12 hour time-trial championships. I managed to win it with a ride of 324 miles, and to hold 294 watts for it was a big confidence boost as it showed me the engine was there as that's a decent power output for an Ironman bike leg, let alone a 12 hour ride. Unfortunately, I was DQ'd for a wrong turn in the time trial.
As I was back running soon after that race I entered IRONMAN Wales, mainly as a building block for Kona, but I also wanted to try and win it and qualify for Kona (2020) and see what kind of shape I was in. Unfortunately I punctured while in the lead and lost over 30 minutes; I carried on and got the fastest run split, running my way up to sixth but was later DQ'd for littering. Disappointing. but I'm looking forward to Kona and this showed me my form was there.
One thing I'm pretty sure you didn't plan, was riding that 12-hour TT this year… but as it has turned out, might that prove to be something you can take massive confidence from. 27 mph for 12 hours is incredible – what was the recovery from that like?
The recovery was pretty quick, a lot less than an Ironman as you don't have the pounding which you get from a marathon. I was feeling good about a week after the race and it really gave my cycling a boost.
https://www.instagram.com/p/B1Dfb4NhCOH/
You are on a new bike this year – Quintana Roo PR6 – and 'eyeball wind tunnel' at least, to me you are looking better than you ever have. 12 hours is going to expose any position / aerodynamic weaknesses – or in this case strengths – so you must surely be pretty pleased with where you are in that regard? Has that involved more wind tunnel / other testing?
Exactly – if you can hold a position for 12 hours then you know you have a strong core and that you are going to be fine running off the bike in an Ironman.
I did a bike fit with Simon Smart and because we have been in the tunnel before and have done multiple bike fits in the past, we have some history and a good knowledge of what works for me and what doesn't. I've also been lucky enough to use his Drag2Zero bars and the kit which he designed with Endura, which is the fastest suit you can buy. As well as this, I've been working with Revolver Wheels and he's helped me with some components as well, such as the mono bar with aero hydration set up.
The QR bike is very comfortable so if you can get an aero position and a comfortable position, chances are your power is going to be pretty decent.
https://www.facebook.com/joe.skipper.5/videos/10157665106372920/
IRONMAN Wales results wise (puncture / DQ for littering) didn't go your way. Trying to separate that from the performance and training benefits, did that tick all of the boxes you needed ahead of Hawaii?
Yes mate, it ticked all the boxes; I got a very nice catered training day! It gave me the opportunity to have a break in my Kona build-up so I didn't over do the training, which I think has enabled me to get to the race in good confidence and feeling fresh.
Having won in Bolton, do you think you'll return to Tenby in the future to try and complete that British double?
I would love to return to Tenby, but it's going to be really difficult for me to do as if I race an Ironman or two in July then I can't expect to race Wales and arrive in Kona in peak condition, which is why it was such a shame to have not been able to do the job this year.
I'll be back for sure, but am not sure when.
You've raced in Kona a few times now and tried different approaches in term of prep, this time being based in nearby Maui (where Kienle, Ryf and many others also train). Has that worked out well? Did you manage to do many sessions with any of the other Pro athletes there?
Yeah Maui was great and I reckon I'll head there again next year. It's a really nice island and has some really good facilities as well for training. I did a few sessions with Kienle and his squad, but not too many with the other Pros. I sent them messages but they weren't up for it. I guess they didn't want me to drop them before race day! 😂
https://www.instagram.com/p/B250aXthG4Q/
The swim has been your weakest discipline, but looking back 12 months ago, while you may have been around 30th position out of the water, you were still within seconds of Kienle, Wurf and Dreitz and little more than a minute down on McNamee, Currie, Potts and Starykowicz. Exiting the water to that news, must give you a boost so early in the race, knowing you strengths are still to come? Same again this year would be very welcome?!
Absolutely John, a similar swim this year would be great and would really have me in the mix early on. I learnt a lot from last years race and I believe a similar swim to last year would see me on the podium.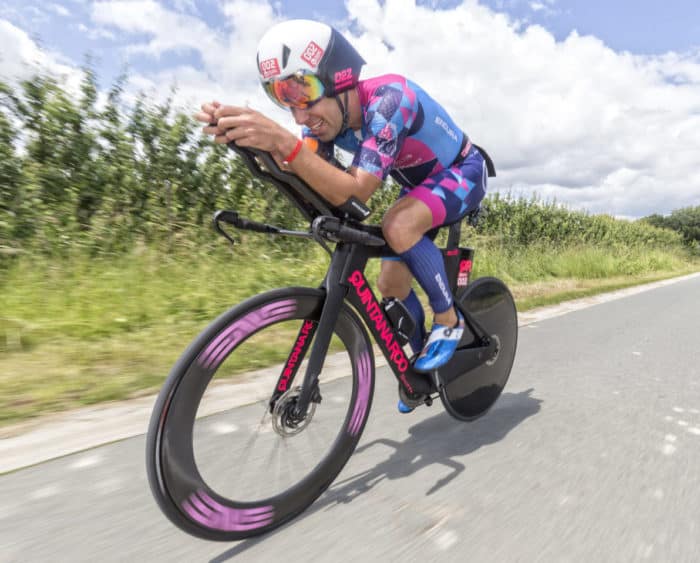 Last year saw possibly the best (fastest) cycling conditions ever for the race, resulting in big bike and overall course records. What would be your preferred conditions for race day, and do you think those conditions could significantly change the race dynamic?
Ideally for me: cloudy, the cooler the better and definitely a lot of wind. The conditions last year made it a runners race, whereas I would prefer it to be a real hard man's race. One where the last man standing is the winner.
Hawaii has typically been a race that takes athletes several years to conquer. Seventh last year, still only 31… are you now at a point where you believe you can compete with anyone and that aiming for those podium positions is well within your capability?
Yeah absolutely John, I mean last year I was only four minutes off the podium and I actually got off the bike around three minutes ahead of David and he managed to finish 3rd. It shows I was in the right place, but didn't run as well as what I needed to. I'm stronger this year, so I would like to think it should be within my grasp.