Jess Learmonth is heading to the Gold Coast
You can't help but like Jess Learmonth. Full of energy and laughter, you get the impression that she really doesn't yet appreciate how good she has become. When I pointed out that she was the highest ranked European athlete (sixth), in the 2017 World Triathlon Series rankings, it's almost as if that news comes as a complete surprise to her. "Was I really? Wow, that's pretty cool!"
Sometimes, not worrying about the details can bring you big rewards.
While Learmonth is seemingly relaxed and fun off course, she has developed – and very quickly too – into one of the very best once the race starts. Perhaps the finest swimmer in the sport currently, her cycling is up there with the best too. While she'll joke about "hanging on for the run!", you don't become European Champion and Grand Final Bronze medal winner by chance.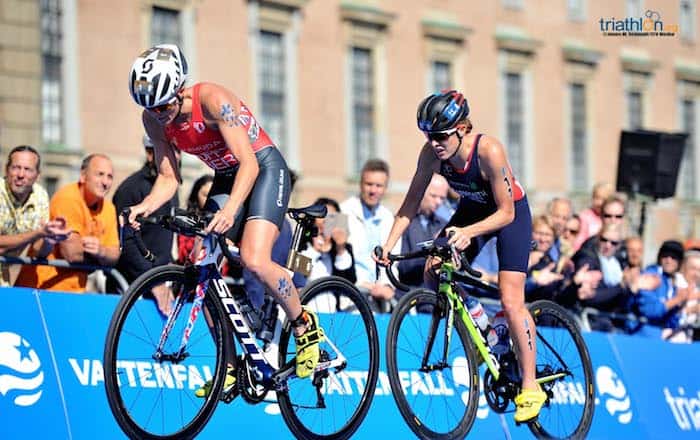 Jess was in Preston recently at Kukri Sports (www.kukrisports.co.uk) – where we also spoke to Tom Bishop – at the 'Kitting Out' day, ahead of the Commonwealth Games, where Jess will be joining Vicky Holland and Sophie Coldwell in the Team England squad.
Learmonth is an ambitious athlete – but admitted that her 2017 progression had come sooner than even she had forecast.
"Of course I had aims and targets for the year, but I definitely exceeded those in 2017. I expected to be able to perform at those levels at some point, but it certainly came quicker than I expected."
Commonwealth Games
A regular part of the the British team now in the World Triathlon Series, the Commonweath's will be the first major Games appearance for the Leeds-based Brit, who sees one interesting 'challenge' that this new environment will provide…
"Yes, it's my first Games and I'm really looking forward to it. I think I'll have to prepare for being in a different environment – and trying not to spend too much time in the 24 hour athlete restaurants might be one of those challenges!"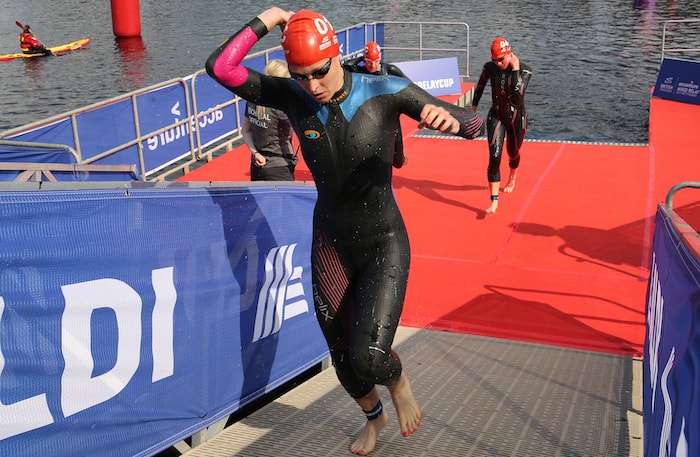 Race tactics in Gold Coast should be pretty clear for Jess – she has a proven success model, and it's doubtful that will change in Australia. With Vicky Holland and Sophie Coldwell alongside her in Team England, their strengths should be well aligned from a team perspective too.
"Well, Sophie is a really good swimmer and Vicky is too. It would be nice to swim hard, get a small front back. Then hammer the bike and stay away… and then hang on for the run. You know how it works! It's certainly something we can do and I'm sure we'll try. It would be nice to leave Ashleigh and a few others behind at T2 if we possibly can – we'll certainly give it a try!"
Her best race? Battling the elements
European Champion, second in Stockholm and third at the Grand Final – what does Jess regard as her best performance of the 2017 season?
"That's an interesting one… I'd probably say Rotterdam (Grand Final). After I'd crashed in Yokohama in the wet, Rotterdam was another wet and technical course, and it would have been easy to have recent memories of that. I managed to throw caution to the wind, I went for it and I got rewarded. I was a bit ill leading into the race too – so I think overcoming those things probably makes it the best performance of the year."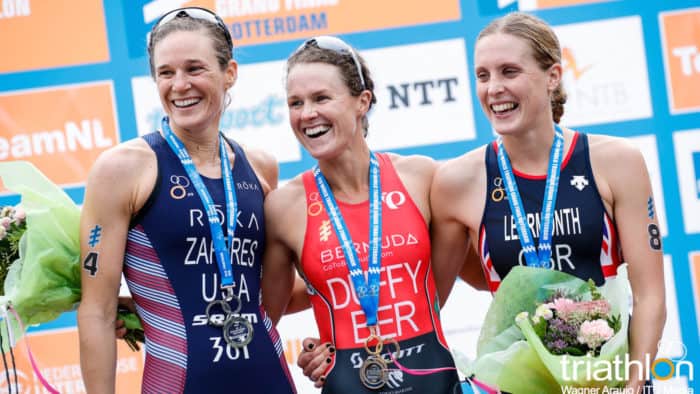 Racing and training in the UK
With the European Championships in Glasgow, racing opportunities for Elite athletes in the UK this year are perhaps higher than in recent years – something Jess is looking forward, alongside her typical WTS season.
"I'll be doing the World Series races of course and I'm looking forward to racing the Mixed Relay In Nottingham ahead of WTS Leeds again. There may be a few opportunities to race in the UK – hopefully in Glasgow for the European Championships too."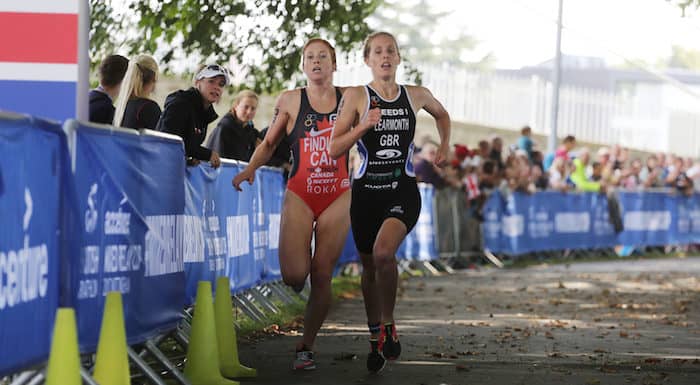 "The winter has gone – touch wood – really well. We've had a few very sketchy days weather wise (ice / cold), so you have to be a little bit cautious and not take too many risks with either cycling or running on ice, but overall, it's gone really well."
She's collected another! @Jess_Learmonth of @BritTri is our pick for FEMALE BREAKOUT STAR 🌟of our #BestOf2017 awards! https://t.co/9ZThunLw6H pic.twitter.com/vdBC0dFGtS

— World Triathlon (@worldtriathlon) January 16, 2018
As well as being named by the ITU as 'Breakout Star' of the 2017 season, Learmonth is also on the shortlist for European Triathlon Union (ETU) Female Athlete of the Year – an award she must surely be the odds-on favourite for? Should she win, will Learmonth be in Moscow next month to collect it? Chances are, she hasn't yet realised she has been nominated!
Laughter off the course and deadly serious on it – look out for Jess Learmonth to be featuring on several more podiums in 2018.
2017 has been a year of firsts!
1st World Series & World Cup podiums, 1st Grand Final podium, 1st at European Champs, 1st time ranked 6th in the world, 1st team relay and topped off with 1st Commonwealth Selection. I also became a very proud Auntie. Saw Celine with my bestie! 💕 pic.twitter.com/TffCLGtaRD

— Jess Learmonth (@Jess_Learmonth) December 31, 2017