World Champion Flora Duffy returns with a big win in Japan
Sophie Coldwell comes close to a first WTS podium. 5 Brits in top 11
Lots of rain, smooth tarmac, tricky white lines and plenty of corners on the nine lap bike course produced anything but a 'procession' race in Yokohama, Japan today, venue of the third World Triathlon Series race of the 2017 season.
One person who isn't a fan of cold and wet is Andrea Hewitt (NZL), winner of the first two races in Abu Dhabi and Gold Coast. She would not be a factor in the race at all today, eventually finishing 23rd and almost five minutes behind today's winner, Flora Duffy.
No surprises in the swim. Great Britain's Jessica Learmonth set the (fast) pace, and Lucy Hall, Sophie Coldwell and 2016 World Champion, Flora Duffy, were among the swim speedsters that stayed with her. Over the last 12 months we've seen the Hall-Learmonth duo race in tandem, often pulling away on the bike in European Cup and World Cup races – could they do that at WTS level today?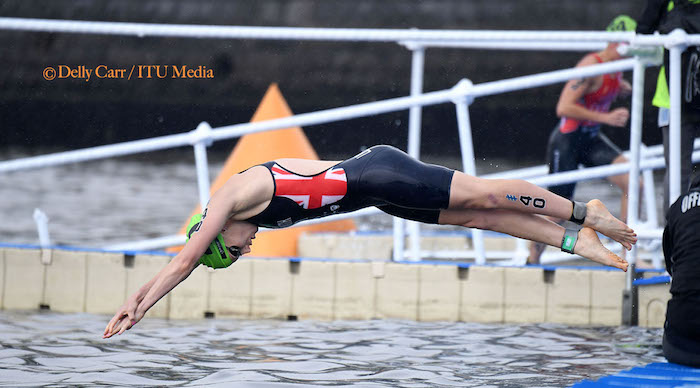 It was actually 22 year old Sophie Coldwell who would be the strongest Brit on the bike today, making light of the conditions, and joining ITU's best cyclist, Duffy, to form a breakaway that would last the whole race and eventually reach T2 with a lead that was approaching a minute and a half. It was impressive riding – with Sophie contributing to the effort too.
Non Stanford had an early spill on the bike in the tricky conditions. Jess Learmonth also hit the deck late in the race – but both were able to recover – and still earn top ten places. Kudos to both.
Surprised you couldn't hear me yelling at the TV! So happy for Soph xxx

— Pauline Rootkin (@PaulineColdwell) May 13, 2017
Coldwell had a better transition than World Champion Duffy, hitting the run course first (as she did in her first ever WTS race in London two years ago). That day she drifted back to 27th but two years on and now 22 years old, Coldwell has continued to develop and for much of the run it looked as though she may join the small club (currently of four) of British female athletes to secure and ITU World Triathlon Series podium.
Well @floraduffy the 'Swim-Biker' is doing a very good impression of a 'can run bloody well too' athlete right now. #worldchamp

— TRI247 (@tri247) May 13, 2017
While Duffy soon passed her and would go on to secure the biggest winning margin ever since the World Triathlon Series was started in 2009, Coldwell was looking composed – but being chased by the U.S. pairing of Zaferes and Kasper. Could she hang on?
Zaferes had also had issues in the race, delayed when Learmonth had her spill on the bike, but her experience would come through. While Duffy dominated, Zaferes got the better of Kirsten Kasper for third, while Coldwell held off a fast closing Vicky Holland for fourth. Add in Non Stanford (7th), Jessica Learmonth (8th) and Lucy Hall (11th) and that was a strong in-dpeth performance from the British women.
She is back and better than ever! @floraduffy returns to WTS to win #WTSYokohama! #2timeWorldChampinthemaking? pic.twitter.com/oAVvRqIRA2

— TriathlonLIVE (@triathlonlive) May 13, 2017
Overall though, the day belonged to Flora Duffy – with everyone else a long, long way behind. The World Champion Is back – and maybe looks better than ever?
The 1:51 winning margin today by @floraduffy is the largest win gap in ITU history, last was by @emmasnowsill in Budapest 2010 (1:42)

— TriathlonLIVE (@triathlonlive) May 13, 2017
"I didn't know what I would have in the tank… but I kept reminding myself, you are the world champion! I knew the bike would be decisive and it's great to win my first race of the year", said Flora immediately after her win.
ITU World Triathlon Yokohama – Saturday 13th May 2017
1.5km / 40km / 10km
1st – Flora Duffy (BER) – 1:56:18
2nd – Katie Zaferes (USA) +1:51
3rd – Kirsten Kasper (USA) +1:59
4th – Sophie Coldwell (GBR) +2:30
5th – Vicky Holland (GBR) +2:32
6th – Ashleigh Gentle (AUS) +2:39
7th – Non Stanford (GBR) +2:46
8th – Jessica Learmonth (GBR) +3:00
9th – Clare Michel (BEL) +3:08
10th – Natalie Van Coevorden (AUS) +3:14
11th – Lucy Hall (GBR) +3:17
World Rankings after Yokohama (Race 3)
1st – Katie Zaferes (USA) – 1874
2nd – Andrea Hewitt (NZL) – 1744
3rd – Kirsten Kasper (USA) – 1416
4th – Ashleigh Gentle (AUS) – 1282
5th – Gillian Backhouse (AUS) – 1059
8th – Jodie Stimpson (GBR) – 988
19th – Sophie Coldwell (GBR) – 633
22nd – Vicky Holland (GBR) – 586
24th – Non Stanford (GBR) – 501
26th – Jessica Learmonth (GBR) – 464
30th – Lucy Hall (GBR) – 367
35th – india Lee (GBR) – 248