Will it be seventh heaven for Jodie Cunnama on Sunday in South Africa?
Great Britain's Jodie Cunnama lives in South Africa, is married to South African long distance professional James Cunnama – and has certainly made IRONMAN 70.3 South Africa 'her' race in recent years.
After winning a sixth consecutive title 12 months ago, I was inspired to write a feature article about athletes who had won races multiple times. Will that need another update soon?!
Ahead of her title defence in Buffalo City on Sunday, I asked Jodie about her love for this race, the course and for her adopted country.
Pressure…
When you go back to a race you have won so many times, do you feel confidence from that… or pressure? I spoke last year to Marino Vanhoenacker (about Ironman Austria), and for him in a similar position, it was all positive – "I think everybody else at the press conference there already knows that they are not going to win that race with me there."
It is weird. It's one of those things that is important for the media and the spectators, but to me, I race to win any race I do so it makes little difference to me whether I have won it before or not. I guess success at a race shows you can conquer its elements on a given day, and six times – probably that those conditions suit you – but to be honest, winning a seventh time would change nothing as next year it would be 'winning for an eighth time'.
I want to cross the finish line first – I know I can do that – but there are a lot of factors that I have to hurdle before that happens. Same as everyone else (except I don't have to hurdle Jodie Cunnama!).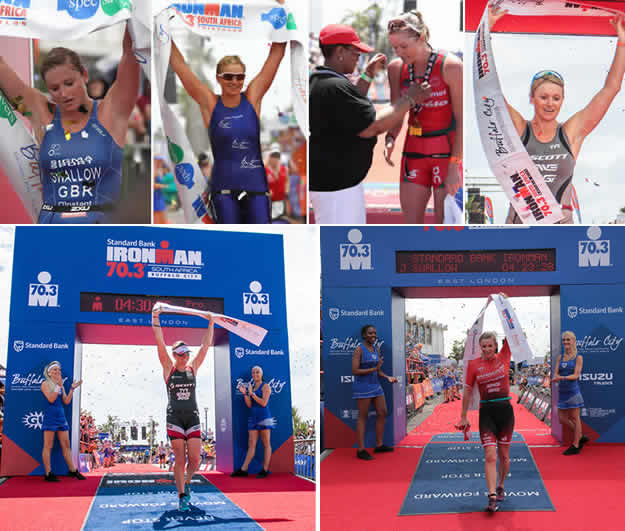 The Course…
My memories of the race (I was there in 2010), were of a sea swim that can be tough, a bike course which you are likely to have a headwind at least one way, and a run which has a tough climb on each lap – that sort of challenging course must be one you relish?
I absolutely love the course. It is so varied and undulating and always brings different conditions. It has the right amount of dog-legs to view the competitors and it has an awesome party too. South Africans love their endurance sport.
Racing At 'Home'…
Finally – as you are now living in South Africa, married to a South African and a very familiar figure locally, does this feel as if it is your home race, in terms of crowd support?
It is my home race. This is my home and I always race and prepare hard for these races and give as much as I can to the sport in SA. That is why I was so upset with what happened at Ironman South Africa last year. I just felt utterly deflated at the whole situation. Anyway, I love racing here and I hope the fans love watching me.
That is what I look forward to on Sunday.