Lucy's UK & Ireland 2017 Tour – next stop, 70.3 Edinburgh
Having published our IRONMAN 70.3 Edinburgh Pro Preview yesterday, through the wonders of technology (and on train wifi…!), I managed to interrupt the journey of Lucy Gossage to Scotland to grab a few thoughts from the Duracell Bunny ahead of Sunday's first edition of this new event.
There have been big changes for Lucy this year (which we covered in a big interview at the end of 2016), including returning to work as an oncology doctor and relocating from Cambridge to Nottingham. That hasn't been the easiest of processes – while still trying to train to world class levels as a triathlete – but her win at IRONMAN 70.3 Staffordshire two weeks ago indicates that she has managed to overcome those hurdles, after starting the year with "one of my worst races!".
---
You went from Challenge Gran Canaria (not great!), to Lanzarote (strong) to Staffs (win, course record and #doingalucy!). That must have been a big confidence booster?
Yeah, Staffs was a great confidence booster and also really fun! Gran Canaria was one of my worst races. I wasn't fit, but was also overtired so it was tough on all levels. But, good to blow away the cobwebs and realise that I can't burn the candle at both ends too much.
Lanza, I raced well given my fitness level so was pleased with that. And even more so a couple of weeks later when I realised racing had actually given me fitness rather than digging a hole.
I felt really good for Staffs but was still a bit surprised to be quicker there than I have the last two years!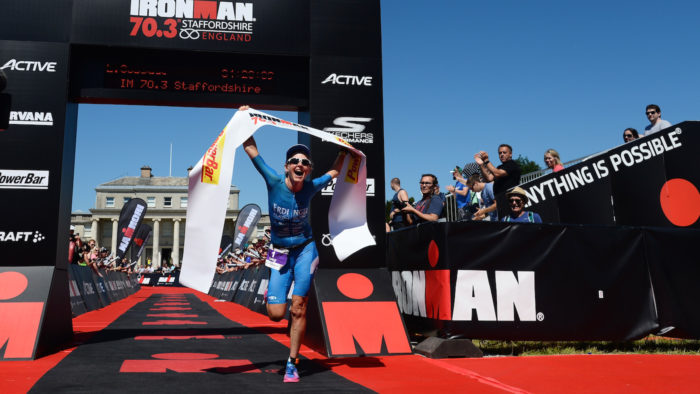 Has the process of finding the right balance of training alongside your return to working as an oncology doctor been tougher than you expected? Do you think you've managed to find that balance yet, or still a work-in-progress?
It's been so tough finding the balance! I think I didn't really account for the psychological stress of moving cities, leaving my friends and training groups and starting work. And I definitely found the winter really tough. I lost the fun factor and that for me is everything. But I'm juggling things a bit better now (I hope!). It's tough at times.
I try not to talk about triathlon at work to my bosses – i'm just a normal doctor when I'm there. But I'm not sure they really appreciate that my days off are often tougher than work days. In their head I'm sure they think I just have relaxing four day weekends!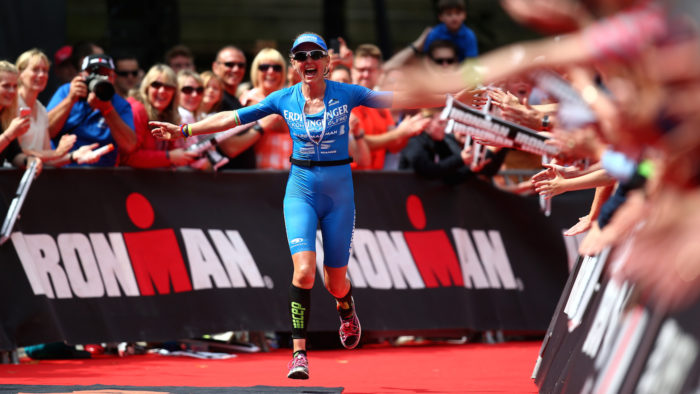 Edinburgh this weekend – do you know much about it and what to expect?!
I'm pretty excited about racing in Scotland, having not been there for 20 years! But I haven't invested much time as yet into looking into the race or course. Not every race can be an A race and if I'm honest, I'm already thinking about my main target, Ironman UK. So this is just a fun (I hope!), tough (I'm sure!), step on the way there!
Travelling light on the train up to Scotland! pic.twitter.com/1pXMyiS9jH

— lucy gossage (@lucygoss) June 29, 2017
Does it feel different now (maybe back to how it used to?), when you are going to races, travelling at the end of a working week / returning back to 'work' etc? Almost like an AG'er who just happens to be rather fast and races with the Pro's?
It does feel different. There are lots of great things about going back to work. I honestly do really love being a doctor again and I like to think I'm not bad at it.
Days fly by. There's definitely no clock watching, other than to see how late you're running in clinic. It's hard to describe how different my two lives are. At 9am the day after Staffs I was wearing a dress and makeup talking to patients with horrible pancreatic cancer in clinic. Triathlon really does seem so unimportant when you spend half you week working in oncology. So I guess that helps me keep things in perspective and appreciate the good days more than ever!
Very glad to escape the hospital furnace! Not enough fans and no air con. Oof! #smashed #hotterthankona pic.twitter.com/aZNvTxIMOg

— lucy gossage (@lucygoss) June 19, 2017