Since returning to triathlon last year with the goal of simply completing Ironman, Gloucestershire's Lucy Walmsley has surpassed all expectations.
Having won the 45-49 category at Ironman UK in Bolton, she booked her spot in this Saturday's Ironman World Championship in Kona and has been forced to readjust her sights.
Another age-group win at Ironman Weymouth by 31mins – the first time she had ridden a time trial bike in a race – means that even as a Hawaii debutante, a podium place is a realistic ambition, but it will not be straightforward.
The Big Island already offers a unique challenge and Walmsley flies to Hawaii as part of a strong British contingent that includes last year's champion in her category, Jane Hansom, whose winning time of 10:20 in Kona was backed up with a remarkable 9:33 in Roth this summer for sixth overall.
Tri247 caught up with Walmsley from North Cotswold Tri & Run ahead of departure to see how she was feeling.
---
How has training progressed since we last spoke?
It's generally gone well. I did a hard block with some big brick sessions where I tried to increase the intensity on the bike rather than just grinding out distance. I've eased down in the last couple of weeks in terms of volume but kept some quality sessions in all three disciplines. I did go through a tired phase a few weeks ago but have come through that and I'm starting to feel race ready.
And another morale-boosting win came in Ironman 70.3 Weymouth?
I was delighted. I wanted to ride the Ribble time trial bike in a race and also needed to take on a sea swim. I was coming off some hard training so felt a bit sluggish, and wanted to go a little faster [Lucy finished in 5:08], but it was great to get some race practice in. I did turn down the slot for next year's 70.3 World Championship, though. It would be lovely to go to South Africa, but my daughter is starting senior school next year and I cannot be away for her first day.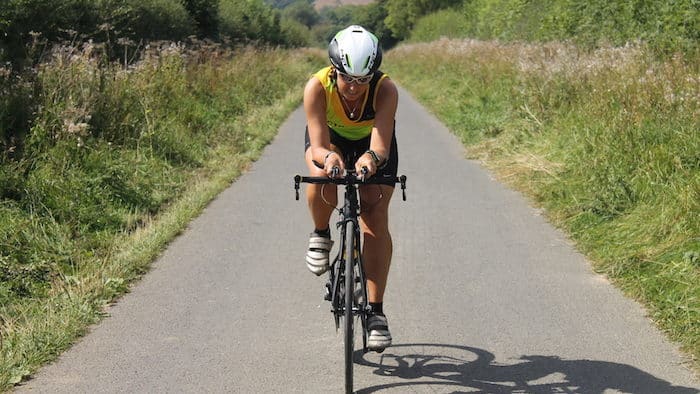 Racing faster is not restricted to training though, and you've started to use some more hi-tech kit?
My new kit is great. I am loving the Ribble time trial bike. It's great to be able to get into a more aerodynamic position, and I feel that I can also generate better leg power in the more forward posture it allows. I have definitely become faster, but am also running off the bike better as my legs seem less fatigued. Everything is just more efficient. The new North Cotswold Tri & Run trisuit is quite bright so at least I am easy to spot, and the aero helmet [borrowed from former British Olympic road-racer Sharon Laws] makes me feel like a pro which is great for confidence.
What are you most looking forward to about Hawaii?
The atmosphere, seeing so many good athletes in one place, and being able to immerse myself in a race for a few days. Plus, I gather that you often end up swimming with turtles or even dolphins which would be amazing. I also cannot wait for that feeling when you cross the finish line. Hopefully successfully.
And biggest fears?
I am concerned about the heat and humidity and how I am going to cope, but it is the same for everyone so I just have to dig in and deal with it.
What are your plans to celebrate post-race?
I don't have any plans to celebrate while I am in Hawaii but I'm sure there'll be some partying when I return. I also cannot wait to eat and drink what I like without considering its effect on my training. It will be nice to come home from work and sit on the sofa with a glass of wine rather than in the garage on my turbo.