From a hospital bed to Ultraman World Champion. In six weeks
At the IRONMAN World Championship in Kona this year, one of the many people I met was German Age-Group athlete, Steffi Steinberg (www.steffi-steinberg.de). Staying with the same travel company, I got to share some time (and breakfasts) with Steffi and her husband Gerry, including a fun evening at the ERDINGER Alkoholfrei party in race week!
While racing the IRONMAN World Championships, Steffi was also preparing for the 'other' – longer – World Championship event held on the Big Island, Ultraman (www.ultramanlive.com). Held over three days in November, Ultraman includes a total of 10km swimming, 421km cycling and an 84km double marathon to finish on the final day.
One thing that wasn't in the preparation plan for Ultraman, was being carried off the course by medics – in the final mile – at the IRONMAN World Championship, with no  warning or recollection of what happened. Fair to say that she recovered quickly.
---
How long have you been racing in long distance triathlons and Ironman?
After a back herniation in 2004, I started firstly to run, added swimming and cycling later on and did my first Ironman in 2010 at Klagenfurt.
You raced (and won) Ultraman Florida earlier this year – what made you want to go (even) longer than Ironman?
After my marriage with Ultra Gerry Steinberg, he convinced me to step up into the Ultra distance. Firstly, we crewed for a Peruvian athlete, Harald Petersen, in 2014 and I fell in love with the three day format. Following this experience I decided to go for it and prepared myself for Ultraman Florida in 2017.
Preparing for Ultraman – how much different is that (if at all), to Ironman?
No big changes on the bike; less intensity and more volume for the run (e.g. back-to-back sessions), and adding 2-3 long distance practice swims (4-6k) in to my plan.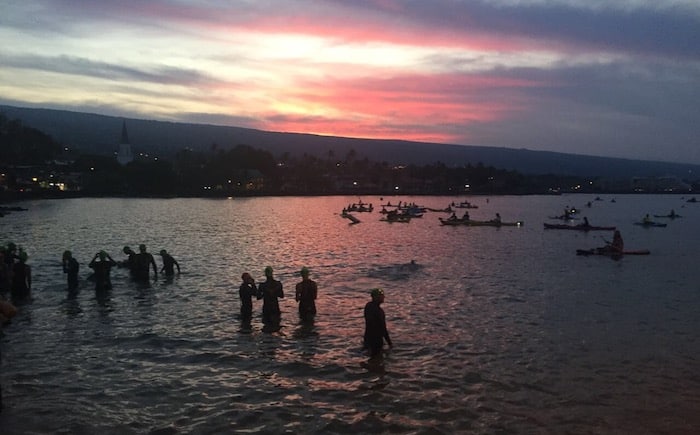 I believe you have quite a connection to the UK, in terms of coaching with (and being coached by), Rob Griffiths. How did that link come about?
After years of (bike) guiding for UK tour operator Sunvelo (www.sunvelo.com), we discussed the launch of a triathlon camp in Mallorca. In 2016 David Harwood (owner of SunVelo), established SunTri (www.suntri.co.uk) as a triathlon camp in Mallorca and together with Rob Griffiths and my husband Gerry, we were forming the coaching team. So, I came in touch with Rob and his comprehensive knowledge and experience in triathlon, as well as his background as mental coach. At the end of the first camp, Rob became my coach 🙂
You raced in Kona this year (at the IRONMAN World Champs), you were in the final mile… and then didn't finish. Your run splits to that point look very consistent, with no obvious sign of a race-ending problem. Do you remember what happened?
Not at all, I didn't even not know where it happened. I did not know whether I passed Palani or not. A friend told me that he saw me at the Hot Corner [Ed. at the bottom of Palani, with just one mile remaining], and I looked fresh. At the medical report later on, it is written: "runner down at Henry / Kuakini". I woke up again in the medical tent, where I couldn't speak or remember anything.
With only six weeks between the Ironman and Ultraman, how did you manage to overcome that setback and still stay focussed on Ultraman?
In the first days after my collapse I could not imagine racing the Ultraman. We went to Maui for a holiday and due to my still weak condition, my husband sent me to hospital in Maui. They checked me through, did blood tests, gave me "litres" of infusions and eventually the "GO" (we called it green light in Germany), for the Ultraman.
Back again on the Big Island we started to train again (in close cooperation with Rob), and it was my unbending will to use the remaining time to Ultraman with well balanced training. We rode the entire bike course, I did the run and swim course (in sections). Still not knowing whether its enough 😉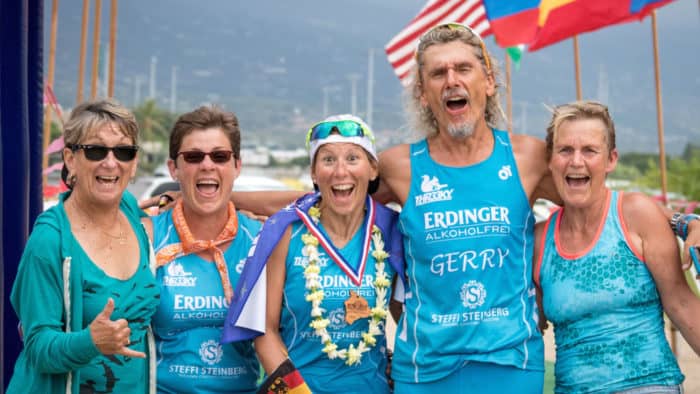 Ironman has well over 2000 entrants and Ultraman around 40 – quite a contrast. Do you have a preference to either type of event?
No, each event has its special charm and attraction. At the Ultraman, I love the adventure character of the event, the experiencing of the nature, the familiar atmosphere, the format of the race and last but not least the feeling to do it as a team with my crew. At Ironman it is more competition amongst the athletes with two goals: time and ranking.
Day One, you swim 10km and then cycle 90-miles. Did all go to plan?
No, during the swim I swallowed too much salt water (got sick), and could therefore not take all my planned nutrition. I felt this lack of missing nutrition also on the bike, particularly in the third quarter of the course.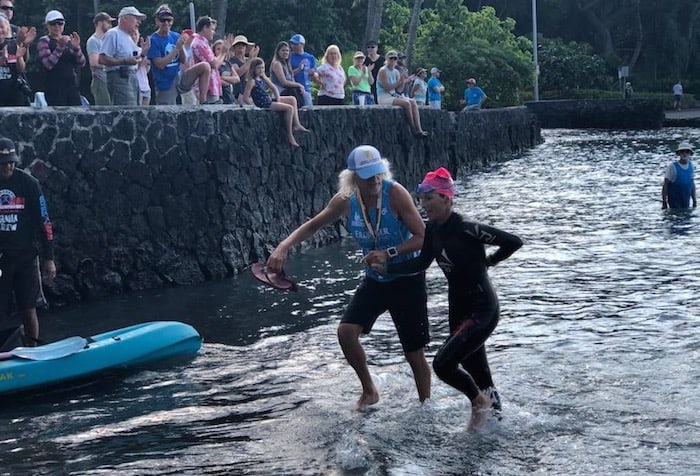 Day Two was another nine hour day with a 171 mile cycle – how did you feel after Day One?
After bike finish I felt rather fatigued due to low level of carbs storage, but after massage and good maintenance from my crew, I was in good shape again next morning.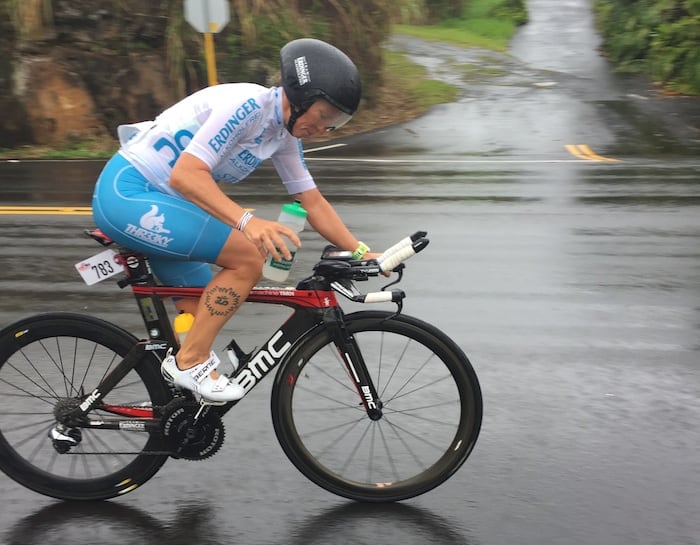 Day Three is the double marathon – running back from the Ironman bike course turn-point in Hawi. Is that something you can look forward to, or fear?
Due to my favorite leg and my confidence in my strength on the run, I looked forward to day three. Also, due to the practice runs on this course, I was confident.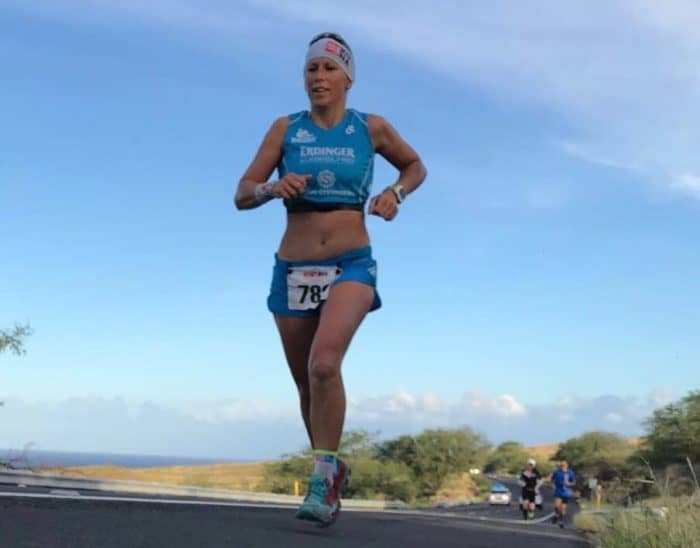 What surprised you the most about your experience at Ultraman?
Before the race, I checked the final results of the former years and expected a time of some 28 hours due to the difficulty of the course compared to Florida. I was therefore surpassed by my time (26 hours), and having a gap to second place of four hours to Amy Craft from the USA.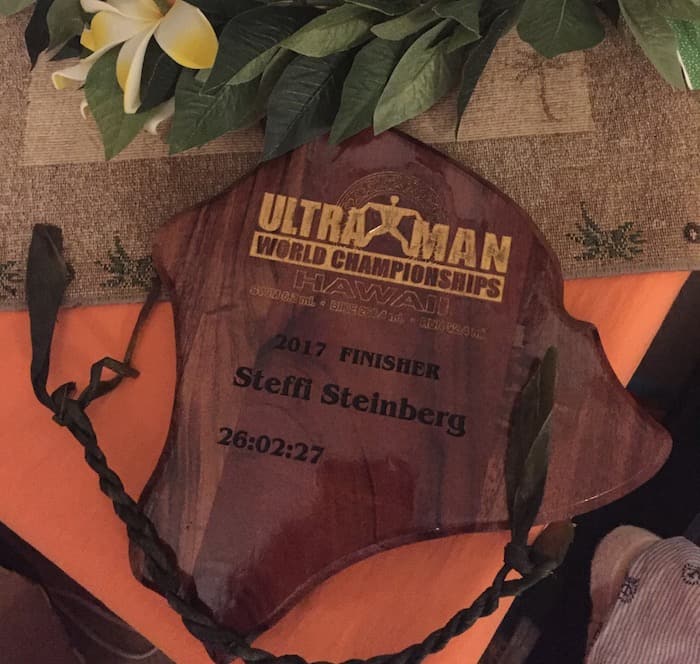 What were the toughest parts of the event?
The Kohala mountains and the 25 miles (with 45 miles/hour crosswinds), and the rainy decent from Volcano to Keaau.
How did you manage all of the nutrition requirements of those back-to-back events?
This is something you have to ask my crew ;-). I had a lot of recovery, local things (Acai plus Coconut water, Tumerick), and of course a lot of carbs.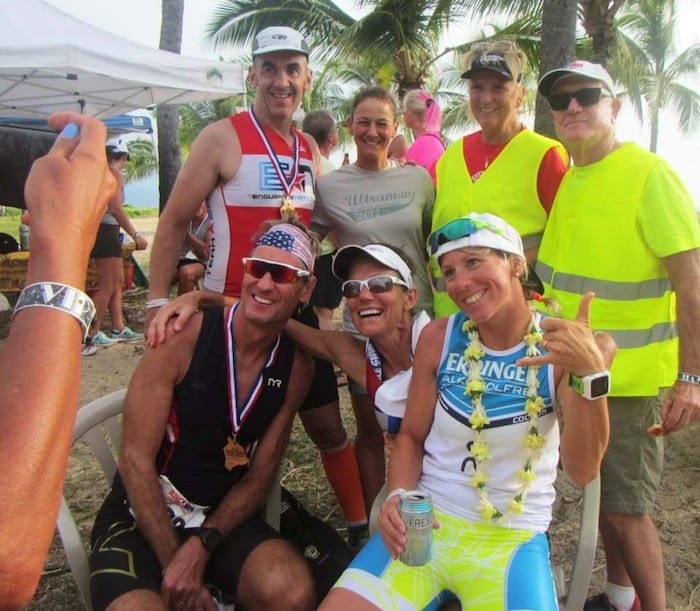 What are you next looking forward to in terms of sporting challenges?
To having a baby and looking forward to 2020, racing the Ironman Worlds and Ultraman Hawaii together with my hubby (if invited 😉 )