Number ten on Paul Shanley's 10 things I learnt at SUFCamp was "Be careful what you commit to after a few beers".
It would seem Paul was feeling rather merry and agreed to attempt the Knighthood, taking on 10 Sufferfest videos back-to-back in one day.
Paul reports back from what would be a very long day on a static bike.
---
Becoming a Knight of Sufferlandria
Normally when I sign up for a challenge I like it be a bit scary and daunting, which helps motivate me to train. I also like to have a real desire to finish/achieve it, which I know will keep me going when it gets tough. I had none of these feelings about the Knighthood!
I can't blame anyone else for this situation, a few too many beers and having met some really nice people that were Knights, I thought, lets go for it. To make matters worse, the group that I had agreed to do it with were based all over the world so we had a 'Global Knighthood Attempt', again making it more difficult for me to pull out.
The Knighthood in itself is a pretty simple concept – you have to do 10 Sufferfest videos back-to-back (well, with 10 minute rest in-between each one).
There are some rules (HERE), but generally the main one is you have to suffer for a long period of time. If you haven't tired Sufferfest then you should – they are great and I found myself getting quite addicted to them. It is a bit like doing a fun spin class at home but with more suffering.
I like to think I am a man of my word, but in the cold light of day the thought of sitting on an exercise bike for 10 hours was so far down on my priority list that I really was looking for a way out of this challenge. Before I could work up an excuse, we had a venue booked, a list of videos and some banter on social media. The window of opportunity for pulling out was gone.
The would be Knights
We started off with eight people looking to become a Knight, but by Knighthood day we were down to five: Micheal Ford in Australia who would start the Global challenge; Myself, Elis Gomer and Rich Baker (MD of Wattbike) in the UK; Timothy Mineo in the USA who would finish off and bring it all home.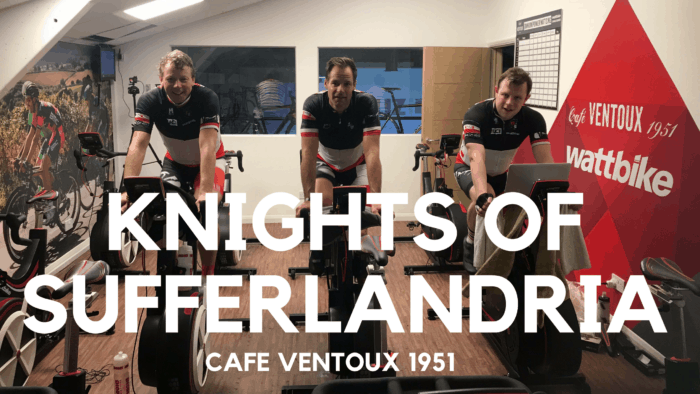 The venue – Cafe Ventoux
The UK arm would be living the dream in terms of venue. Through Richard's Wattbike connections we were going to be using the Wattbike studio at Cafe Ventoux (www.cafe-ventoux.cc), just a few miles outside of Leicester. The venue is stunning and a must visit. Set on a 20 acre site with a wedding venue and a few other businesses, to call it a bike cafe would be a massive disservice. Yes there is a cafe, a big one at that (with a lovely food menu), but it also home to a fully stocked bike shop, a Wattbike studio and plenty of events to entertain cyclists all year around. If you are in the area, do pop in and grab a coffee.
The Attempt
It was horrible. Truly. The first video, as you can imagine, was all smiles and laughter and I had to work hard to hold myself back as I knew it was going to be a long day. The second video was the game changer; it was the longest one we would do and just seemed to never end. Even telling myself that this would be the longest video of the day and the rest will feel much easier, didn't help. From video three onwards it all became a bit of blur. Yes we had some laughs but I couldn't for the life of me tell you what they were about. I can tell you that the 10 minute breaks went past at lightening speed. It was truly horrible. My bum was in agony from video three to this very day.
HIGHLIGHTS: The hospitality from the venue has to feature right up there in terms of highlights. Everyone at Cafe Ventoux made a real effort to make sure we were looked after and well watered and fed. It was also great to have visitors throughout the day and served as a great distraction.
LOWLIGHTS: Some pretty dark moments and I am trying to forget most of them. Don't let anyone tell you that doing the Knighthood is fun.
Becoming a Knight
And this was surprisingly where it all changed for me. It wasn't until a few days later that I filled out the details online to apply for my Knighthood. I then got an email to confirm I was now Sir Paul Shanley and a handwritten envelope in the post with some pretty cool Knighthood decals to add to my bike. I was actually really proud that I had done it and survived to tell the tale. I am now a member of a select group of people from around the world that have taken on the challenge, and weirdly, I feel a connection to these people. I also know that I will never have to do it again – and that is such a good feeling.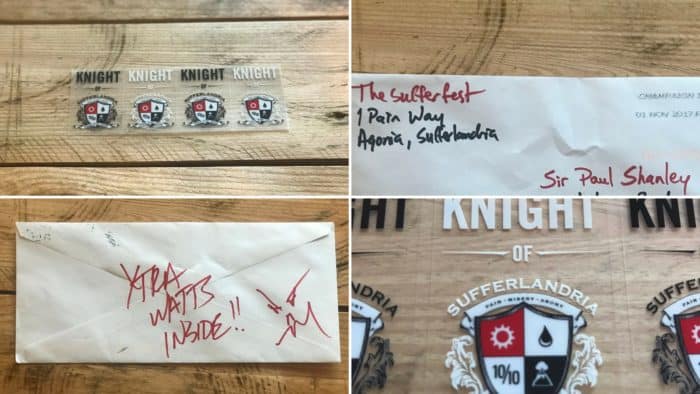 Want to have a go yourself?
Do it. I know I have just spent most of this article saying that it was horrible, which it is, but you should still do it. Life is enriched by experiences and by doing the Knighthood, it will make all other experiences seem so much better. There is some logic in that.
You will also be able to join a really cool and supportive WORLDWIDE group of fellow Knights (and Dames).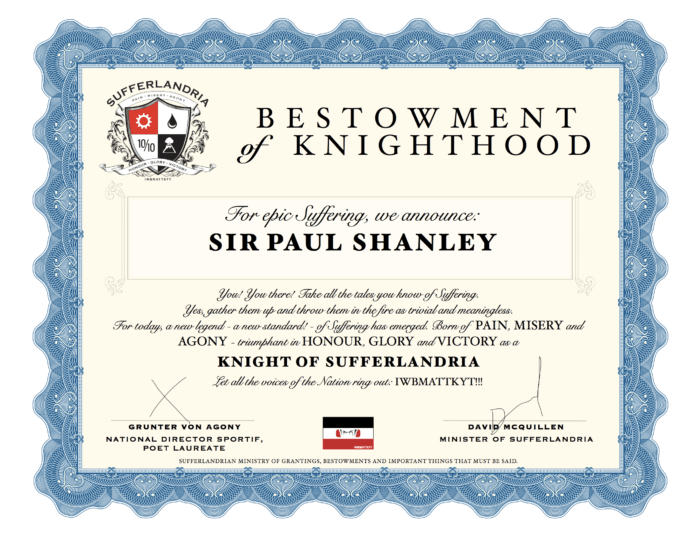 My tips to make it a little less horrible would be:
Do it with friends. Ideally, all of you at the same place. I can't image what it would be like to do your Knighthood on your own. A salute to those who do.
Plan your video running order. l cant take the credit for our playlist but it was really well thought out (playlist in the video below for reference).
Eat lots. "Mood = Food". Michael Ford who went first on our attempt put that up on Facebook just before we started and it made a big difference. Eat and drink regularly.
Test all your equipment before you start. The last thing you want to do is run out of battery on your ipad etc…
Get people to come and visit you. You will hate it most of the time but it does mean you have to attempt to be polite and that does take your mind of what you are doing.
You can read all about how to become a Knight HERE. You can also watch a time-lapse of our Knighthood attempt below. A big thanks again to Sufferfest, Cafe Ventoux, Wattbike and all my fellow Knights; Sir Micheal Ford, Sir Elis Gomer, Sir Richard Baker and Sir Timothy Mineo.