Where did all those years go?!
The Outlaw Triathlon will reach its ninth birthday in July this year
How time flies? It doesn't quite feel like yesterday… but it certainly doesn't feel like eight and half years (!) since the new iron-distance triathlon from East Midlands based organisers, One Step Beyond (now OSB Events), was named as the Outlaw Triathlon.
That first event, held in 2010, saw 714 individual and relay entries cross the finish line next to the National Water Sports Centre, Holme Pierrepont, to the now familiar call of, "You are an Outlaw!". Over 1,000 athletes achieved that feat in 2017.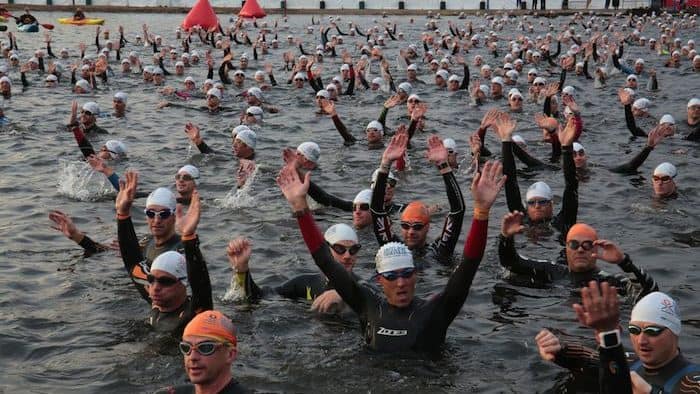 Achieving success in a challenging environment
In an events market – especially over the traditional 'full' distance – that is dominated by IRONMAN™, simply getting the event off the ground was a remarkable feat of planning and execution and that has been built on for the past eight years. Sunday 29th July 2018 will see the ninth edition of an event that has continued to gain popularity and awards – and even created it's own 'brand', with the expansion of the Outlaw Half events in Nottingham, Holkham and (soon to be announced), 'the South'.
It's presence on the summer schedule in the UK shouldn't be under-estimated; I vividly remember chatting to OSB Founder and Director, Iain Hamilton, who told me that the planning required to add the Outlaw Triathlon had required more than double the amount of work and effort than their rest of their existing portfolio combined.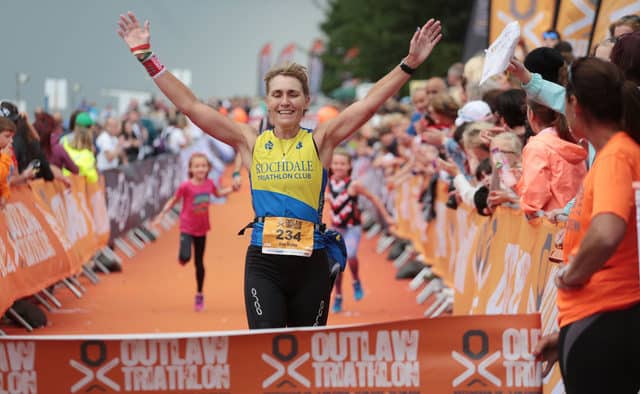 Outlaw Ever-Presents
For some, the Outlaw Triathlon 'bug' took hold right from year one. There are SEVEN athletes who have finished all of the eight Outlaw events to date:
Steve Braund
Chris Dunn
Gary Goacher
Eugene Grant (the 2013 winner)
David Manning-Ohren
Graham Yare
Nigel Swepson
If that is not commitment enough, three of those – Gary, David and Graham – have also done all of the Outlaw Half events in Nottingham and Holkham too!
Another one to be added on Sunday and hopefully the quickest yet! @4LifeTriathlon @OutlawTriathlon @ErdingerAF_UK @dreamteam_tv pic.twitter.com/v2x36p2onL

— David Manning-Ohren (@DavidOhren) July 20, 2017
Advice – from those who have raced it the most…
Racing for the eighth time in 2017, David Manning-Ohren produced an Outlaw PB time by 20 minutes, finished in 11:42:33. A few of his tips for conquering the Outlaw:
Register early so you can plan/fill and practice your transition bags at leisure – think about where to start the swim by going on YouTube and looking at all the swim starts that have been on TV.
Do not go too hard on the swim and be patient – if someone makes contact with you in the swim it will be accidental. This is not a race against competitors it is us versus the course and weather.
Use your bike computer to time alert function, I use mine to bleep every 20 mins so that I take on board a gel and every hour it will be a bar for the first four hours and then I go liquid only.
Have a run strategy and stick to it. Pros will walk the feed-stations, no reason why you cannot do the same, in effect this distance is an eating contest, that you have sussed out in training, DO NOT CHANGE WHAT HAS WORKED AT THIS STAGE.
The spectators are fantastic all around the bike and run course, acknowledge and engage with them.
Gary Goacher also achieved his best Outlaw time at the eighth attempt last year (10:42:50). The former Derbyshire Police detective, turned chiropractor has these words of encouragement for potential entrants:
There are many great things about the Outlaw; friendly, fast course, great venue. The volunteers are all encouraging and it is a very inclusive event. There is no snobbery about it and although there are some very elite athletes taking part, there are also some very novice ones, and we need the newcomers at these events.
The final "all Outlaws" finisher, Graham Yare, finished in 13:19:10 in 2017 and had a tried and tested approach to enjoying his Outlaw experience every July:
I do love every year as we make a long weekend of it and spend time with family and friends on the campsite.
That campsite is directly opposite the venue, which makes things very simple if pitching up under canvass is your thing. Full details here: https://www.nwscnotts.com/nwsc/camping-pitches
Pic of @UltraOutlaw at Outlaw17, his 8th Outlaw in a row. One of only 6 guys who have done it every year! pic.twitter.com/jZgxaN4iPV

— Outlaw Triathlon (@OutlawTriathlon) August 5, 2017
Outlaw Triathlon Winners
As noted above, the Outlaw has become closely linked with its inclusive nature, excellent organisation, friendly volunteers and (potentially), fast course. The Holme Pierrepont venue at the National Water Sports Centre also makes the event administratively straightforward, with Swim / T1 / T2 / finish / Registration / Expo and more all co-located next to the Regatta lake. Having been to many events with split transitions over the years, that is a huge asset in reducing pre-event stress.
It has also seen some quality performances at the sharp end of the field over the years too:
| Year | Men | Women |
| --- | --- | --- |
| 2010 | Paul Hawkins - 9:11:44 | Joanna Swallow - 10:45:51 |
| 2011 | Joel Jameson - 8:47:47 | Catherine Faux - 10:22:51 |
| 2012 | Harry Wiltshire - 9:06:16 | Emma Rand - 11:00:16 |
| 2013 | Eugene Grant - 9:27:09 | Vicky Gill - 9:50:58 |
| 2014 | Craig Twigg - 9:03:32 | Jenny Bosman - 10:35:45 |
| 2015 | Craig Twigg - 8:50:56 | Jenny Latham - 9:55:59 |
| 2016 | Kit Walker - 8:58:52 | Alison Wilson - 9:45:36 |
| 2017 | Kit Walker - 8:39:37 (record) | Gill Fullen - 9:44:46 (record) |
Interesting facts about those champions…
The very first athletes to cross the Outlaw finish line was actually an all female team, featuring Helen Gorman (swim), Lucy Gossage (bike) and Louise Collins (run). They finished in 8:52:15 in 2010.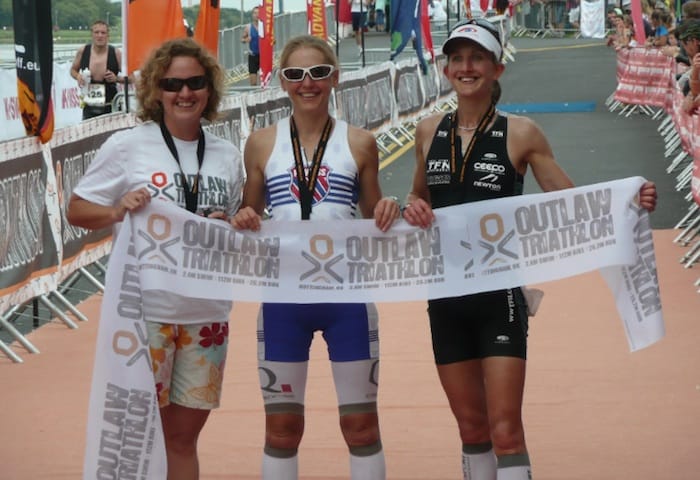 Debut winner, Joanna Swallow, is the sister of multiple World Champion and IRONMAN winner, Jodie Cunnama.
After winning in 2011, Catherine Faux went on to set the fastest female time ever – a record that still stands – at the IRONMAN World Championship in 2013, promoting her to call her 'Catherine the Great(est)'.
Catherine is also the only athlete to date to have won the Outlaw Half Nottingham (2014), Outlaw Half Holkham (2016) and the full-distance Outlaw (2011).
The 2012 Outlaw Triathlon was the first full distance race start for Harry Wiltshire – who had also won the 5km swim race the day before. In October last year, Harry became the third fastest British athlete ever in Kona.
2016 winner Alison Wilson has also gone on to more success – the fastest British female Age-Group athlete in Hawaii later that year, she returned 12 months later to take second place in her F25-29 category at the IRONMAN World Championship.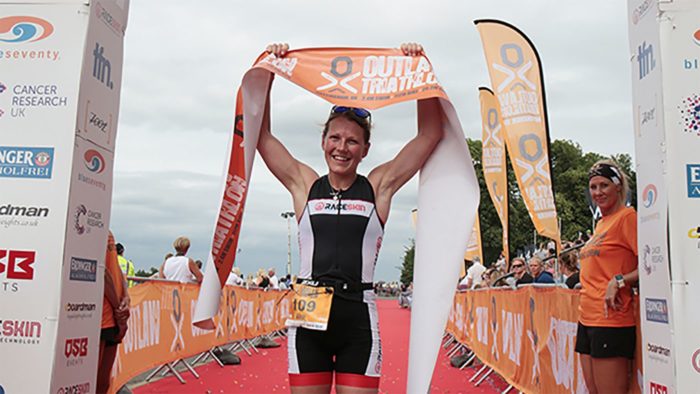 The closest finish in Outlaw Triathlon history was in 2013, when Eugene Grant finished just 14 seconds ahead of Ben Webeck.
The 2017 victory – and course record – of Gill Fullen, was one of the most remarkable stories of the race's history. In the year that she turned 53, and having recovered from cancer, Gill's performances continue to be an inspiration to all.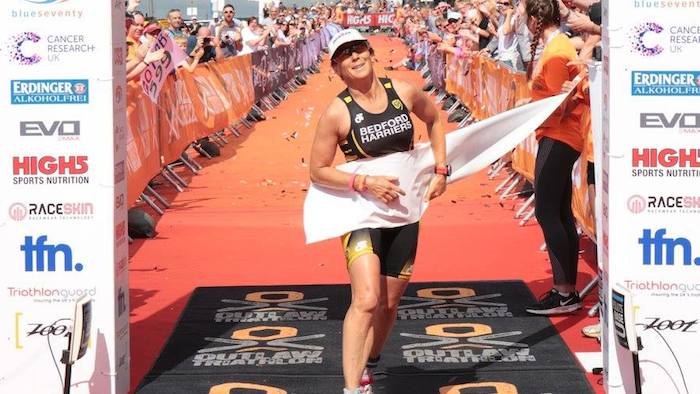 While there have been no two-time female Outlaw winners to date, both Craig Twigg (2014/15) and Kit Walker (2016/17) have both managed that for the men. Will Kit be able to make it three in a row this year?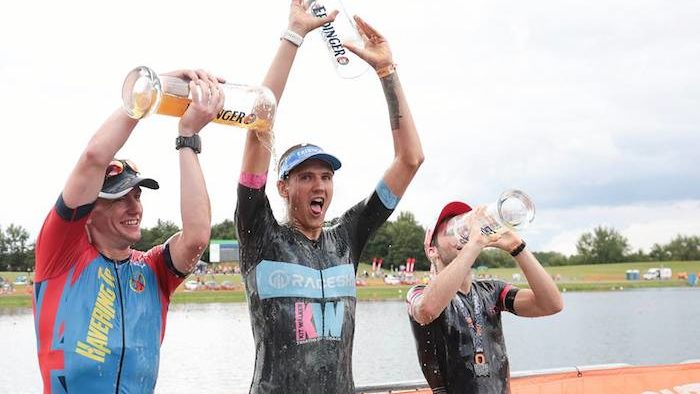 Interested?
Entries are still open (HERE) for the 2018 race, which takes place on Sunday 29th July 2018. You can enter both individual and relay teams – and as announced recently, you can even pay in instalments to ease the financial burden too.
If long distance racing is on your schedule for the season ahead, but you've yet to choose a race, the Outlaw Triathlon has proved its self worthy of your consideration over its history. Long may it continue as an important part of the British triathlon racing scene.