The Tokyo 2020 Olympics are fast approaching, and Canadian triathlete Amelie Kretz will be competing with the world's best triathletes using her Argon 18 Gallium Pro Disc.
Triathlon Canada was one of the last governing bodies to announce its final Olympic triathlon team. It kept us all waiting until 8 July 2021 to confirm that Kretz would be attending her second Olympic games (she also raced at Rio where she finished 34th). Congratulations Amelie!
Olympic selection challenges
Team selection and qualification for Tokyo has been controversial for many countries. Canada has had its own challenges, in particular almost failing to qualify for the mixed relay event.
Kretz appears to have followed a similar pre-Tokyo path to Britain's Tom Bishop, namely being the best placed individual to possibly gain another qualification position (in Kretz's position the aim was a second female slot, and in Bishop's a third male position), resulting in lots of races all over the world in a very short time-frame, but with a different result.
Fortunately for Canada, Kretz's success ensured a second berth and mixed-relay participation. Kretz's efforts were justly rewarded with confirmation of her Olympic selection.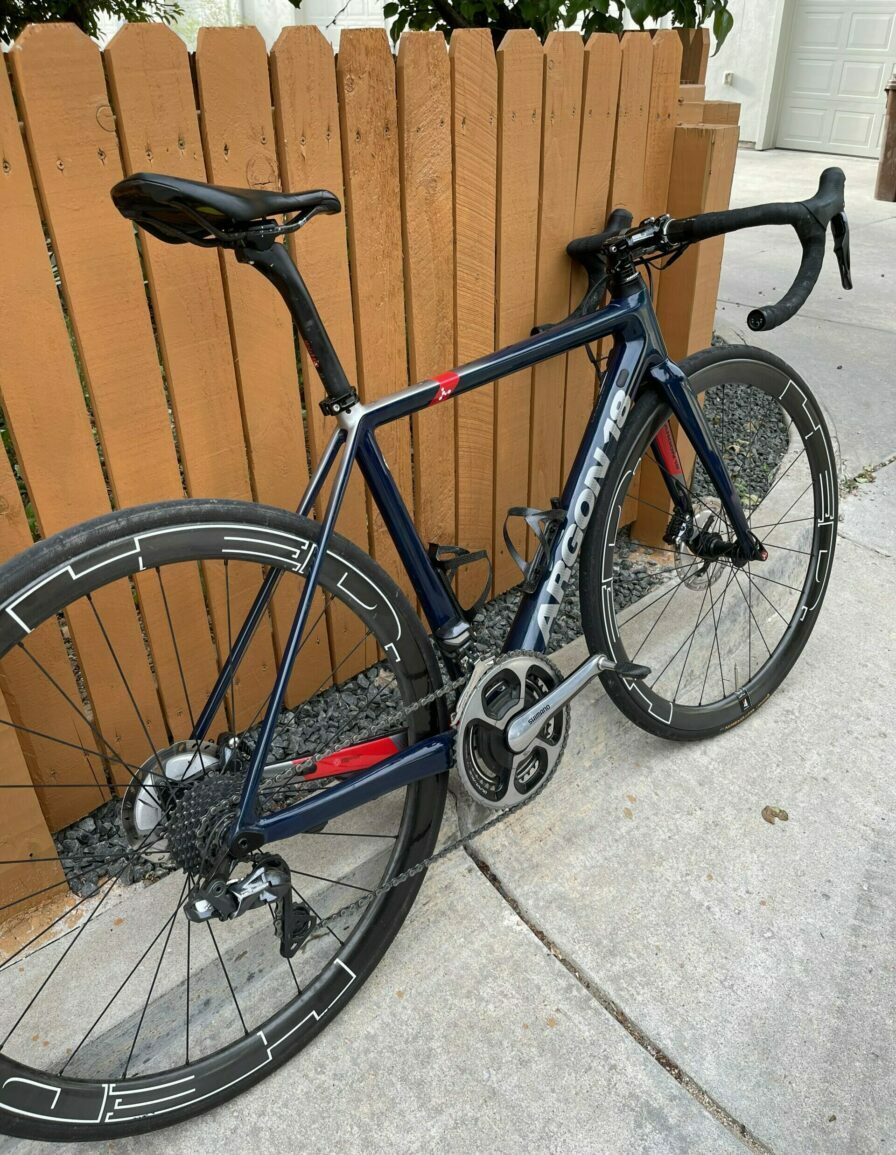 Argon 18 Gallium Pro Disc
Heralding from Quebec, Kretz grew up participating in a wide variety of sports, an all-rounder if you will, and she describes her Argon 18 Gallium Pro Disc as being equally versatile (I agree with Amelie's view on the colour scheme):
"First, it looks great! Who doesn't love a good looking bike?! And Argon 18 delivered just that with the great paint job. Most importantly, it's light and responsive. From climbing, to fast cornering, to time trialling, I know I've got what it takes to compete with the best. It's also very smooth and very adjustable to fit you perfectly."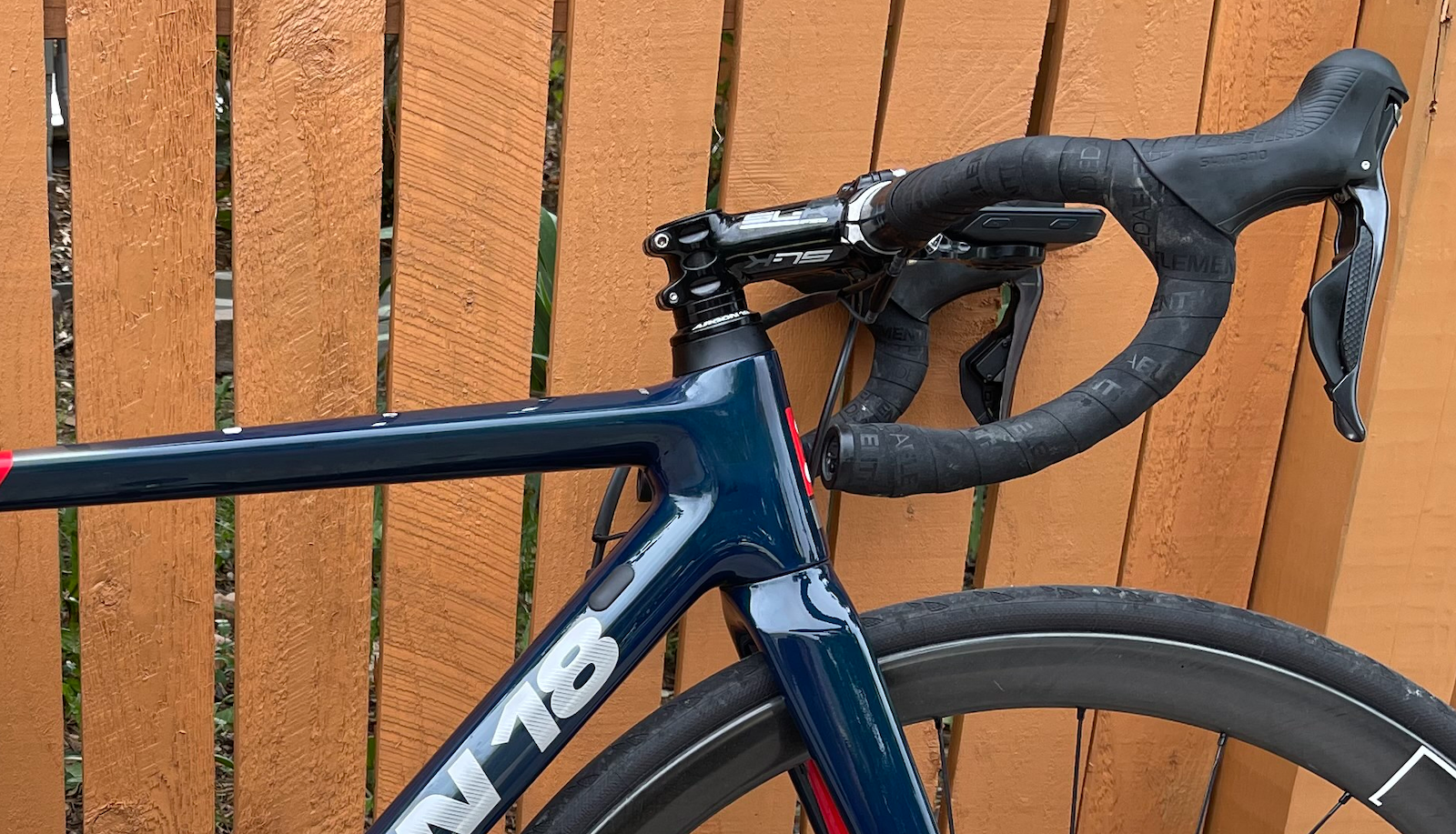 Disc brake concerns?
For many brands, disc brakes have been the future for some time. However, one of the criticisms with which naysayers counter the claimed benefits, is the increased weight of disc brake equipped brakes.
According to Kretz, not only does her Argon 18 Gallium disc brake setup offer enhanced braking, and confidence, the bike is lighter than the rim brake equivalent:
"I like the disc brakes because [they are] reliable in all weather conditions. Note that the Argon Gallium Pro Disc is lighter than the rim version! Also, you want to be able to brake just as well as other people in the peloton, so if everyone is using discs, I have to be using them too."
To clip-on?
Standing at 5 foot 6 inches tall Kretz rides a small frame, with a 90mm stem, and her carbon handlebars are 40mm wide. Tri247 recently touched on the increased use by short-course athletes of clip-on tribars, and Kretz confirmed she is partial to using clip-on bars (in her case Deda Superzero), for races that are likely to include solo-riding, time trialling, and for relay events. She explained that she occasionally removes the clip-on bars for training:
"I sometimes will take my draft legal TT bars off for training depending on what race I am getting ready for. I'll use them in training when I am getting ready for a mixed team relay race or a course that could require some TT work."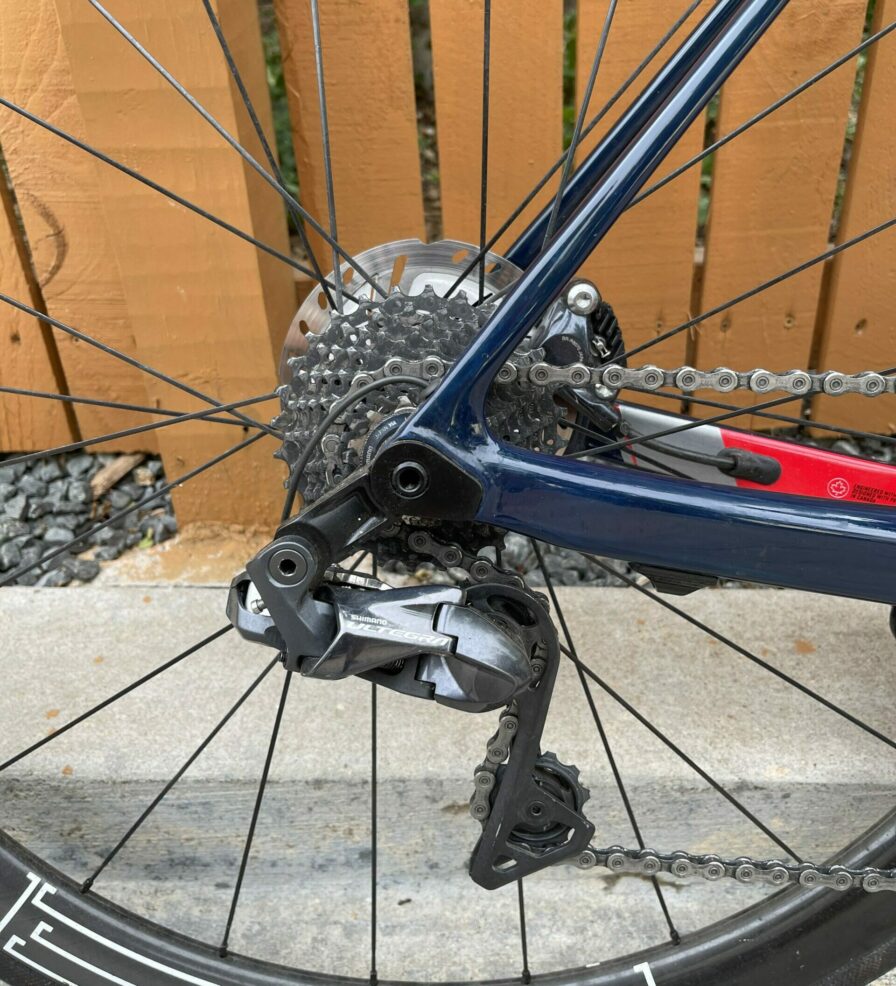 Bike fit
Kretz explained that to ensure her bike fit is optimal, she combines external expertise – it sounds quite a service from PhysioVelo – with her own experience:
"I get a professional bike fit at PhysioVelo in Montreal every year, sometimes a few times a year. If I feel like something is off and I'm on the road, I can always FaceTime them and they will help me with my fit! After years of riding, I can tell as soon as something isn't quite right with my position and usually I can also adjust on the go."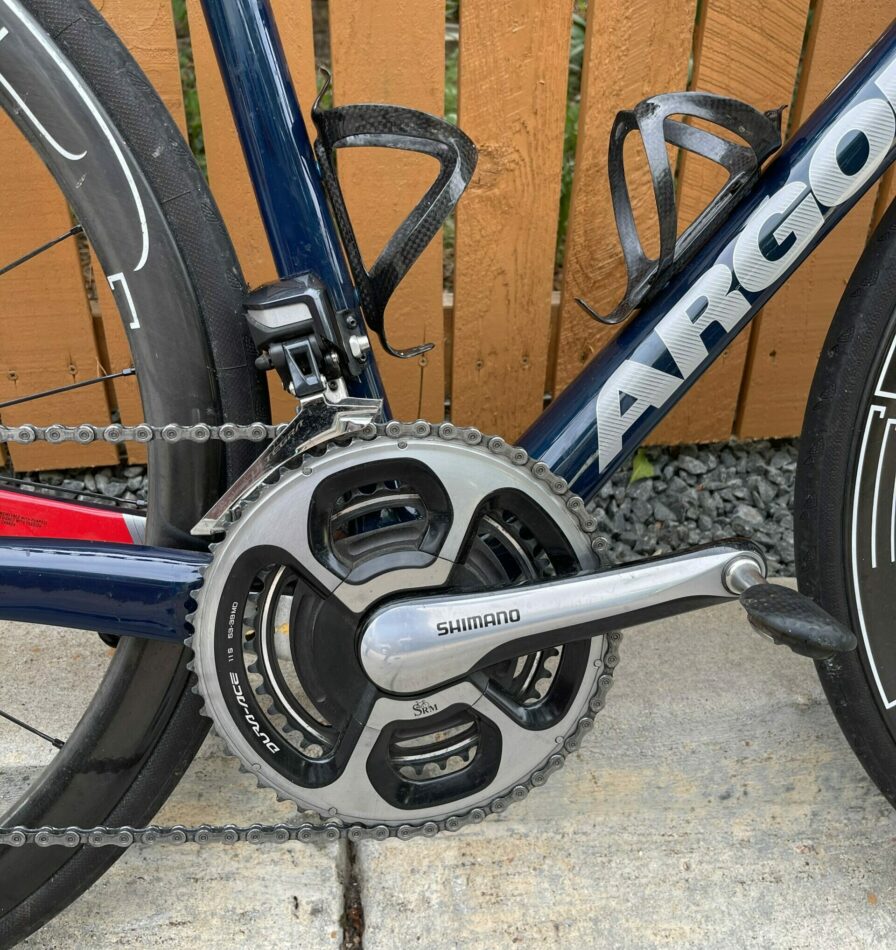 Groupset choices
Groupset-wise, Kretz combines Shimano Ultegra Di2 components with a Shimano Dura-Ace crank. Over recent times many road riders have started to favour a mid-compact chainring of 52-36, as opposed to a classic 'roadie' 53-39. Kretz has bucked this trend:
"[I use] 53-39 at the front and usually 28-11 at the back. I use standard chainring size so I can push bigger gear and get stronger!"
Saving your legs for the run
Interestingly, Kretz detailed why she opts for cranks than are shorter than the common options (170, 172.5, or 175mm):
"I have 165mm [cranks], I have to run off the bike so shorter crank length allows me to get over the gear faster and have a higher cadence to save my legs as much as I can for the run."
For many years SRM has set the standard for other power meters to aspire to, and arguably remains so, but the power meter market is now extremely competitive. Kretz's head has not been turned, and she continues to favour German efficiency for analysing her training and racing:
"I have used an SRM power meter for the last six years. It's the most precise power meter on the market. I use it for both training and racing. However, I never look at my power during a race. We just use it to analyse data post-race."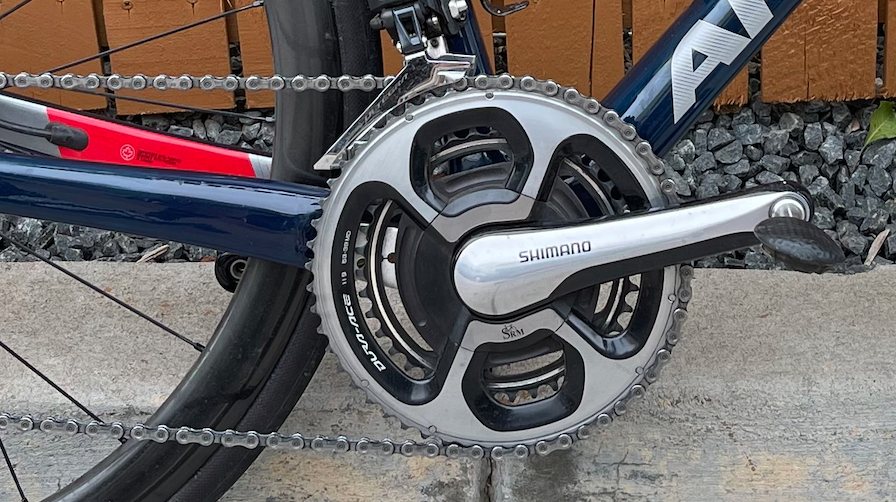 It's not just her power meter choice that Kretz has stayed loyal to. She has only ever had one style of pedals during her triathlon career, the popular Speedplay Aero pedals, and her reasoning is sound:
"I like how you can really customise the float and cleat position."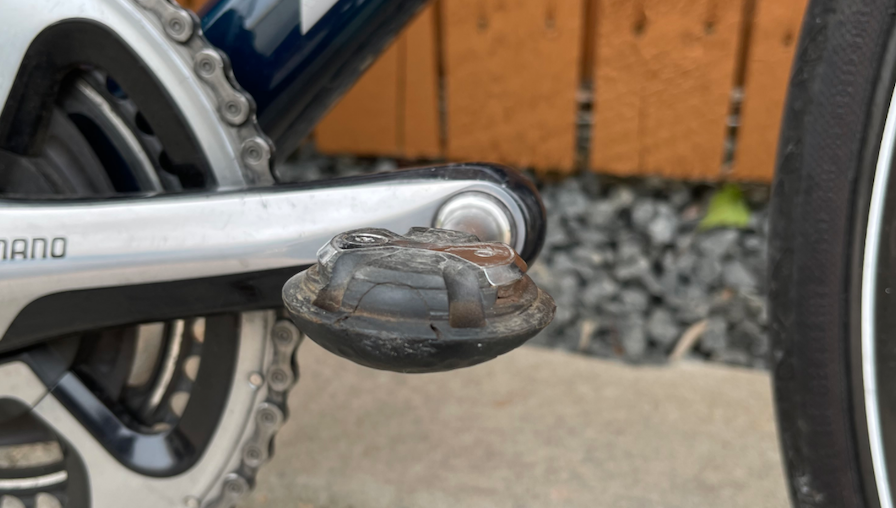 Wheels and tyres
Kretz's Argon 18 Gallium Pro Disc is fitted with HED wheels, whether it is a training ride or raceday. However, for raceday she opts for the new HED Vanquish RC6 Pro (paired with Vittoria Corsa Control 25mm tubless tyres), and on training days she chooses between the HED Vanquish 4 and the HED Ardennes+ (fitted with Continental Gatorskin tyres, 25 or 28mm). Irrespective of her specific wheel election, Kretz has been impressed by the HED offering:
"I love every pair of wheels HED makes. You can tell how much time and effort go into designing a pair of wheels just by riding it."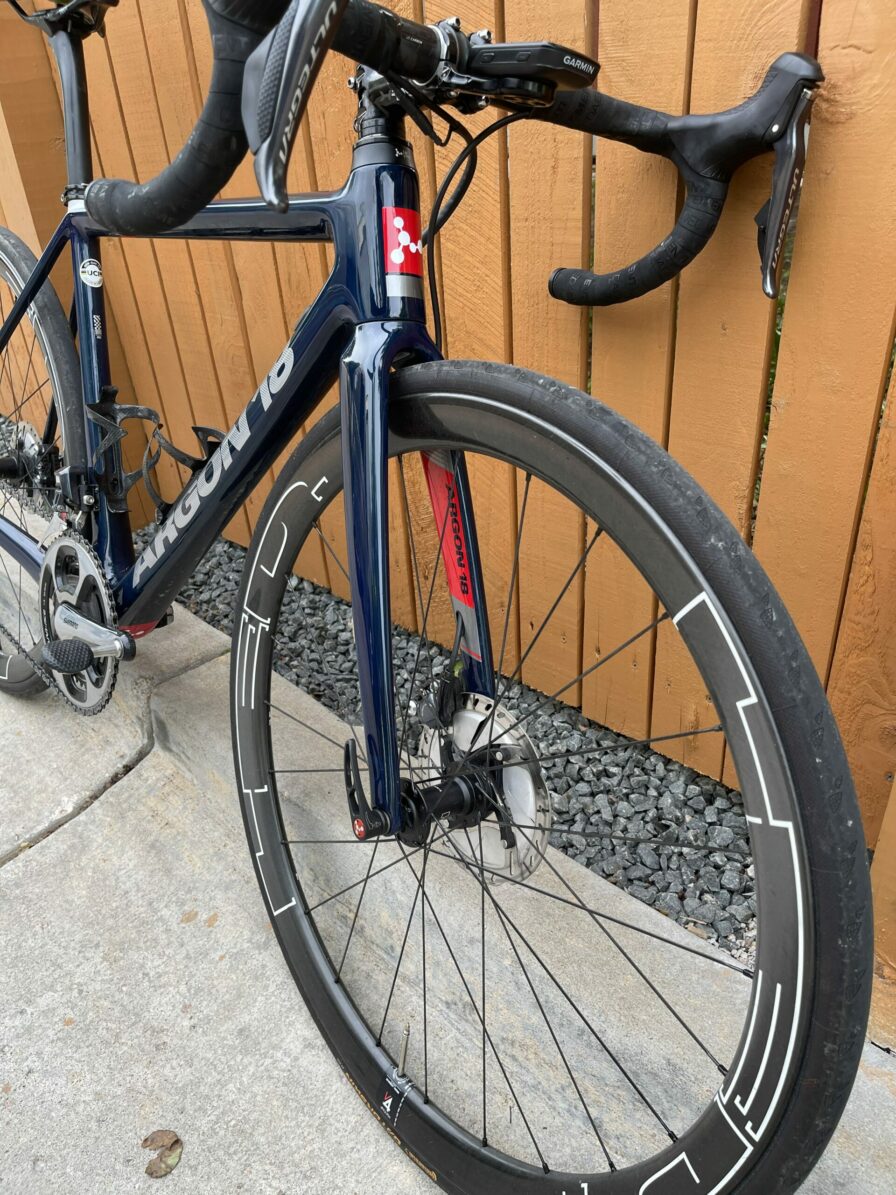 "My training wheels are so versatile, I know I can ride smooth [tarmac], rough [tarmac] or gravel and the performance of the wheels never changes, it's always world class."
"My racing wheels are just FAST! Aerodynamic on the flat but still light for climbing and so responsive on corners."
Amelie confirmed she never trains on her race wheels, these are sacred and saved for raceday:
"I save the fastest wheels for racing…I love to feel how much faster the race wheels are on race day."
When training indoors Amelie uses her race bike, riding on the rollers or smart trainer, and she flagged:
"I just have to make sure I protect it from all the sweat!"
Nutrition considerations
Concerning her stowing of her nutrition, Kretz pointed out that due to the relatively short nature of her races, as opposed to middle-distance races and longer, she doesn't require an intricate or complicated nutrition or hydration system. However, she did share her subtle nutrition differences between her staple races of relay, sprint, and Olympic-distance:
"Our races are usually pretty short. Anywhere from 20min up to 2hrs. I don't need a tonne of nutrition on my bike. For a relay race I might put a water bottle depending on the weather. For a sprint race I'll have one water bottle and a gel taped on the top tube.
"For an Olympic distance race I'll have a water bottle, a bottle with sport drink and two gels taped on my top tube. Nothing fancy!"
The Tokyo Olympics commence on 23 July 2021 with the women's individual race scheduled on Tuesday 27 July and the mixed relay scheduled for Saturday 31 July. Good luck Amelie!