When it comes to the optimum number of bikes to own you often hear the bold use of primary school algebra, namely 'n+1'.
Meet Stephan Gubler a Swiss journalist who has taken 'n+1' to the extreme with his passion for Bianchi.
---
Gubler's collection of bikes is remarkable, not just because his stable boasts nearly 30 bikes but also because Gubler has a passion and his passion is exclusively the quintessentially Italian brand, Bianchi.
As you might expect from a collection of 27 bikes, there are some absolute beauties along with a number of steeds that only a truly dedicated collector would be interested in.*
(* In the interests of full disclosure, my first 'proper' road bike was a Bianchi M-alloy bought from Geoffrey Butler Cycles, in Croydon, decked out in yellow and celeste colours. I unashamedly told anyone who would listen that I rode a Bian-shee, until my coach informed me it was most definitely pronounced Bian-key.)
So where did it all start for Gubler? Why the Italian bike brand which has been ridden by Fausto Coppi and Marco Pantani, and is currently supplying the Lotto-JumboNL World Tour cycling team?
It turns out that Gubler's attraction to Bianchi started before he was a teenager. He was only 12 years old when he got his first Bianchi, he can't recall the model but knows he had one overriding objective: "All I remember is that it had to be celeste!", he said.
His parents took a young Gubler on holiday to south Switzerland where they then crossed the border to Cannnobio, Italy, to buy Gubler's first Bianchi. The rest as they say, is history.
As a child living in Zurich (Switzerland), Gubler regularly walked past his local bike store which happened to stock Bianchi bikes and was decked in posters of Bianchi riders of the time, including star grand tour rider Felice Gimondi (a rival of the great Eddy Merckx).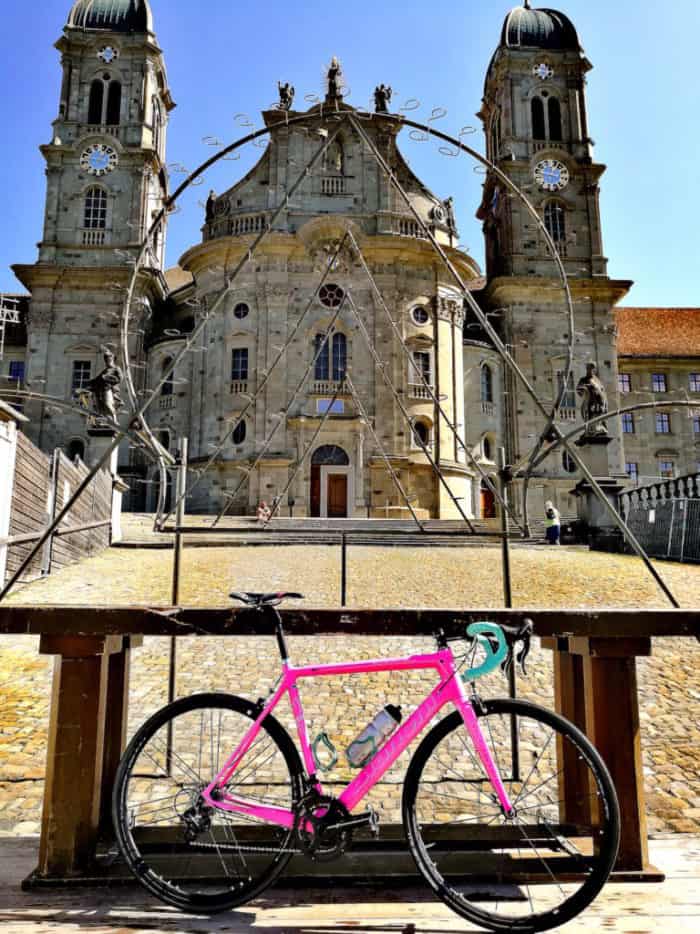 I decided to hit Gubler with some tough questions. First, which is his favourite/most treasured bike? A bewildered Gubler answered:
"Uff, very difficult to answer! I really love every one of the bikes I own. Otherwise I wouldn't have bought it. But looks-wise I just adore the celeste/yellow bikes from the Mercatone Uno era [the team built around Marco Pantani in the 90s]. Specialissima is the best Bianchi bike I have ridden, Infinito CV the most comfortable one."
Anyone who has seen Gubler's social media profiles will know he is a big fan of Marco Pantani. The inevitable question is why?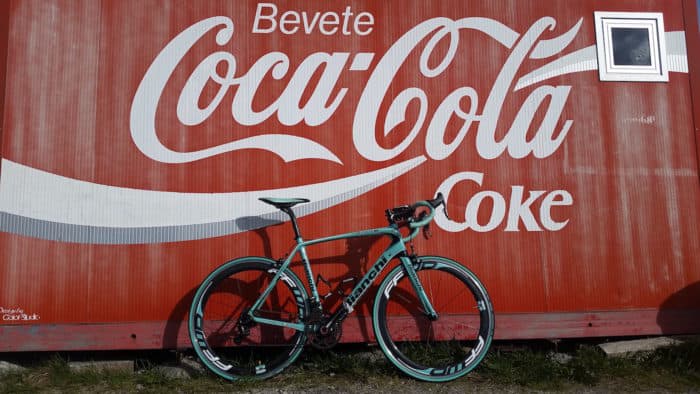 "I saw Pantani race by my house in the Tour de Suisse, I watched all his races on TV. Whenever there was a mountain stage, you could just wait for him to "explode" and take off. He was a myth when he raced and now he still is. He was a delicate soul, maybe too delicate for the cruel world of professional cycling."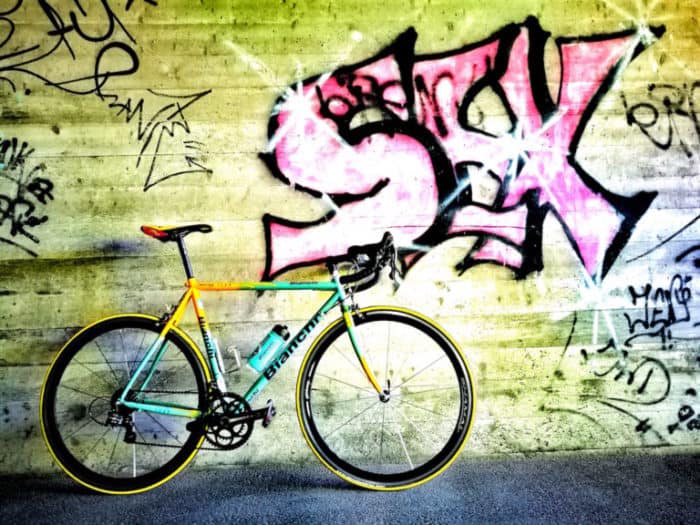 Bianchi bikes are renowned for their distinctive 'celeste' colour schemes. However, you might be surprised, it's not all about 'celeste' for Gubler:
"Of course celeste is cult. Like Ferraris have to be red. But I am for modern times and love that they now offer several colours with their tavolozza program for Specialissima and Oltre. I was one of the first brave enough to get my Specialissima in Pink giro. I also love the new, bright celeste fluro. It also looks a lot better on the Pros' bikes on TV."
I was interested to find out whether there is another acquisition on the horizon. Gubler does not feel his collection is yet complete:
"Oh yes [there are dream bikes I still desire], I almost got my hands on a real Pantani bike which was made for him. I haven't given up on that one. I also love Berzin's Time Trial bike [a Bianchi Crono titanium bike from the mid 90s made famous by Russian rider Evgeni Berzin]. Eventually I would also like to own a TT bike from Team Lotto."
Lastly, the cheeky question, how much money has Gubler spent on his collection? If ever there was proof of Gubler's passion it is his response:
"Honestly, I have never even estimated that. No idea! I am not interested in value. I am interested in the [Bianchi] bike's history and aesthetics."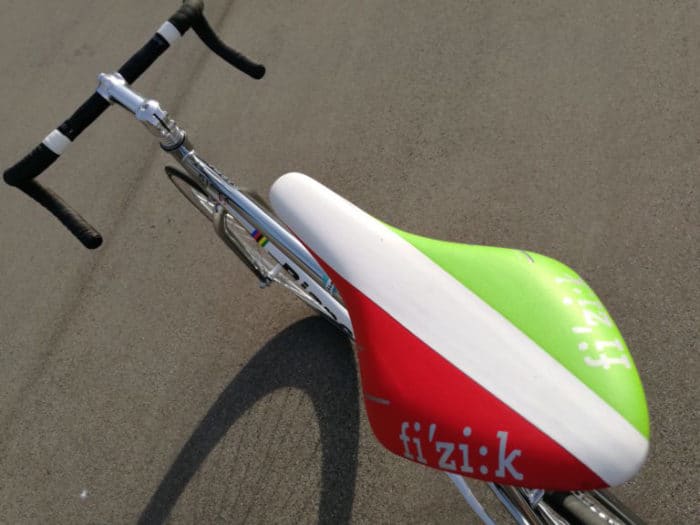 So just which bikes have made it in to the bike shed? Read on for a list longer than most people will own in a lifetime, never mind at one time!
MTBs
2000 Steel MTB
2001 Tycoon Carbon
2013 Methanol FS 29
Trackbikes
2012 Pista
2014 Super Pista
2014 Pista Carbon. Gubler sought this bike for many years and finally found it on eBay. He says that: Bianchi only made a handful of these trackbikes before deciding not to produce it; the Pista Carbon bikes were only raced once at the Rotterdam 6 Day; this particular bike was ridden by Australian Team Belkin rider Graeme Brown; although it is probably one of, if not, the rarest Bianchi. I use it regularly on the track.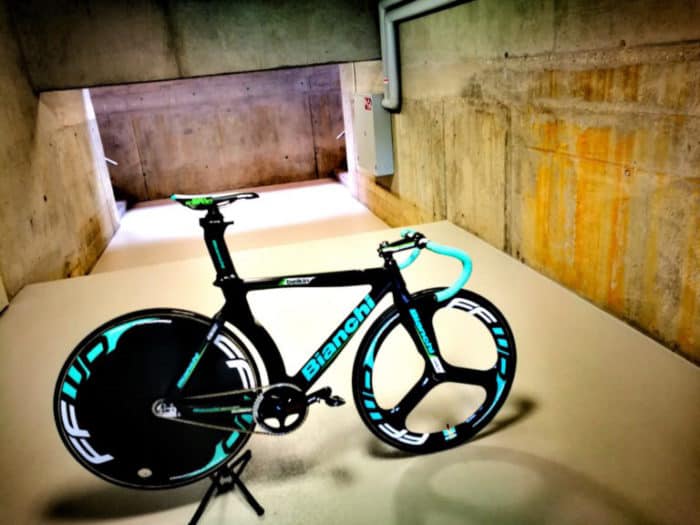 Road bikes
1979 Super Corsa
1985 Centenario
1995 110 Anniversary. Gubler states not many of this titantium bike were made. He found it much harder to find in original condition than the Centenario. It came with two different wheels made by FIR. Gubler believes the rear wheel must have been one of the first carbon wheels and was said not to last very well. He says he found this bike almost unused in Italy, where the seller was selling it under a wrong name, so nobody was bidding!
1998 Crono AL. This is a great looking time trial bike which Gubler says was ridden by Pantani's Mercatone Uno team mate Stefano Checchin. Gubler says this was a fantastic find on eBay, and cost him 'some' money.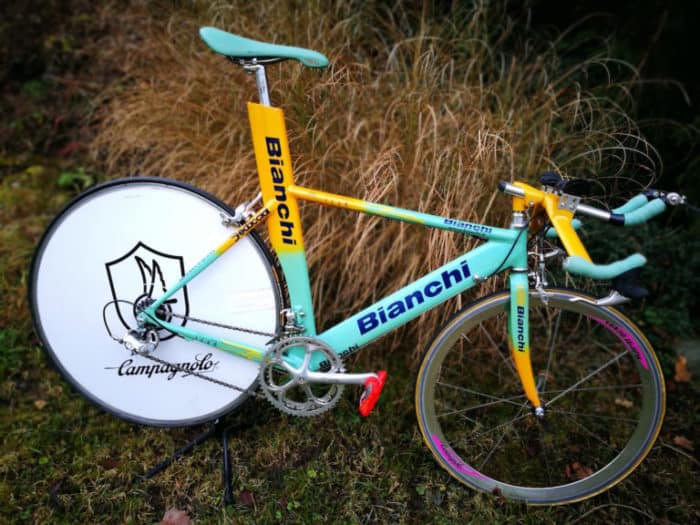 1998 Crono AL. Gubler recently bought another one of these framesets in an odd colourway (chrome with red).
1998 Ti-Mega DA. Gubler spent a year trying to buy this Mercatone Uno teambike and he finally bought it in spring 2017. He says it was ridden by Marco Fincato who is absolutely happy that his ex-bike is now being put back on the road. Gubler explains that these titanium frames were very rare because they cost a fortune and only a few team riders preferred the quite heavy frames.
1999 Pantani 101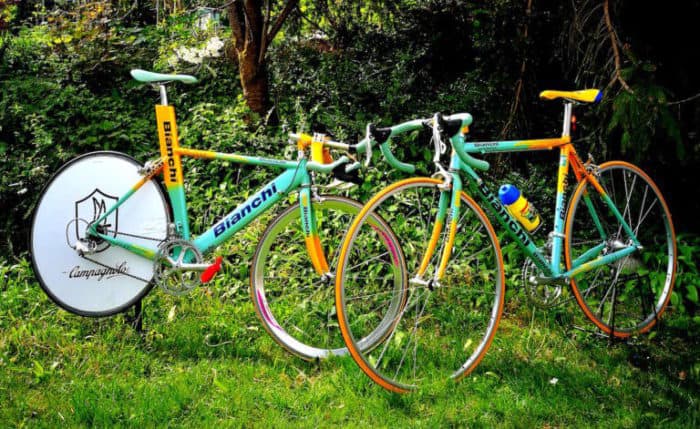 2000 XL Mega Pro
Estimated 2000 Crono Al. This is Gubler's latest 'barn find'. Gubler recalls that he bought it off a triathlete that switched to a newer bike. The bike comes with Marco Pantani's 'il Pirata' decals under a clear coat.
2000 Crono Al. Gubler worked on getting this Mercatone Uno Team bike for well over a year. It was ridden by Marco Velo.
2000 XL EV2.
2001 XL EV2 celeste. Gubler says this is another Mercatone Uno team bike which was ridden by Daniele De Paoli.
2001 EV2 black.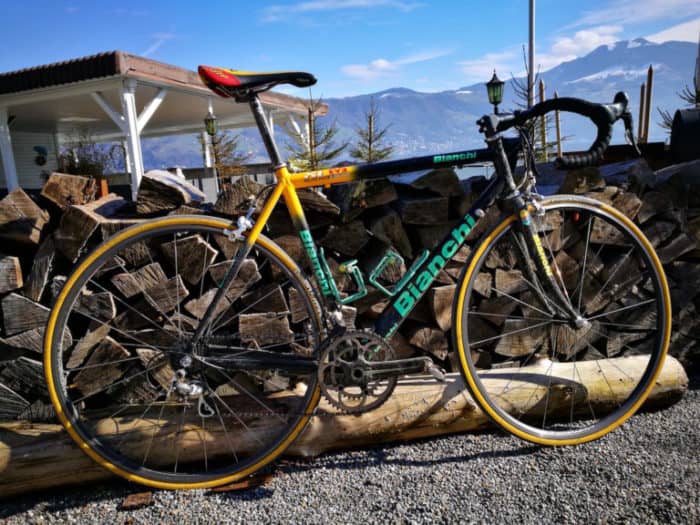 2002 XL EV4. The last Bianchi model ridden by Pantani. Gubler is waiting for the bike to be built ip from the frameset. He already has the parts ready including the superlight ITM Magnesium stem and Bianchi crank.
2003 XL EV3 Ullrich Replica. Jan Ullrich rode for the Bianchi trade team in 2003 and took part in in one of the most exciting editions of the Tour de France. Gubler acquired this limited edition (only 100 made) frameset from a German couple. He built it with all original parts including the limited-edition Mavic Ksyrium SSC SL Tour de France wheels.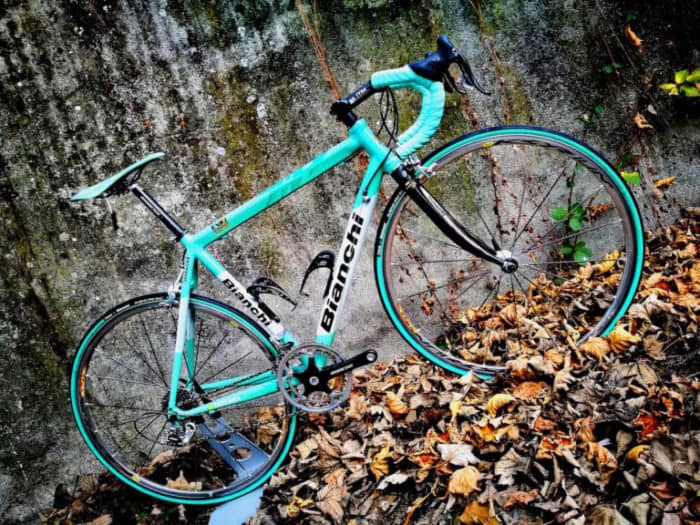 2004 928 L'Una – A great looking bike made from white carbon. Gubler says this bike was the purchase that really kicked off his Bianchi collection.
2006 S9 Matta Ti/Carbon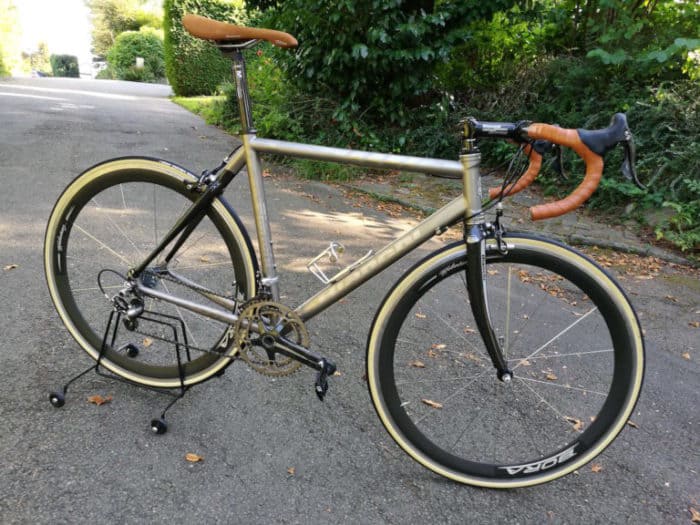 2011 Oltre Nero
2013 Infinito CV
2014 Zolder. This was Gubler's first Bianchi Cyclocross bike. He says it was initially only available in black, so he kept asking Bianchi to paint his in celeste, which they eventually did. Now they officially make it in celeste for 2018.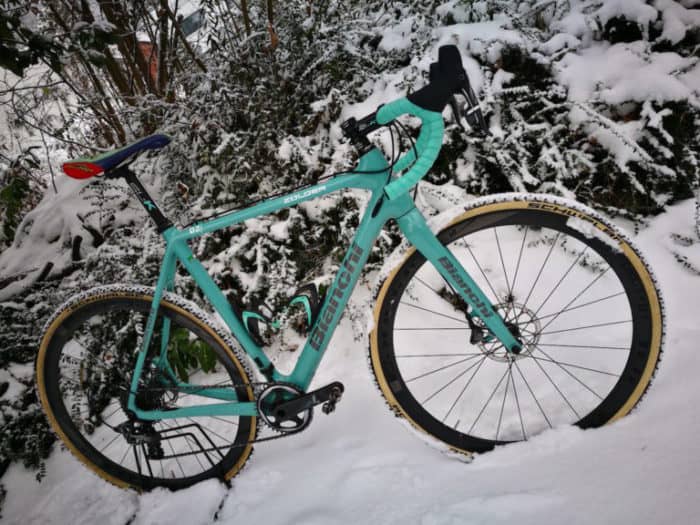 2016 Specialissima CV. Gubler calls this his 'pink panther' (the actual colour name is 'pink giro') and says it is by far the best Bianchi he has ridden. Gubler says it is a super light (6.4 kg in size 57 – I have ridden and tested the size 55cm which was incredibly light) and it was the first Bianchi that was offered in many colourways (Bianchi's 'tavolozza' custom option). Gubler opted to equip the Specilissima with mechanical Campagnolo Super Record and Shamal Mille wheels. He says it is a great climber and worth its hefty pricetag (circa £7,000).
Not only does he have a an envious bike collection and living the n+1 dream, he also has a pretty impressive instagram feed HERE.
Can you top this collection? Do let us know.