The Specialized Tarmac SL7 of Flora Duffy
If we played triathlon Top Trumps, Flora Duffy would undoubtedly be one the most sought after cards in the pack.
The Bermudian is renowned as one of the strongest cyclists on the ITU circuit, often putting that prowess to good use, with a palmarès the envy of many. That's not a surprise when you consider the strength of her swim and run disciplines too:
2x ITU World Champion (2016 and 2017)
2x ITU World Cross Triathlon Champion (2015 and 2016)
5x XTERRA World Championship (2014, 2015, 2016, 2017, 2019)
Commonwealth Games Gold medallist in 2018
Two-time Olympian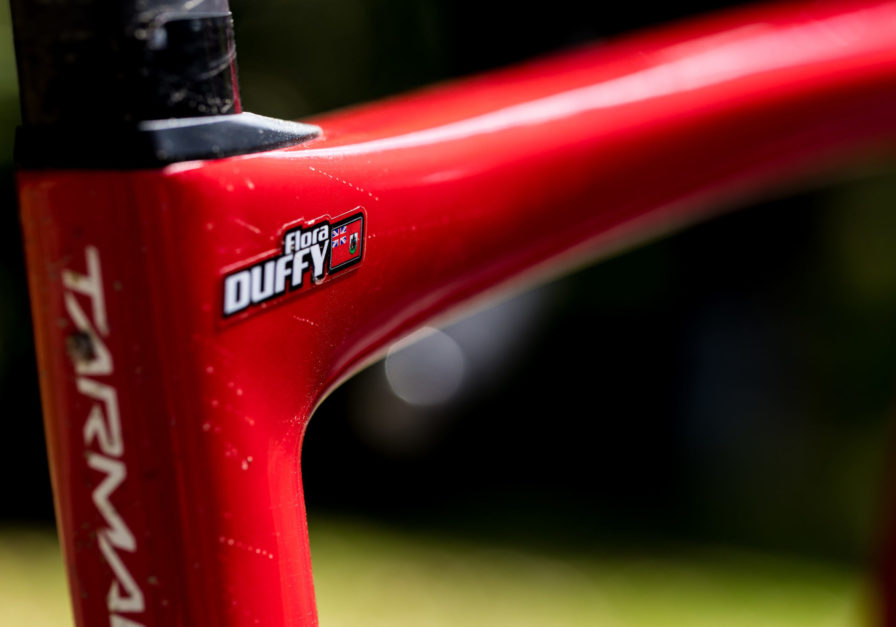 For 2021 her bike of choice is the Specialized Tarmac SL7. Johan Badenhorst, Specialized Global Triathlon Program Manager, recently explained what it means to be a Specialized sponsored athlete, and now we have Duffy providing a close-up with her 2021 race bike.
Aero and/or Lightweight?
Specialized launched the Tarmac SL7 with noticeable fanfare, along the lines of saying why should you have to choose between aero and lightweight? Duffy was a fan of the previous Tarmac incarnation, but says she is more than taken with her new steed:
"I love the Tarmac SL7! I was very happy with the previous Tarmac but in true Specialized fashion they managed to make an already great product even better. I really like that the bike is aero yet still light. As a small rider, having a light, responsive bike makes a massive difference to my performance."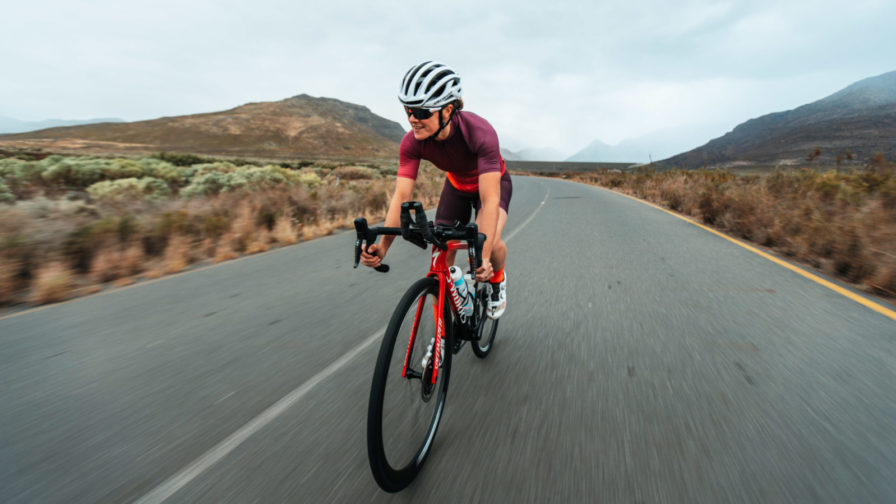 As noted by Duffy she is not the tallest. At 162.5cm tall she opts for a size 49cm frame, but extolls the benefits and importance of a bike fit:
"Every time I get a new bike, I have a bike fit on it. I have used the same fitter (Ryan Ignatz at CMS in Boulder, CO) for the last few years."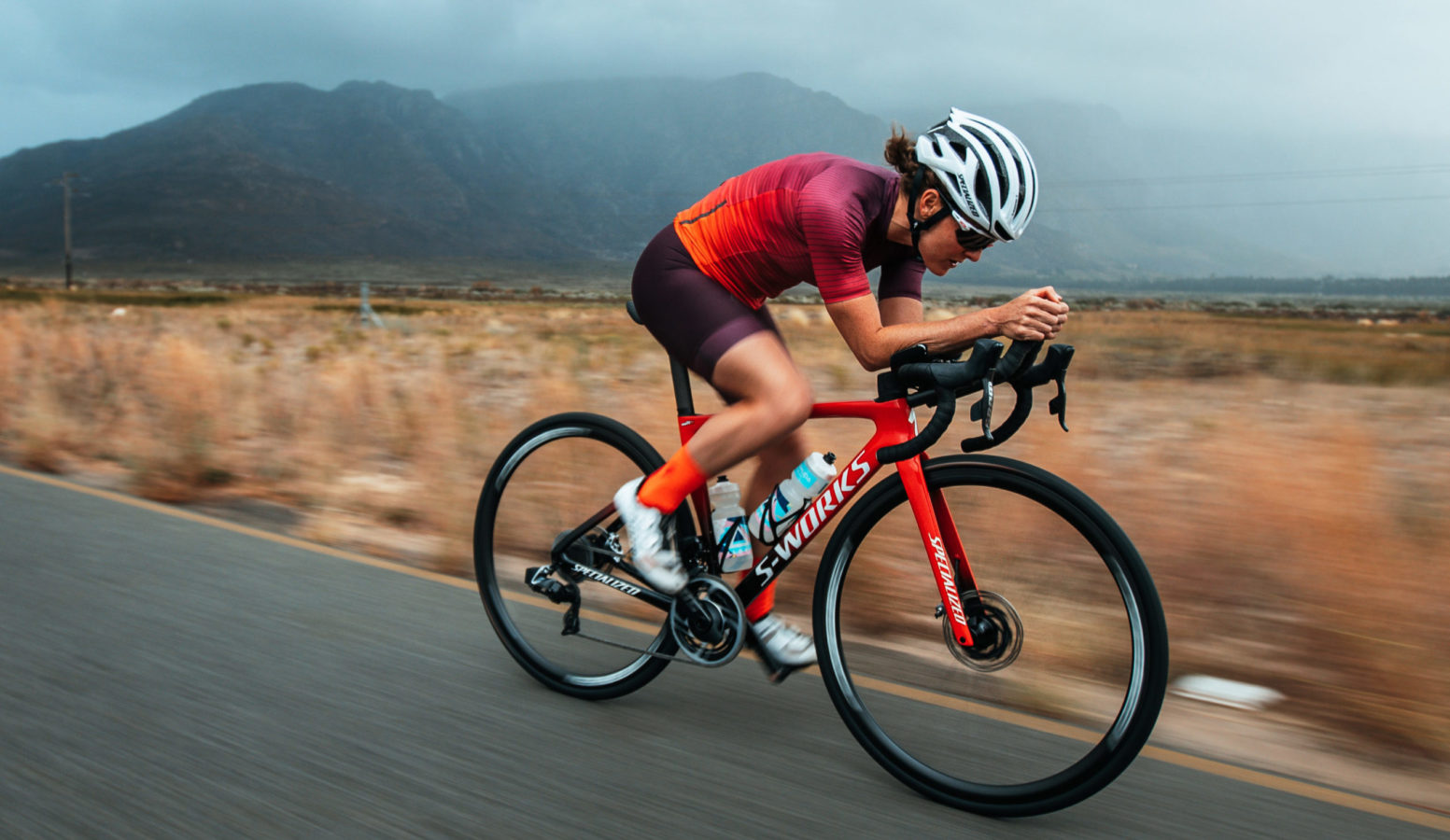 Even on a road bike when racing in ITU short-course races, aerodynamics is a crucial consideration, particularly when you often spend time at the front in breakaways. As you might expect from one of the most prominent cyclists in short-course triathlon, Duffy has tweaked her position to make as many gains as possible: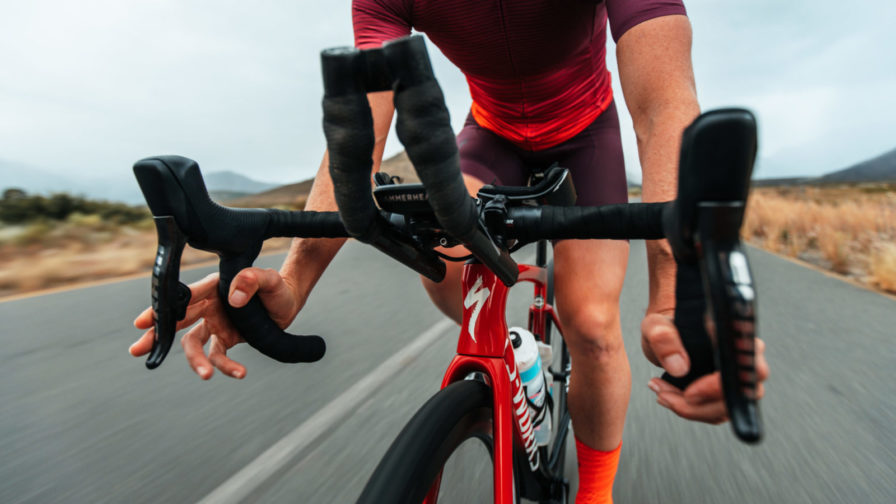 "I have changed the front end of my bike quite a bit from the stock Tarmac SL7. From the outside the changes look fairly straight forward but a lot of details have been considered to optimize my aero position. I ride 38cm-width handlebars and the bolt on aero bars have been pieced together to create the best fit for me."
As Duffy mentioned, she uses stubby aero bars to help her get the most efficient position, a particularly good idea if you are planning to get away from the main bunch, and if you look closely you can see the SRAM 'blips' to allow her to change gear without having to return to the hoods.
Comfort on the bike is fundamental and Duffy's saddle of choice is the Specialized Women's Power Pro with MIMIC technology, width 143mm. "The power saddle range absolutely changed my riding experience," she said.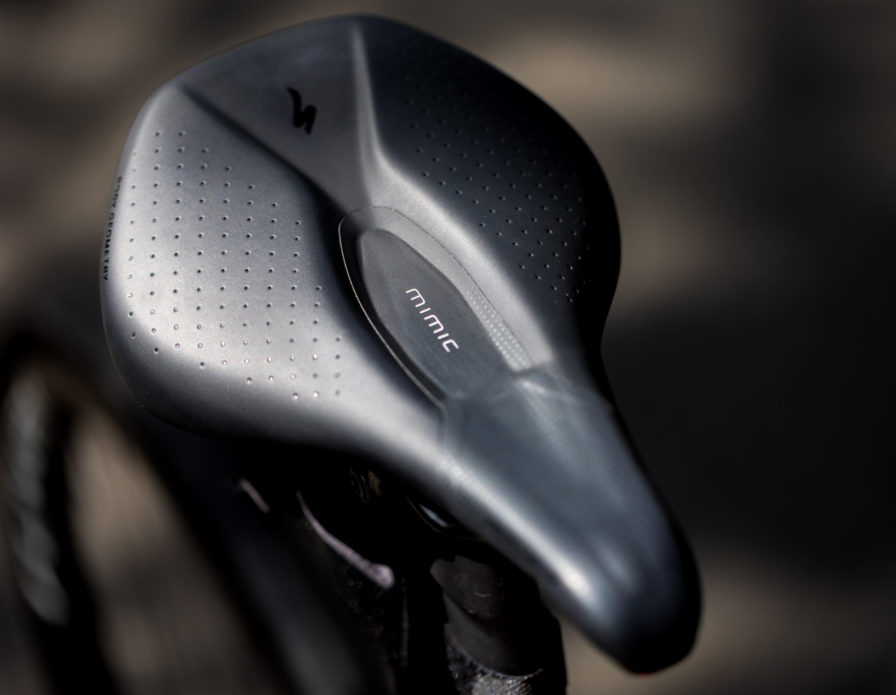 SRAM Components
The bike is equipped with SRAM's range-topping Red eTap AXS wireless (and 12-speed cassette) groupset. Duffy opts for SRAM components throughout, with no customisation.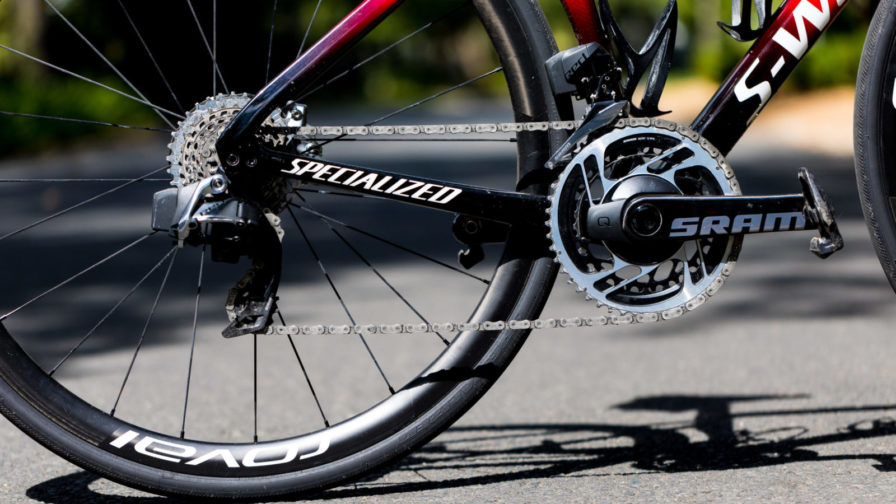 Flora uses 165mm cranks, having moved from 170mm several years ago at Ignatz's suggestion, and her preferred gearing is 48/35t and 10-33t cassette – making the most of the 12-speed cassette. "I have really enjoyed the range [of gear options] SRAM offers. So versatile. Great for training and racing," she explained.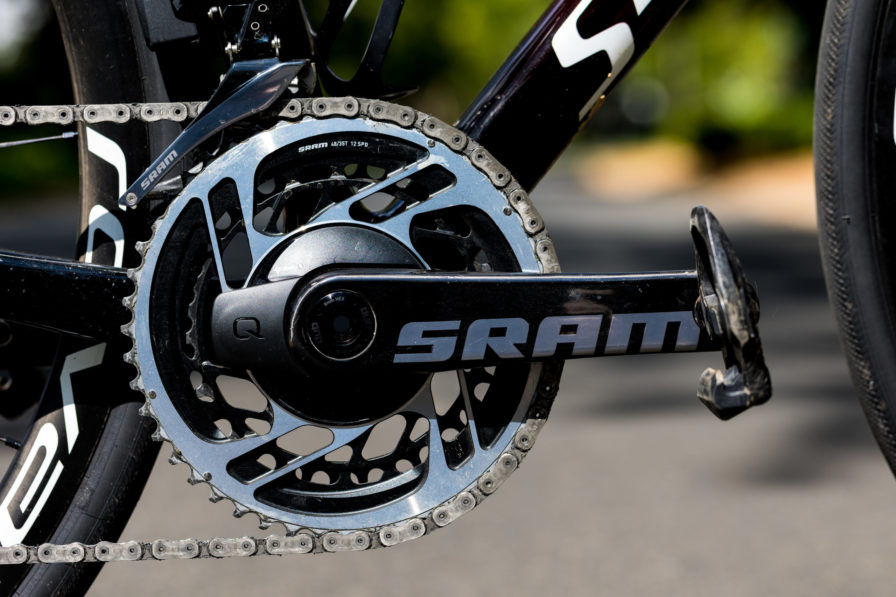 Talking of training and racing, Duffy (like many athletes) uses a power meter and Duffy's Specialized Tarmac SL7 is fitted with a Quarq SRAM Red AXS power meter. As you might expect, for Duffy power numbers are a real focus when training but on race day it is more about feel:
"A lot of my training sessions are prescribed by power, so I spend a lot of time staring at my power numbers! In racing, I use it more as a guide."
To disc or not to disc?
The topic of disc-brakes remains divisive, but Duffy's mind is made up: "…I love disc brakes. I could not imagine switching back to rim brakes! Why do I like them? because it is really nice to be able to stop!"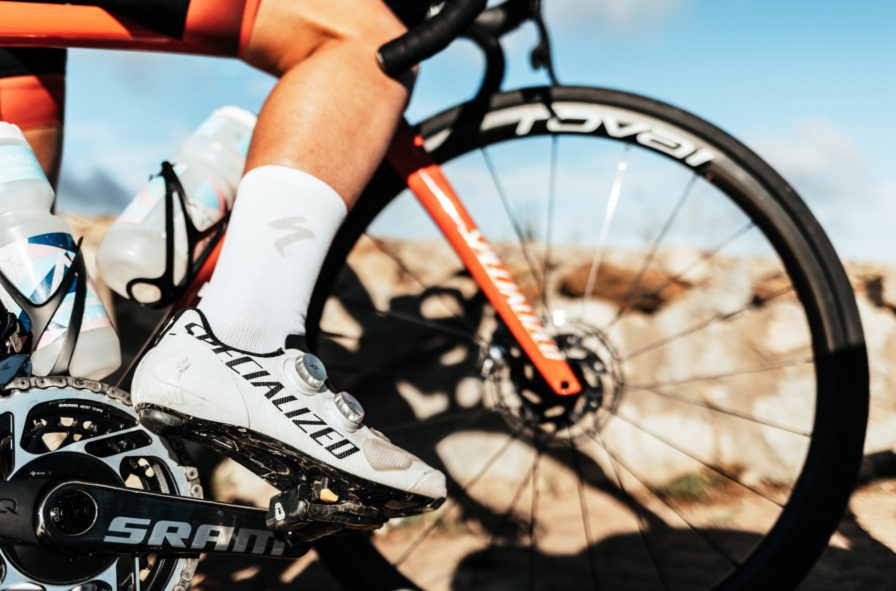 At the moment when training Duffy pairs Roval Aplinist hoops with Specialized Roubaix 25mm clinchers. However, when it comes to race day she combines Roval Rapide wheels with S-Works Turbo Cotton 26mm clinchers, and Duffy speaks highly of the wheelset:
"For racing, I use the Roval Rapide. They are amazing. The wheels were released last year and after the first ride I knew they were a game changer. It is the fastest rolling wheel that I have ever used. I noticed a big difference on the descents. I mostly ride with guys and often get dropped going downhill – but not when I have the Rapides on my bike!"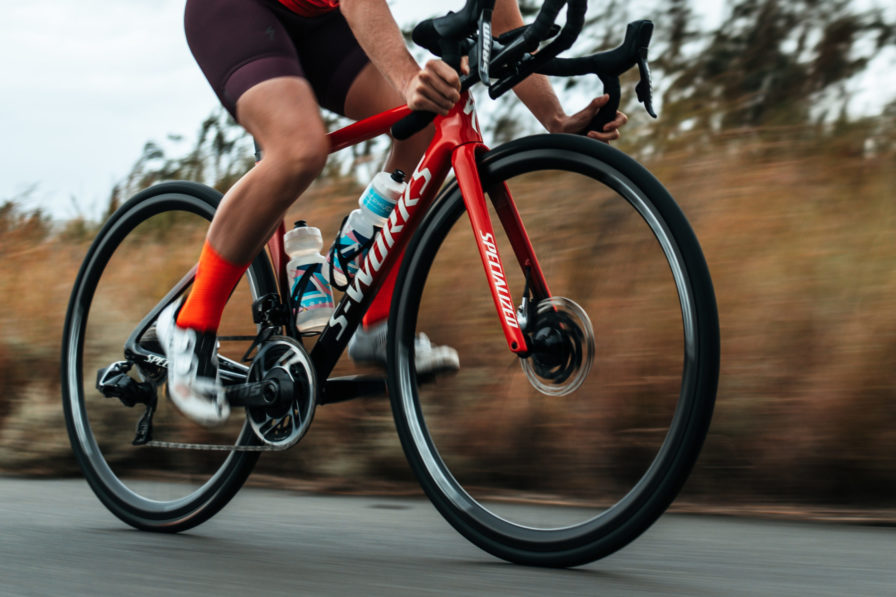 For many the idea of having to set up your bike/turbo before an indoor session can be one challenge too many, and result in remaining on the couch rather than completing a session. Duffy is a frequent Zwifter and has solved this problem with her Specialized Venge dedicated to the trainer.
"I am one of the lucky ones that has a spare bike set up on the trainer… I ride Zwift often so having a bike set up ready to jump on makes life so much easier. The Venge is a very similar set up to my SL7."
We look forward to seeing Flora on her Specialized Tarmac SL7 at the pointy end of races, in particular at the Tokyo Olympics.
Click here for more information on the Specialized Tarmac SL7.