A simple way to improve your cycling ability using Zwift
Struggling with motivation? Give this month long plan a try!
How is your fitness right now? If it's anything like mine, it's not great. Like many, the past year (and who knows how long it will continue for), of the 'new normal' because of you-know-what, has hardly provided the greatest environment for motivation and focus. If you've managed to maintain your mojo, training and fitness – congratulations – but I suspect I'm with the majority!
Your world, almost certainly, has changed over the past year. Work, finances, health, friendships, leisure, family… and that's long before you get to your sporting activities, hobbies and goals. Whether that was trying to qualify for Kona, finish your first super sprint triathlon (or anything in between), the goalposts haven't just moved… in many cases, they have be removed entirely!
So, what can we do to get back onto some sort of track? Well, firstly, I'd highly recommend checking out this recent article on Goal Setting from Lucy Gossage. Some great ideas there that will get you thinking not just about what you are doing, but why. Lucy is smart cookie (and another Zwift fan!)
What I'm going to propose here could perhaps be considered more 'stick' than 'carrot' – sometimes, we can all benefit from some direct instruction and avoid over-thinking. Perhaps, that might be just what many of us need right now?
Can you commit (max) one hour/day? Good! Here's my suggested approach to get your cycling back on track, all from your home pain cave.
How should I train?
Any coach will likely, rightly, say… 'it depends'. Finding the most optimal training plan for an individual is part art, part science and with lots of trial and error along the way. Even the very best in the sport, coaches and athletes, don't get it right all the time. Athletes are individual, have different objectives, respond in different ways, have different backgrounds… you get the picture, it's not easy.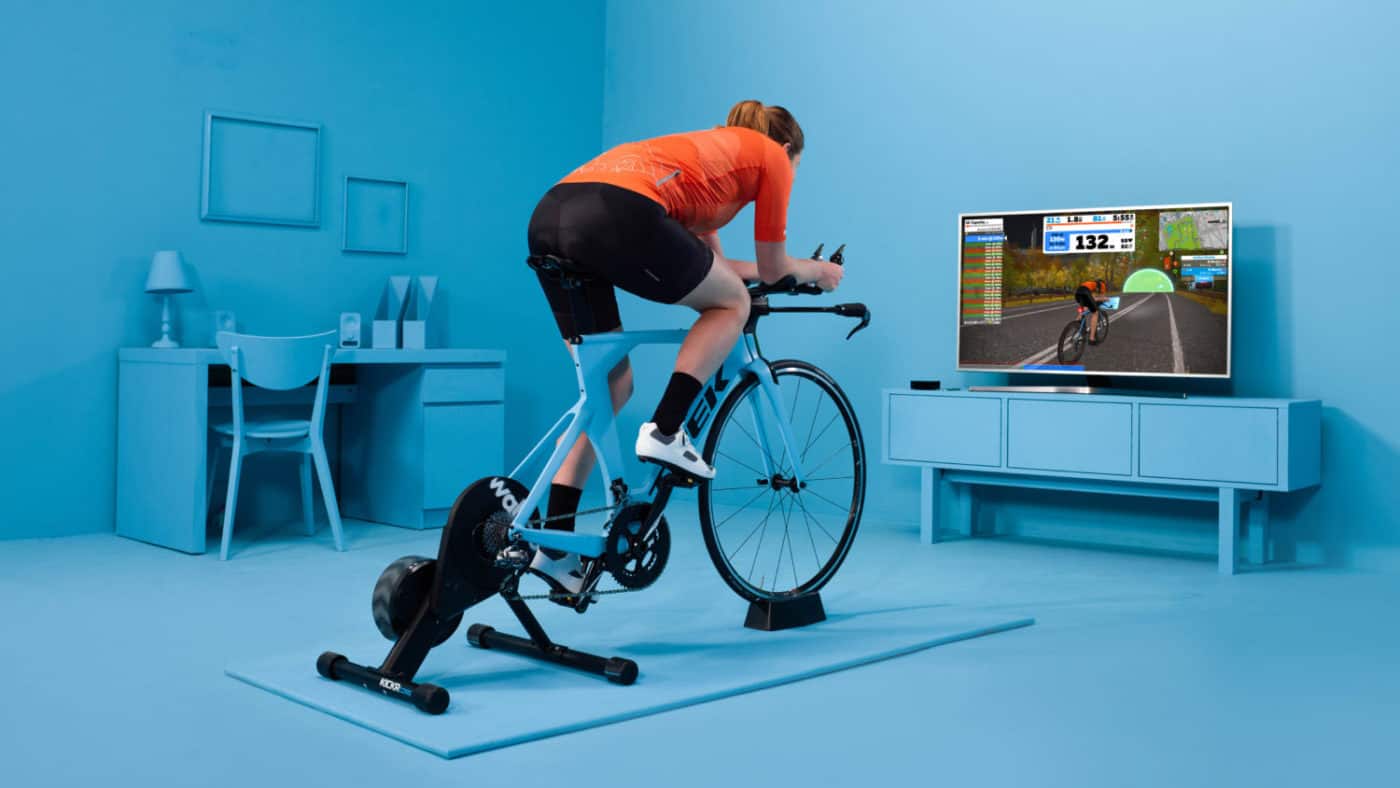 Still, there are some basics that will likely flow from any training plan:
Be Consistent. You've heard it over and over, for good reason. A solid, consistent training load, week-on-week is far better than smashing yourself silly and then doing (or being unable to do) anything the next week. It's not sexy, it's not cool – but, alas, there aren't short cuts!
Balance. Train hard? Sure… but not all the time! You've probably heard the saying, 'Do the hard training hard, but the easy training means just that, easy!'. Forgetting this (or not understanding how to measure that), it where many fall down.
The plan
Now, chances are that the vast majority of you don't have an individual coach who can tailor a plan to your specifc needs. At the same time, right now you might need a kick-start (or a kick up the backside!) to get yourself back on track. If that's you, here's what I'm going to suggest – switch off your brain for a month and just follow this plan.
I've previously (HERE) highlighted many of the different ways to use Zwift. That's quite important; while many will be familiar with Zwift as a place where you can race or ride around the virtual world's of New York, Watopia, London and more, it's also – perhaps primarily – a very efficient training tool.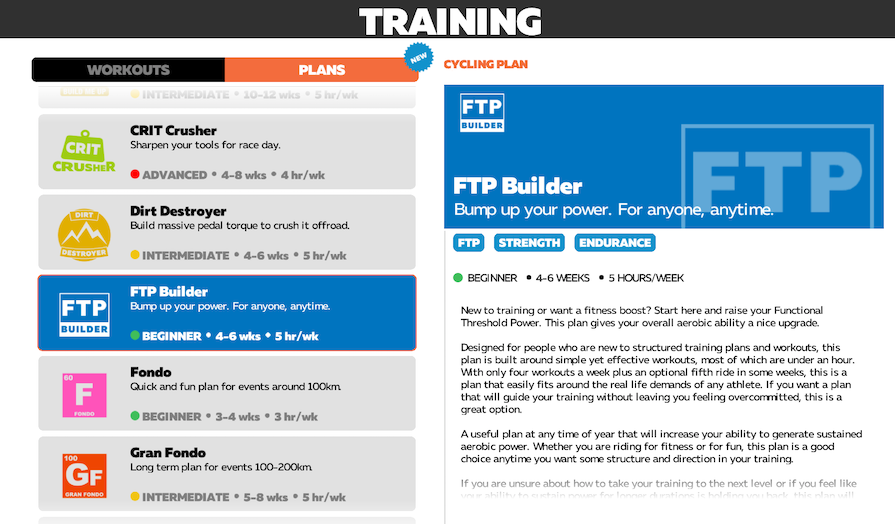 There are a whole host of workouts and plans available as part of your subscription on Zwift, targeted towards different athletes with particular goals, experience, hours/week etc. I'm going to recommend the following: the 4 Week FTP Booster workout plan. You can read the 'big picture' overview of the plan HERE.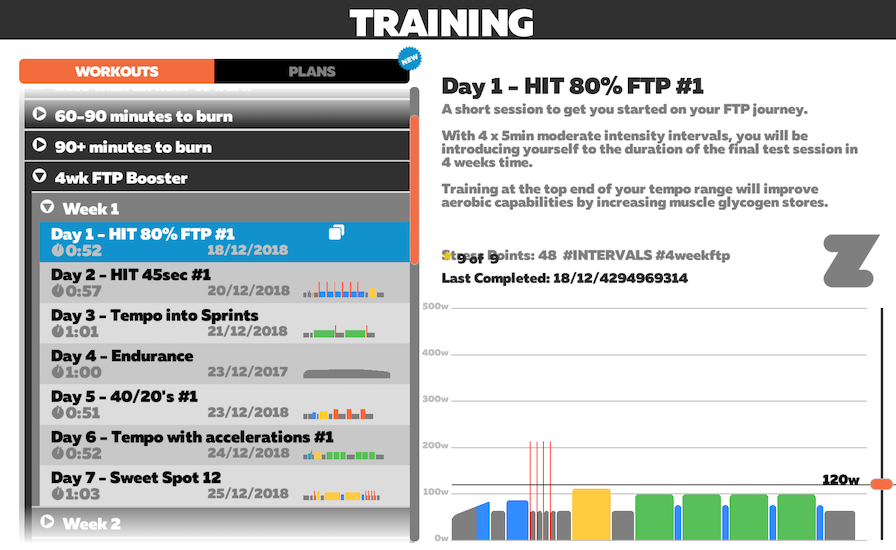 This is a set of workouts compiled by coach Kevin Poulton (www.powerhousecycling.com.au), an experienced cycle coach who has an extensive background, coaching athletes to victory at the Paris-Roubaix, Grand Tour stage wins and more.
I have previously (several times!), completed all of the sessions in this plan at home myself, and thus I can recommend them directly from personal experience. From time-to-time we even utilise some of the workouts within our Wednesday evening TRI47 Group Workout series.
Here's my recommendation to you:
STEP ONE: Complete the Zwift Ramp Test in order to measure your current FTP. This will provide a start point – and most importantly – ensure that your subsequent training sessions are at an appropriate level.
STEP TWO: Work through the Week 1 sessions – that's approx one hour/day.
STEP THREE: Work through the Week 2 sessions – that's approx one hour/day.
STEP FOUR: Work through the Week 3 sessions – that's approx one hour/day.
STEP FIVE: Work through the Week 4 sessions, up to Day 6 (which is a rest day!). This is a recovery week, before…
STEP SIX: Repeat the Zwift Ramp Test** that you did at the start, and see how you've progressed over the month!
** Note, I've recommended the Zwift Ramp Test rather than other methods (typically, a 20min effort), as it can help eliminate inconsistency due to pacing errors, plus if you are new to Zwift / FTP testing generally, it's a good place to start from.
That's it. One-month to give yourself a physical and mental boost. Are you in?!
There are several benefits to following such a plan:
The workouts have been structured to push you at appropriate times – but will also include easier days.
By doing the FTP test first, the following workouts will automatically be tailored to your current fitness level. Forget about how fit you were – we need to base training on how fit you are now.
Stops 'paralysis of analysis' – login, choose the session, press go and ride. At a time, potentially, when mental focus for many is not at its best, it's one less thing to think about…
…because that thinking and planning has already been done for you, by a coach with many years of experience!
Motivation, as you tick off each day. There's a host of research that indicates have those with a clear plan are far more likely to progress, than those without.
If you've been needing some motivation, hopefully this will give you some direction.
Good luck – and do let us know how you got on with it!