With athletes like Lucy Charles-Barclay and Kristian Blummenfelt leaving the Specialized triathlon family in 2021, Chris Hovenden reached out to Specialized to understand the American company's position in the sport and what it means to be a Specialized athlete.
---
Often the new year means a swathe of kit and sponsor changes for triathletes, even more so at the end/start of an Olympic-cycle (although with the Tokyo 2020 postponed to 2021 (hopefully), it isn't really a new Olympic-cycle just yet).
If you have been keeping a close eye on social media, in particular Instagram, you may have noticed that Specialized appeared to be closing its relationships with some of triathlon's top names – including, Norwegian Olympic hopeful Kristian Blummenfelt and Britain's darling of long-course triathlon, Lucy Charles-Barclay.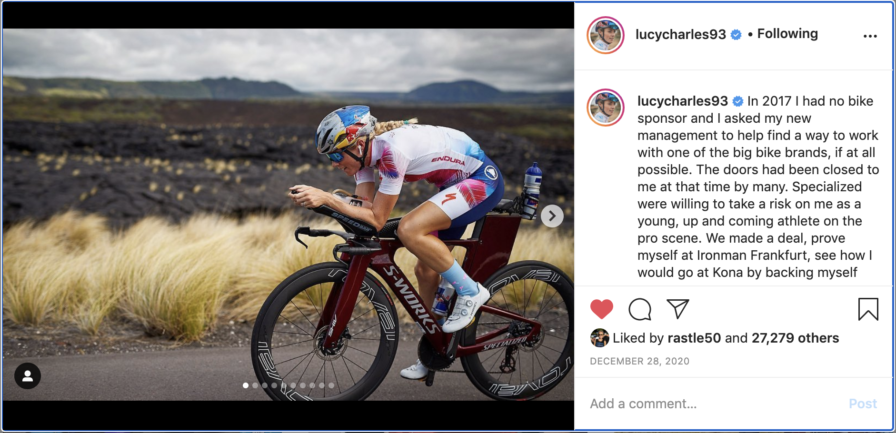 There were some alarmist comments suggesting Specialized was giving up on triathlon and fear that if such a popular and dominant brand was ceasing its support for such high-profile athletes, this could mean dire straits for lesser names in the sport?
In fact, for a brief period it reminded me of when Boardman Bikes abruptly halted its sponsorship of triathletes – after multiple years supporting the Brownlee brothers to great success, along with being ridden by top British long-distance athletes Joe Skipper and Lucy Gossage.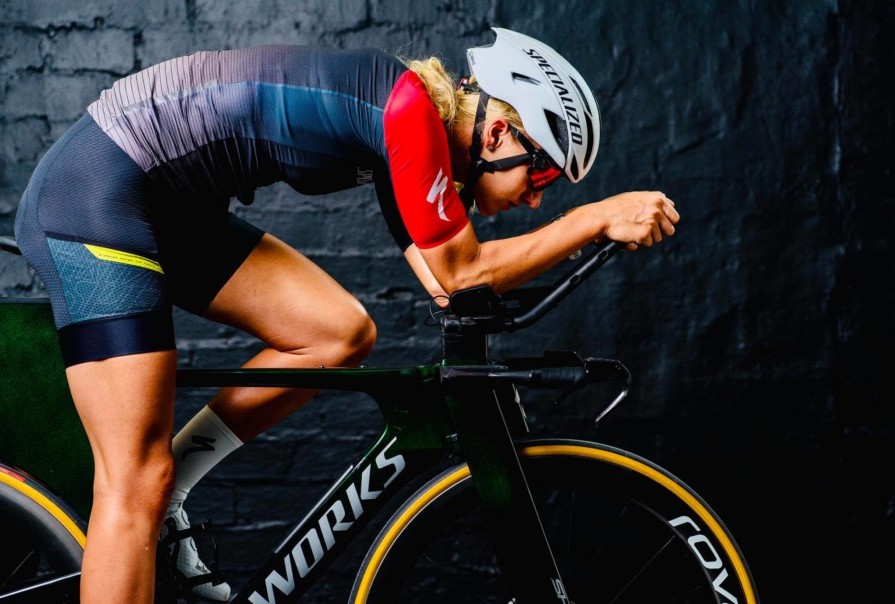 However, as is often the case, the story is far more nuanced….a few days later social media was awash with posts from new additions to the Specialized stable: Emma Pallant-Browne confirmed she had joined the Specialized family after several seasons with the BMC Pro Triathlon Team (along with some wedding snaps – congratulations Emma!); and, interestingly, Australian Josh Amberger has moved from Felt bikes (who continue to support his partner Ashleigh Gentle) to Specialized with a pretty cool launch video.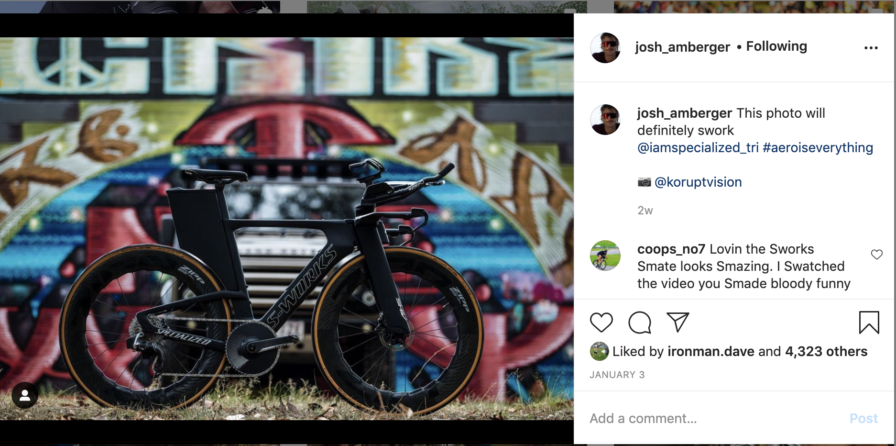 I spoke to Johan Badenhorst, Specialized Global Triathlon Program Manager, to discuss what the change in sponsored athletes means for Specialized and to get a better understanding of what it really means to be sponsored by Specialized.
What is Specialized's vision/plan for triathlon going forward, for example does it remain committed to short course and/or long course triathlon?
Right now we [Specialized] are very much committed to triathlon.
Most of our ITU athletes are on multi-year deals. For 2021, we added World Champion Georgia Taylor-Brown to the team and we drafted Hayden Wilde and Matt Hauser who are young athletes from Australia and New Zealand to the global team. We are still working with current World Champion Vincent Luis, Flora Duffy, Katie Zaferes, and Javier Gomez.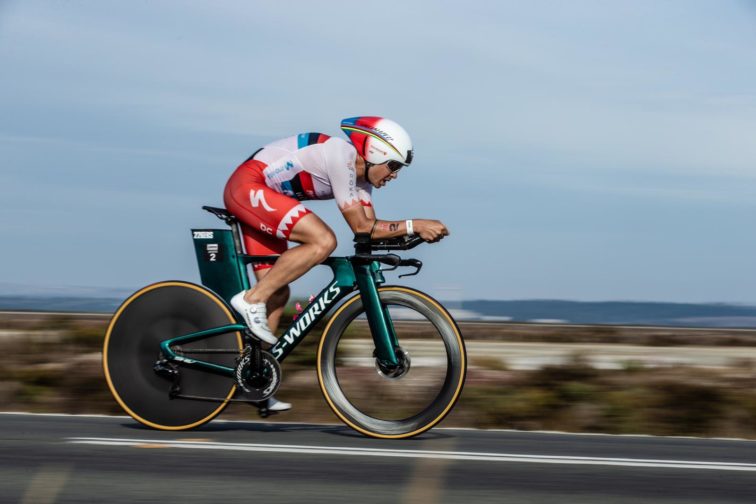 On the ITU-side, admittedly contracts ended in 2020 because of the Olympic-cycle – with some athletes we negotiated an additional year to complete the Olympic-cycle and with the new athletes we signed multi-year deals.
With this team, Specialized is definitely committed to short-course triathlon and we want the athletes to be in the position to race the Olympics at their peak and we want to supply them with the best equipment possible.
In long-course, we had to say goodbye to some athletes, but we signed some exciting new athletes, all on multi-year agreements.
We are still in triathlon, but admittedly Specialized has a broad product range and there are other areas of the business that require more focus right now.
We are not walking away from triathlon.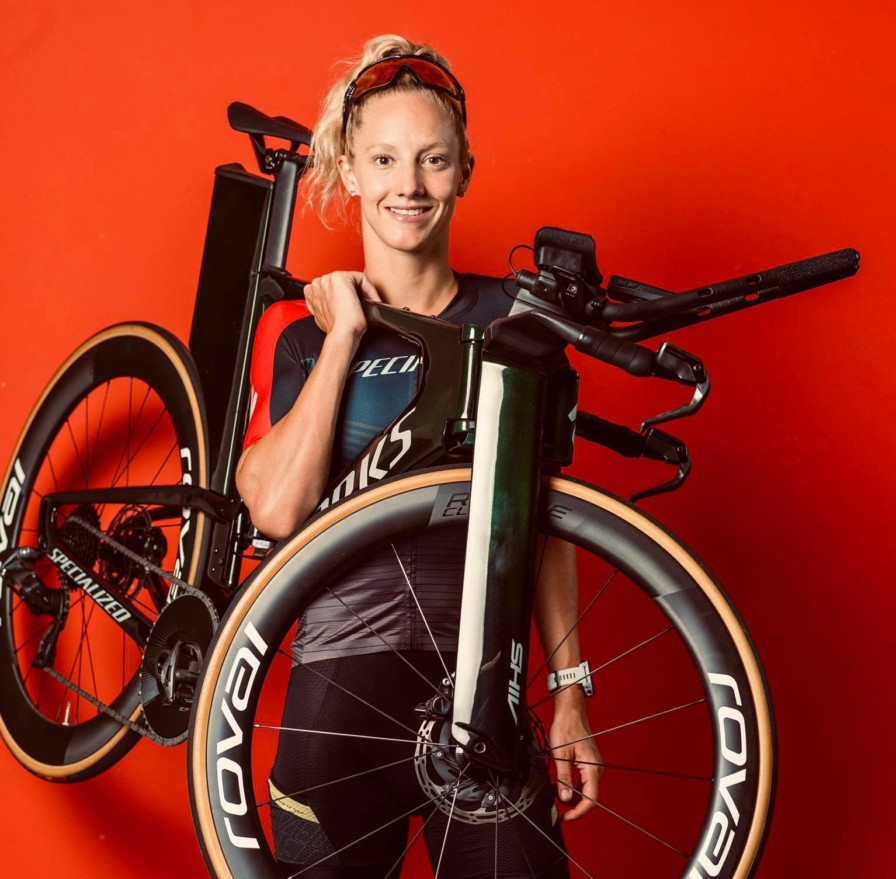 How has the global pandemic impacted Specialized's approach to triathlon and its sponsorship of elite athletes?
When the whole pandemic initially hit, I think every brand re-evaluated their sponsorship agreements, and similarly, we had to re-negotiate some athlete agreements to get through 2020. We were able to do this in a positive way and I believe the outcome was a success.
One thing I would say is that we stuck by all of our athletes and paid them throughout this pandemic. I'm not saying we didn't renegotiate some of them [the contractual terms], but none of the athletes were told "we're not paying your salary", and where we did negotiate we extended a year on to make sure that they would still earn their living and be in a good position to continue their career. Each negotiation was a discussion to find a middle ground.
As people say, all good things must come to an end. Are you able to provide any context to what may have appeared a sudden loss of high-profile athletes?
We [Specialized] manufacture a wide range of bikes, and e-bikes are a massive sales driver for the business. Admittedly our budget has been reassessed and there has been some reduction, so there is definitely a monetary consideration, and we have been looking to partner with athletes where we can provide additional value outside of a base salary, like wind tunnel testing, world class product and access to a team of engineers and staff with industry leading experience.
We didn't release or drop any athletes, all the athletes that left actually got offers they believe were better and we weren't in a position to match or better those offers. We had conversations with all of them, but we were unable to match or better their offers. I am naturally sad to lose people that we have worked with closely and achieved many great results with, but ultimately I am happy to see their careers flourish.
Although some athletes have left the Specialized family, you have made some notable acquisitions. What does Specialized look for in an athlete?
I think it's important for athletes to be relatable. We want people to be able to reach out to our athletes and ask questions that are answered authentically. Yes, there is definitely a marketing side to it and we do pay athletes to be able to translate messages, but you want that messaging to be one that athletes can positively and confidently relate to. The people, mostly age groupers, who look at professional athletes for advice, invest plenty of time and money to research the product, which means that they are more educated than ever and they see through statements without validation.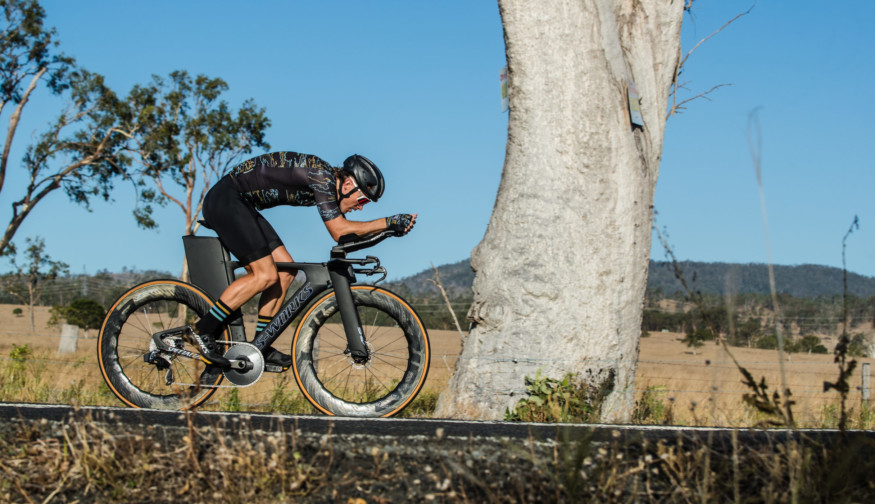 Josh [Amberger] is definitely a new kind of athlete [for Specialized] that we haven't worked with in a long time or maybe ever? He has a unique way of doing things and I think people really enjoy the way he does his race reports. Josh further strengthens our partnership with sponsors like SRAM and we are very excited to work with him for 2021 and beyond.
But, yes, I think an athlete needs to be authentic, that's a big thing for us.
A lot of people have a misconception of how much a pro-triathlete earns and how their relationships with brands work. In general, how do Specialized's athlete agreements work? Also, as previously acknowledged by Lucy Charles-Barclay, Specialized gave Lucy a shot when she turned pro, was this approach unique?
Well, like many contracts, athletes generally have a base salary and then a bonus structure based around results. Bonuses are agreed on by both parties to achieve certain results, but also marketing activations and support.
When entering into an agreement with an athlete we discuss the expectations of the athlete. We work very closely with the athletes and have a personal relationship with every athlete on our tri program. We try and structure the contract in a way where the athlete is encouraged to achieve certain auto renewals that are in both parties' interest. It might not always be the case, but it is important to understand if we are part of an athlete's journey for the next two years or if this is a lifelong partnership, much like Tim Don and Javier Gomez.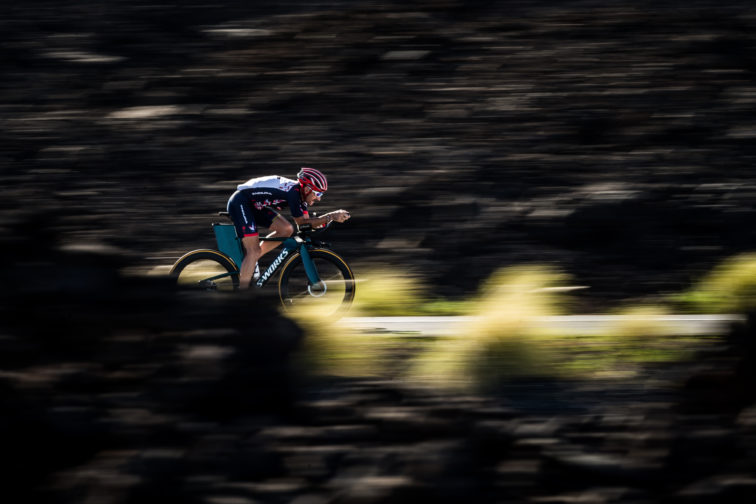 Lucy's position was similar.
We signed Lucy when she'd just gone pro and we have a great relationship with Lucy. After her great achievements and building a strong brand for herself, she's now come to a point where other brands are in a position to offer her greater incentives.
We structured the deal with her in such a way that it would be beneficial for Lucy whether her career progressed and developed as we hoped, or not, with the option to renew depending on results. The agreement was designed to provide her with security at the start of her career and allowed her an opportunity to focus on training and racing without the pressure of yearly contract negotiations.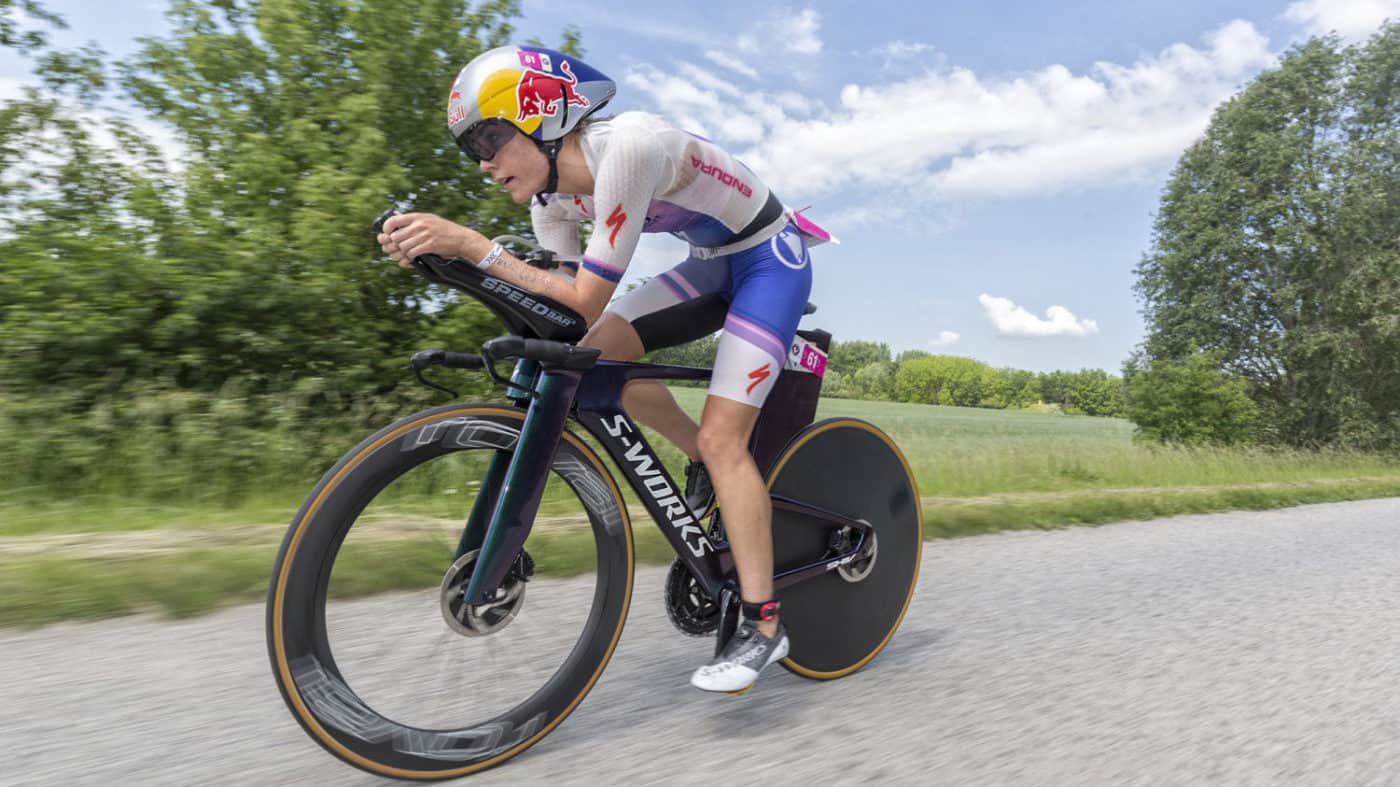 What support does a Specialized athlete receive and has this changed for 2021? What does it mean to be sponsored by Specialized, what support do the athletes get, and what flexibility is there to be 'individual'?
So, we've been fortunate to find athletes that are on a good trajectory and need the support from a brand like Specialized. We are in a position to offer them Wind Tunnel testing; aero and product support across all categories; various equipment to test, like wheels, different bikes, helmets, shoes and saddles; along with having a mechanic at all the ITU races; and, partnering with friends like SRAM will help us give them an opportunity to always be in a in a place where equipment is looked after.
A good example is when Kristian [Blummenfelt] and Katie Zaferes crashed in the ITU race in Abu Dhabi. Their bikes were destroyed, but the next morning they woke up and both had a brand-new bike already built. They flew home with a new bike, ready to race and continue training.
I think for a lot of athletes, that support is more important than a base salary. Giving them an opportunity to race with the confidence that their equipment is always in the best condition takes the pressure off immensely and enables them to perform at their peak.
The majority of our athletes are "factory racing athletes" meaning they get complete bikes, helmets, shoes, wind tunnel testing, kit or apparel that they need, and there's very few limitations on the quantities that they need.
Most athletes get an agreed upon number of complete bikes and equipment needed for training and racing. Obviously when there's new product launching, we provide them with the new product ahead of the launch, making sure that they comfortable using that product before launching.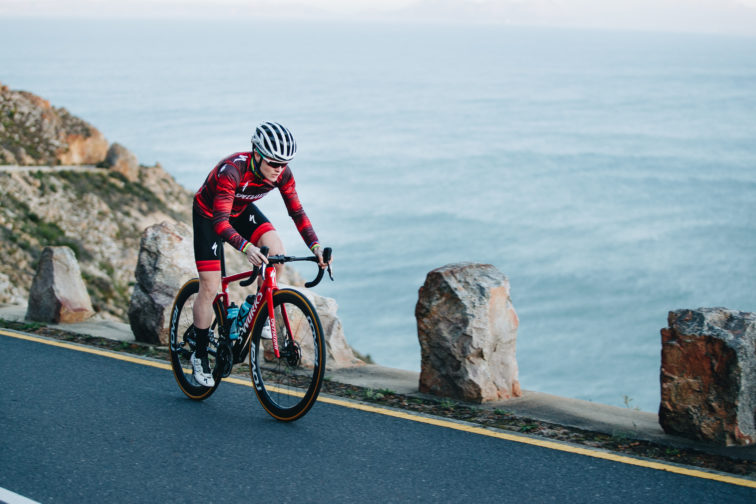 We always give them the opportunity to decide what product they want to use. We never say you need to wear this specific helmet or you need to wear this shoe. You'll see Vincent [Luis] uses a different shoe to Javier [Gomez], Flora [Duffy] uses a different shoe to Katie [Zaferes], it's all personal preference but we have such a good variety of product for them to choose from that they could all find something that they are comfortable with and then use that product.
Some of the new agreements, like with Josh Amberger, we've allowed certain athletes to continue to work with Zipp and SRAM because we have a really good relationship with those guys and the athletes also have a good relationship with Zipp and SRAM, so we've allowed certain athletes to only use our frames.
Oakley is a similar thing. They have had a relationship with Josh [Amberger] for many years, so we don't want to take that away from them, we want to encourage them to keep working with sponsors that have supported them over the years and give them the opportunity to ride our bikes.
But that's definitely something that changed recently, before that it was 100% Specialized, very much Specialized head to toe.
How many "Specialized" athletes are there? From age-group racing to pro-racing, Specialized kit is a common feature, but we were intrigued to know how many athletes are supported by Specialized? I understand the short answer is many, but it's a little complicated.
Badenhorst explained that Specialized's sponsorship program is broadly made up of sponsorship from Specialized Global plus individual local markets:
On our global program there are seven ITU athletes and five long-course athletes. In addition, the local Specialized markets support other athletes.
Athletes sponsored by the local markets also benefit from the wider Specialized support at races. For example, Specialized supplies a mechanic to all ITU World Cup races.
Feel free to have a look at Specialized's latest products at www.specialized.com