What to make of the Brownlee / Boardman departure…
Are Boardman Bikes turning their back on triathlon?
Their rise from zero to hero had seemingly been in tandem; a partnership between Boardman Bikes and the Brownlee brothers which was surely one of the longest in what is sometimes the fickle world of triathlon sponsorship. As you'll likely have seen last week, that partnership is now over – and the Yorkshire boys will be riding SCOTT Bikes for the next four years.
Where it all started
In 2004 'Boardman Bikes' was nothing more than a concept and idea in the head of former British Ironman record holder, Alan Ingarfield. At that point he hadn't even sent the "Long and rambling, with little punctuation" email to Chris Boardman, a message that "had the hallmarks of a nutter…" But sometimes, from nothing, an idea, passion – and some financial backing – can get you some great rewards. In 2007 Boardman Bikes was launched. Alan Ingarfield may well have been rambling – but he certainly would prove he was not a nutter!
In 2004 Alistair Brownlee was 16 and Jonathan a football and rugby mad 14 year old. By 2007 Alistair had been World and European Junior Champion, twice second in the World Junior Duathlon Championships and would end the year with a Silver in only his second ITU World Cup start in Rhodes. Importantly perhaps – for both of their subsequent careers and successes – returning to Yorkshire with his GB kit after racing abroad really got the attention of his younger sibling, who decided he should give this triathlon a proper go too. He'd soon have to leave the football to his Playstation 'FIFA' games, plus trips to watch Leeds United at Elland Road.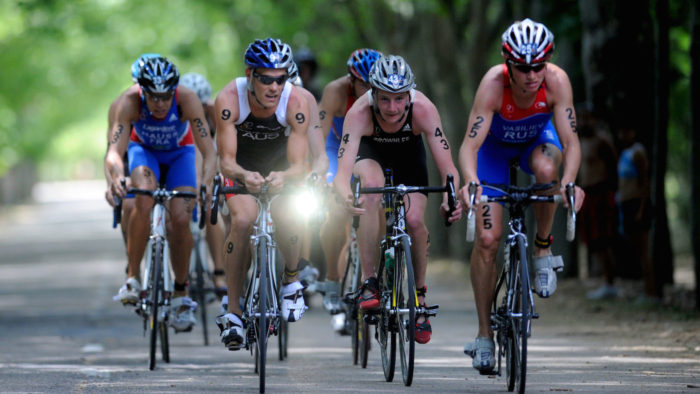 A perfect partnership
And that, pretty much, is where the Brownlee-Boardman partnership started. Since then, every one of their Senior Elite wins and medals has been achieved while riding a Boardman. Alistair has become, without question in my eyes, the best triathlete in history over the draft-legal format, cementing that status as a double Olympic Champion. The launch of the World Triathlon Series format in 2009 saw him win all five of the races he entered to become senior ITU World Champion, a year after finishing 12th at the Beijing Olympics. He is the only athlete, male or female, to have won at least once in every World Triathlon Series season since then.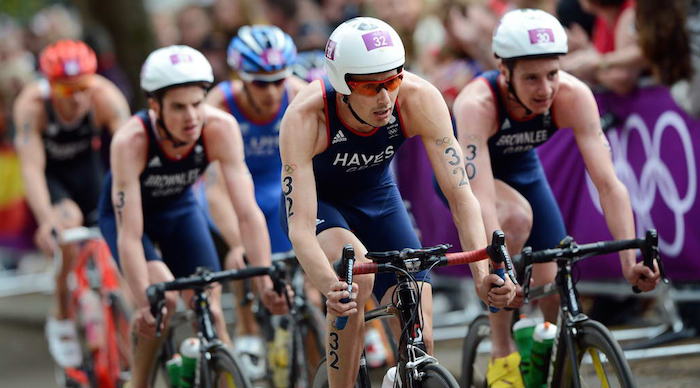 During the same period, Boardman Bikes has proven to be a great success too, financially and in terms of sporting success. The company was sold in 2014 to its key partner, Halfords. The Price? Not formally published, but £20million has been mentioned… The bikes have been proven in competition too. Aside from Brownlee success (and cross over into mainstream public awareness), Pete Jacobs rode a Boardman to IRONMAN World Championship success in 2012 – four years after Nicole Cooke won the Olympic Road Race title in that famous, uphill, rain-soaked sprint in Beijing. The bikes have carried the name of their illustrious co-founder in style and more than proven their quality.
A change of direction?
Perhaps the signs were already there that triathlon is no longer the key aspect it once was for Boardman? From a British perspective, Joe Skipper (who became the first British athlete under the eight hour mark for the iron-distance in 2016), and Lucy Gossage (IRONMAN UK winner for the third time, top-10 in Kona), are now on different bikes for the 2017 season too, despite plenty of success and good PR over the past two seasons. One can safely assume that the investment costs for both were significantly lower than for the Olympic Gold and Silver medal winners.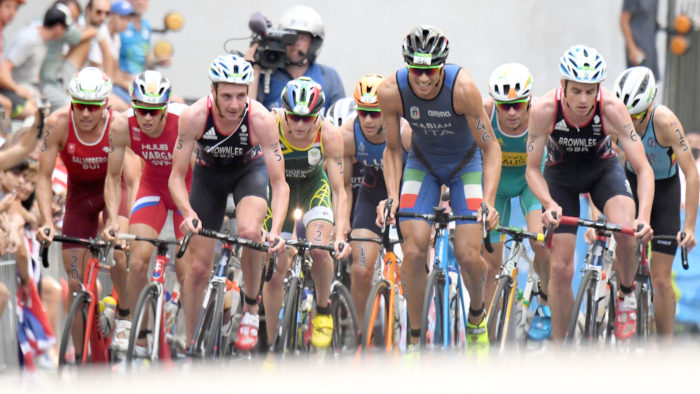 I've often thought that it is far more difficult to gain athlete recognition of an Pro athlete's bike brand in ITU racing (can you list the bikes brands of the top 10 ITU athletes, as easily as the top 10 Ironman athletes, for example?), but the Brownlees would appear to have overcome that. Long term success and consistency of product has surely helped – along with an aggressive style of racing which often sees them alone and at the front. You can even see them riding them on a Yorkshire Tea advert that is currently running on TV.
With Alistair now mixing up his racing with longer distance events (and thus, TT/Tri bikes), while Jonathan continues his quest for another ITU title after missing out in spectacular style (Road bike), 2017 had perhaps look set to be the perfect storm for a bike sponsor – the most recognisable names in the sport, riding both styles of bike. The 2016 Lava Magazine Kona bike count would suggest some help was needed in that regard with Boardman lagging on Kailua Pier – and the interest in Alistair Brownlee "going long" is huge… before he even opened his account on Saturday.
Looking outside of our swim / bike / run world, Boardman have taken over the bike sponsorship of the One Pro Cycling team, as well as supporting the Storey Racing team of Dame Sarah Storey and Barney Storey. That may well be a conscious decision in terms of marketing – and as we all know, budgets can only stretch so far. A good decision? Only time will tell on that front.
Would even Alistair Brownlee winning Kona on a Boardman be significant anyway, in terms of sales? We are highly unlikely to know that answer to that one now – but Normann Stadler's impact on the fledgling, at the time, Kuota brand shows what can happen.
The right time?
Another thought comes to mind – and I'm going to use tennis as an example (ironically, not the first time I've done that where the Brownlee brothers are concerned!). Is now is the right time – for both sides – to part? Maybe the feeling from Boardman is that the partnership can't get any better: Gold and Silver at the Olympics / back-to-back Gold medals / front page news thanks to Cozumel / SPOTY awards. Has the brand link already been cemented?
An alternate view might be that Boardman are soon to open their Performance Centre with cycling specific wind tunnel. If you wanted a marquee name to build a story around that, surely the journey of Alistair Brownlee's attempt to replicate his Olympic distance dominance over the 70.3 and Ironman distances adds further to that perfect storm, timing wise?
Actually, it is investment in that same centre to which Boardman have provided as their decision to 'rationalise' athlete sponsorship, taking the unusual – but perhaps professional – step, of formally commenting publicly on their decision: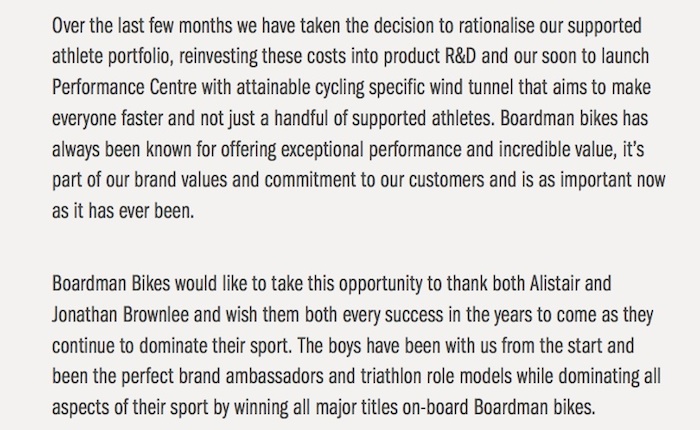 And the tennis? Oh yes. Well, most casual (UK at least) tennis fans may well know of two tournaments in Britain. There's the SW19 monster of Wimbledon, of course, and before that, Queens Club a.k.a "The Stella Artois". Except of course, it hasn't been the "Stella Artois" since 2008. Aegon Championships, anyone? Perhaps the past decade has already given Boardman more association than it could hope to have in the future… or will people quickly forget?
If it is the former, that will be a serious 'activation' issue for Scott. If the latter, Boardman may well have just made a very big mistake.