A new SCOTT for Kim Morrison in 2021
The combination of Kim Morrison's brightly coloured trisuit (inspired by her affiliation with aerodynamic specialists Drag2Zero), and her habit of entering T2 in first place after a blistering bike-leg, make the Norfolk-based triathlete impossible to ignore when compiling a Pro Bike Feature series.
For 2021 Morrison is continuing her relationship with SCOTT and shall be riding the all-new SCOTT Plasma 6.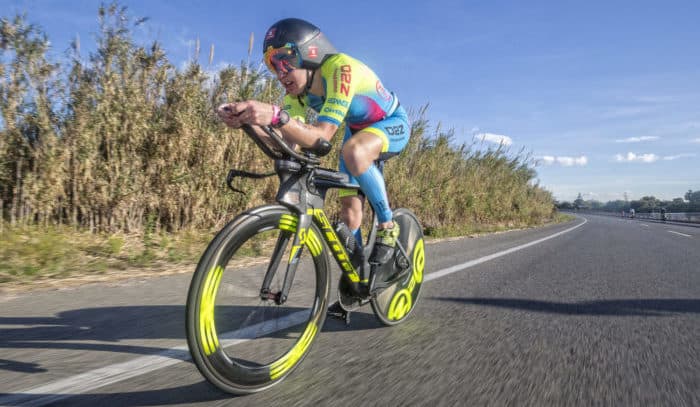 It's not just that Morrison is fast on a bike in a triathlon context (she has set multiple bike course records, such as at IRONMAN Texas in 2019), she has been at the pointy end of national level time trials in the UK. That including a flurry of impressive results at the UK National Time Trial championships in 2020 – Morrison finished 3rd in the 10-mile, 4th in the 25-mile, and 3rd in the 50-mile.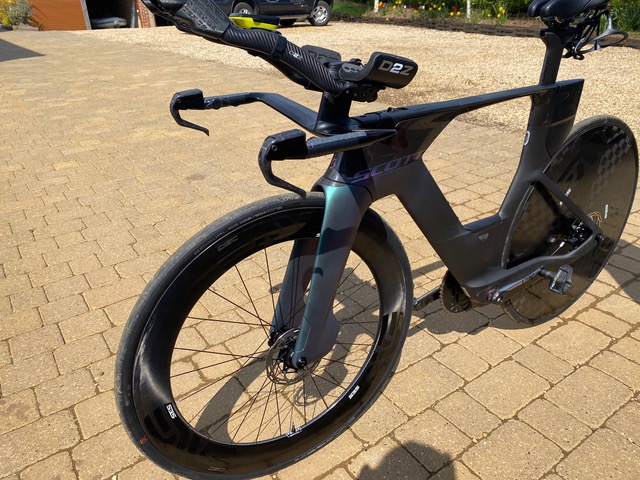 As mentioned, for 2021 Morrison will be using the SCOTT Plasma 6, and despite having only recently received her new steed she already thinks it is an improvement on last year's bike:
"This bike is yet to be 'raced' but riding around the village it feels wonderful.. fast, light, stiff and smooth. It just feels a little more First Class than my previous SCOTT Plasma 5."
Morrison confirmed that she will be putting the SCOTT Plasma 6 through its paces at a local 25-mile time trial before it gets its 'triathlon' debut at IRONMAN Tulsa.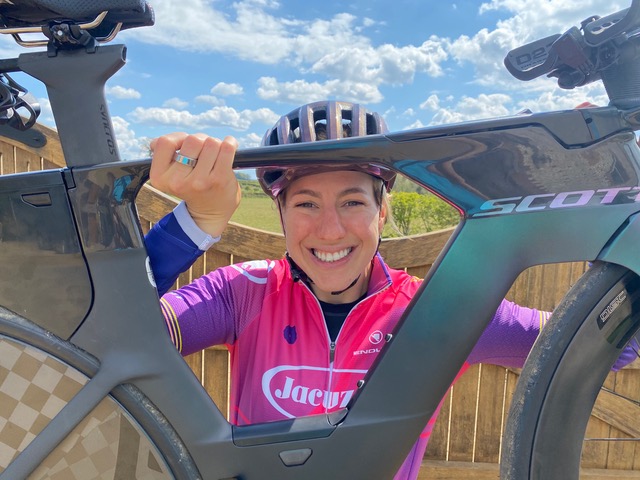 Drag2Zero
Morrison joined the Drag2Zero race team four years ago (Drag2Zero has a strong affiliation with triathlon in the UK with team members having included/including Vicky Gill, Kate Allan, and Keith Murray), and as you would expect she has made the most of the expertise offered by the company that offers technical and aerodynamic consultancy services. The cockpit of her SCOTT Plasma 6 is a prime example of such input:
"The D2Z (Drag2Zero) front end set up has been tested in the Wind Tunnel under the experienced and watchful eye of Simon Smart with me fully set up in race kit on the bike. We were then able to create our exact pole angles, pole ends, arm pad width and the angle raises… plus many more finer details. That is why the Drag2Zero front end is so special and can be so unique to each individual rider.
"Do not be surprised if you see something a little different on my Plasma 6 'cockpit' soon.. from D2Z."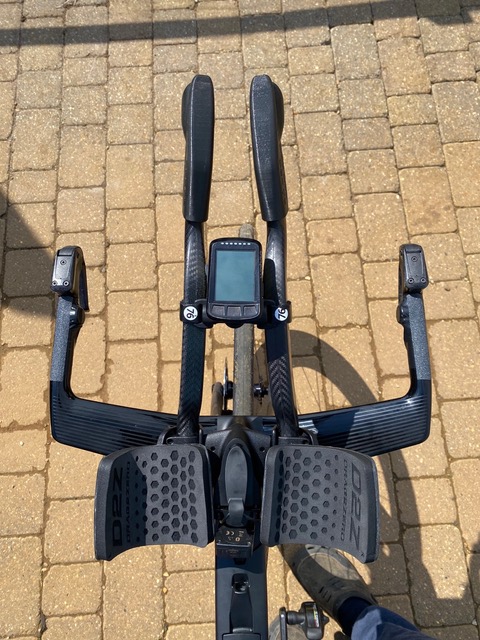 Morrison is 177cm tall, and her frame is a medium paired with 170mm cranks. When asked how she ensures her set up and position is correct, Morrison answered simply:
"My husband!"
SRAM and Ceramic Speed
Component-wise, Morrison has opted for the latest groupset from SRAM, namely the 12-speed SRAM eTap AXS, along with a few special additions, such as a Ceramic Speed bottom bracket and an oversized pulley.
Morrison explained the benefits of, and changes she has made, by adopting SRAM eTap AXS:
"The AXS 1x set up has a greater range of gearing compared to my 1x big chain ring custom by D2Z in 2019. Rather than riding a 56 tooth I now ride a 52 tooth with a greater range on the back cassette (33 currently) to enable an efficient drive train throughout an undulating ride. The AXS in my opinion is bomb proof.. no dropped chain and our secret ingredient, the chain, just loves to fluidly move efficiently over the chainring."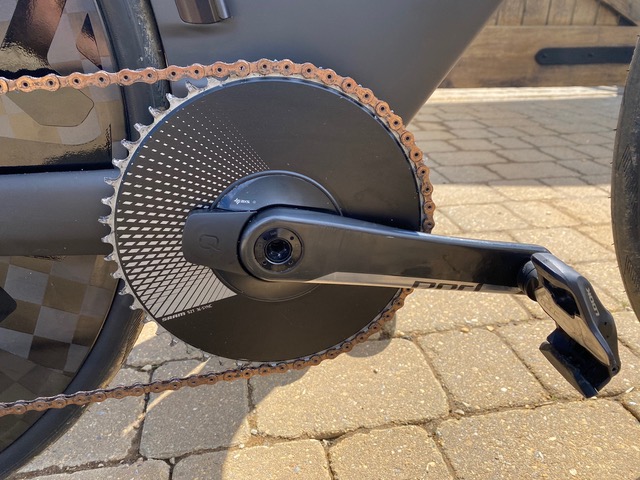 Morrison uses a Quarq power meter and is unequivocal about the importance and necessity of using a power meter:
"[A power meter is] Very, very, important for day-to-day training and setting those 'ceilings' for racing."
Aero Wheels
ENVE wheels are seen by many as the gold standard, and Morrison supports this view:
"ENVE have been my wheel preference since joining Drag2Zero…. They are lovely and light, aerodynamically tested and arguably market leading. They look beautiful and they handle superbly too."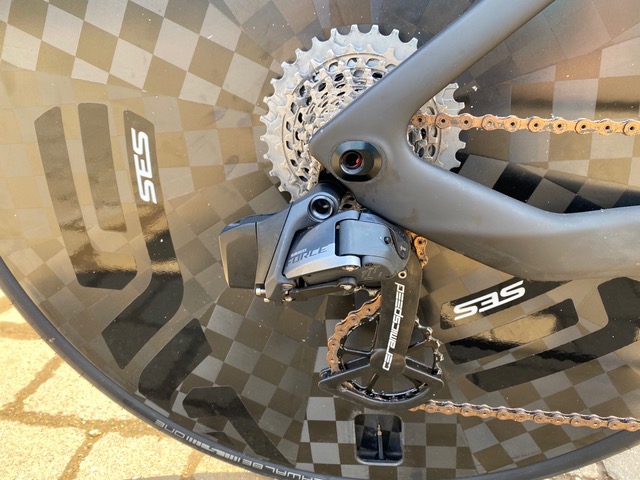 Interestingly, but maybe not surprising considering the speed that Morrison rides, Morrison favours a rear disc wheel, but even where a disc is not permissible she is fortunate to be able to opt for a 78mm deep ENVE SES 7.8 rear wheel:
"The disc is always my preference because when you ride a disc fast you will go even faster.. they respond well to fast riding. In Kona the rear disc is not allowed so we choose the ENVE 7.8."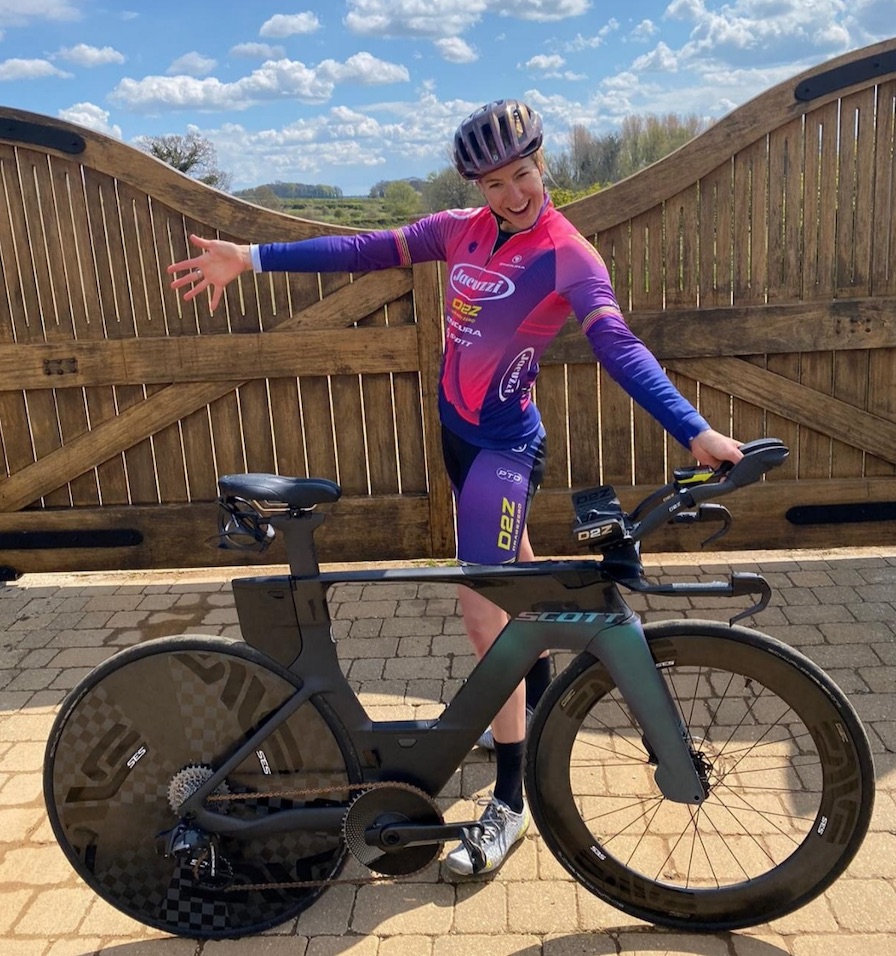 Licence to thrill
It is said your favourite James Bond actor is always the first actor you saw in the role (as an FYI, I don't agree with this theory), and there is some argument the same principle applies to pedal choices (i.e. you like the first system you used). Morrison confirmed she is a fan of Look, and doesn't see a reason to change:
"[I use] Look Keo.. because I always have and do not want to change to the popular 'Speedplay' as I do not want to change the dynamics of my pedal stroke."
Morrison is a believer that you train as you race, however when it comes to tyres she allows herself to make a change for race day. When training she opts for 28mm Schwalbe One training tyres, whereas when racing she uses Continental Grand Prix 5000, stating:
"Better safe than 'out of the race!"
Morrison shall be racing at IRONMAN North American Championship, Tulsa on 23 May 2021. Good luck Kim!
If you like what you see, check out: SCOTT, Drag2Zero, SRAM, Look, and ENVE.