Lucy Gossage gets race ready on her new Simplon MR.T2 bike
Lucy Gossage is one of the best cyclists in triathlon (and not just my opinion…), and indeed is one of the best female long-distance TT riders in the country, full stop. Her 3:48:48 100-mile time set in 2015 is still ranked the third fastest on record.
However, such is the depth of competition in triathlon right now (check out the bike splits already this season from fellow Brits, Holly Lawrence and Kimberley Morrison, for example), that even that is no guarantee you'll be able to put time into your opponents. Small details matter. And when you are going to be riding a new bike – from Austrian brand, Simplon – that is a big change that needs to be properly managed. For 2017, Lucy will be riding the range-topping MR.T2 bike from the Simplon range.
To this end, Lucy visited Mike Taylor, the owner of Bridgtown Cycles and Bike-Fit.co.uk. Mike has worked with many of the sports biggest names, building a great reputation in the process, and started working with Lucy in 2016.
Here, Mike provides an insight into the process of getting Lucy correctly set up on her new ride for 2017. She'll have the first opportunity to test it in competition this weekend at a very competitive Challenge Gran Canaria.
---
I first worked with Lucy prior to IRONMAN 70.3 Staffordshire In 2016. We made a couple of small changes pre-race day, then spent time refining her position post-race, prior to her Kona trip. One of the challenges faced by Lucy and many athletes that are around 165 cm tall is to build an effective race position with a suitable low front end on a Tri bike.
In 2016 Lucy raced on the Boardman AiR TT frameset with a negative stem as their new TTE fully-integrated frameset was nowhere near low enough at the front end to allow Lucy an aero position. Let's be straight here, Lucy is not short. She is bang on average height for the UK female population. So, when Boardman pulled out of sponsoring long distance triathletes such as Lucy and Joe Skipper, we looked at this as an opportunity to find Lucy the quickest bike for her.
Lucy had a number of offers from bike manufacturers and after many hours staring at geometry charts and going back over Lucy's fit data, as well as working in the wish list of things I would love to achieve within Lucy's race position – the 'if only list' – we decided on the Austrian brand Simplon. This is a brand that is as yet little known in the UK and as such I had not had the opportunity to get handson with their Tri Bike, MR.T2, which is always a concern.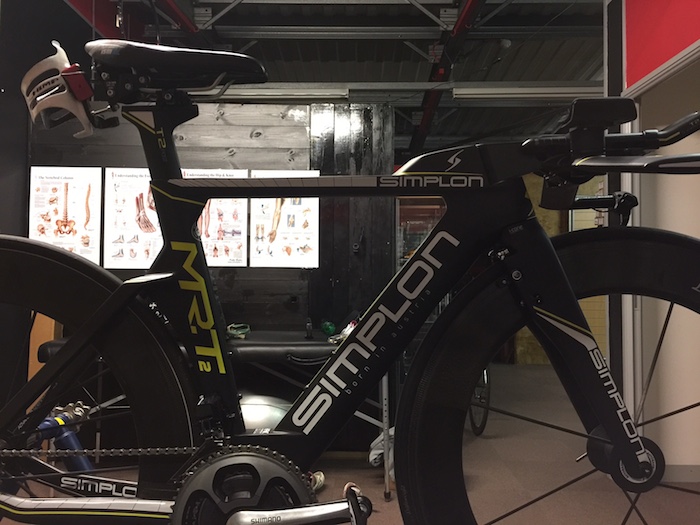 So, with Lucy having met with their UK distributor Kevin and the CEO Stefan, I got them to meet with my technical guys at Bridgtown Cycles so I could get their take on the bike and also on their road bikes, as Lucy was to receive a Nexio Aero road bike alongside the MR.T2.
My tech guys are not easily impressed; they are lucky to work with the highest level of product and are not always subtle in their feedback as Lucy discovered when she wanted to make changes to her transmission for Staffordshire and my guys refused, as they knew that the changes would not work to the level of accuracy required. I don't get in the way of their assessments as I need to know that when we help select a bike it will not only fit well and handle well, but will also function to the highest demands. Simplon passed with flying colours and a good deal of enthusiasm from the tech guys.
So to the day of the fit. Lucy bought in both bikes semi-constructed and my guys finished off the builds. We started with an assessment of where Lucy was at with her conditioning, an overview of the impact of her repaired collar bone and just a general catch up on the impact of working full-time and racing as a Pro. We then went about fitting the MR.T2. It was certainly a beautiful light blade of a bike. It felt balanced, not something any geometry chart can tell you and the proportions were good. It also looked great.
We spent a while working on the Saddle position, Lucy uses the ISM Adamo PN 1.1. It was great to be able get the saddle far enough forward to keep Lucy's hips open, therefore allowing her to clean pedal through the top of the pedal stroke to allow for a fast flowing cadence without disruption. This is further helped by running 165 cranks.
Once I feel with have optimised the top of the pedal stroke we move through to the bottom of the stroke. Here a number of factors start to interplay, some of these factors also aid with the top of the stroke. Probably the most unusual aspect of Lucy's set up is with her cleat position. To allow Lucy to deliver a full pedal stroke that finishes past the 6 o'clock position (therefore the other stroke has already begun), we have had to move the cleats further back on the shoe than the shoes will normally allow. Therefore we drilled the cleats to create new bolt holes (please don't try this at home). This allows Lucy to fully complete the pedal stroke.
One further aspect of creating a solid stable drive through the pedal stroke was to asses Lucy's Transverse Metatarsal Arch to see whether it was Varus in an unloaded state and then what potential did it have to move through neutral into Valgus when loading. Lucy had the capability of rotating into Valgus and we therefore applied two forefoot wedges to prevent this rotation. The net effect is it puts a little more loading onto the first metatarsal head (big toe knuckle). As far as the rider is concerned, they feel as if their power is delivering more evenly through the foot. This in turn allows them to pick up their cadence and load more into the pedal, increasing the overall volume of power.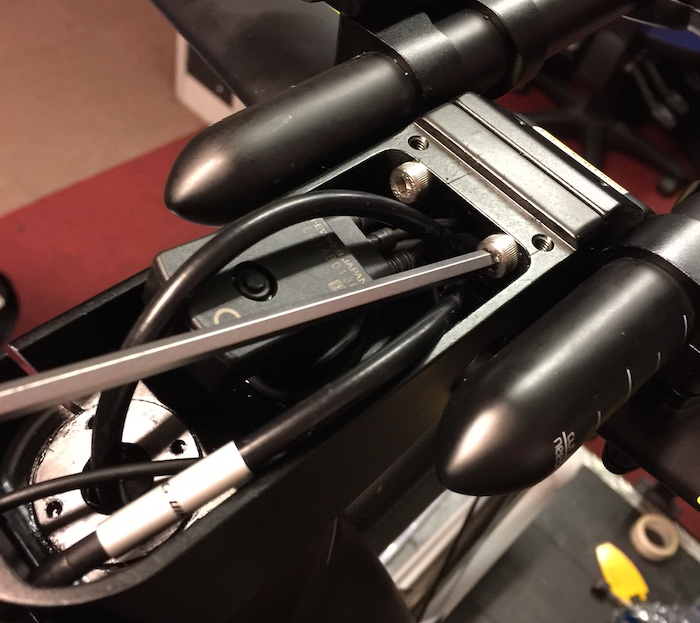 So to the front end. All TT/Tri bikes with fully integrated brakes (no cables showing or obvious callipers), are challenging to work with and challenging to have lots of variability with. To this end Simplon is no different in the initial setup. We had been warned that there was an extensive build manual that was not yet translated into English, however the exploded diagrams were fantastic as was the really neat and well organised box of spares that allowed you to make thousands of variations to the front end set up. We are used to bags of bolts with no obvious purpose, so 'Chapeau' to the guys and gals at Simplon. The way Simplon organise the variability at the front end is with a set of 'Stem' fittings that allow for a fairly extensive range of bar heights and reaches. This combined with a massive range of pad and stick heights gives the fitter a really great set of choices.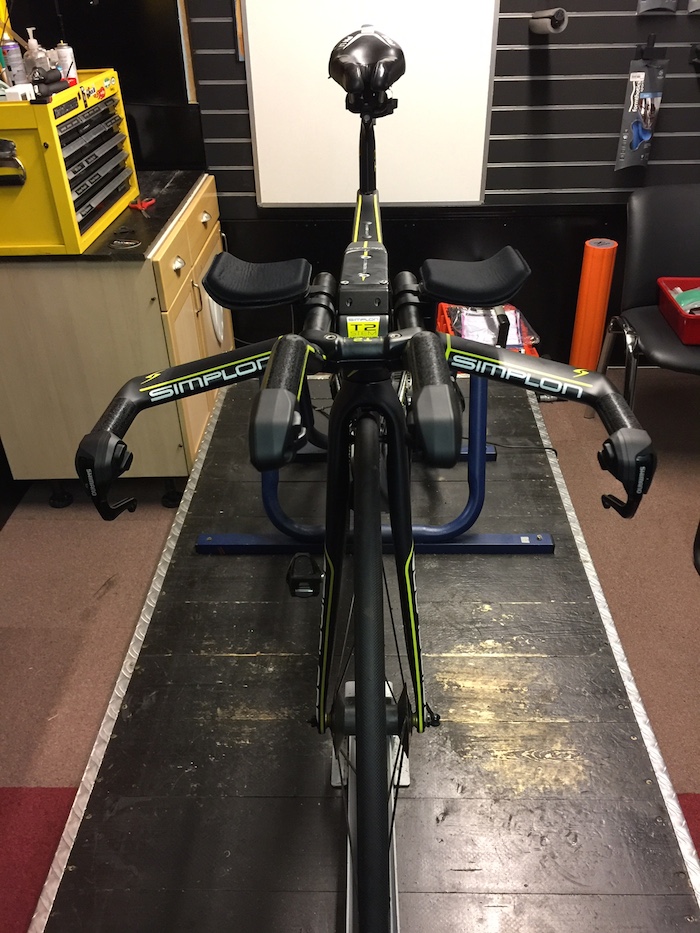 Once you have set the front end up then removal for transportation is a four bolt process that maintains the positional integrity with no chance of putting it back on wrong, therefore answering one of the biggest concerns we hear about from athletes.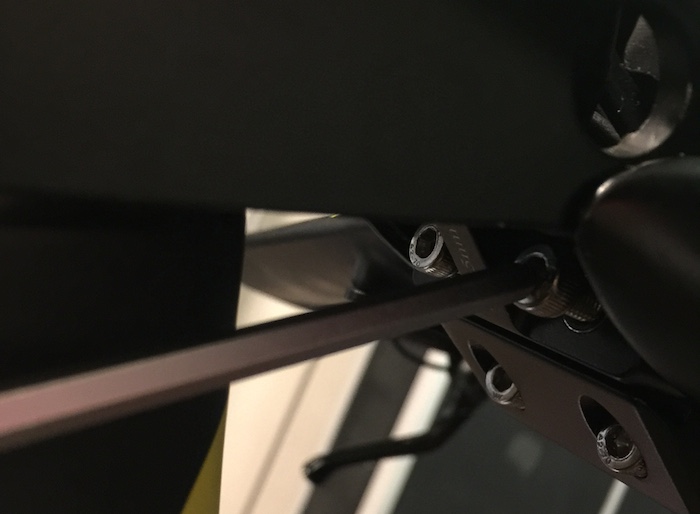 So with the initial front end built, realising part way through the need for two more bolts (seems I'm not great at necessarily following exploded diagrams as some of my furniture building attests to), we were able to get to the little things like elbow width and hand placement.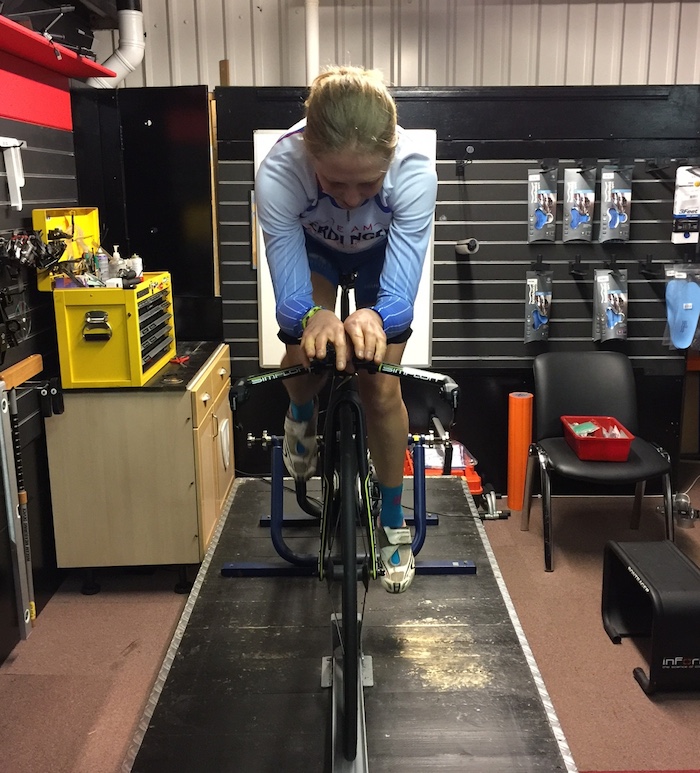 Overall the Simplon was a joy to work with and from my perspective, it was great to be able to give Lucy a race position that wasn't compromised by what we could do with the bike.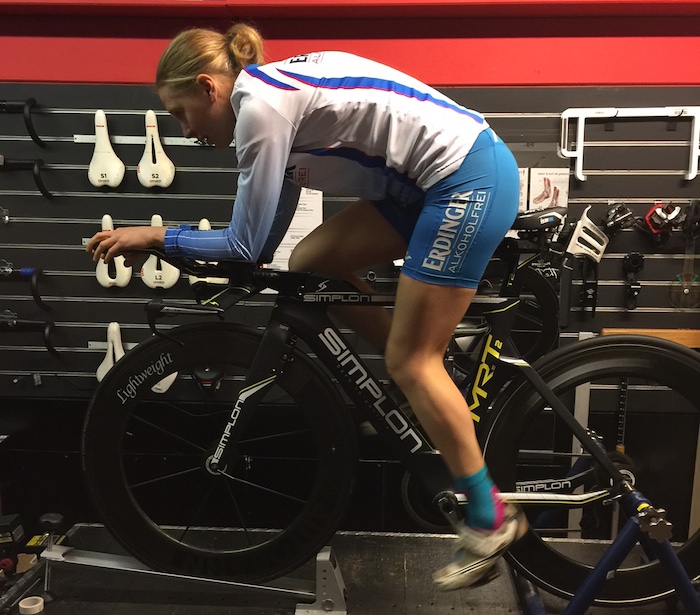 With regards to fitting the Nexio Aero road bike it was again a real joy to work with, great angles and balance to the bike allowing me to get Lucy centred so she really can get a great ride quality and feel, again I think this was a bit of a revelation. So, with just a change of bar width and shape we achieved a wonderful position.
Mike Taylor
---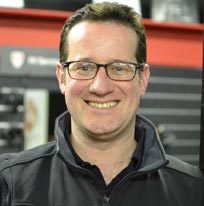 Mike is Owner of Bike-Fit.co.uk and Bridgtown Cycles, he has fit studios in Staffordshire and Devon and has worked with some of the biggest names in Ironman Triathlon as well as top long distance TT riders.
His methodology is based on Dynamic Cycle Efficiency (DyCE), making each pedal stroke count.