First look at the brand new On Cloudboom
Released today and available now at the price of £170, Chris Hovenden has already got his hands on the new On Cloudbloom, which it describes as its ultimate competition running shoe.
Here are his first thoughts and the initial details – we'll bring you his full review soon of this important new addition to the On range soon. How will it fair in this increasingly competitive high-performance shoe market?
---
It seems to have been a case of when, not if, On would release a race shoe with a carbon sole and the when is now. On is calling the Cloudboom the Swiss company's ultimate competition shoe.
Following the ground(and record)breaking launch of Nike's carbon bladed race shoes, and the subsequent clamour for competing carbon shoes from other leading brands, there has been (at least for me), increasing anticipation as to what On would do. Would it create a race shoe with a carbon sole and if so, what would it look like?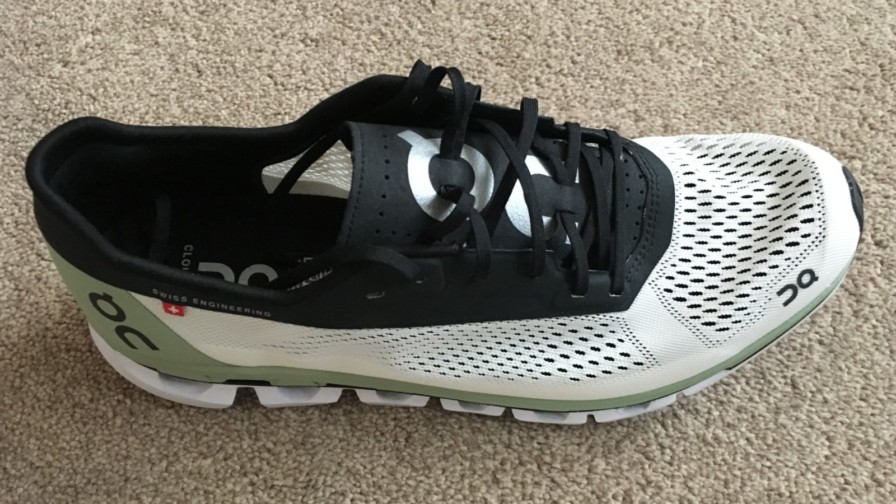 On claims that after two years of product development, which has involved working with elite runners Rachel Cliff and Chris Thompson, its continued investment in the development of high-performance shoes has culminated in the On Cloudboom.
The Cloudboom, with their 9mm heel to toe drop, are said to be designed for distances beyond 10K – so half-marathon and further. Chris Thompson to date has favoured the On Cloud X (as do I), but On says the Cloudboom offer Thompson (and similar runners), a fresh option for his half marathon aspirations.
On's shoes often suit mid-foot to forefoot strikers, however it is suggested the Cloudboom is not exclusively for such runners and should also appeal to those that may be closer to being a heel striker.
Out of the box, you'll be pleased to know the Cloudboom retain On's signature cloud shaped sole. However, it is certainly fair to say that aesthetically they are rather different to On's regular offerings.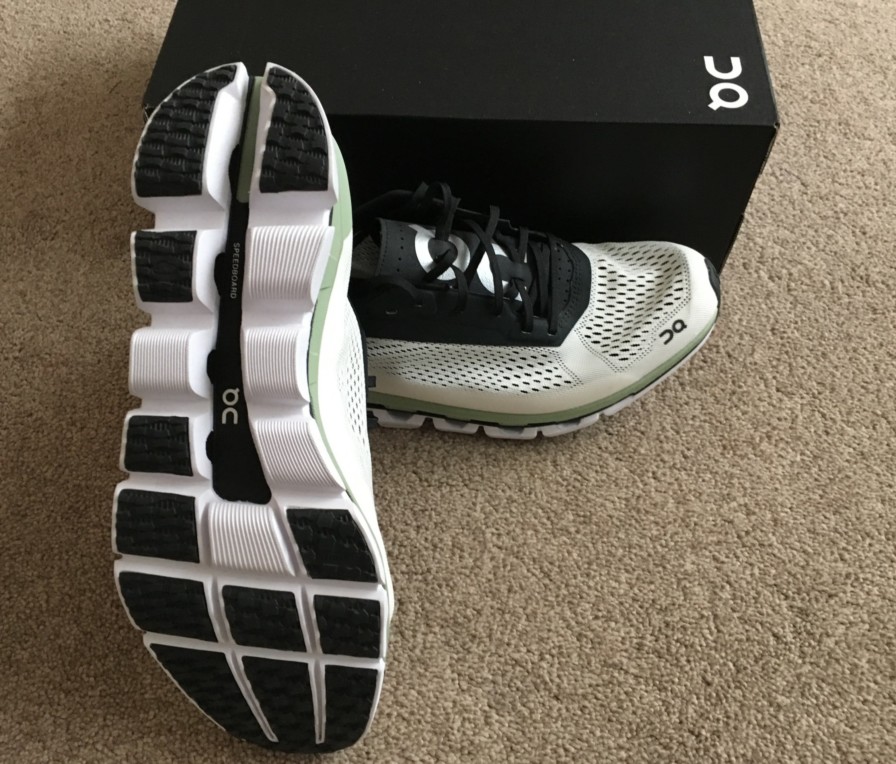 Like many performance focussed shoes, the upper looks to consist of ultra-thin and breathable engineered mesh with reinforcement where needed. My initial thoughts (which are subject to change following testing), are that the reinforcement may not be ideal for those with wider feet. From my experience I have benefitted from the 'give' in the upper of shoes such as the Cloud X.
The exciting bit is the lay-up of the sole. Side on you can clearly see the different structural layers: in between the top section of the sole (which incorporates On's Helion foam to aid comfort), and On's fabled CloudTech. sits the carbon infused Speedboard.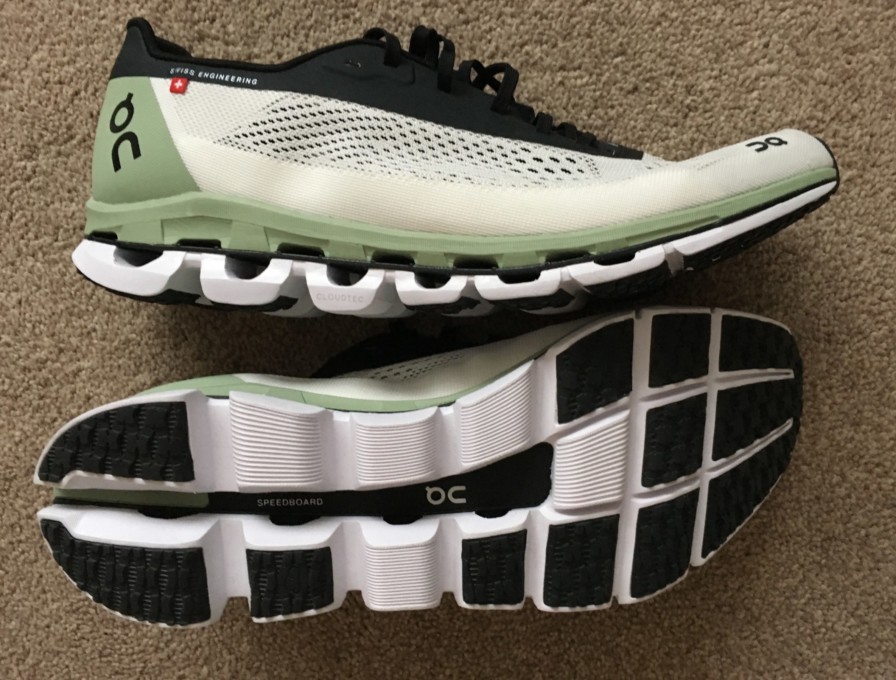 On says the carbon infused Speedboard aids the transition from heel/mid-foot to toe – the idea was to build a rocker which aids maximum propulsion by impacting both the transition from mid-foot to toe as well as lateral movement.
On has communicated that it undertook substantial research and testing to ensure the correct/optimum positioning of the SpeedBoard. Further, On says it opted for a carbon infused Speedboard, rather than pure carbon, to offer a balance of both rigidity and robustness.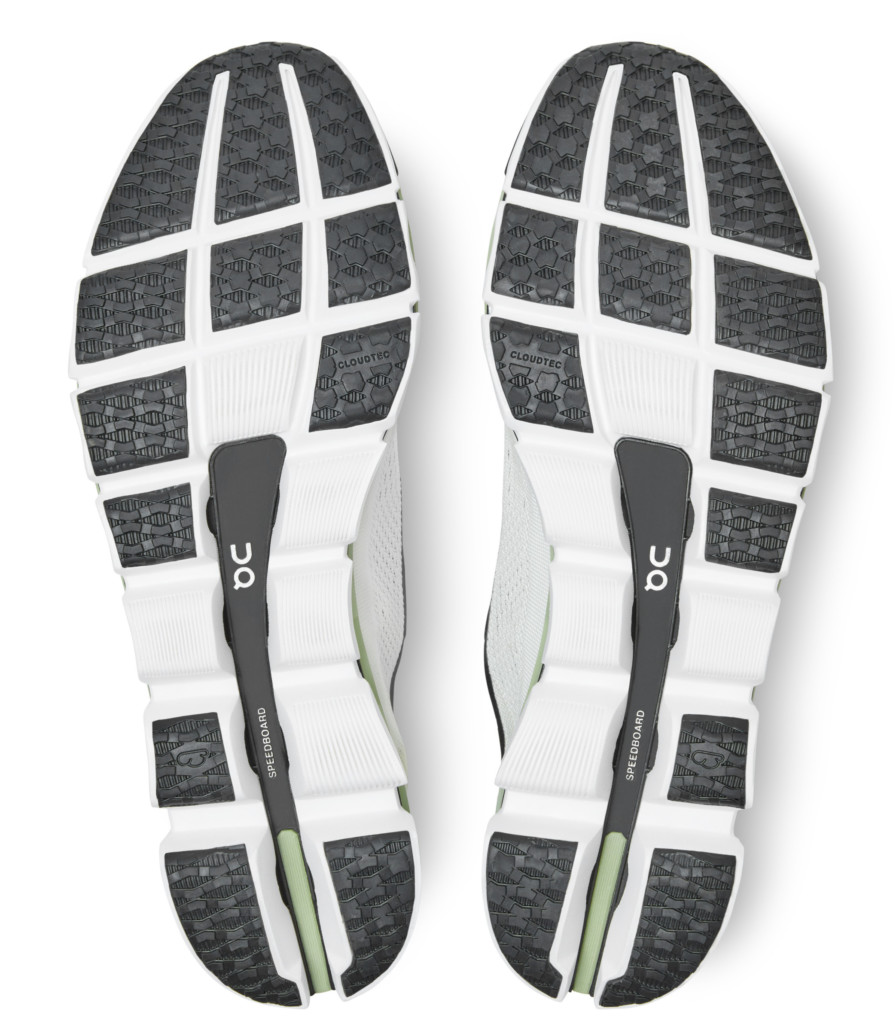 The rubber sole is noticeably different to On's Cloud X and Cloud models etc., with the intention of offering enhanced traction and grip – which could provide increased confidence and acceleration?
On the Tri247 scales the on-test size EUR 43/ UK 9 weighed 236g per shoe – On claims a size 8.5 weighs 225g.
As of 16 July 2020, the Cloudboom are available on www.on-running.com and at selected retail partners for £170.
I have already started using the Cloudboom – look out for the full review in the coming weeks.