British Age-Group podium finishers at the 2018 IRONMAN World Champs
For the vast majority, simply qualifying to race at the IRONMAN World Championship in Hawaii may be a lifetime goal. For a special few however, simply finishing under the brutal conditions that the Big Island presents is not enough – they are there to win.
We now take a look at the British Age-Group athletes made the podium in Kona, finishing in the top five of their division to receive the coveted Umeke trophies, the carved wooden bowls that are part of Hawaii tradition. Surely the most iconic awards in the sport, the higher you finish, the bigger the bowl you are presented with.
---
Ruth Purbrook: Winner F25-29 (9:33:47)
A member of Team Freespeed, Ruth Purbrook was in Hawaii for the second consecutive season. Third on her debut 12 months ago, we spoke to Ruth before the race and she was very clear that winning was her objective, "I have invested so much (mentally, emotionally, hours wise, financially!), that I want to see the hard work pay off." Despite working 70 hours weeks, Ruth's dedication got the result she aimed for.
It wasn't easy however – from leading by 10 minutes starting the marathon, her advantage was reduced to less than three minutes with 7km remaining. She held strong though, eventually winning the F25-29 division by five minutes.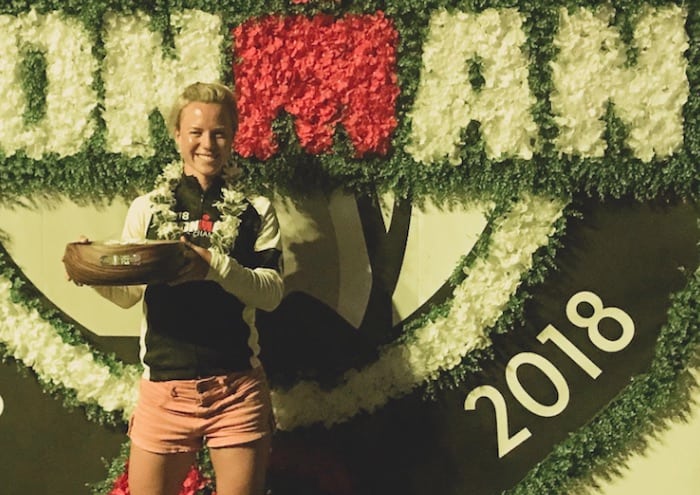 Elizabeth McTernan: Winner Hand-Cycle Division (14:21:13)
A previous World and European Championship Paratriathlon medallist, Elizabeth McTernan became only the second female hand-cycle finisher at Kona, 18 minutes quicker than the 14:39:14 time set by Minda Dentler (USA) in 2013.
https://www.facebook.com/HUUBDesign/videos/1096161127214037/
Jane Wiley: Second F60-64 (11:42:45)
Winner of the ITU Long Distance Triathlon World Championship in Fyn earlier this year, Jane Wiley was only one minute and nine seconds away from adding the Kona title to her C.V. While it was close at the end, she's more than happy with her result – and finished one place ahead of the legendary Julie Moss.
"I'm really delighted… I only knew I was so close five miles from the finish… I was told I was 3:40 mins off, so upped my shuffle and closed the gap but should have started my sprint earlier. Who cares? I'm delighted!"
Delighted to add a salad bowl to my collection and to meet the legendary Julie Moss (3rd) who famously crawled to 3rd overall in 1982 pic.twitter.com/WGIvFvzObG

— Jane Wiley (@wileyjanel) October 15, 2018
Paul Lunn: Third M45-49 (9:08:27)
The title of our pre-race interview with Paul was, "aiming for a bigger fruit bowl", and that's exactly what he got. Fifth last year on his debut, Paul returned to finish third this year. Even better news… he managed not to smash the Umeke during the after party this year!
https://www.instagram.com/p/Bo9ofz3Fr_7/
Maxine Mackinnon: Fourth F55-59 (11:19:43)
Maxine is no stranger to the Kona podium having finished third three years ago in the F55-59 category. She clocked 11:52:33 then, and this year going more than 30 minutes faster in the same category earned her fourth place and another Umeke award.
Martin Gannon: Fourth F60-64 (10:26:24)
Racing in Kona for the fourth time, Martin had previously finished 26th, 27th and 7th (2017). Less than one minute separated positions four, five and six at the finish, but Martin won that particular battle to take fourth place in the 60-64 division. Martin's wife also raced – and finished 12th the the F55-59 category.