TEN British athletes on the Age-Group podium at 70.3 Euro Champs in Denmark
Three back-to-back Gold medals for Clive Kennedy-Burn
As reported separately (check it out HERE), Sunday's IRONMAN 70.3 European Championship in Elsinore, Denmark, produced two superb Elite races, with the titles going to Holly Lawrence (GBR) and defending champion, Rodolphe Von Berg (USA).
There was also some very competitive Age-Group racing taking place, and with the IRONMAN 70.3 World Championship taking place in Nice, France in September, lots of swift European athletes were looking for relatively late qualification opportunities.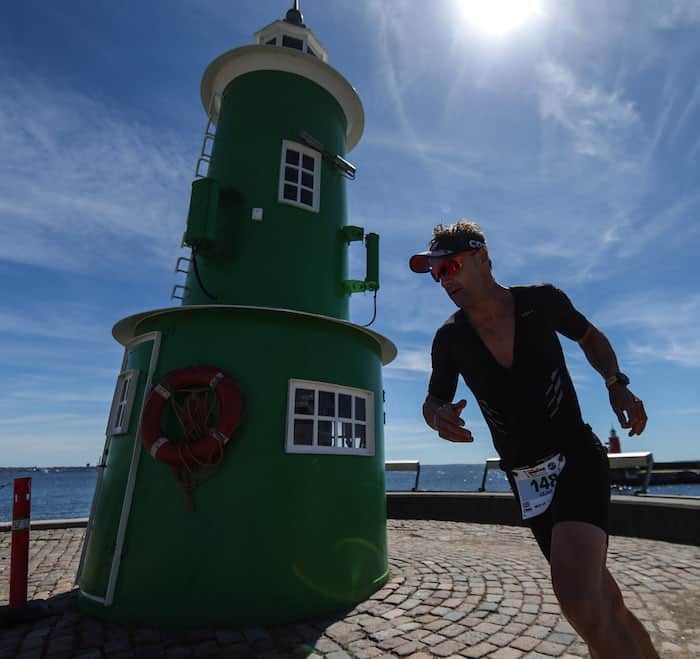 A familiar name lead the British men in Denmark. Clive Kennedy-Burn won the M45-49 division for the third consecutive season. He's also been AG World Champion for the past two years as well, so he'll no doubt be seeking a Euro & World Championship three-peat in September. That won't be easy however, with another British athlete not far behind. Having had a winning margin of five minutes over the past two years, this time around Hywel Davies pushed him all the way, the pair swimming and running very similar times, but Clive managed to get almost all of his two minute lead on two wheels.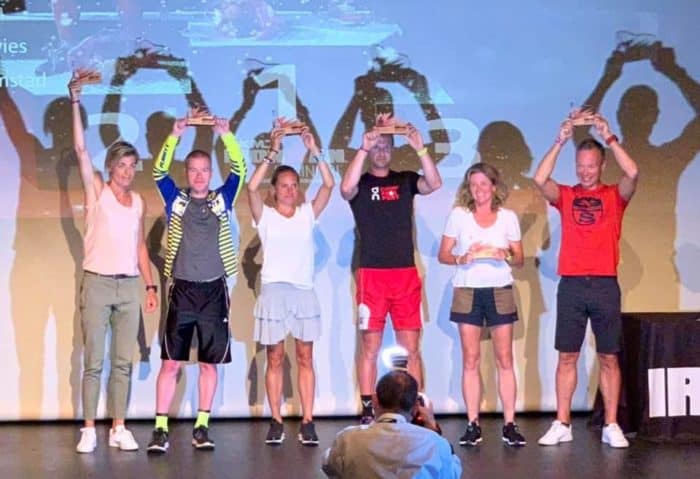 The fastest GB Age-Group women (second overall), and winner of the F30-34 division was reigning IRONMAN World Champion in that category, Ruth Purbrook. Ruth is now a member of the Specialized Zwift Academy Triathlon Team for 2019 – though will have her fingers crossed that her shiny new Shiv Tri Disc arrives in time for Challenge Roth in two weeks time! Ruth was previously part of Team Freespeed, and it was another Team Freespeed member, Dionne Allen, who was the next fastest Brit and second in F30-34.
https://www.instagram.com/p/BzDnhRZhoLp/
Other GB winners were Alice Rogers (F18-24), Alys Mathew (F40-44) and Pat Atwood (F65-69).
🎉Great 'fun' racing yesterday at Ironman 70.3 European Championship🏊🚴🏃 in beautiful location of Elsinore, Denmark made even better to come away with the win in my old bird category 😁 =securing qualification for World… https://t.co/Bm1CwELtuk

— Alys (@alysmathew) June 24, 2019
Victoria Nealon almost added her name to that list, finishing second in F35-39 by just two seconds! The full list of GB podium finishers is provided below.
Overall fastest Age-Group Brits in Denmark
MEN
1st – Clive Kennedy-Burn – 4:02:58
2nd – Brochan Watts – 4:04:05
3rd – Hywel Davies – 4:05:11
WOMEN
1st – Ruth Purbrook – 4:26:15 (Second fastest AG athlete overall)
2nd – Dionne Allen – 4:34:04 (Fourth fastest AG athlete)
3rd – Alys Mathew – 4:35:32 (Fifth fastest AG athlete)
IRONMAN 70.3 European Championship, Elsinore, Denmark – Sunday 23rd June 2019
1.9km / 90km / 21.1km
BRITISH AGE-GROUP PODIUM RESULTS (10)
M35-39: Brochan Watts – 4:04:05 – BRONZE
M45-49: Clive Kennedy-Burn – 4:02:58 – GOLD
M45-49: Hywel Davies – 4:05:11 – SILVER
M70-74: Roger Day – 6:22:12 – SILVER
F18-24: Alice Rogers – 4:38:22 – GOLD
F30-34: Ruth Purbrook – 4:26:15 – GOLD
F30-34: Dionne Allen – 4:34:04 – SILVER
F35-39: Victoria Nealon – 4:37:32 – SILVER
F40-44: Alys Mathew – 4:35:32 – GOLD
F65-69: Pat Atwood – 7:54:07 – GOLD
https://www.instagram.com/p/BzF0zDvBeeJ/