How did the #GBKona Age-Group MEN perform on Saturday in Hawaii?
Here are ALL of the results of the UK & Ireland entrants
Have you recovered from Saturday night / Sunday morning, if long-course triathlon viewing was your weekend following the 2019 IRONMAN World Championship? Some great performances from the Pro athletes as always, which you can read about if you haven't already, on these links: MEN | WOMEN. Huge congratulations to the German duo of Jan Frodeno (for the third time) and Anne Haug, the new IRONMAN World Champions.
The end of the race doesn't mean the end of our extensive 2019 coverage – and here I take a look at the UK and Ireland Male Age-Group results from the Big Island. ALL of them.
Below you will find two tables featuring the results of every entrant, ordered initially by overall time, and then by category in the second table.
As Kona debuts go, the first time in Hawaii will be a great memory of Aaron Tomasz. He was the fastest British Age-Group athlete this year, fifth fastest overall – and that proved enough to be World Champion in the 25-29 division. "I could not dreamed of a better race." Impressive!
https://www.instagram.com/p/B3i8JlihU_1/
As he was 12 months ago, Neil Eddy – this year with Team Freespeed – was the second fastest British Age-Group athlete. 19th in 2017, 8th in 2018, Neil continued his impressive progress to finish second on the M30-34 division.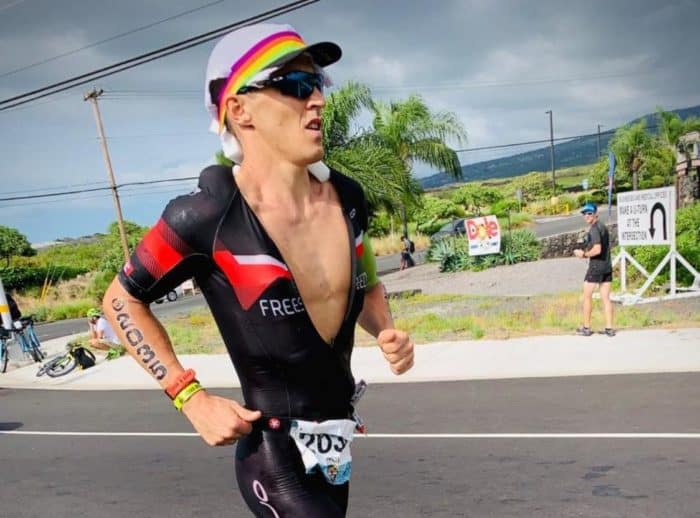 Third fastest was another face we have profiled on the page of Tri247 previously. I interviewed Lewis Eccleston ahead of his Kona debut two year ago, where he finished sixth in M18-24, just missing the final podium spot by 61 seconds. A conscious decision to wait two years before returning paid off on Saturday with a sub-nine hour time and third place in M25-29.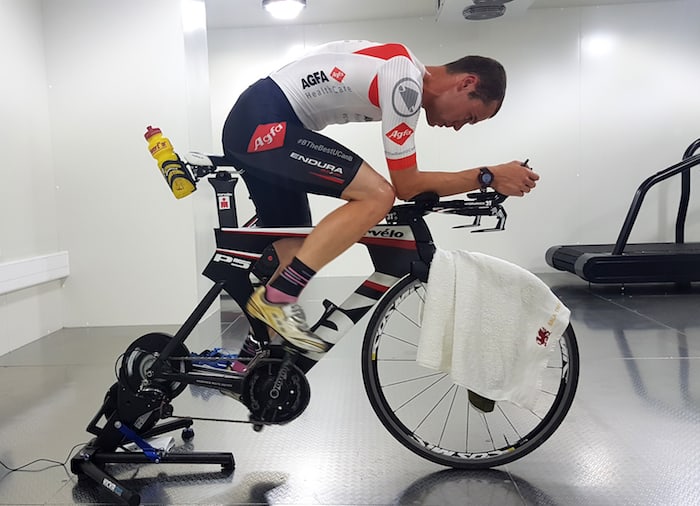 After @lewis93ecc finished 6th with 9:42:21 in the 18-24 AG at the Ironman World Championships in 2017 we estimated he'd need 2 more years of training and racing to reach podium standard in the 25-29 AG… yesterday at #kona2019 he finished 3rd with 8:57:49 #patience #commitment

— Paul Savage (@paulmsavage) October 13, 2019
More details coming soon in a separate piece to celebrate all of the 2019 #GBKona podium finishers.
(EDITORS NOTE: The full listing of GB & Ireland entrants was extracted from the official participants list. If there is an error or you are missing, then a) apologies (!), and b) that is probably why. Please do get in touch if that is the case (editor@tri247.com) and I'll get things updated for you.)
All UK and Ireland Age-Group Male Entrants – Fastest First
| BIB | NAME | CATEGORY | COUNTRY | CAT POS | TIME |
| --- | --- | --- | --- | --- | --- |
| 2318 | Aaron Tomasz | M25-29 | GBR | 1st | 08:47:38 |
| 2035 | Neil Eddy | M30-34 | GBR | 2nd | 08:49:49 |
| 2249 | Lewis Eccleston | M25-29 | GBR | 3rd | 08:57:49 |
| 1808 | Brian William Fogarty | M35-39 | GBR | 12th | 09:02:26 |
| 1799 | Thomas Elliott | M35-39 | GBR | 14th | 09:04:27 |
| 2123 | Tom Rigby | M30-34 | GBR | 27th | 09:17:18 |
| 1913 | Michael Taylor | M35-39 | GBR | 24th | 09:18:12 |
| 1934 | Jason Williams | M35-39 | GBR | 30th | 09:21:41 |
| 2146 | Sion Stansfield | M30-34 | GBR | 33rd | 09:22:09 |
| 2030 | Duncan Chedburn | M30-34 | GBR | 36th | 09:23:39 |
| 1831 | Emmet Kelly | M35-39 | IRL | 37th | 09:24:15 |
| 1620 | Oliver Simon | M40-44 | GBR | 21st | 09:25:03 |
| 1891 | Nathan Risbey | M35-39 | GBR | 39th | 09:25:27 |
| 1863 | Daniel Mcparland | M35-39 | GBR | 42nd | 09:26:24 |
| 1627 | Graeme Stewart | M40-44 | GBR | 24th | 09:27:41 |
| 1785 | James T. Curran | M35-39 | IRL | 47th | 09:27:49 |
| 2112 | Chris Palfreyman | M30-34 | GBR | 47th | 09:27:52 |
| 1906 | Edwin Sutton | M35-39 | IRL | 48th | 09:28:10 |
| 1780 | Chris Cope | M35-39 | GBR | 51st | 09:28:52 |
| 2094 | Mark Matthews | M30-34 | GBR | 58th | 09:32:42 |
| 1231 | Paul Lunn | M45-49 | GBR | 11th | 09:33:48 |
| 2086 | Charles Legget | M30-34 | GBR | 63rd | 09:36:21 |
| 1803 | Guy Evans | M35-39 | GBR | 61st | 09:36:24 |
| 2040 | Joe Fellows | M30-34 | GBR | 73rd | 09:39:30 |
| 2025 | John Borton | M30-34 | GBR | 78th | 09:42:00 |
| 2296 | Christopher Pocock | M25-29 | GBR | 46th | 09:44:04 |
| 2243 | Matt Chipping | M25-29 | GBR | 50th | 09:46:08 |
| 1242 | Julian Middlewick | M45-49 | GBR | 24th | 09:46:12 |
| 1225 | Paul Lewis | M45-49 | GBR | 28th | 09:48:06 |
| 1554 | John Littlewood | M40-44 | GBR | 50th | 09:48:14 |
| 909 | Mark Gray | M50-54 | GBR | 10th | 09:49:12 |
| 1821 | Haukur Heimisson | M35-39 | GBR | 92nd | 09:50:28 |
| 2261 | Ross Harper | M25-29 | GBR | 54th | 09:51:51 |
| 1588 | John Parr | M40-44 | GBR | 63rd | 09:51:57 |
| 1510 | Bruce Greenhalgh | M40-44 | GBR | 65th | 09:53:27 |
| 1758 | David Bartlett | M35-39 | GBR | 101st | 09:53:43 |
| 1102 | Mark Arndt | M45-49 | GBR | 42nd | 09:54:42 |
| 2379 | Finn Arentz | M18-24 | GBR | 16th | 09:55:11 |
| 1577 | William John Newbery | M40-44 | GBR | 77th | 09:56:30 |
| 1636 | Alex Taylor | M40-44 | GBR | 78th | 09:57:00 |
| 1098 | Stuart Anderson | M45-49 | GBR | 46th | 09:57:15 |
| 1096 | Richard Allen | M45-49 | GBR | 51st | 09:58:48 |
| 1261 | Carlo Paul | M45-49 | GBR | 60th | 10:02:52 |
| 992 | Mark Rushby | M50-54 | IRL | 23rd | 10:03:29 |
| 1847 | John Lenehan | M35-39 | IRL | 122nd | 10:05:46 |
| 1235 | Owen Martin | M45-49 | IRL | 72nd | 10:07:45 |
| 1221 | Roman Lacko | M45-49 | GBR | 80th | 10:10:12 |
| 1585 | Stephen Palmer | M40-44 | GBR | 113th | 10:10:38 |
| 1841 | Matt Lawrence | M35-39 | GBR | 127th | 10:11:32 |
| 1283 | Paul Rutherford | M45-49 | IRL | 85th | 10:11:51 |
| 1011 | Paul Thomas | M50-54 | GBR | 33rd | 10:12:31 |
| 1567 | Mathew Matonti | M40-44 | GBR | 130th | 10:14:36 |
| 2152 | John Thelwell | M30-34 | GBR | 121st | 10:15:42 |
| 2242 | Jocelyn Cheli | M25-29 | GBR | 74th | 10:18:45 |
| 1206 | Mark Julier | M45-49 | GBR | 107th | 10:20:24 |
| 1885 | Chris Pike | M35-39 | GBR | 138th | 10:21:29 |
| 2408 | George Patterson | M18-24 | GBR | 25th | 10:21:47 |
| 901 | Adrian Garvey | M50-54 | IRL | 49th | 10:28:13 |
| 1322 | Scott Whittlestone | M45-49 | GBR | 129th | 10:31:36 |
| 1172 | Tony Goodyear | M45-49 | GBR | 134th | 10:33:52 |
| 1010 | Aubone Tennant | M50-54 | GBR | 65th | 10:37:15 |
| 595 | Martin Gannon | M60-64 | GBR | 4th | 10:38:50 |
| 1328 | John Woods | M45-49 | IRL | 156th | 10:42:17 |
| 1169 | Andy Giles | M45-49 | GBR | 164th | 10:46:36 |
| 1483 | Kevin Fennessy | M40-44 | IRL | 186th | 10:50:18 |
| 1275 | Con Ring | M45-49 | IRL | 181th | 10:52:47 |
| 1480 | Philip Ellison | M40-44 | GBR | 192nd | 10:55:47 |
| 942 | Andrew Ley | M50-54 | GBR | 91st | 10:55:55 |
| 961 | Salim Mohamed | M50-54 | GBR | 93rd | 10:56:13 |
| 854 | Charles Ashwanden | M50-54 | GBR | 97th | 10:59:03 |
| 2143 | Matthew Smith | M30-34 | GBR | 141st | 10:59:05 |
| 1877 | James O'Sullivan | M35-39 | GBR | 173rd | 11:00:41 |
| 1458 | Jason Corbett | M40-44 | IRL | 200th | 11:02:42 |
| 1820 | Craig Hartley | M35-39 | GBR | 174th | 11:03:03 |
| 1171 | Martin Goodlad | M45-49 | GBR | 195th | 11:03:47 |
| 1918 | Sam Thompson | M35-39 | GBR | 176th | 11:05:03 |
| 267 | Stephen Dermody | M45-49 | IRL | 201st | 11:06:55 |
| 923 | Martin Howie | M50-54 | GBR | 112th | 11:07:00 |
| 1241 | Jamie Mcintyre-Brown | M45-49 | GBR | 210th | 11:14:59 |
| 1259 | Mark Patterson | M45-49 | GBR | 211st | 11:16:05 |
| 1190 | Daragh Hendley | M45-49 | IRL | 212nd | 11:16:31 |
| 1772 | Grant Carter-Moore | M35-39 | GBR | 179th | 11:17:24 |
| 418 | Graham Hill | M30-34 | GBR | 149th | 11:21:13 |
| 1520 | Eddie Hirst | M40-44 | GBR | 216th | 11:22:12 |
| 751 | Peter Openshaw | M55-59 | GBR | 53rd | 11:25:11 |
| 2269 | Thomas Kebbell | M25-29 | GBR | 90th | 11:25:46 |
| 721 | Barry Harriss | M55-59 | GBR | 62nd | 11:34:21 |
| 1296 | Carl Shawcross | M45-49 | GBR | 224th | 11:35:14 |
| 199 | Jeremy Furniss | M50-54 | GBR | 154th | 11:44:26 |
| 184 | Richard Collins | M50-54 | GBR | 155th | 11:45:29 |
| 589 | Evan Davies | M60-64 | GBR | 25th | 11:52:19 |
| 590 | Richard Thomas Dunbabin | M60-64 | GBR | 27th | 11:56:29 |
| 603 | Nicholas Kinsey | M60-64 | GBR | 28th | 11:56:50 |
| 880 | David Clements | M50-54 | GBR | 163rd | 11:57:18 |
| 311 | Adrian Tan | M45-49 | GBR | 237th | 11:59:09 |
| 1134 | Damien Cosgrove | M45-49 | IRL | 238th | 11:59:10 |
| 746 | Mike Morris | M55-59 | GBR | 80th | 12:03:55 |
| 722 | Terry Harvey | M55-59 | GBR | 81st | 12:04:10 |
| 712 | John French | M55-59 | GBR | 90th | 12:14:07 |
| 230 | Paul Tuck | M50-54 | GBR | 177th | 12:20:11 |
| 548 | Gerard Turbitt | M65-69 | IRL | 8th | 12:27:01 |
| 197 | Jon Ellis-Smith | M50-54 | GBR | 184th | 12:32:43 |
| 1320 | Karl Watts | M45-49 | GBR | 253rd | 12:48:46 |
| 735 | David Labouchere | M55-59 | GBR | 104th | 12:49:39 |
| 920 | Steve Hobson | M50-54 | GBR | 200th | 13:06:23 |
| 587 | Charlie Collins | M60-64 | GBR | 48th | 13:07:39 |
| 586 | George Burns | M60-64 | GBR | 49th | 13:15:11 |
| 383 | David Allen | M35-39 | GBR | 195th | 13:25:10 |
| 149 | Andy Harries | M55-59 | GBR | 115th | 13:32:35 |
| 1030 | Allan Youp | M50-54 | GBR | 207th | 13:36:21 |
| 591 | Nick Farnell | M60-64 | GBR | 54th | 14:08:40 |
| 479 | John Heaney | M70-74 | GBR | 6th | 15:09:39 |
| 486 | Bob Martin | M70-74 | GBR | 8th | 15:20:58 |
| 156 | Richard Parnell | M55-59 | GBR | 135th | 15:21:09 |
| 509 | Mike Anthony | M65-69 | GBR | 48th | 16:46:20 |
| 429 | Donal Mcgoldrick | M25-29 | IRL | DNF | DNF |
| 2308 | William Shenton-Brown | M25-29 | GBR | DNF | DNF |
| 102 | Barry Short | M70-74 | GBR | DNF | DNF |
| 470 | David Borrell | M70-74 | GBR | DNF | DNF |
| 360 | Steven Middleton | M40-44 | GBR | DNS | DNS |
| 318 | Iain Young | M45-49 | GBR | DNS | DNS |
| 1125 | Nick Buss | M45-49 | GBR | DNS | DNS |
| 213 | Jeremy Nock | M50-54 | GBR | DNS | DNS |
| 716 | James Graham | M55-59 | GBR | DNS | DNS |
All Great Britain and Ireland Age-Group Male Entrants – By Category
| BIB | NAME | CATEGORY | COUNTRY | CAT POS | TIME |
| --- | --- | --- | --- | --- | --- |
| 2379 | Finn Arentz | M18-24 | GBR | 16th | 09:55:11 |
| 2408 | George Patterson | M18-24 | GBR | 25th | 10:21:47 |
| 2318 | Aaron Tomasz | M25-29 | GBR | 1st | 08:47:38 |
| 2249 | Lewis Eccleston | M25-29 | GBR | 3rd | 08:57:49 |
| 2296 | Christopher Pocock | M25-29 | GBR | 46th | 09:44:04 |
| 2243 | Matt Chipping | M25-29 | GBR | 50th | 09:46:08 |
| 2261 | Ross Harper | M25-29 | GBR | 54th | 09:51:51 |
| 2242 | Jocelyn Cheli | M25-29 | GBR | 74th | 10:18:45 |
| 2269 | Thomas Kebbell | M25-29 | GBR | 90th | 11:25:46 |
| 429 | Donal Mcgoldrick | M25-29 | IRL | DNF | DNF |
| 2308 | William Shenton-Brown | M25-29 | GBR | DNF | DNF |
| 2035 | Neil Eddy | M30-34 | GBR | 2nd | 08:49:49 |
| 2123 | Tom Rigby | M30-34 | GBR | 27th | 09:17:18 |
| 2146 | Sion Stansfield | M30-34 | GBR | 33rd | 09:22:09 |
| 2030 | Duncan Chedburn | M30-34 | GBR | 36th | 09:23:39 |
| 2112 | Chris Palfreyman | M30-34 | GBR | 47th | 09:27:52 |
| 2094 | Mark Matthews | M30-34 | GBR | 58th | 09:32:42 |
| 2086 | Charles Legget | M30-34 | GBR | 63rd | 09:36:21 |
| 2040 | Joe Fellows | M30-34 | GBR | 73rd | 09:39:30 |
| 2025 | John Borton | M30-34 | GBR | 78th | 09:42:00 |
| 2152 | John Thelwell | M30-34 | GBR | 121st | 10:15:42 |
| 2143 | Matthew Smith | M30-34 | GBR | 141st | 10:59:05 |
| 418 | Graham Hill | M30-34 | GBR | 149th | 11:21:13 |
| 1808 | Brian William Fogarty | M35-39 | GBR | 12th | 09:02:26 |
| 1799 | Thomas Elliott | M35-39 | GBR | 14th | 09:04:27 |
| 1913 | Michael Taylor | M35-39 | GBR | 24th | 09:18:12 |
| 1934 | Jason Williams | M35-39 | GBR | 30th | 09:21:41 |
| 1831 | Emmet Kelly | M35-39 | IRL | 37th | 09:24:15 |
| 1891 | Nathan Risbey | M35-39 | GBR | 39th | 09:25:27 |
| 1863 | Daniel Mcparland | M35-39 | GBR | 42nd | 09:26:24 |
| 1785 | James T. Curran | M35-39 | IRL | 47th | 09:27:49 |
| 1906 | Edwin Sutton | M35-39 | IRL | 48th | 09:28:10 |
| 1780 | Chris Cope | M35-39 | GBR | 51st | 09:28:52 |
| 1803 | Guy Evans | M35-39 | GBR | 61st | 09:36:24 |
| 1821 | Haukur Heimisson | M35-39 | GBR | 92nd | 09:50:28 |
| 1758 | David Bartlett | M35-39 | GBR | 101st | 09:53:43 |
| 1847 | John Lenehan | M35-39 | IRL | 122nd | 10:05:46 |
| 1841 | Matt Lawrence | M35-39 | GBR | 127th | 10:11:32 |
| 1885 | Chris Pike | M35-39 | GBR | 138th | 10:21:29 |
| 1877 | James O'Sullivan | M35-39 | GBR | 173rd | 11:00:41 |
| 1820 | Craig Hartley | M35-39 | GBR | 174th | 11:03:03 |
| 1918 | Sam Thompson | M35-39 | GBR | 176th | 11:05:03 |
| 1772 | Grant Carter-Moore | M35-39 | GBR | 179th | 11:17:24 |
| 383 | David Allen | M35-39 | GBR | 195th | 13:25:10 |
| 1620 | Oliver Simon | M40-44 | GBR | 21st | 09:25:03 |
| 1627 | Graeme Stewart | M40-44 | GBR | 24th | 09:27:41 |
| 1554 | John Littlewood | M40-44 | GBR | 50th | 09:48:14 |
| 1588 | John Parr | M40-44 | GBR | 63rd | 09:51:57 |
| 1510 | Bruce Greenhalgh | M40-44 | GBR | 65th | 09:53:27 |
| 1577 | William John Newbery | M40-44 | GBR | 77th | 09:56:30 |
| 1636 | Alex Taylor | M40-44 | GBR | 78th | 09:57:00 |
| 1585 | Stephen Palmer | M40-44 | GBR | 113th | 10:10:38 |
| 1567 | Mathew Matonti | M40-44 | GBR | 130th | 10:14:36 |
| 1483 | Kevin Fennessy | M40-44 | IRL | 186th | 10:50:18 |
| 1480 | Philip Ellison | M40-44 | GBR | 192nd | 10:55:47 |
| 1458 | Jason Corbett | M40-44 | IRL | 200th | 11:02:42 |
| 1520 | Eddie Hirst | M40-44 | GBR | 216th | 11:22:12 |
| 360 | Steven Middleton | M40-44 | GBR | DNS | DNS |
| 1231 | Paul Lunn | M45-49 | GBR | 11th | 09:33:48 |
| 1242 | Julian Middlewick | M45-49 | GBR | 24th | 09:46:12 |
| 1225 | Paul Lewis | M45-49 | GBR | 28th | 09:48:06 |
| 1102 | Mark Arndt | M45-49 | GBR | 42nd | 09:54:42 |
| 1098 | Stuart Anderson | M45-49 | GBR | 46th | 09:57:15 |
| 1096 | Richard Allen | M45-49 | GBR | 51st | 09:58:48 |
| 1261 | Carlo Paul | M45-49 | GBR | 60th | 10:02:52 |
| 1235 | Owen Martin | M45-49 | IRL | 72nd | 10:07:45 |
| 1221 | Roman Lacko | M45-49 | GBR | 80th | 10:10:12 |
| 1283 | Paul Rutherford | M45-49 | IRL | 85th | 10:11:51 |
| 1206 | Mark Julier | M45-49 | GBR | 107th | 10:20:24 |
| 1322 | Scott Whittlestone | M45-49 | GBR | 129th | 10:31:36 |
| 1172 | Tony Goodyear | M45-49 | GBR | 134th | 10:33:52 |
| 1328 | John Woods | M45-49 | IRL | 156th | 10:42:17 |
| 1169 | Andy Giles | M45-49 | GBR | 164th | 10:46:36 |
| 1275 | Con Ring | M45-49 | IRL | 181th | 10:52:47 |
| 1171 | Martin Goodlad | M45-49 | GBR | 195th | 11:03:47 |
| 267 | Stephen Dermody | M45-49 | IRL | 201st | 11:06:55 |
| 1241 | Jamie Mcintyre-Brown | M45-49 | GBR | 210th | 11:14:59 |
| 1259 | Mark Patterson | M45-49 | GBR | 211st | 11:16:05 |
| 1190 | Daragh Hendley | M45-49 | IRL | 212nd | 11:16:31 |
| 1296 | Carl Shawcross | M45-49 | GBR | 224th | 11:35:14 |
| 311 | Adrian Tan | M45-49 | GBR | 237th | 11:59:09 |
| 1134 | Damien Cosgrove | M45-49 | IRL | 238th | 11:59:10 |
| 1320 | Karl Watts | M45-49 | GBR | 253rd | 12:48:46 |
| 318 | Iain Young | M45-49 | GBR | DNS | DNS |
| 1125 | Nick Buss | M45-49 | GBR | DNS | DNS |
| 909 | Mark Gray | M50-54 | GBR | 10th | 09:49:12 |
| 992 | Mark Rushby | M50-54 | IRL | 23rd | 10:03:29 |
| 1011 | Paul Thomas | M50-54 | GBR | 33rd | 10:12:31 |
| 901 | Adrian Garvey | M50-54 | IRL | 49th | 10:28:13 |
| 1010 | Aubone Tennant | M50-54 | GBR | 65th | 10:37:15 |
| 942 | Andrew Ley | M50-54 | GBR | 91st | 10:55:55 |
| 961 | Salim Mohamed | M50-54 | GBR | 93rd | 10:56:13 |
| 854 | Charles Ashwanden | M50-54 | GBR | 97th | 10:59:03 |
| 923 | Martin Howie | M50-54 | GBR | 112th | 11:07:00 |
| 199 | Jeremy Furniss | M50-54 | GBR | 154th | 11:44:26 |
| 184 | Richard Collins | M50-54 | GBR | 155th | 11:45:29 |
| 880 | David Clements | M50-54 | GBR | 163rd | 11:57:18 |
| 230 | Paul Tuck | M50-54 | GBR | 177th | 12:20:11 |
| 197 | Jon Ellis-Smith | M50-54 | GBR | 184th | 12:32:43 |
| 920 | Steve Hobson | M50-54 | GBR | 200th | 13:06:23 |
| 1030 | Allan Youp | M50-54 | GBR | 207th | 13:36:21 |
| 213 | Jeremy Nock | M50-54 | GBR | DNS | DNS |
| 751 | Peter Openshaw | M55-59 | GBR | 53rd | 11:25:11 |
| 721 | Barry Harriss | M55-59 | GBR | 62nd | 11:34:21 |
| 746 | Mike Morris | M55-59 | GBR | 80th | 12:03:55 |
| 722 | Terry Harvey | M55-59 | GBR | 81st | 12:04:10 |
| 712 | John French | M55-59 | GBR | 90th | 12:14:07 |
| 735 | David Labouchere | M55-59 | GBR | 104th | 12:49:39 |
| 149 | Andy Harries | M55-59 | GBR | 115th | 13:32:35 |
| 156 | Richard Parnell | M55-59 | GBR | 135th | 15:21:09 |
| 716 | James Graham | M55-59 | GBR | DNS | DNS |
| 595 | Martin Gannon | M60-64 | GBR | 4th | 10:38:50 |
| 589 | Evan Davies | M60-64 | GBR | 25th | 11:52:19 |
| 590 | Richard Thomas Dunbabin | M60-64 | GBR | 27th | 11:56:29 |
| 603 | Nicholas Kinsey | M60-64 | GBR | 28th | 11:56:50 |
| 587 | Charlie Collins | M60-64 | GBR | 48th | 13:07:39 |
| 586 | George Burns | M60-64 | GBR | 49th | 13:15:11 |
| 591 | Nick Farnell | M60-64 | GBR | 54th | 14:08:40 |
| 548 | Gerard Turbitt | M65-69 | IRL | 8th | 12:27:01 |
| 509 | Mike Anthony | M65-69 | GBR | 48th | 16:46:20 |
| 479 | John Heaney | M70-74 | GBR | 6th | 15:09:39 |
| 486 | Bob Martin | M70-74 | GBR | 8th | 15:20:58 |
| 102 | Barry Short | M70-74 | GBR | DNF | DNF |
| 470 | David Borrell | M70-74 | GBR | DNF | DNF |