After a year away, IRONMAN 70.3 Weymouth was back on the schedule today for its fifth edition at the popular seaside destination in Dorset. Even the weather was wonderful.
As with IRONMAN 70.3 Staffordshire earlier in the year, it was an Age-Group only event this year, allowing some of Britain's best amateur athletes to take the headlines.
Gun-to-tape for Rosie Weston
Rosie Weston, an impressive performer already this year at the Outlaw Half Nottingham and Outlaw Half Holkham, was the quickest swimmer of the day – and never headed – on the way to a significant winning margin of more than 12 minutes. She'll be using that speed next year, as she moves up to race in the Pro ranks.
"I felt good on the swim, the bike was tough and I started to lag towards the end of the run but the crowds kept me going. When you're struggling the volunteer and crowd cheers keep you going!"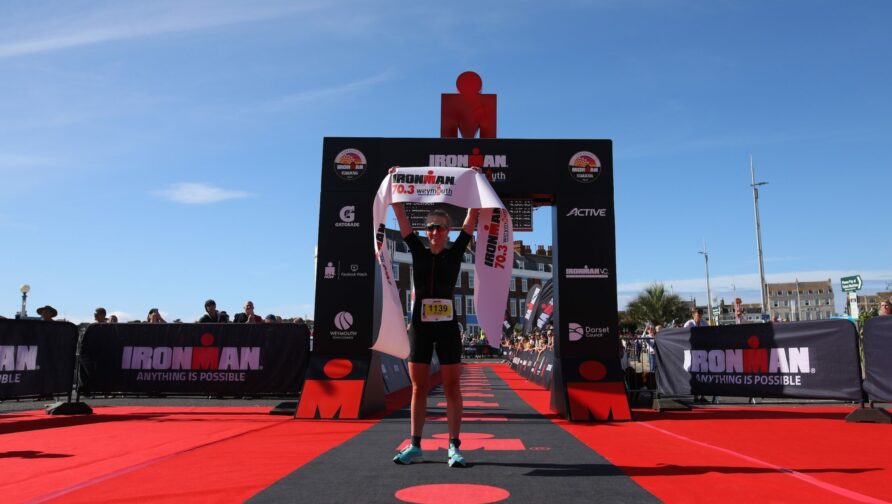 Ecstatic Derrett fights for victory
Men's winner Stephen Derrett was more than two minutes slower in the water than Alex Woodman (who would go on to finish second), but as they headed out onto the run, there were separated by just seconds. A 1:20:41 run, held off Alex (1:22:27), but the duo maintained their T2 positions to the finish line.
Consistency counted for Derrett. He didn't set the quickest time split in any of the disciplines, but was still almost two minutes clear at the finish line. A reminder if it's needed, that triathlon is one sport.
"I'm absolutely ecstatic, I fought so hard. I was in the lead at the start of the run, and I knew there were faster runners behind me, so I really went for it! The bike is my strongest discipline and once I got first place as I arrived at transition of the bike, I wasn't letting it go!"
IRONMAN 70.3 Weymouth results 2021
Sunday September 19, 2021
1.9km / 90km / 21.1km (Age-Group only event)
OVERALL MEN
Stephen Derrett – 4:12:47
Alex Woodman – 4:14:43
Alexander Jones – 4:15:51
Felix Wernham – 4:21:11
Toby Fernandez – 4:22:44
OVERALL WOMEN
Rosie Weston – 4:41:41
Annie Ewing – 4:54:02
Kate MacTear – 4:55:36
Lucy Mapp – 4:58:27
Isabel Davis – 4:58:39