Who were the speedy amateur athletes at IRONMAN 70.3 Weymouth on Sunday?
Sunday was certainly a challenging day for all of the athletes at IRONMAN 70.3 Weymouth, with rain, wind and cold temperatures making it a race to remember – not always for the best reasons! Kudos to the athletes that made it to the finish line – and huge respect to all of the crew and volunteers who were out there making it all happen.
The Pro races were won by Elliot Smales and India Lee (covered HERE), so now let's take a look at the fastest Age-Group athletes and category winners too.
The fastest overall female athlete – by a full six minutes – was Elle Twentyman, who finished ahead of fellow 18-24 division athete (and Outlaw Half Holkham winner), Rachel Hawker. Elle was also the first Age-Group athlete overall recently at IRONMAN 70.3 Dún Laoghaire and should be well on track now to securing her Pro licence.
IRONMAN 70.3 Weymouth 2018: Fastest Age-Group athletes
FEMALE
1st – Elle Twentyman (GBR) – 4:37:30 (18-24)
2nd – Rachel Hawker (IRL) – 4:43:32 (18-24)
3rd – Kate MacTear (GBR) – 4:43:58 (25-29)
4th – Sophie Bubb (GBR) – 4:48:08 (35-39)
5th – Linda Evans (GBR) – 4:53:34 (25-29)
https://www.instagram.com/p/BoFAy7ODULQ/
My goal for 2018, completed. 1st in my age group at Ironman Weymouth 70.3, 8th female overall and hopefully one step closer to a pro licence. I think an off season is well deserved now 🏊🏼‍♀️🚴🏼‍♀️🏃🏼‍♀️🌧💨😴@andybtricoach @BristolUniSport @IRONMANtri @BritTri pic.twitter.com/PvaJG6ca4e

— Kate Mactear (@KateMactear) September 24, 2018
The fastest male Age-Group athlete, Harry Palmer was also in the colours of Zoot Athlos racing. Also the fastest amateur at IRONMAN 70.3 Staffordshire, Harry won the 18-24 division and finished just over two minutes quicker than Ieuan Hudson, another 18-24 category athlete. Third place overall was David Bartlett, a podium finisher this year at the IRONMAN 70.3 World Championship in South Africa.
Male
1st – Harry Palmer (GBR) – 4:12:45 (18-24)
2nd – Ieuan Hudson (GBR) – 4:15:08 (18-24)
3rd – David Bartlett (GBR) – 4:17:14 (30-34)
4th – Lukas Bosmans (BEL) – 4:18:41 (30-34)
5th – Josh Holman (GBR) – 4:19:45 (25-29)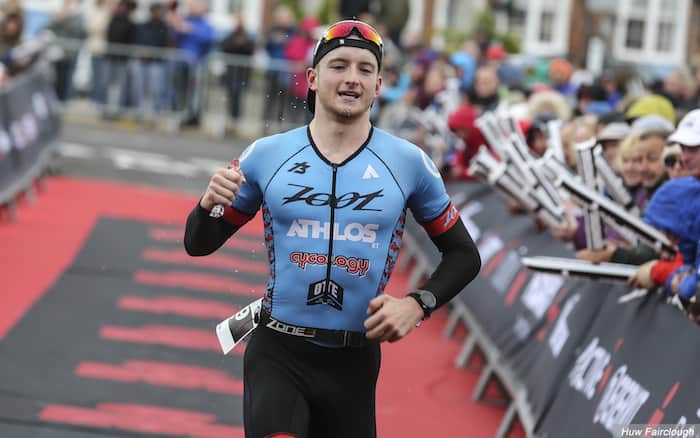 IRONMAN 70.3 Weymouth 2018: Age-Group winners
FEMALE
18-24: Elle Twentyman (GBR) – 4:37:30
25-29: Kate MacTear (GBR) – 4:43:58
30-34: Emily Cochrane (GBR) – 5:03:54
35-39: Sophie Bubb (GBR) – 4:48:08
40-44: Sian Tovey (GBR) – 4:59:23
45-49: Louella O'Herlihy (GBR) – 5:05:56
50-54: Alison Buckley (GBR) – 5:28:05
55-59: Jo Gundle (GBR) – 5:36:43
60-64: Nicky Deane-Simmons (GBR) – 6:29:01
65-69: Vicky Carpenter (GBR) – 7:26:03
V happy to be back on the top step! #IM703Weymouth super tough today but all worth it now & qualified for 2019 #Ironman 70.3 World Champs. x pic.twitter.com/tuROKCpYOp

— Sophie Bubb (@SophieBubb) September 23, 2018
MALE
18-24: Harry Palmer (GBR) – 4:12:45
25-29: Josh Holman (GBR) – 4:19:45
30-34: David Bartlett (GBR) – 4:17:14
35-39: Ian Dempsey (GBR) – 4:21:40
40-44: Donald Brooks (GBR) – 4:32:22
45-49: David Murray (GBR) – 4:39:15
50-54: Kevin McCloskey (GBR) – 4:45:57
55-59: Mark Davis (GBR) – 4:48:14
60-64: Mike Skillings (GBR) – 5:32:38
65-69: Nick Hewitt (GBR) – 5:54:41
70-74: Rob Gray (GBR) – 7:00:59
https://www.instagram.com/p/BoFeLlvH81U/
https://www.instagram.com/p/BoFAPQeF3Fn/