Every IRONMAN World Championship also features plenty of exceptional amateur athletes competing in the age-group ranks, and here I take a look at the UK and Ireland Male Age-Group results from St George. ALL of them!
[You can find the women's AG roundup HERE]
Six British athletes secured podium (top-five) results on Saturday, including one very impressive new IRONMAN World Champion.
Below you will find two tables featuring the results of every entrant, ordered initially by overall time, and then by category in the second table.
(EDITORS NOTE: The full listing of GB & Ireland entrants was extracted from the official participants list pre-race. If there is an error or you are missing, then a) apologies (!), and b) that is probably why. Please do get in touch if that is the case (editor@tri247.com) and I'll get things updated for you.)
Thelwell leads the way
Seeing John Thelwell as the leading Brit on the day is not unexpected, and we noted him as one to watch pre race, based up his impressive performances at IRONMAN UK an IRONMAN Tallinn.
The 15th fastest male age-group athlete overall, 9:17:23 also saw join take the fifth and final podium spot in M35-39.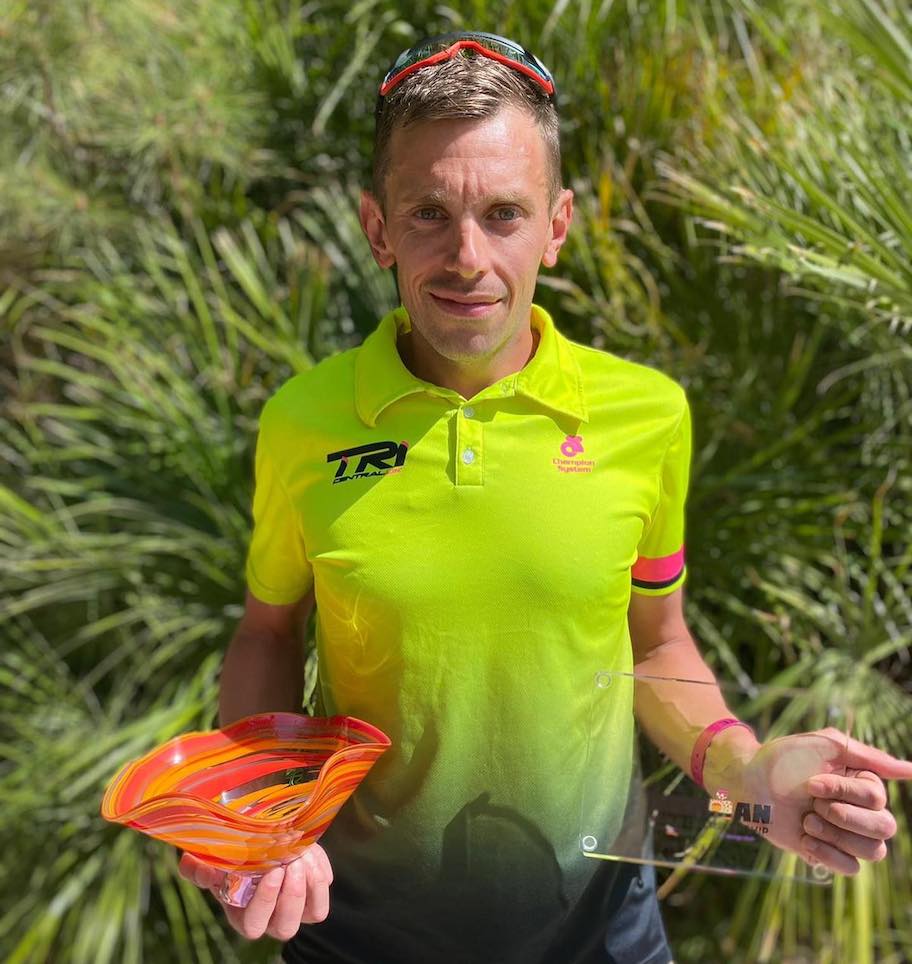 Less than seven minutes behind John, Thomas Davies was the second quickest amateur Brit. Racing in the M25-29 division, Thomas earned the second place trophy.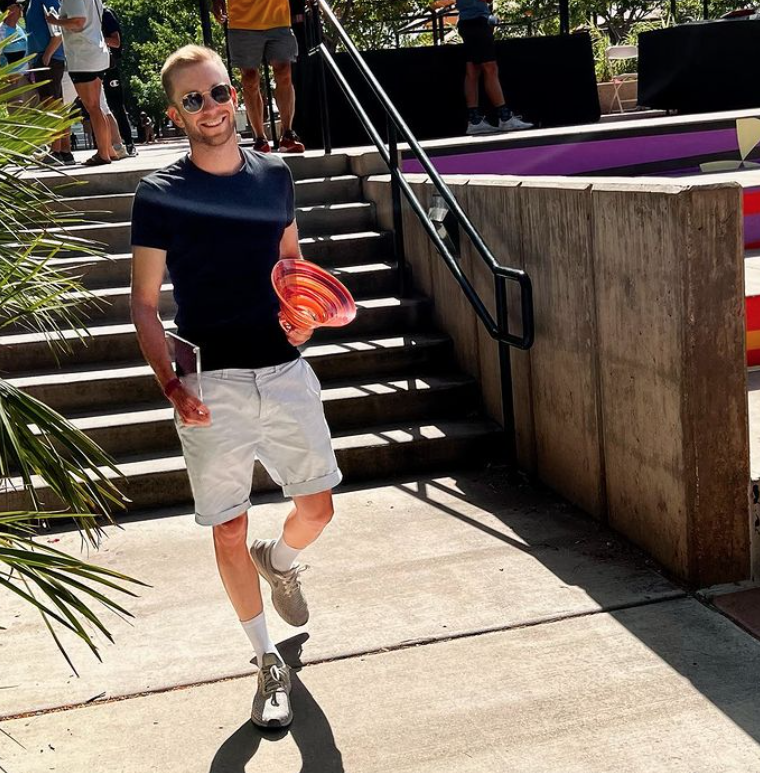 "Previously said that Lanza & Kona are tough Ironman race… St George beats them hands down" – that was the post-race take from Scott Whittlestone, who seemingly conquered the challenges faced in some style, to earn second place in his M50-54 category.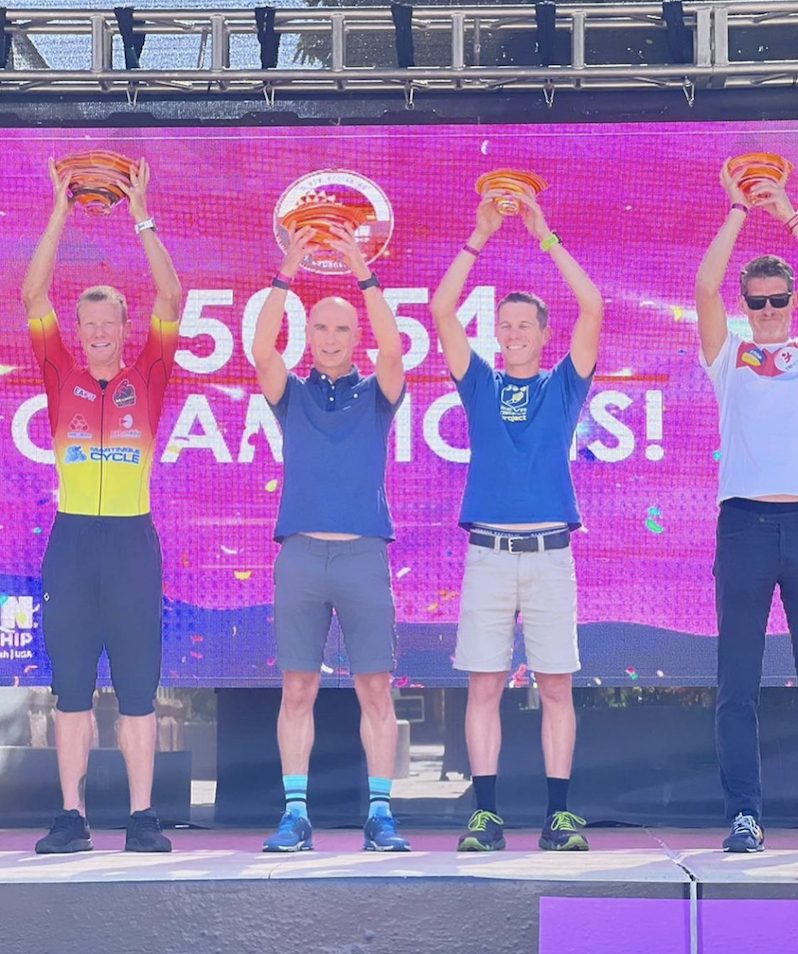 We referenced the experienced Martin Gannon pre-race, with the comment that after two prior fourth place podiums, could he do even better this time? Absolutely he could, winning the M65-69 category by more than an hour, with a hugely impressive 11:09:42. That makes him the only British athlete to top an age-group podium in St George.
"Very happy!! Hard day, so all the more satisfying!", Martin told me.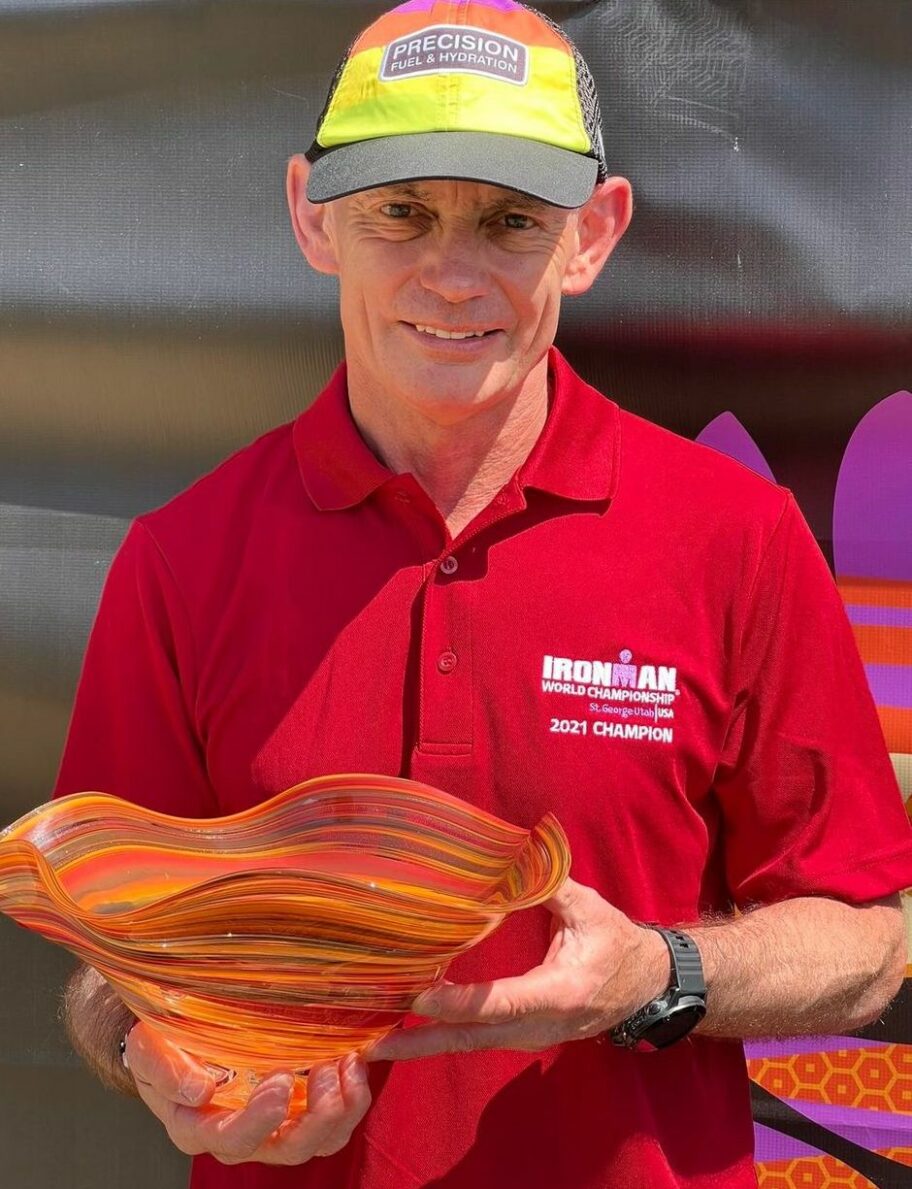 Racing in the same age-group as Martin, Nick Hewitt also made the podium in fifth place.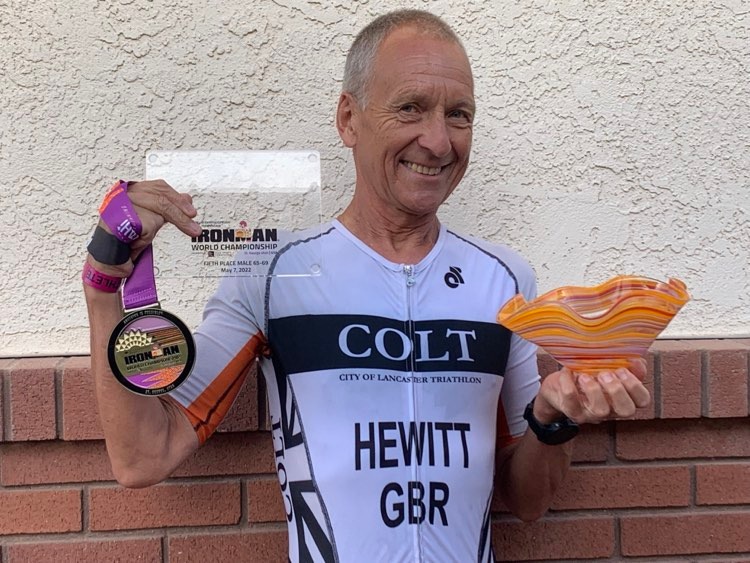 Completing the British podium performances in Utah was Quin Beach. A winner at IRONMAN last year, 11:38:55 secured him fifth place in M60-64.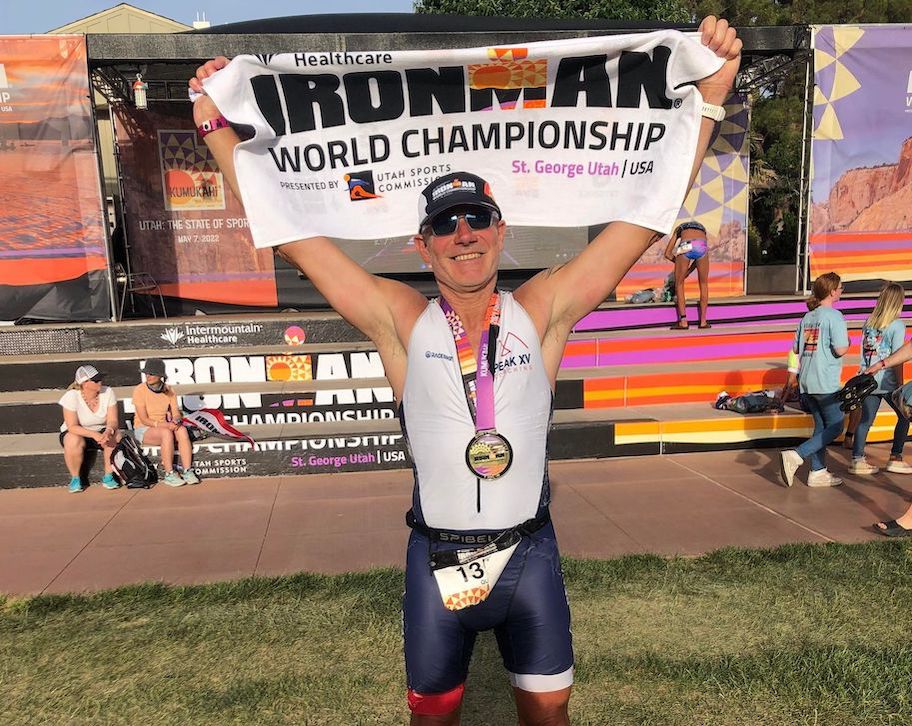 All UK and Ireland Age-Group Male Entrants – Fastest First
| BIB | NAME | CATEGORY | COUNTRY | CAT POS | TIME |
| --- | --- | --- | --- | --- | --- |
| 850 | John Thelwell | 35-39 | GBR | 5 | 09:17:23 |
| 2289 | Thomas Davies | 25-29 | GBR | 2 | 09:24:16 |
| 871 | Duncan Chedburn | 35-39 | GBR | 7 | 09:26:05 |
| 260 | Daniel Mcparland | 40-44 | GBR | 7 | 09:35:27 |
| 973 | Tom Van Rossum | 35-39 | GBR | 10 | 09:37:05 |
| 1177 | Daniel Anderton | 30-34 | GBR | 12 | 09:46:26 |
| 2034 | Scott Whittlestone | 50-54 | GBR | 2 | 09:49:17 |
| 947 | James O'Sullivan | 35-39 | GBR | 18 | 09:57:53 |
| 945 | Andrew Williams | 35-39 | GBR | 20 | 09:58:37 |
| 2794 | Owen Martin | 45-49 | IRL | 13 | 10:06:49 |
| 2472 | Chris Ellett | 45-49 | GBR | 15 | 10:07:53 |
| 1104 | Tom Garrett | 30-34 | GBR | 31 | 10:31:42 |
| 206 | Thomas Collins | 40-44 | IRL | 31 | 10:40:34 |
| 1203 | James Hall | 30-34 | GBR | 37 | 10:42:12 |
| 211 | Matt Dine | 40-44 | GBR | 38 | 10:45:32 |
| 968 | Tom Sherratt | 35-39 | GBR | 45 | 10:46:21 |
| 487 | Jp Mcaree | 40-44 | IRL | 41 | 10:47:53 |
| 935 | James Curran | 35-39 | IRL | 50 | 10:50:10 |
| 988 | Chris Cox | 35-39 | GBR | 53 | 10:53:29 |
| 1006 | James Knipe | 35-39 | IRL | 54 | 10:53:38 |
| 2266 | Arran Mccloskey | 25-29 | GBR | 19 | 10:54:39 |
| 2821 | Andy Giles | 45-49 | GBR | 37 | 10:54:39 |
| 1798 | Ciaran Byrne | 50-54 | IRL | 24 | 10:55:05 |
| 2304 | Jack Davis | 25-29 | GBR | 20 | 10:55:25 |
| 310 | Mark Farquhar | 40-44 | GBR | 55 | 11:03:41 |
| 1925 | John Mead | 50-54 | GBR | 32 | 11:05:53 |
| 2100 | David Mantle | 50-54 | GBR | 33 | 11:06:13 |
| 601 | Martin Gannon | 65-69 | GBR | 1 | 11:09:42 |
| 1882 | Chris Wild | 50-54 | GBR | 35 | 11:09:43 |
| 957 | Paul Doheny | 35-39 | IRL | 78 | 11:17:42 |
| 1214 | Ben Payne | 30-34 | GBR | 59 | 11:26:28 |
| 762 | Mark Williams | 35-39 | GBR | 85 | 11:27:52 |
| 738 | Hubert Eisdell | 35-39 | GBR | 86 | 11:27:56 |
| 1479 | Salim Mohamed | 55-59 | GBR | 18 | 11:31:42 |
| 1955 | Mark Mccabe | 50-54 | IRL | 47 | 11:33:13 |
| 1161 | Richard Sheldon | 30-34 | GBR | 63 | 11:33:53 |
| 1353 | Quin Beech | 60-64 | GBR | 5 | 11:38:55 |
| 120 | David Jones | 40-44 | GBR | 89 | 11:42:05 |
| 389 | Derek Sheridan | 40-44 | IRL | 95 | 11:48:05 |
| 191 | Ian Farrell | 40-44 | IRL | 98 | 11:48:54 |
| 1980 | Simon Oldacre | 50-54 | GBR | 59 | 11:49:12 |
| 1644 | Innes Wright | 55-59 | GBR | 28 | 11:50:50 |
| 2258 | Jonathan Nally | 25-29 | IRL | 33 | 11:51:04 |
| 1509 | Colin Teevan | 55-59 | IRL | 29 | 11:51:07 |
| 2408 | Matthew Evans | 45-49 | GBR | 85 | 11:52:37 |
| 2870 | Tom Griffin | 45-49 | GBR | 88 | 11:58:09 |
| 2580 | Kenneth Heney | 45-49 | GBR | 90 | 11:59:04 |
| 2290 | Niall Mccarthy | 25-29 | IRL | 38 | 12:00:48 |
| 571 | Tom Smith | 40-44 | GBR | 117 | 12:04:18 |
| 2092 | James Charlton | 50-54 | GBR | 78 | 12:05:07 |
| 277 | Thomas Morley | 40-44 | GBR | 123 | 12:08:33 |
| 405 | Gary Cummings | 40-44 | GBR | 124 | 12:10:04 |
| 2753 | Rich Brady | 45-49 | IRL | 102 | 12:10:54 |
| 354 | Ryan Sherlock | 40-44 | GBR | 133 | 12:19:57 |
| 2213 | Richard Hudson | 50-54 | GBR | 91 | 12:30:08 |
| 1893 | Robert Chatterton | 50-54 | GBR | 92 | 12:30:31 |
| 1016 | Richard Mckee | 35-39 | GBR | 131 | 12:37:04 |
| 1832 | Stewart Conway | 50-54 | GBR | 1832 | 12:37:30 |
| 1285 | Aaron Madden | 30-34 | IRL | 90 | 12:42:57 |
| 2798 | Glyn Tallon | 45-49 | IRL | 130 | 12:45:59 |
| 649 | Nick Hewitt | 65-69 | GBR | 5 | 12:48:52 |
| 2496 | Patrick Harfield | 45-49 | GBR | 136 | 12:54:29 |
| 1056 | Lewis Ball | 30-34 | GBR | 98 | 12:56:27 |
| 1931 | Simon Saunders | 50-54 | GBR | 109 | 12:59:54 |
| 493 | Tim Davies | 40-44 | GBR | 180 | 13:10:23 |
| 505 | Anthony Heaton-Jones | 40-44 | GBR | 181 | 13:10:46 |
| 2334 | Bradley Foster | 25-29 | GBR | 50 | 13:16:14 |
| 1327 | David Virden | 60-64 | GBR | 23 | 13:20:49 |
| 2536 | Steven Phillips | 45-49 | GBR | 165 | 13:21:16 |
| 2178 | Conrad Ashby | 50-54 | GBR | 124 | 13:24:31 |
| 2874 | Graham Stephenson | 45-49 | GBR | 176 | 13:37:50 |
| 2507 | Phil Lester | 45-49 | GBR | 177 | 13:42:48 |
| 345 | Colin Sadler | 40-44 | GBR | 205 | 13:49:22 |
| 1747 | Tim Young | 50-54 | GBR | 171 | 14:19:39 |
| 224 | Thomas Hughes | 40-44 | GBR | 237 | 14:29:17 |
| 2710 | Dan Williamson | 45-49 | GBR | 226 | 14:37:03 |
| 1669 | Mark Edwards | 55-59 | GBR | 110 | 14:45:48 |
| 1725 | David Nicholson | 55-59 | GBR | 116 | 14:49:28 |
| 198 | Robert Walker | 40-44 | GBR | 254 | 14:50:03 |
| 756 | James Watt | 35-39 | GBR | 214 | 14:50:28 |
| 1601 | Nicholas Welch | 55-59 | GBR | 119 | 14:57:27 |
| 1877 | Paul Waterhouse | 50-54 | GBR | 208 | 14:59:35 |
| 2474 | Tim Williams | 45-49 | GBR | 254 | 15:05:07 |
| 2139 | Mark Schofield | 50-54 | GBR | 217 | 15:12:30 |
| 1946 | Chris Burr | 50-54 | GBR | 223 | 15:17:34 |
| 1538 | Steven Lyons | 55-59 | GBR | 129 | 15:22:06 |
| 2098 | Brian Gilmour | 50-54 | GBR | 236 | 15:31:55 |
| 1815 | Grant Marshall | 50-54 | GBR | 240 | 15:39:26 |
| 2742 | Colin Stone | 45-49 | GBR | 296 | 15:46:43 |
| 2498 | Alexander Coyne | 45-49 | GBR | 322 | 16:21:17 |
| 407 | James Garland | 40-44 | GBR | 314 | 16:31:00 |
| 1185 | Charlie Gaimster | 30-34 | GBR | DNF | DNF |
| 217 | James English | 40-44 | GBR | DNF | DNF |
| 1749 | Rob Whittaker | 50-54 | GBR | DNF | DNF |
| 2156 | Richard Kane | 50-54 | GBR | DNF | DNF |
| 1453 | Stephen Redwood | 60-64 | GBR | DNF | DNF |
| 672 | Charlie Crawford | 70-74 | GBR | DNF | DNF |
| 2315 | Andrew Horsfall-Turner | 25-29 | GBR | DNS | DNS |
| 1876 | Gordon Jarratt | 50-54 | GBR | DQ | DQ |
| 128 | Ben Walton | 40-44 | GBR | DNS | DNS |
| 154 | Lee Williams | 40-44 | GBR | DNS | DNS |
| 288 | Phil Murphy | 40-44 | GBR | DNS | DNS |
| 565 | Darren Hull | 40-44 | GBR | DNS | DNS |
| 106 | Mark Millar | 40-44 | IRL | DNS | DNS |
| 2558 | Paul Bradford | 45-49 | GBR | DNS | DNS |
| 2669 | Jon Townsend | 45-49 | GBR | DNS | DNS |
| 2833 | Declan Doyle | 45-49 | IRL | DNS | DNS |
| 1941 | Rob Haycox | 50-54 | GBR | DNS | DNS |
| 2157 | Paul Totterdill | 50-54 | GBR | DNS | DNS |
| 1564 | Mark Wharton | 55-59 | GBR | DNS | DNS |
| 1656 | Hugh Gibbs | 55-59 | GBR | DNS | DNS |
All Great Britain and Ireland Age-Group Male Entrants – By Category
| BIB | NAME | CATEGORY | COUNTRY | AG POSITION | TIME |
| --- | --- | --- | --- | --- | --- |
| 2289 | Thomas Davies | 25-29 | GBR | 2 | 09:24:16 |
| 2266 | Arran Mccloskey | 25-29 | GBR | 19 | 10:54:39 |
| 2304 | Jack Davis | 25-29 | GBR | 20 | 10:55:25 |
| 2258 | Jonathan Nally | 25-29 | IRL | 33 | 11:51:04 |
| 2290 | Niall Mccarthy | 25-29 | IRL | 38 | 12:00:48 |
| 2334 | Bradley Foster | 25-29 | GBR | 50 | 13:16:14 |
| 2315 | Andrew Horsfall-Turner | 25-29 | GBR | DNS | DNS |
| 1177 | Daniel Anderton | 30-34 | GBR | 12 | 09:46:26 |
| 1104 | Tom Garrett | 30-34 | GBR | 31 | 10:31:42 |
| 1203 | James Hall | 30-34 | GBR | 37 | 10:42:12 |
| 1214 | Ben Payne | 30-34 | GBR | 59 | 11:26:28 |
| 1161 | Richard Sheldon | 30-34 | GBR | 63 | 11:33:53 |
| 1285 | Aaron Madden | 30-34 | IRL | 90 | 12:42:57 |
| 1056 | Lewis Ball | 30-34 | GBR | 98 | 12:56:27 |
| 1185 | Charlie Gaimster | 30-34 | GBR | DNF | DNF |
| 850 | John Thelwell | 35-39 | GBR | 5 | 09:17:23 |
| 871 | Duncan Chedburn | 35-39 | GBR | 7 | 09:26:05 |
| 973 | Tom Van Rossum | 35-39 | GBR | 10 | 09:37:05 |
| 947 | James O'Sullivan | 35-39 | GBR | 18 | 09:57:53 |
| 945 | Andrew Williams | 35-39 | GBR | 20 | 09:58:37 |
| 968 | Tom Sherratt | 35-39 | GBR | 45 | 10:46:21 |
| 935 | James Curran | 35-39 | IRL | 50 | 10:50:10 |
| 988 | Chris Cox | 35-39 | GBR | 53 | 10:53:29 |
| 1006 | James Knipe | 35-39 | IRL | 54 | 10:53:38 |
| 957 | Paul Doheny | 35-39 | IRL | 78 | 11:17:42 |
| 762 | Mark Williams | 35-39 | GBR | 85 | 11:27:52 |
| 738 | Hubert Eisdell | 35-39 | GBR | 86 | 11:27:56 |
| 1016 | Richard Mckee | 35-39 | GBR | 131 | 12:37:04 |
| 756 | James Watt | 35-39 | GBR | 214 | 14:50:28 |
| 260 | Daniel Mcparland | 40-44 | GBR | 7 | 09:35:27 |
| 206 | Thomas Collins | 40-44 | IRL | 31 | 10:40:34 |
| 211 | Matt Dine | 40-44 | GBR | 38 | 10:45:32 |
| 487 | Jp Mcaree | 40-44 | IRL | 41 | 10:47:53 |
| 310 | Mark Farquhar | 40-44 | GBR | 55 | 11:03:41 |
| 120 | David Jones | 40-44 | GBR | 89 | 11:42:05 |
| 389 | Derek Sheridan | 40-44 | IRL | 95 | 11:48:05 |
| 191 | Ian Farrell | 40-44 | IRL | 98 | 11:48:54 |
| 571 | Tom Smith | 40-44 | GBR | 117 | 12:04:18 |
| 277 | Thomas Morley | 40-44 | GBR | 123 | 12:08:33 |
| 405 | Gary Cummings | 40-44 | GBR | 124 | 12:10:04 |
| 354 | Ryan Sherlock | 40-44 | GBR | 133 | 12:19:57 |
| 493 | Tim Davies | 40-44 | GBR | 180 | 13:10:23 |
| 505 | Anthony Heaton-Jones | 40-44 | GBR | 181 | 13:10:46 |
| 345 | Colin Sadler | 40-44 | GBR | 205 | 13:49:22 |
| 224 | Thomas Hughes | 40-44 | GBR | 237 | 14:29:17 |
| 198 | Robert Walker | 40-44 | GBR | 254 | 14:50:03 |
| 407 | James Garland | 40-44 | GBR | 314 | 16:31:00 |
| 217 | James English | 40-44 | GBR | DNF | DNF |
| 128 | Ben Walton | 40-44 | GBR | DNS | DNS |
| 154 | Lee Williams | 40-44 | GBR | DNS | DNS |
| 288 | Phil Murphy | 40-44 | GBR | DNS | DNS |
| 565 | Darren Hull | 40-44 | GBR | DNS | DNS |
| 106 | Mark Millar | 40-44 | IRL | DNS | DNS |
| 2794 | Owen Martin | 45-49 | IRL | 13 | 10:06:49 |
| 2472 | Chris Ellett | 45-49 | GBR | 15 | 10:07:53 |
| 2821 | Andy Giles | 45-49 | GBR | 37 | 10:54:39 |
| 2408 | Matthew Evans | 45-49 | GBR | 85 | 11:52:37 |
| 2870 | Tom Griffin | 45-49 | GBR | 88 | 11:58:09 |
| 2580 | Kenneth Heney | 45-49 | GBR | 90 | 11:59:04 |
| 2753 | Rich Brady | 45-49 | IRL | 102 | 12:10:54 |
| 2798 | Glyn Tallon | 45-49 | IRL | 130 | 12:45:59 |
| 2496 | Patrick Harfield | 45-49 | GBR | 136 | 12:54:29 |
| 2536 | Steven Phillips | 45-49 | GBR | 165 | 13:21:16 |
| 2874 | Graham Stephenson | 45-49 | GBR | 176 | 13:37:50 |
| 2507 | Phil Lester | 45-49 | GBR | 177 | 13:42:48 |
| 2710 | Dan Williamson | 45-49 | GBR | 226 | 14:37:03 |
| 2474 | Tim Williams | 45-49 | GBR | 254 | 15:05:07 |
| 2742 | Colin Stone | 45-49 | GBR | 296 | 15:46:43 |
| 2498 | Alexander Coyne | 45-49 | GBR | 322 | 16:21:17 |
| 2558 | Paul Bradford | 45-49 | GBR | DNS | DNS |
| 2669 | Jon Townsend | 45-49 | GBR | DNS | DNS |
| 2833 | Declan Doyle | 45-49 | IRL | DNS | DNS |
| 2034 | Scott Whittlestone | 50-54 | GBR | 2 | 09:49:17 |
| 1798 | Ciaran Byrne | 50-54 | IRL | 24 | 10:55:05 |
| 1925 | John Mead | 50-54 | GBR | 32 | 11:05:53 |
| 2100 | David Mantle | 50-54 | GBR | 33 | 11:06:13 |
| 1882 | Chris Wild | 50-54 | GBR | 35 | 11:09:43 |
| 1955 | Mark Mccabe | 50-54 | IRL | 47 | 11:33:13 |
| 1980 | Simon Oldacre | 50-54 | GBR | 59 | 11:49:12 |
| 2092 | James Charlton | 50-54 | GBR | 78 | 12:05:07 |
| 2213 | Richard Hudson | 50-54 | GBR | 91 | 12:30:08 |
| 1893 | Robert Chatterton | 50-54 | GBR | 92 | 12:30:31 |
| 1832 | Stewart Conway | 50-54 | GBR | 1832 | 12:37:30 |
| 1931 | Simon Saunders | 50-54 | GBR | 109 | 12:59:54 |
| 2178 | Conrad Ashby | 50-54 | GBR | 124 | 13:24:31 |
| 1747 | Tim Young | 50-54 | GBR | 171 | 14:19:39 |
| 1877 | Paul Waterhouse | 50-54 | GBR | 208 | 14:59:35 |
| 2139 | Mark Schofield | 50-54 | GBR | 217 | 15:12:30 |
| 1946 | Chris Burr | 50-54 | GBR | 223 | 15:17:34 |
| 2098 | Brian Gilmour | 50-54 | GBR | 236 | 15:31:55 |
| 1815 | Grant Marshall | 50-54 | GBR | 240 | 15:39:26 |
| 1749 | Rob Whittaker | 50-54 | GBR | DNF | DNF |
| 2156 | Richard Kane | 50-54 | GBR | DNF | DNF |
| 1876 | Gordon Jarratt | 50-54 | GBR | DQ | DQ |
| 1941 | Rob Haycox | 50-54 | GBR | DNS | DNS |
| 2157 | Paul Totterdill | 50-54 | GBR | DNS | DNS |
| 1479 | Salim Mohamed | 55-59 | GBR | 18 | 11:31:42 |
| 1644 | Innes Wright | 55-59 | GBR | 28 | 11:50:50 |
| 1509 | Colin Teevan | 55-59 | IRL | 29 | 11:51:07 |
| 1669 | Mark Edwards | 55-59 | GBR | 110 | 14:45:48 |
| 1725 | David Nicholson | 55-59 | GBR | 116 | 14:49:28 |
| 1601 | Nicholas Welch | 55-59 | GBR | 119 | 14:57:27 |
| 1538 | Steven Lyons | 55-59 | GBR | 129 | 15:22:06 |
| 1564 | Mark Wharton | 55-59 | GBR | DNS | DNS |
| 1656 | Hugh Gibbs | 55-59 | GBR | DNS | DNS |
| 1353 | Quin Beech | 60-64 | GBR | 5 | 11:38:55 |
| 1327 | David Virden | 60-64 | GBR | 23 | 13:20:49 |
| 1453 | Stephen Redwood | 60-64 | GBR | DNF | DNF |
| 601 | Martin Gannon | 65-69 | GBR | 1 | 11:09:42 |
| 649 | Nick Hewitt | 65-69 | GBR | 5 | 12:48:52 |
| 672 | Charlie Crawford | 70-74 | GBR | DNF | DNF |