It wasn't the traditional October in Kona, but the delayed 2021 IRONMAN World Championship in St George, Utah on Saturday delivered some great racing and challenging courses. The Pro races of course saw your new IRONMAN World Champions in Kristian Blummenfelt and Daniela Ryf.
Every IRONMAN World Championship also features plenty of exceptional amateur athletes competing in the age-group ranks, and here I take a look at the UK and Ireland Female Age-Group results from St George. ALL of them!
[You can find the men's AG roundup HERE]
Below you will find two tables featuring the results of every entrant, ordered initially by overall time, and then by category in the second table.
(EDITORS NOTE: The full listing of GB & Ireland entrants was extracted from the official participants list pre-race. If there is an error or you are missing, then a) apologies (!), and b) that is probably why. Please do get in touch if that is the case (editor@tri247.com) and I'll get things updated for you.)
Podium Power
Topping the the UK & IRL speed charts is Hilary Hughes. Hilary qualified at IRONMAN Lanzarote 2021, where she was the second quickest amateur overall. No stranger to hills then! As well as being the fourth quickest female age-grouper of the day in St George, that also earned her second place in the F35-39 division.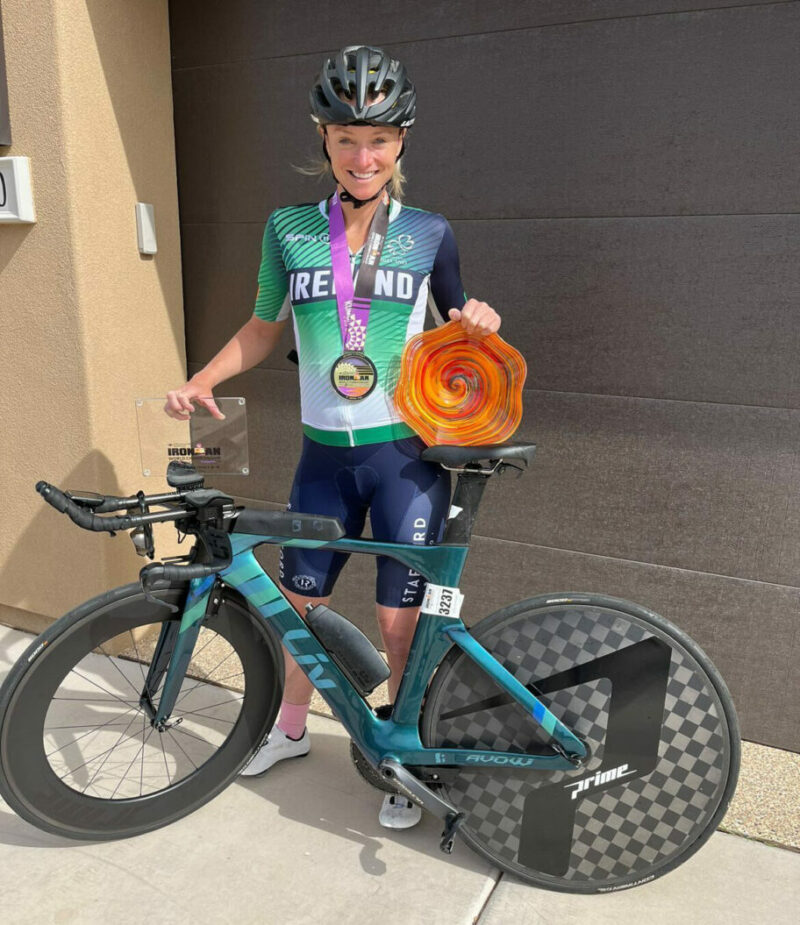 We highlighted Jo Wright pre-race – and she was another qualifier from IRONMAN Lanzarote 2021, where she finished just nine minutes behind Hilary. A very similar result in Utah, where a 10:21:17 clocking saw Jo take third place in F30-34 and fifth overall across all female age-group athletes.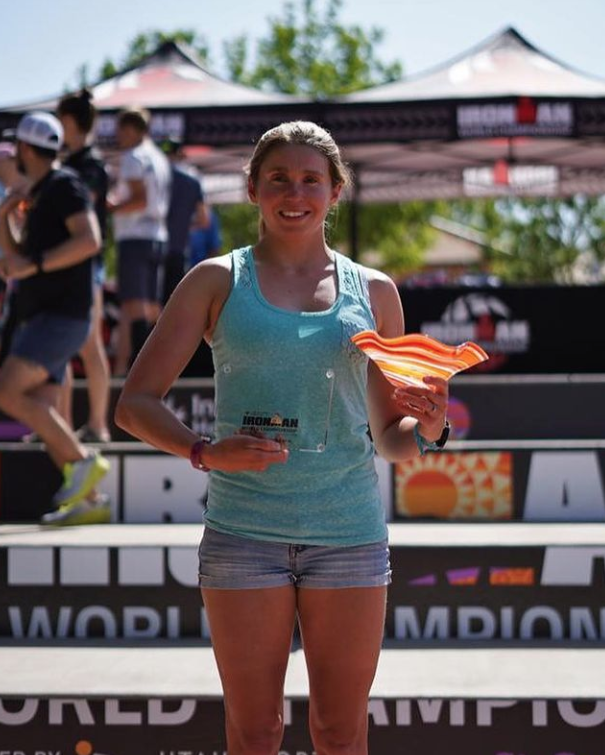 There was an excellent result form another athlete we noted pre-race, Rebecca Duxbury. Now married since her original entry, Rebecca Anderbury was part of the Zwift Academy Tri Team for this event, and 10:55:10 saw her take second place in F25-29.
"By far and away the toughest race of my career" was her assessment!
There was a podium in the youngest division, F18-24, for Jasmine Holmes. Jasmine had previously won her category at IRONMAN UK in both 2019 and 2021.
All UK and Ireland Age-Group Female Entrants – Fastest First
| BIB | NAME | CATEGORY | COUNTRY | CAT POS | TIME |
| --- | --- | --- | --- | --- | --- |
| 3237 | Hilary Hughes | 35-39 | IRL | 2 | 10:13:57 |
| 3313 | Jo Wright | 30-34 | GBR | 3 | 10:21:17 |
| 3607 | Rebecca Duxbury | 25-29 | GBR | 2 | 10:55:10 |
| 3077 | Laura Fairhurst | 40-44 | GBR | 10 | 11:31:32 |
| 3024 | Jenny Evans-Hill | 40-44 | GBR | 16 | 11:56:26 |
| 3353 | Roxy Woodfield | 30-34 | GBR | 16 | 11:57:48 |
| 3540 | Emma Yates | 50-54 | GBR | 8 | 12:06:16 |
| 3123 | Claire Harrison | 40-44 | GBR | 25 | 12:45:49 |
| 3635 | Jasmine Holmes | 18-24 | GBR | 2 | 12:57:44 |
| 3601 | Remi Simpson | 25-29 | GBR | 12 | 13:08:51 |
| 3247 | Marie Llewellyn | 35-39 | GBR | 36 | 13:24:46 |
| 3722 | Andri De Wit | 45-49 | GBR | 27 | 13:41:37 |
| 3522 | Susan Dawson | 50-54 | GBR | 30 | 14:06:48 |
| 3483 | Paula Cook | 50-54 | IRL | 36 | 14:24:23 |
| 3096 | Lorna Hopkin | 40-44 | GBR | 73 | 15:22:18 |
| 3411 | Marie Staunton | 55-59 | IRL | 30 | 15:33:09 |
| 3493 | Tracie Mcguire | 50-54 | GBR | 58 | 15:41:05 |
| 3638 | Hannah Gillespie | 18-24 | GBR | DNF | DNF |
| 3049 | Zoe Savage | 40-44 | GBR | DNF | DNF |
| 3494 | Jordan Blanco | 50-54 | GBR | DNF | DNF |
| 3516 | Felicia Long | 50-54 | IRL | DNF | DNF |
| 3168 | Elizabeth Gannon | 60-64 | GBR | DNF | DNF |
| 3608 | Laura Rothwell | 25-29 | GBR | DNS | DNS |
| 3178 | Deb Munton | 60-64 | GBR | DNS | DNS |
All Great Britain and Ireland Age-Group Female Entrants – By Category
| BIB | NAME | CATEGORY | COUNTRY | CAT POS | TIME |
| --- | --- | --- | --- | --- | --- |
| 3635 | Jasmine Holmes | 18-24 | GBR | 2 | 12:57:44 |
| 3638 | Hannah Gillespie | 18-24 | GBR | DNF | DNF |
| 3607 | Rebecca Duxbury | 25-29 | GBR | 2 | 10:55:10 |
| 3601 | Remi Simpson | 25-29 | GBR | 12 | 13:08:51 |
| 3608 | Laura Rothwell | 25-29 | GBR | DNS | DNS |
| 3313 | Jo Wright | 30-34 | GBR | 3 | 10:21:17 |
| 3353 | Roxy Woodfield | 30-34 | GBR | 16 | 11:57:48 |
| 3237 | Hilary Hughes | 35-39 | IRL | 2 | 10:13:57 |
| 3247 | Marie Llewellyn | 35-39 | GBR | 36 | 13:24:46 |
| 3077 | Laura Fairhurst | 40-44 | GBR | 10 | 11:31:32 |
| 3024 | Jenny Evans-Hill | 40-44 | GBR | 16 | 11:56:26 |
| 3123 | Claire Harrison | 40-44 | GBR | 25 | 12:45:49 |
| 3096 | Lorna Hopkin | 40-44 | GBR | 73 | 15:22:18 |
| 3049 | Zoe Savage | 40-44 | GBR | DNF | DNF |
| 3722 | Andri De Wit | 45-49 | GBR | 27 | 13:41:37 |
| 3540 | Emma Yates | 50-54 | GBR | 8 | 12:06:16 |
| 3522 | Susan Dawson | 50-54 | GBR | 30 | 14:06:48 |
| 3483 | Paula Cook | 50-54 | IRL | 36 | 14:24:23 |
| 3493 | Tracie Mcguire | 50-54 | GBR | 58 | 15:41:05 |
| 3494 | Jordan Blanco | 50-54 | GBR | DNF | DNF |
| 3516 | Felicia Long | 50-54 | IRL | DNF | DNF |
| 3411 | Marie Staunton | 55-59 | IRL | 30 | 15:33:09 |
| 3168 | Elizabeth Gannon | 60-64 | GBR | DNF | DNF |
| 3178 | Deb Munton | 60-64 | GBR | DNS | DNS |