Tri-Anglia, Greenlight PT lead the way after Race Two
Friday night (26th February) was the second round (of six) of the Super League Triathlon Arena Games Club Championships.
A chance for you – and your club – to win a variety of prizes by competing (virtually) on Zwift, across the next three weeks, leading up to the Super League Arena Games London on 27th March.
CLICK HERE TO FIND OUT WHAT IT'S ALL ABOUT & HOW TO JOIN

Following the first round on Monday (REPORT HERE), the roles were reversed with the women racing on the bike over the London 8 course, while the men took on the 11.65km Ocean Boulevard run course.
Representing Berkshire Tri Squad, Andrea Vaughan took on the the virtual Box Hill climb to take the honours and 15 points for the win, while 2nd/3rd/4th were separated by less than two seconds, with Victoria Coe, Jennifer-Ann Kirby and Nicole Walters crossing the line in that order.
Mark Mccluskie (Trythan) was a clear winner in the men's running event, with the next five athletes separated by less than a minute.
Women – BIKE – London 8 (20.8km Road Race) – Race 2
Top 10 below / FULL RESULTS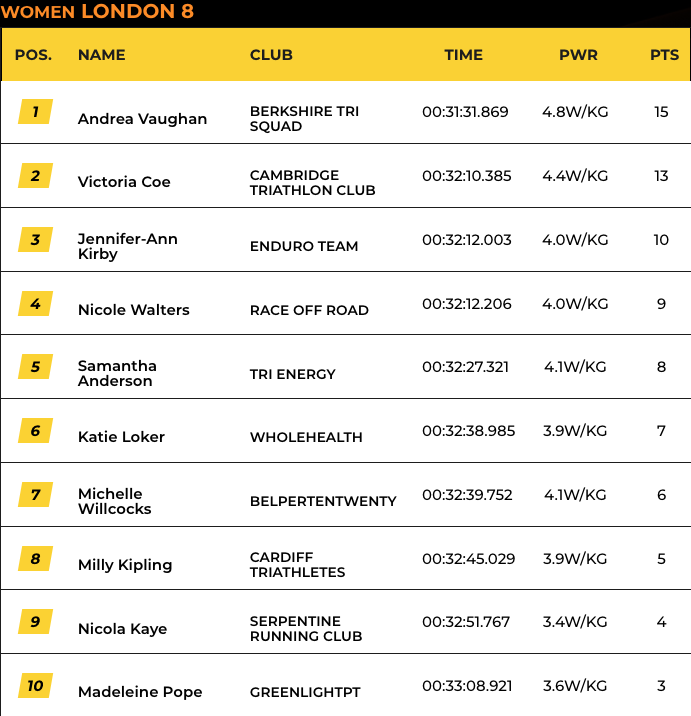 Men – RUN – Ocean Blvd (11.65km) – Race 2
Top 10 below / FULL RESULTS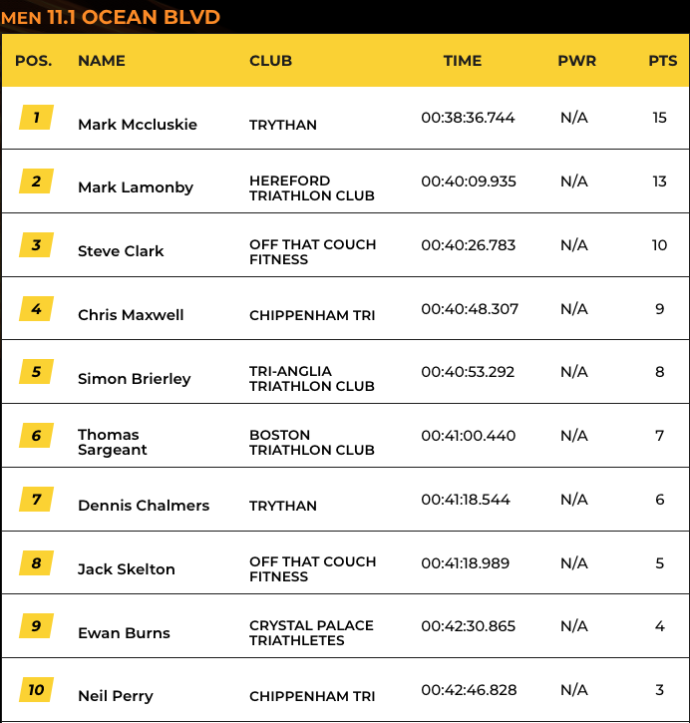 Club Standings after Race 2
Click HERE for the full standings. After dominating round one, the Tri-Anglia men have extended their lead, helped in part by Simon Brierley's 5th place finish. Two top-10 finishes from Trythan puts them into third position, with Hereford holding second, thanks to Mark Lamonby's 2nd place.
For the women, Greenlight PT are showing the value of team effort and commitment. While only one of their athletes (Madeleine Pope, 10th), featured in the top-10 finishers above, every athlete will earn one point for finishing, and that has enabled the Greenlight PT women to leapfrog to the top of the standings. Congratulations.

The Races
If you want to take part, you can still sign up – and get your club members to join you – for the remaining four rounds of racing. You can find out all about it HERE.