Weekend Roundup – the UK edition
Beau Smith, Jenni Muston take top honours at the Stockton Duathlon Festival
Having covered the overseas racing of interest over the weekend HERE, we now take a closer look at the results and action from the domestic scene over the weekend.
A fairly even balance between Duathlon and Triathlon events this week, but we'll start with a run-bike-run event which took top billing in terms of status (and even some prize money), based at Stockton Riverside.
DOMESTIC RACING
The big race of the weekend domestically was the Stockton Duathlon Festival from TriHard Events. An ITU World Championship Age-Group qualifier for 2020 over both Sprint (Draft Legal) and Standard (Non Drafting) formats, the Standard distance race also provided £500 / £300 / £200 prize money for the first three Male and Female athletes.
Close racing in the Men's race – check out the finish photo below – where Beau Smith gave up a minute over the opening 10km to Ian Lawton, but then clearly got his pacing and execution spot on, by running the fastest closing 5km to take the win by just five seconds. Smith and Lawton had a great battle, finishing a full three and a half minutes ahead of third placed Daniel Jenkin.
** Volume on **
What a great little video from yesterday's race – love racing in the North East man, pet, pet… man!#HowayJeff #Howay #HowayTheLads

Video credit @samanthasugden3 #Duathlon @UkTriChat pic.twitter.com/zLNdextWkm

— Beau Smith (@beausmith93) April 15, 2019
Wakefield Triathlon Club's Jenni Muston set the fastest opening 10km and then lead all the way to the finish line, taking victory by almost two and a half minutes over Rachel Brown. Venda Louise Pollock (Alnwick Tri) used her cycling prowess – more than three minutes quick than anyone else – to take third place, just eight seconds behind Brown.
MEN
1st – Beau Smith – 1:44:26
2nd – Ian Lawton (Limitless Triathlon Coaching) – 1:44:31
3rd – Daniel Jenkin (RedVenom.co.uk) – 1:48:02
Fantastic day out today in standard distance @TriHardUK Stockton Duathlon – great course, strong field as usual & bonus to come home 1st after timing my race to finish in a great final km battle.@RibbleCycles Ultra Tri felt super fast – thanks for the support @arenaUK_ too pic.twitter.com/7XdmoItGmX

— Beau Smith (@beausmith93) April 14, 2019
WOMEN
1st – Jenni Muston (Wakefield Tri Club) – 2:09:06
2nd – Rachel Brown – 2:11:34
3rd – Venda Pollock (Alnwick Tri) – 2:11:42
MEN
1st – Rodger Wilkins (Racepace) – 56:42
2nd – Blair Fullerton-Logie – 57:22
3rd – Dan Tate (Selby Striders) – 57:31
WOMEN
1st – Stephanie Maclean Dann (North Shields Poly AC) – 1:03:48
2nd – Sarah Seymour (Muckle Tri) – 1:03:57
3rd – Hannah Mattinson (University of Exeter) – 1:04:49
We've got an extended report and images from the Harlech Triathlon & Duathlon coming soon, where in North Wales the Sprint triathlon champions were Tom Garbett (Total Tri Training) and Helen Marshal (INTR Tri), with the Duathlon going to Sion-Kelly Williams (GOG Triathlon) and Becky Lewis.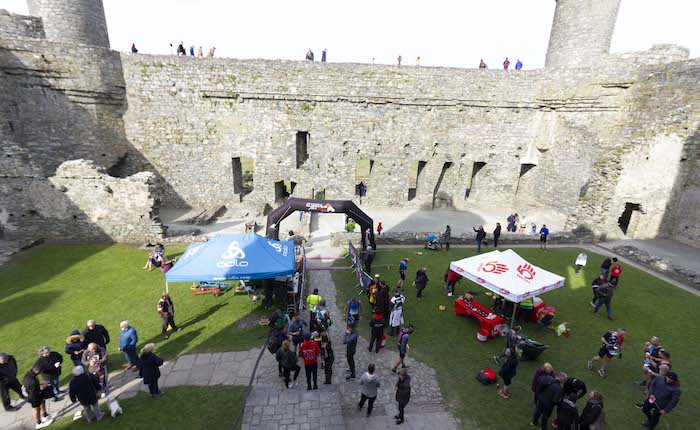 Also in Wales, the Cosmeston Duathlon saw a win for Richard Wilder – the same Richard who was beaten by just one second recently at the NEWTCracker Triathlon. Hayley Griffiths was the women's champion at Cosmeston.
Sticking with the Welsh theme, Liam Lloyd (Cycle Specific) crushed the field at the Amman Valley Sprint Triathlon by almost five and half minutes, where Jasmine Bowyer (Bynea CC) was the women's winner, just over a minute clear of Elizabeth John.
Brilliant event today @HL_Activities 👏 Supported by @Cycle_Specific 👍

Always throughly enjoy racing at local races 🏴󠁧󠁢󠁷󠁬󠁳󠁿 Fantastic to see so many taking part, great atmosphere! See you all at Llanelli Sprint Triathlon 💪#triathlon #racing #raceday #congratulations #getinspired https://t.co/z4s834rsmC

— Liam Lloyd (@LiamTLloyd) April 14, 2019
Carl Shaw (Race Hub) must be one of the most consistent and top performing Age-Group athletes on the domestic scene over the past decade or more – and that's before considering the medals he has also won as a Paratriathlon Guide. He added victory at the Skipton Triathlon on Sunday (by a full three minutes), to success a fortnight ago at the East Leake Triathlon. Brit Tate (Leeds & Bradford Tri Club) was equally dominant in winning the women's race in Skipton.
Carl's Race Hub team mate, Duncan Shea-Simonds, was among the winners at the Northamptonshire-based Battlefield Duathlon event. He won the Standard distance race, where Sarah Ashcroft (Northants Tri) was the women's winner.
Thanks to @RaceHarboro for the Battlefield Duathlon. Friendly event over a testing course. Highly recommend 👍 @HUUBDesign @skechersGOuk @racehub_uk @CEPSportsUK
📸 @mickhallphotos pic.twitter.com/wL69eJZfx3

— Duncan Shea-Simonds (@DSS123) April 15, 2019
The Middle Distance (20km / 76km / 10km) event went to Graham Rands and Kate Morris, with the Sprint (5km / 19km / 5km) going to Tom Greeves (Rugby Tri Club) and Lindsay Scott (Northants Tri).
Well done wifey. 1st place at the sprint #Battlefieldduathlon #Naseby
5k/19k/5k. 9th overall and 1st lady.
🏃‍♀️🚴‍♀️🏃‍♀️ Big shout to teammate Sarah who took down the standard distance. A great day for @NorthantsTri 👊👊👊🍾🎉🎈🥂 pic.twitter.com/GekyRUQurG

— Ben Scott (@bmoscott) April 14, 2019
Check out the results from (almost!) all of the UK multisport events on the links below:
UK Triathlon Results
Harlech Triathlon – RESULTS
Skipton Triathlon – RESULTS
(Isle of) Wight Tri Sprint Triathlon – TBC
Ponteland Triathlon – RESULTS
Amman Valley Sprint Triathlon – RESULTS
Peterhead Triathlon – RESULTS
Osprey Sprint Triathlon – RESULTS
West Lancs Sprint Triathlon – RESULTS
Galashiels Sprint Triathlon – RESULTS
UK Duathlon Results
UK Aquathlon Results