There were lots of races taking place over the Bank Holiday weekend. Some events we've already reported on separately, but still plenty more going on both in international and domestic terms.
Here's a roundup of some of the stories from a busy few days.
IRONMAN 70.3 St. George
I interviewed him ahead of Saturday's race – and 2016 winner Lionel Sanders (CAN) returned to the top of the podium in Utah after finishing second last year to Alistair Brownlee. It was a Canadian double too – and great to see Paul Findlay, once one of the superstars of the ITU World Triathlon Series, take the win after many years of fighting back to form and fitness after a series of long-standing injuries.
Pro Men
1st – Lionel Sanders (CAN) – 3:41:11
2nd – Sebastian Kienle (GER) – 3:42:38
3rd – Michael Weiss (AUT) – 3:43:14
4th – Sam Appleton (AUS) – 3:46:51
5th – Tim Reed (AUS) – 3:50:25
https://www.instagram.com/p/BicSn6znr40/?hl=en&taken-by=lsanderstri
Pro Women
1st – Paula Findlay (CAN) – 4:15:52
2nd – Jeanni Seymour (RSA) – 4:17:18
3rd – Sarah True (USA) – 4:17:45
4th – Alicia Kaye (USA) – 4:19:18
5th – Meredith Kessler (USA) – 4:21:31
https://www.instagram.com/p/BiaPILghQGN/?hl=en&taken-by=paula_findlay
IRONMAN Australia
In Port Macquarie, Marino Vanhoencker won his 17th full distance IRONMAN race to complete his Continental Grand Slam, while Great Britain's Laura Siddall defended her 2017 with a big win, Check out the details on these links:

IRONMAN 70.3 Busselton
Weather conditions lead to format change in Busselton, the 1.9km swim replaced with a 3km run as the race was converted to a Duathlon due to blustery conditions.
That had no impact on the in-form Terenzo Bozzone (NZL) who powered his way to a huge 10 minute lead at the end of the bike leg.
Pro Men
1st – Terenzo Bozzone (NZL) – 3:26:26
2nd – Clayton Fettell (AUS) – 3:37:56
3rd – Craig Alexander (AUS) – 3:38:28
https://www.instagram.com/p/BieVic9nOlU/?hl=en&taken-by=terenzo1
Pro Women
There was some confusion in the women's race where the first three across the line – lead by 2017 Kona Age-Group champion, Emily Loughnan, were disqualified post-race for accidently missing a short section of the run course on lap one.
1st – Liz Blatchford (AUS) – 4:10:15
2nd – Annelise Jefferies (AUS) – 4:17:03
3rd – Jennifer Lynch (AUS) – 4:19:22
Awkward… 😳

Crossed the line in 4th in what was a Duathlon today. Top 3 women were DQd after accidentally turning early on the run.

So. I won? 🤷🏼‍♀️

I still want to congratulate @Sarah_Crowley1 @chriscrosstri and @em_loughnan as they were clearly faster than me today. https://t.co/ztXqIdocCh

— Liz BlatchfordMurray (@Liz_Blatchford) May 6, 2018
Challenge Riccione
A debut race, having re-located the original Challenge Rimini a little further down the coast.
Pro Men
1st – Giulio Molinari (ITA) – 4:00:58
2nd – Thomas Steger (AUT) – 4:01:50
3rd – Frederic Funk (GER) – 4:04:31
9th – Henry Irvine (GBR) – 4:11:45
15th – Sam Proctor (GBR) – 4:15:45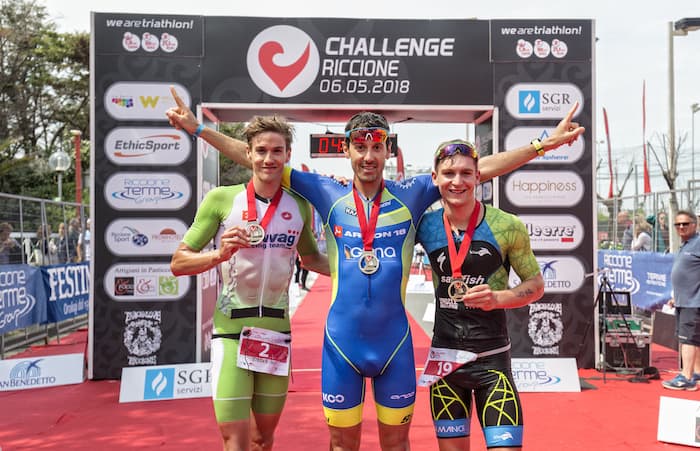 Pro Women
1st – Yvonne Van Vlerken (NED) – 4:37:!8
2nd – Margie Santimaria (ITA) – 4:41:30
3rd – Bianca Steurer (AUT) – 4:42:44
ETU Powerman Middle Distance Duathlon Championships
Soren Bystrup (DEN) and Sandra Illes (AUT) won Elite Gold in Vejle, Denmark, where Great Britain's Ben Price was very pleased to improve on his 15th place from 2017 to move up to eighth this time around. Full Elite report courtesy of the ETU HERE.
https://twitter.com/BenPriceDuath/status/993224991868112897
The British Age-Group team collected 3 Gold, 3 Silver and 6 Bronze medals – CLICK HERE FOR THE FULL LISTINGS!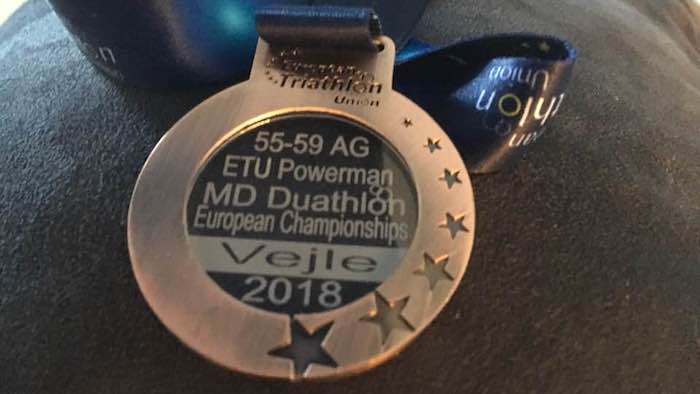 U.S. Half Marathon Championships
The latest in the transition of Gwen Jorgensen from triathlete to Marathon runner. CLICK HERE to see how it went and hear how she assesses her performance.
Mallorca Olympic Triathlon
Plenty of Brits out in Mallorca (a few, perhaps, prepping for the 70.3 race coming up next weekend?), where the wins went to the BMC-Vifit Pro Triathlon team pair of Patrik Nilsson (SWE) and Emma Pallant (GBR). Good to see Emma back after her injury-impacted DNF at IRONMAN South Africa. Brits also finished 2nd/3rd/4th in the men's race – Jack Hutchens, Harrison Smith and Ben Meir. Full results HERE.
Congratulations to @EmmaPallant for winning the Mallorca Olympic Distance Triathlon. Great lead up to Barcelona 70.3 in two weeks 🌟👏@HOKAONEONE @BMCVifitSport #bethebestyoucanbe #tdc #teamdilloncoaching #WINNER #motivate #inspire #Triathlon pic.twitter.com/jdsCpdOotx

— TEAMDILLON (@Teamdillon) May 6, 2018
Triathlon England National Duathlon Championships, Clumber Park
Having lead last Wednesday's TRI247 Workout Series on Zwift, Simon George then went and won, overall, the Triathlon England National Duathlon Champs on Saturday. Rachel Wiseman (Basildon Athletics Club) was the women's overall champion. Full results HERE.
https://www.instagram.com/p/BiZ3jUPlYR1/
BUCS Sprint Distance Triathlon Championships
The student championships are always incredibly competitive and this race was no different. Alex Yee (Leeds Beckett) took the men's title (to add to his Cross Country Championship from earlier in the year), with the women's championship collected by Olivia Mathias (Loughborough University). Check out the full results HERE to see just how deep this field is!
Women
1st – Olivia Mathias (Loughborough) – 1:11:33
2nd – Jana Machacova (University of Leeds) – 1:12:14
3rd – Sophie Alden (Loughborough) – 1:12:25
Looks like 1,3,4 and 8th for the LTPC girls at BUCs Sprint. Great set of results pic.twitter.com/vX3eHQ41DS

— LTPC (@LoughboroughTri) May 6, 2018
Men
1st – Alex Yee (Leeds Beckett) – 1:01:10
2nd – Jack Willis (University of Leeds) – 1:01:44
3rd – Matthew Nelson (University of Hull) – 1:02:14
#BUCSTriathlon | Massive Congrats to @carnegiesport's @Lixsanyee, who has become a 2 x BUCS Champion 👏👏

🏆 BUCS Cross Country '18
🏆 BUCS Sprint Triathlon '18

Photo credit 📸@ron_yee @LeedsTriCentre pic.twitter.com/0qECWCVfDT

— BUCS (@BUCSsport) May 7, 2018
Thames Turbo Sprint Triathlon
Few races scream 'Bank Holiday!' as much as the long-running series at Hampton Pool. Sam Wade (Team PedalCover) and Laura Addie (Pulse Fitness) took the wins at the latest edition. Full results HERE.
Not a bad day to be doing @ThamesTurbo for my 22nd year 😳😂 @OptimaTeam pic.twitter.com/juN8WCSUvS

— James Beckinsale (@eggsrinbasket) May 7, 2018