Countdown to Samorin: The Champion Returns
ITU Long Distance World Champion, winner of The Championship and second at Kona in 2017 – Lionel Sanders is without question one of the most successful and popular long distance triathletes in the world.
Lionel will be racing again on Saturday (at IRONMAN 70.3 St. George), before beginning his preparations for a return to Europe. He will be defending his title at The Championship (www.thechampionship.de) from Challenge Family, in Samorin, Slovakia on 3rd June.
Last night I spoke to Lionel about his upcoming return to Europe, becoming 'a swimmer', racing the best, changes to his equipment and bike position and much more.
I also confirm that yes, the poster boy for indoor cycling does train outdoors too…
---
Back to Europe – The Championship, Samorin awaits
Lionel's journey to the The Championship in 2017 was somewhat eventful, featuring missed and cancelled flights, lost luggage and a bike that didn't arrive until late. Coping with that, he went on to win a thrilling head-to-head battle with Sebastian Kienle. Same again this year – but fingers crossed for a smoother journey?
"Oh yes, that was definitely the worst travel experience ever. Still, when we got there, it was certainly worth it. It's an amazing facility [Ed. the x-Bionic sphere], and as well as the race I'm excited to have the chance to do some training there too, with the great pool facilities and the safe riding and running.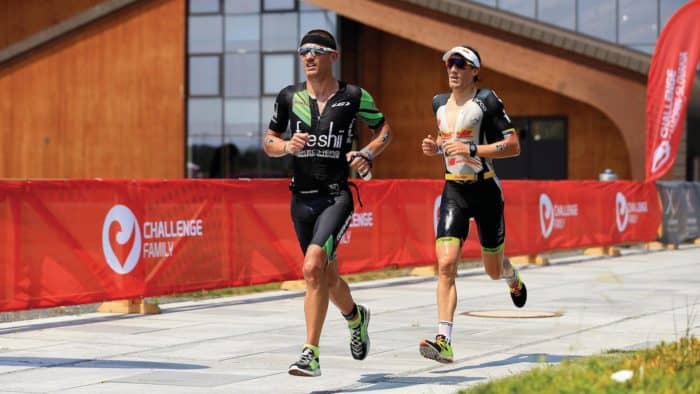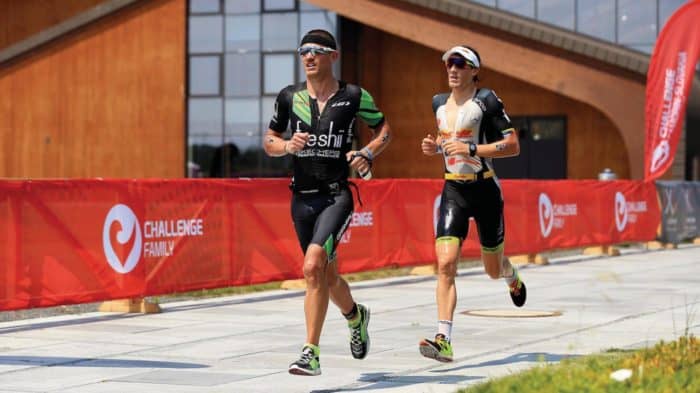 "The race itself was a great battle. I'm looking forward to racing Sebastian Kienle again and I hope that Alistair Brownlee will also return and be looking for some redemption after his DNF last year. Racing against these top guys is what motivates me; you learn something new about yourself every time when you have competition that pushes you to your limits and I know that the quality of the Pro field will do that again this year."
Lionel tries to make light of his travel dramas…
https://www.instagram.com/p/BUxN-T_lW4Y/?hl=en&taken-by=lsanderstri
Will the trip over to Europe enable any others events to be included on the schedule?
"It will be just over for the one race. I'm still very motivated to improve my swim and am very focussed on that, so I suspect my schedule over the next couple of years will follow a similar pattern in terms of races to recent years, with the likes of Oceanside 70.3, St. George 70.3, The Championship, Mont Tremblant 70.3, Kona etc. They are events that I know now, and that reduces the stress around learning new courses / venues / travel etc., to keep focussed on the thing that I've been improving, but need to still get better at."
Becoming a 'swimmer'…
"I'm a swimmer, baby!". That was Lionel's post-race exclamation earlier this year on racing a 1500m Long Course event on his weekend of getting out of the 'comfort zone'. 18:50 was his time there, I asked him about his swim progress.
"Oh, you need to think and believe it – even if it's not true! It's a mental thing – you stop giving yourself negative thoughts (around swim training / ability), and create a mindset for growth. I started to work again with Gerry Rodrigues of Tower26 (www.tower26.com). I worked with him previously, and over the last 12 months I have improved – but it's taken that time, with my personality type of needing to do things myself and learn through experience, to realise… that everything he said, I now totally believed. I mean, he's got 40 years of coaching experience so he knows what he's doing, but that process meant that I'm now ready mentally to be a 'coached athlete' and listen to him.
"I'd improved, but hit something of a plateau, and was finding that I'd swim around 1:20 per 100m in a 70.3 whether I was swimming 10km a week or 30km a week. Now, over the last 4/5 months, I'm getting towards 1:14/1:15 per 100m. I still need more and to improve on that though."
St. George is calling
IRONMAN 70.3 St. George has been something of a staple on the Sanders calendar for several years. It is a race he has won (2016), finished second (to Alistair Brownlee in 2017) and also had his proverbial backside kicked at the event too. What keeps him coming back?
"More than anything I love the location – the desert, the scenery. And yes, some of my biggest growth moments as an athlete have come at this race, especially in 2014 [Ed. where Lionel finished 18th, almost ten minutes behind race winner, Jan Frodeno].
https://www.instagram.com/p/BTxHwT1FZaO/?hl=en&taken-by=lsanderstri
"It's another good field, it's been the North American Championship for about four or five years I think. I still feel I'm in a learning phase in my career and you don't learn anything at a less competitive race. I guess I could search out an 'easier' race, but right now I'm at that point where I think that the experience is more important than the pay check."
Equipment Changes. Lots.
That learning experience is something Lionel truly embraces. At this years IRONMAN 70.3 Oceanside, Lionel put almost four minutes into the entire Pro field… with the exception of twice IRONMAN World Champion, Jan Frodeno, who gave him a "schooling",  with the fastest swim, bike and run splits. One thing that race triggered in Lionel's mind was a need to review and rework his bike equipment and set up. In typical style, he is not doing it incrementally.
"Well, as I start to learn more I realise I'm one of those 'if something has to change, then everything needs to change' people. For this weekend coming up I think I'm at about the upper limit of changes, without going completely overboard.
"I'm now riding a small frame rather than a medium – I think that's perhaps equivalent from changing from about a 54cm frame to a 52cm frame. The problem I had was getting low enough at the front on the larger frame. It involved having to machine out the dust caps and use a negative degree stem to get towards the position I wanted, because there just wasn't enough drop [Ed. according to the Garneau geometry charts for Lionel's Gennix TR1 frame, that change should reduce the stack height on Lionel's new frame size by 24mm]. The new frame gives that flexibility.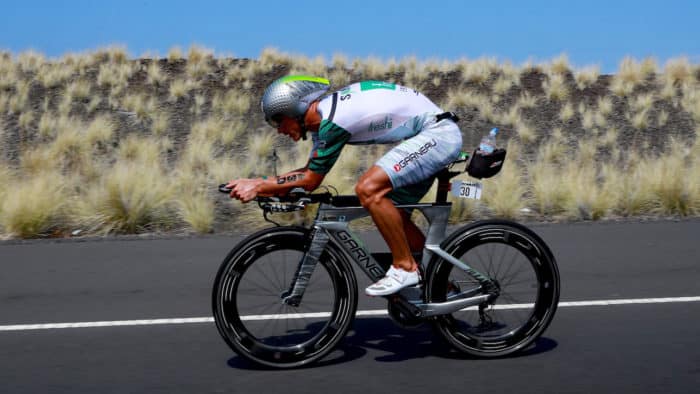 "I'm also now using a different bar, the TriRig Alpha X. As well as aerodynamics, that allows us to improve the integration further at the front, particularly around the cables.
"I've also changed my position and sort of torn apart what I had before and started again. It's like Tony Martin [Ed. 4-time Time Trial World Champion], who had huge success, spent lots of time getting an 'optimal' position in the wind tunnel… and then went back to drawing board after not getting a medal at the Olympic Games.
https://www.instagram.com/p/BiAeIuYna4u/?hl=en&taken-by=lsanderstri
"I've gone right back to square one and am going more on feel; I'll put mirrors in front / to the side, tweak something and then see how that looks and feels. Then, it's "ok, now do 370 watts" and see if it still feels good. I was just not comfortable before and I didn't train in the aero position at all because of that because I hated it. Right now, I'm comfortable with the position, so we'll see how that develops through the year.
"I've also swapped out the PowerTap P1 pedals for the Speedplay Zero Aero. We have a few more changes planned, but that's more than enough in one go I think!"
World Champs: ITU? 70.3? The Championship…
After a frustrating race at the 2016 IRONMAN 70.3 World Championship (read his blog HERE), Lionel elected to skip the race for 2017 and instead raced the ITU Long Distance World Championships on home soil in Penticton, Canada (which he won). Any chance of defending that title this year in Denmark… and what are his thoughts on the 70.3 World Champs?
"Well, if the date hadn't changed then I would certainly have been up for that again. It was late August last year (Penticton), but I think it is mid July this year (Fynn, Denmark). I just don't have enough time to focus on preparing for that distance with that date as I'll still be focussed on racing the 70.3 / Middle distance at that point of the season."
"Oh, and I am racing the 70.3 World's this year… it's called 'The Championship' and it takes place in Samorin on 3rd June!"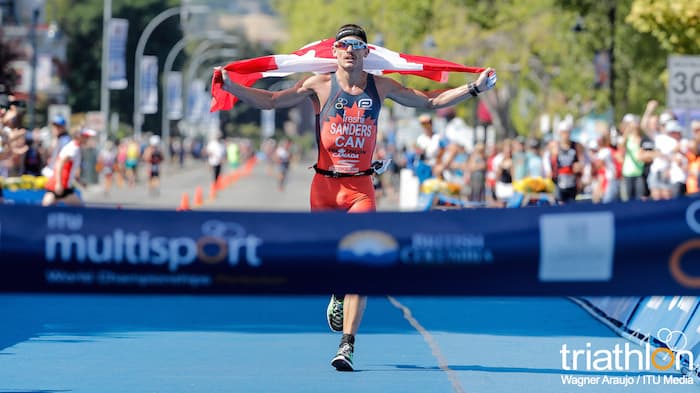 When I spoke to Heather Wurtele (full interview HERE), she contrasted The Championship (Samorin) and 70.3 St. George both as 'strength' races, despite their very different course terrain, especially with the extended 20metre drafting rule in Slovakia. Was Lionel of a similar opinion?
"Sure, if Samorin was the usual draft distance then I wouldn't go. The 20m draft rule definitely levels the playing field. I think that pure power is more important for The Championship. The 'watts per aero' ratio is probably more key there, so the race is probably suited towards the bigger guys who can produce that power.
"St. George has more in technicalities and with the hills you can probably get away with less pure power. Both are good courses, but with St. George you had better make sure that you can run too because you come out of T2 and you've got 5km straight up a 5% grade…"
Indoor… and Outdoor riding?
Perhaps more than any other triathlete in the world, Sanders is renowned for his focus on indoor training. An ambassador for Wahoo and Zwift, we were very pleased to welcome Lionel as the guest coach of one of our TRI247 Workout Series sessions, where over 300 athletes trained (virtually) alongside him. That said, having identified a need to improve his technical skills and mix his training outside, had he made that change in recent months?
Well that was a blast! 300 brave Zwifters joined the @tri247 Zwift Winter Series hosted by @LSandersTri on Wednesday 💪💪🏾💪🏼

More coverage from yesterday's event including a download link to Lionel's Custom Workout file👉https://t.co/uCdcsEI5cv pic.twitter.com/tGkcTedyG3

— Zwift (@GoZwift) January 4, 2018
"Yes, I've started to do my easy rides outside on an urban course that includes lots of corners and u-turns. I'll maybe do two easy rides outside, with my key workouts inside on the indoor trainer.
"At Oceanside, the first five miles I had never felt so foreign on a bike. I had literally ridden my bike outside once in five months – and that was winning at IRONMAN 70.3 Pucon. The other difference that impacted I think was that previously I had been doing my indoor sessions on rollers. With switching to the smart trainer, without that movement, it took those five miles to try and feel normal – and that was the most technical part of the course. I lost a lot of time, so I'm riding outside as well now to improve those skills."
https://www.instagram.com/p/BhhzeyznYV6/?hl=en&taken-by=lsanderstri
I look forward to catching up with Lionel again in a few weeks time in Samorin. Hopefully we will have a race as exciting as the 2017 edition to be talking about.
---
For more details on The Championship from Challenge Family, visit www.thechampionship.de