Countdown to Samorin: Heather Wurtele to return to The Championship
How far can a Pro athlete push themselves? The last time I saw Canada's Heather Wurtele was shortly after she had finished a close third at The Championship in Samorin, Slovakia.
It was a thrilling race – one I was fortunate to commentate on for the Challenge Family Live Stream. Heather lead until almost the 20km mark of the run, before being passed in the very late stages by first Annabel Luxford and then Lucy Charles, who would go on to take a memorable win.
Soon after their podium presentation at the finish line, the top three athletes were swiftly escorted to our commentary area for interviews which, unfortunately for them, involved two flights of stairs. Clearly suffering from her on-course efforts, Heather was the total professional for her interview… before struggling to even stand up and move once the cameras had finished.
Talented, engaging… and tough as nails. She had clearly left everything out on the course and was practically carried out of the room to begin her recovery.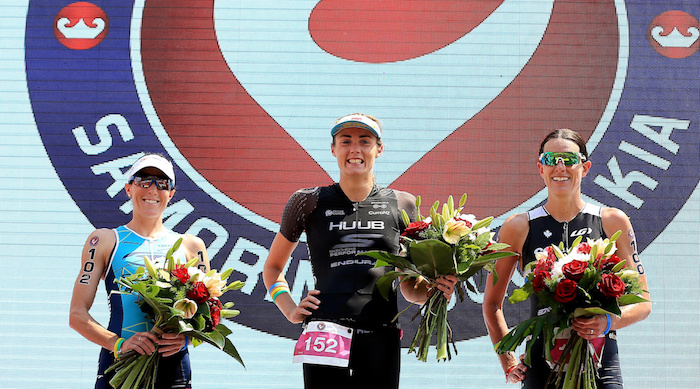 Back to the x-Bionic Sphere – stronger than 2017
The tall Canadian – three times a podium finisher at the IRONMAN 70.3 World Championship – will be back in Europe this summer, something she is very much looking forward to.
"Oh, I'm stoked to be going back to The Championship again. This time around, I think the circumstances will be much better for me. I had a calf injury ahead of the event last year which meant I could only run in the two weeks before the race. I think that really came back to bite me at the end of the race."
Rather than a long trip for one race, Heather and her husband (and also Pro triathlete, Trevor), spent several months training and racing in Europe. How did that work out?
"We had never raced in Europe, and decided to make a summer of it. I raced at Heilbronn (2nd), Paguera (1st), Sardinia (1st) and of course at The Championship (3rd) as part of the Challenge Family European Series [Ed. Heather finished ranked fourth in the series, earning a €10,000 bonus]. I really appreciated the 20-metre drafting rule in Samorin, it makes it a much fairer race."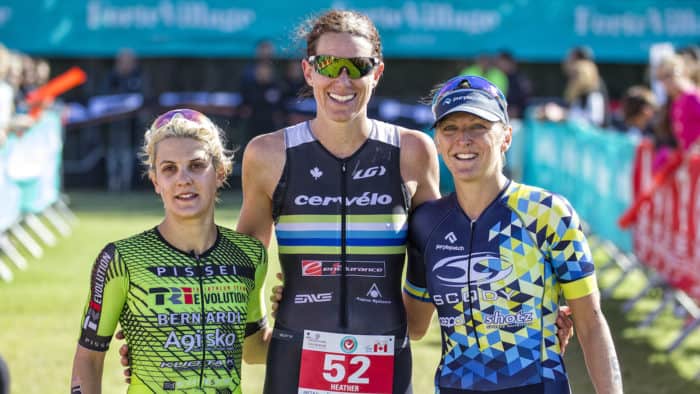 Will it be another long European stint for 2018 too?
"No, the trip won't be as long this year, but I'll also race Challenge Geraardsbergen [Ed. which Trevor won in 2017], the week after Samorin.
"This year we will leave North America on Friday and arrive on Saturday, a full week before the race. I really liked the x-Bionic sphere venue – great pool on site and easy cycling / running routes etc. – so it makes it easy to be there that much time before. I always aim to try and arrive roughly the number of days before equal to the number of hours time difference. That journey from North America is a tough one!"
Check out the Team Wurtele video from Samorin 2017
Heather will be racing this coming weekend at IRONMAN 70.3 St. George, the North American Pro Championship, a race she had plenty of success at in prior years.
"Yes, IRONMAN 70.3 St. George and The Championship in Samorin are my two major targets for the first half of the year. These championship events are the ones that I want to focus on. I was really disappointed to miss St. George last year, having won in 2015 and 2016."
Given that those early season goals, what will be the key targets for the second half of the year – 70.3 World's? Kona?
"For me, 70.3 World Champs will be the focus for the second half of the year. I haven't decided whether or not I'll do a full distance race yet. Part of me wants to, but the other part thinks that it wouldn't be the best for optimising performance for the 70.3 World Championships. With the changes to the qualification process (for Kona) from 2019 onwards [Ed. explained HERE], then a late season race may well fit best.
"I may also look at some other races that count towards the Challenge Series – I really enjoy racing in Europe, also, with some extra events added to the scoring this year, that adds other opportunities like Challenge Daytona as events to count towards that."
On paper at least, the course demands of IRONMAN 70.3 St. George would seem to be a vast contrast to the flat/fast circuit for the The Championship – any preferences towards course type?
"They do seem different – but I do think they are both still 'strength' courses, especially with that 20-metre draft rule. The bike at Samorin is so flat that you don't get any break from that TT position, and with that draft distance, everyone is having to work and it makes it a fast, but hard ride. St. George is different in terms of terrain, but like Samorin it means there is no place to 'hide' – you have to be a strong athlete to do well.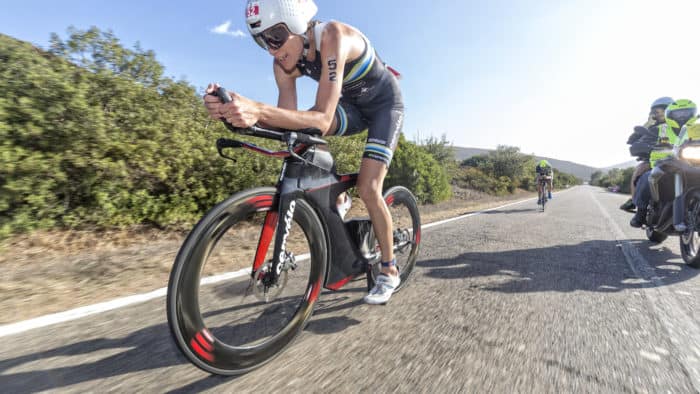 "The run course at St. George is super hilly and I like that. In Samorin, on paper you might look and think that it is just a flat and fast run course but with the multiple changes in terrain from tarmac to the horse racing circuit to grass… there are definitely some skills there required in terms of managing those pace changes. It was also super hot last year!"
We already know that Lucy Charles, Annabel Luxford, Emma Pallant and Kimberley Morrison will be among the top athletes heading to Samorin in June – and we believe that Germany's Anne Haug will be there too. Is that a list that Heather has looked at?
"I know roughly who will be there, some of the main contenders, but I'm not really one to obsess about start-lists. I prefer to focus more on my own race, my performance and what I can control.
"Whoever is racing, you know that the racing will be tough. I really feel like the level of performance in women's middle and long distance racing has gone up consistently, year on year. It's tough picking up swimming as an 'adult' when you have Lucy Charles in the water, you know that Anne Haug is going to bring a stellar run and there are plenty of others – it doesn't get easier, there is lots of talent out there."
---
For more details on The Championship from Challenge Family, visit www.thechampionship.de