1:10:58 for Olympic Triathlon Champion over the Half Marathon in Pittsburgh
When I highlighted Gwen's participation in the U.S. Half Marathon Championships a week or so back, I said of her prospects in terms of time, "perhaps in the 1:10 to 1:11 range would be my current estimate". With a 1:10:58 over what was a 'lumpy' course in Pittsburgh on Sunday, that proved to be right on the money.
Fourth place will have earned a $3,000 cheque (plus a further bonus for a Sub 1:11 finish), though as she reveals in her post-race video, she was a little disappointed with her result.
In her 'post-triathlon' running career, Gwen has now run three races:
5,000m indoors – 15:15.64 – MORE HERE
10,000m outdoors – 31:55.68 – MORE HERE
Half Marathon – 1:10:58
How does that time stack up? Well, in 2016 Gwen finished third in the U.S. 10-mile Championships in 53:13, a time which applying most conversion factors out there would predict almost exactly the time that Gwen ran on Sunday. Interestingly, Sara Hall – second – was 20 seconds behind Gwen at that 10-mile event.
Hall is the reigning U.S. Marathon Champion, and has a personal best of 2:27:41 set in Frankfurt last year.
Overall? Solid – but more work to do and improvements to be made – which is consistent with Gwen's post-race assessment of her own performance. The journey continues.
All Images / Video are published (with permission of Gwen Jorgensen Media), courtesy of Talbot Cox (www.talbotcox.com).
You can follow Gwen's YouTube channel HERE, and also follow Talbot on these social media links for more great content:
U.S. Half Marathon Championships, Pittsburgh, Sunday 6th May 2018
ELITE WOMEN
1st – Aliphine Tuliamuk – 1:10:04
2nd – Sara Hall – 1:10:07
3rd – Rochelle Kanuho – 1:10:49
4th – Gwen Jorgensen – 1:10:58
5th – Carrie Dimoff – 1:11:51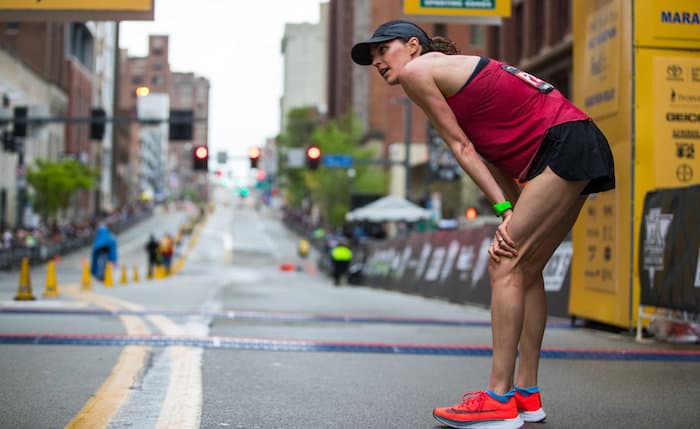 ELITE MEN
1st – Chris Derrick – 1:02:37
2nd – Parker Stinson – 1:02:38
3rd – Andrew Colley – 1:02:40
4th – Samuel Kosgei – 1:03:13
5th – Leonard Korir – 1:03:24