Managing to avoid the worst of the weekend's weather, that saw several other events cancelled the debut edition of the Cintra TRY on the Tyne (www.tryonthetyne.com) took place at NewcastleGateshead Quayside on Saturday.
Launched by Steve Cram's Events of the North company in April this year, the closed-roads event saw Sprint and Standard Distance Duathlon, 5km and 10km races plus Junior events take place, featuring both banks of the Tyne, utilising the Swing Bridge and the Gateshead Millennium Bridge.
Here's a report from the first edition – where the Sprint Duathlon event was won by Daniel Dixon, who we featured last week on the site.
We look forward to seeing how the event develops in future years, as talks are already in place to potential turn 'TRY' into a TRIathlon…
---
Successful debut for TRY on the Tyne as hundreds tackle new multi-sport event in Newcastle and Gateshead
The first staging of a new summer sports event for Newcastle and Gateshead has been hailed a success. The inaugural Cintra TRY on the Tyne event on Saturday saw hundreds of athletes of all ages tackle sprint and standard distance duathlons (run-bike-run races), 10K and 5K runs, and junior races, starting in Baltic Square in Gateshead and finishing on the Newcastle quayside. TRY on the Tyne was organised by Events of the North, in partnership with Newcastle City Council and Gateshead Council. The councils both backed the initiative as part of a wider push to inspire more people to get active through cycling and running, by bringing an accessible multi-sport event to the quaysides.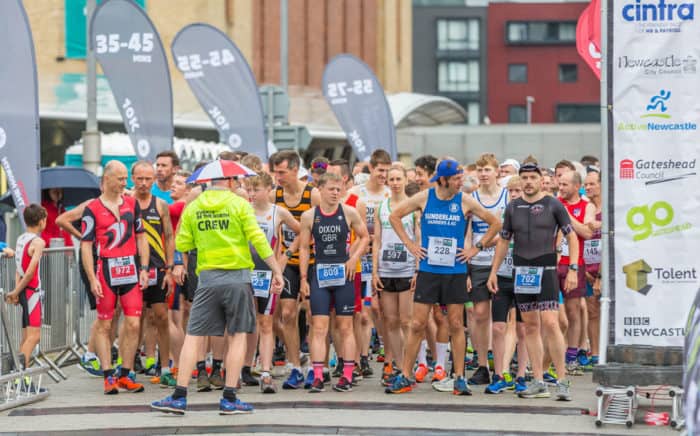 Sponsored by Gateshead company Cintra HR & Payroll Service, TRY on the Tyne featured the first major duathlon (run-bike-run) to use the Tyne and its bridges as a venue, all on closed roads. Competitors in the duathlons set off alongside the 10k and 5k runners with all of the races attracting both regular athletes and beginners to a fast, flat course and an iconic setting. Setting an example was Cintra itself, fielding a large number of athletes in the races, as part of its work to promote healthy and active lifestyles in the workforce. Among them was CEO Carsten Staehr, who completed the sprint duathlon. The morning of races started at 9:00am with a junior 2K race and junior duathlon, while the senior races all set off together at 10:00am.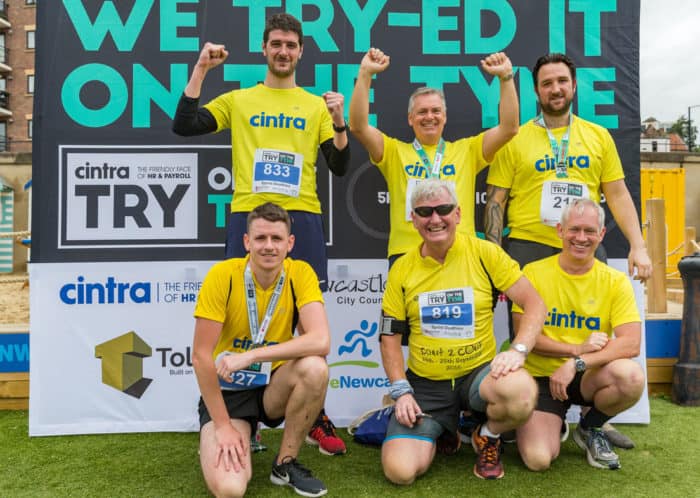 Event founder and race director Steve Cram comments: "TRY on the Tyne proved to be an excellent morning of sport in the heart of Tyneside. We've clearly demonstrated how multi-sport races can work well in that location, adding an exciting event to the summer calendar. In the context of the weekend, the weather was fairly kind to us and it was great to see both elite and first time duathletes in action, with some enthusiastic backing from spectators. We're grateful to Newcastle City Council and Gateshead Council for helping us to take the TRY on the Tyne concept and turn it into a successful first event, and to Cintra and other partners for their sponsorship and support. We've created an excellent platform that has really exciting potential."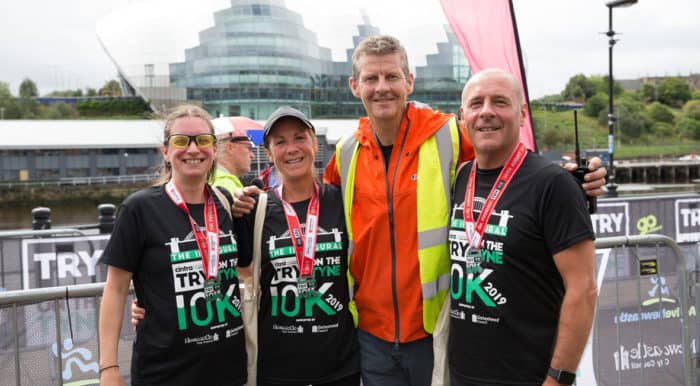 The key results in the Cintra TRY on the Tyne races were as follows:
Standard Duathlon
MEN
1st – Michael Mason, Durham Triathlon Club – 2:08:36
2nd – Phil Hall, Alnwick & District Triathlon Club – 2:11:44
3rd – Steven Scott, Triathlon England – 2:12:18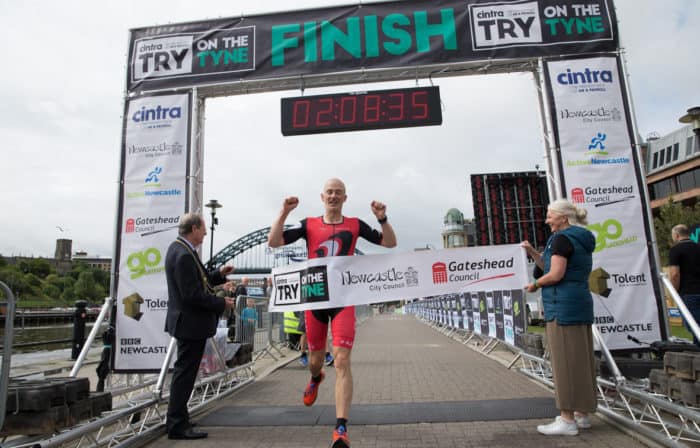 WOMEN
1st – Sarah Metcalfe, Durham Triathlon Club – 2:24:18\
2nd – Sophie Marr – 2:40:27
3rd – Emma Dixon, Ryton Tri Club – 2:41:59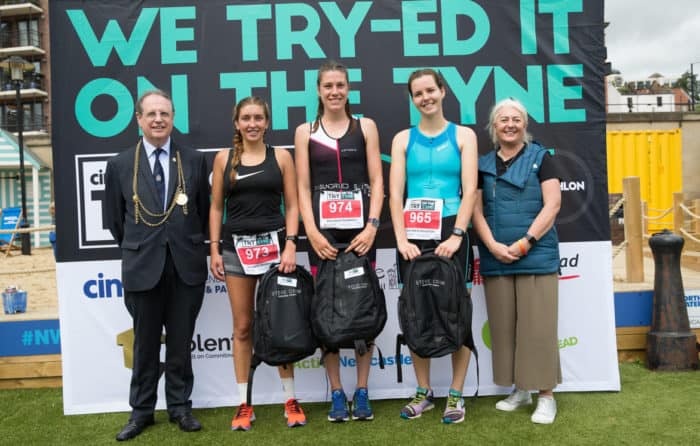 Sprint Duathlon
MEN
1st – Daniel Dixon, Ryton Tri Club – 59:23
2nd – Kieron Mutch – 1:02:23
3rd – Will Dixon, Ryton Tri Club – 1:02:50
WOMEN
1st – Eleanore Nash, British Triathlon – 1:16:01
2nd – Bev Martin, Velo Culture – 1:16:57
3rd – Claire Jackson, One Life Racing – 1:18:41
10K
MEN
1st – Matthew Alderson – 33:51
2nd – Jonny Malley, Gateshead Harriers – 36:32
3rd – Matt Walker, Durham City Harriers – 36:50
WOMEN
1st – Danielle Smythe, Heaton Harriers – 37:33
2nd – Lindsay Turner – 44:23
3rd – Abbie Anderson, Chester le Street & District AC – 48:16
5K
MEN
1st – Craig Gunn, Sunderland Harriers – 16:33
2nd – Steven Gordon – 18:13
3rd – Silas Christie, Gosforth Harriers – 18:18
WOMEN
1st – Kathryn Stevenson, Tyne Bridge Harriers – 18:47
2nd – Hazelle Webster-Costella, Jarrow & Hebburn AC – 20:08
3rd lady – Diane Vaughan, Quakers Running Club – 22:03
JUNIOR DUATHLON
BOYS
1st – Joe Dixon – 19:21
2nd – Harris Hall – 21:13
3rd – Joseph Lonergan – 22:08
GIRLS
1st (equal second overall) – Millie Breese – 21:13
2nd girl – Amelia Cleathero – 24:46
3rd girl – Ameena Michla – 30:01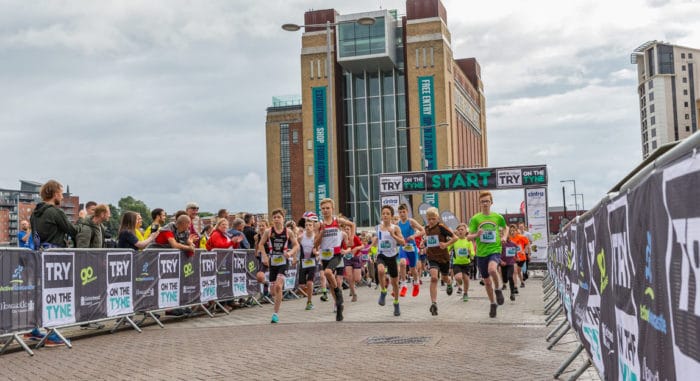 2K Junior Run
BOYS
1st – Alex Boyer – 7:20
2nd – Sam Mason – 7:33
3rd – Callum Chambers – 8:46
GIRLS
1st – Niamh Lonergan – 9:25
2nd – Isabella Hall – 10:10
3rd – Thea Jeffares – 10:11
For more information about Cintra TRY on the Tyne visit www.tryonthetyne.com