Just a week on from his racing return, Alistair Brownlee won the XTERRA Weston Park event as the off-road format returned to England for the first time since 2015.
The double Olympic champion was to the fore for much of the PTO European Open in Ibiza last Saturday, leading for chunks of the bike and run before fading slightly into sixth.
But he'd recovered sufficiently to make the switch to off-road action back on home turf and was rewarded with the title after a closely-fought battle with France's Maxim Chane.
Off-road vs on-road battle
The fifth stop on the XTERRA EMEA Tour descended on Weston Park House in Staffordshire, with the athletes taking in a 1.5km lake swim followed by a 27km custom-designed bike course, and then rounded off with an 11K run.
And with stop #2 of the XTERRA World Cup just a week away, many of the top-ranked athletes were not on the start line, leaving the race wide open for up-and-coming elites and the many wild cards, creating an off-road vs on-road storyline within the race.
Speaking beforehand, Brownlee said: "XTERRA has always been on my radar and with this one opening up in the UK, and only a few hours drive away, it made it hard to say no.
"I've always run on the trails and ridden my mountain bike, but I've really enjoyed having the excuse to do more of it in the last few weeks."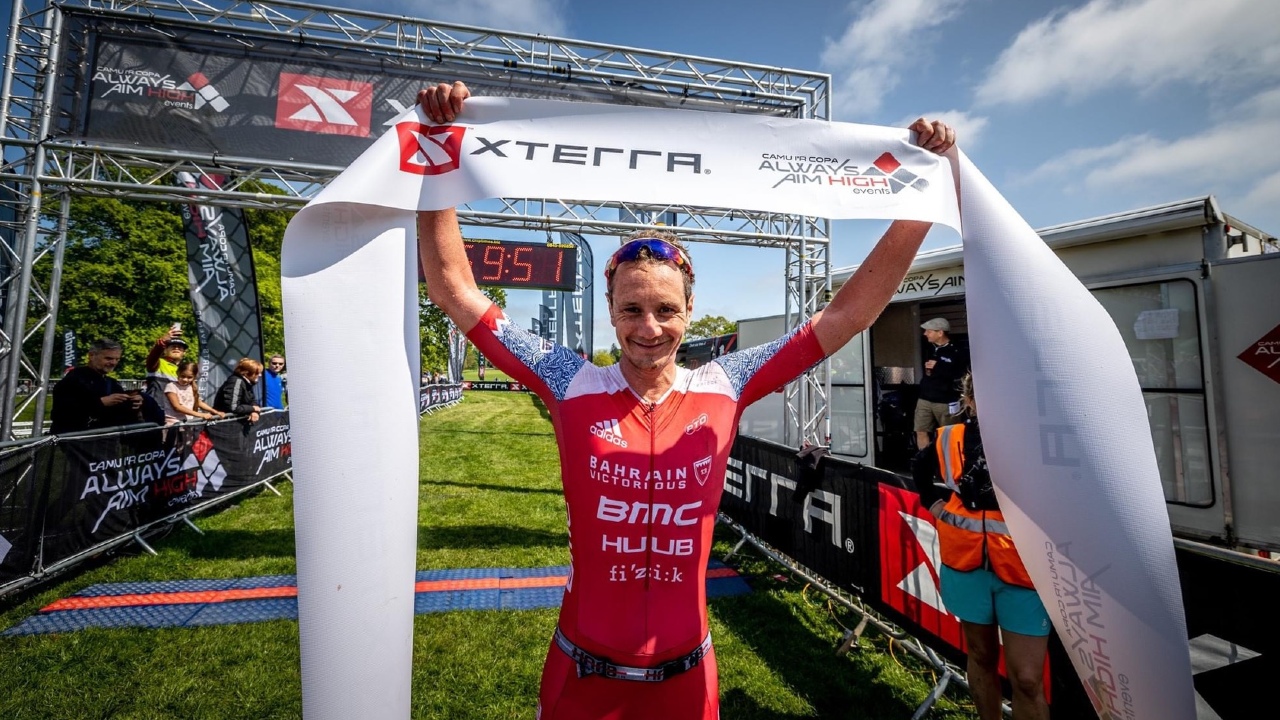 Run the difference
He'd said he'd probably "just go for it" in terms of tactics and it was his run prowess which proved the difference between himself and the rest.
Chane, one of off-road triathlon's premier elite racers at #7 in the world rankings and the reigning XTERRA Short Track series champion, looked his chief rival beforehand and so it proved. He too had been in action in Ibiza the previous weekend, finishing fourth at the World Triathlon Cross Championships.
Brownlee's swim was just over a minute faster than Chane but they were virtually neck-and-neck after the first lap on the bike and it was a similar story heading into T2, though Chance was now fractionally ahead.
But Brownlee produced a clear best-of-the-day 34:19 11km to Chane's 35:26 and that was decisive as he won by 46 seconds.
Fellow Brit Morgan Rhodes rounded out the podium in a distant third, more than eight minutes behind Brownlee.
And afterwards the winner said: "I very much started off doing off-road racing – cyclo-cross, loads of cross-country, fell running and so on.
"Through my career I've always wanted to do XTERRA races and other stuff but being a professional athlete and aiming for the biggest goals, you've got to make some of those choices not to do it so it's been nice to be able to race here today.
"Max caught me on the second lap and we swapped positions for the rest of the ride," added Brownlee, who posted the second fastest bike split of the day (1:09:42) behind only Chane's 1:08:14.
"The conditions were good and the course had dried up a lot in the last few days,. I really enjoyed some of the fast single track through the wooded sections and the quarry on the run.
"I had to run hard out of transition to catch Max, after I spent too long trying to get my socks on," laughed Brownlee, who took the lead after about 3km on the run.
Brownlee says his next focus is on qualifying and then training for the IRONMAN World Championship in Nice, with an aim to also perform well at the PTO Tour races.
"And if all goes well, I'd love to be in Molveno in September for the XTERRA World Championship."
Orchard repels home favourites
In the women's race top-ranked Lizzie Orchard from New Zealand saw off Brits Bonnie Van Wilgenburg and Kerri-Ann Upham.
Orchard has two XTERRA World Championship podium finishes to her credit and was able to build some momentum heading into next weekend's XTERRA World Cup stop in the United States with this victory.
She finished 50 seconds ahead Van Wilgenburg, with the exact same margin back to Upham in third who was making her elite race debut after turning pro this season having dominated the amateur ranks.
And afterwards Orchard said: "Being aware how talented the ladies here are at running, I certainly had to keep an eye out for any challenges.
"Victory today is pretty special as it's been a while since I've lifted the tape, and this course was deceptively difficult, because it was possible to push hard most of the trail, and that really gets your legs fatigued before the fast run."
And Upham underlined what a special day it had been for her, saying: "This was my first race of the season and first race as a pro, so I was really pleased to be able to put together a solid performance.
"It's still early in the year so I'm looking forward to building into the season and seeing where I stack up against the elite field.
"Reaching the podium was incredibly special, and to share it with an XTERRA legend like Lizzie and double Olympic champion Alistair Brownlee was just surreal!"
XTERRA Weston Park 2023 Results
Saturday 13 May 2023 – Staffordshire, England
1.5km / 27km / 11km
Overall Men
1. Alistair Brownlee (GBR) – 2:04:27
2. Maxim Chane (FRA) – 2:05:13
3. Morgan Rhodes (GBR) – 2:12:54
Overall Women
1. Lizzie Orchard (NZL) – 2:36:06
2. Bonnie Van Wilgenburg (GBR) – 2:36:56
3. Kerri-Ann Upham (GBR) – 2:37:46