Katie Zaferes was rewarded with the win at the Americas Triathlon Cup St. Peters Missouri after an early solo breakaway, beating compatriot Gwen Jorgensen and Amelie Kretz of Canada to take her first victory since giving birth.
Zaferes, a double Olympic medallist in Tokyo and the 2019 World Triathlon Champion, returned to racing in March after eighteen months away from the sport, and has her eyes set on the Paris Olympics in 2024.
Jorgensen is another with Paris ambitions, but couldn't take down Zaferes, who showed her quality across the board to beat a strong field which also included Dominika Jamnicky of Canada and Amber Schlebusch of South Africa.
In the men's race, it was a Canadian one-two, as Charles Paquet took the win ahead of Jeremy Briand, as Darr Smith of the USA took third place.
Zaferes wins after decisive early move
Despite finishing 37th in her return to WTCS racing in Abu Dhabi, followed by a second-place finish at a recent Americas Triathlon Cup in Sarasota, Zaferes is still ranked outside the top-100 in the World Rankings, meaning the World Triathlon points up for grabs in Missouri were imperative as she looked to climb up the rankings.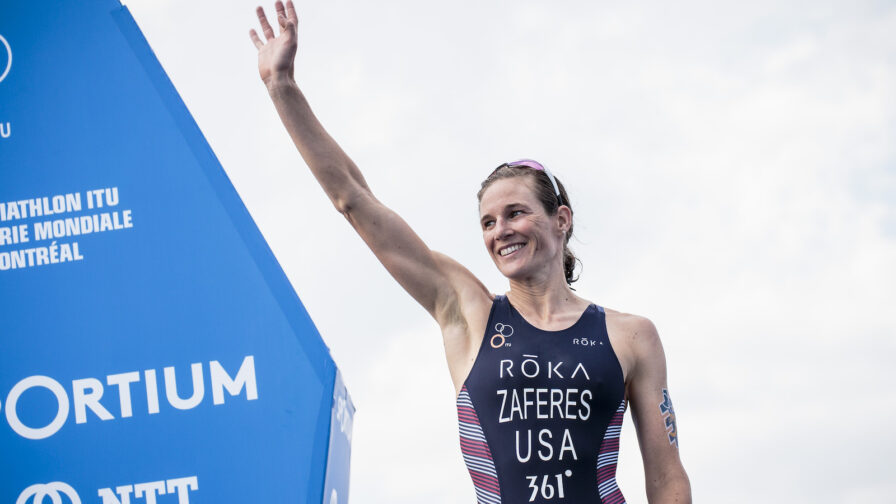 Therefore, it was no surprise that as soon as the gun went off in St Peters, Zaferes made her move. The 33-year-old, known for her strength across the swim and bike, put more than 20 seconds into the rest of the field over the 750m swim, to enter T1 with a healthy lead.
Out on to the bike course, Zaferes continued to push the pace up front, as she recorded the fastest bike split to reach T2 with a gap on the chase pack, and most importantly a buffer of over a minute back to Jorgensen.
Impressively, Zaferes took the win with the second fastest run split, which after such a strong solo performance in the water and on the bike, might just be the biggest positive the American takes from this race. Zaferes split a brilliant 17:28 in Missouri, over 40 seconds quicker than her time over the distance in Abu Dhabi.
Jorgensen, who finished second to make it two podiums from two on the Continental Cup circuit so far this season, couldn't claw back the damage inflicted by Zaferes on the swim and bike, despite recording the fastest run split with a 17:07 5km.
In third place, Canadian Kretz took her first Americas Cup podium since 2019 with a strong run leg as she beat compatriot Jamnicky and Bermuda's Erica Hawley to the last spot on the podium.
"Channelling my inner Flora Duffy"
After the race, Zaferes shared on social media that she was proud of the race she put together in Missouri, adding that having tweaked a few logistical problems in training since the last two races, things seemed to be coming together.
"A win for me at St. Peter's America's Cup and I'm pretty darn proud of the race I put together. Came out of the water with a bit of a gap, rode solo for the 20k channelling my inner Flora Duffy and held my own on the run.
"From my first two races, Joel Filliol and I reflected, but we didn't rewrite the whole book from what has had success in the past. A few logistical training tweaks. Another month of a solid block of training. Kimble sleeping through the night consistently for the first time in his nine months of life.
"I think for me this race showed me we're getting closer to finding a sweet spot for what works for our family and what works for me as an athlete and a mom."
A step forward in the swim
Jorgensen also reflected on the race in a positive light on social media afterwards, as she shared that the biggest step forward from her previous races came in the water in Missouri.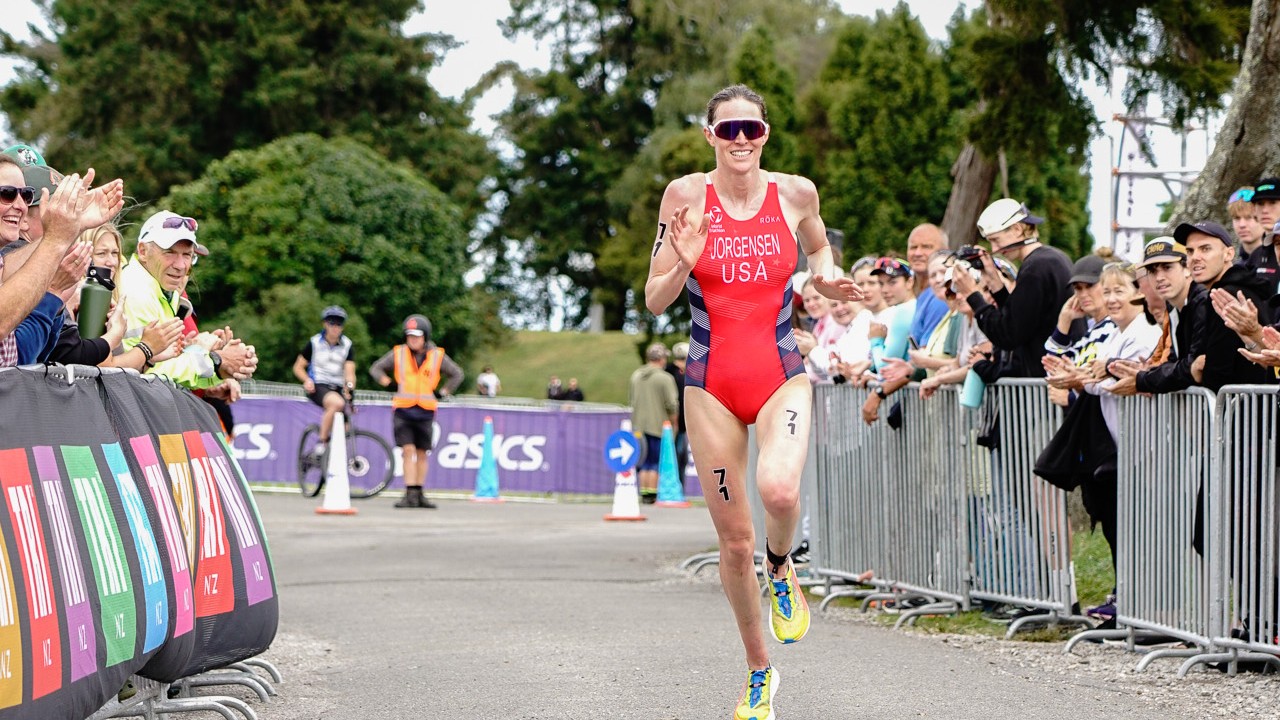 "I would say my swim is improved from what it's been. I had an okay start, and around the first can I was maybe seventh, and just kept moving my way up and I think I exited between second and fourth.
"Katie was up a little, I think she was 20 seconds ahead out of the swim, she rode like a superstar, stayed away and I ended up in a pack of three, which ended up as seven, and I think Katie had maybe 60 seconds on the run.
"It was actually quite hot on the run, and I was a little worried, but I just tried to run fast, stay cool, stay calm. Katie had an amazing race today, executed it perfectly and it was good to be back racing with her and on the podium with her for the first time in a while."
Jorgensen shared that due to the cancellation of two upcoming World Triathlon World Cups, which leaves most of the season's races between September and October, she is unsure of her next race and is just waiting for an opportunity to get on another start line.
Americas Triathlon Cup St. Peters Missouri 2023 Results
Saturday 15 April 2023 – 750m / 20km / 5km
Elite Women
1. Katie Zaferes (USA) – 1:00:08
2. Gwen Jorgensen (USA) – 1:00:58
3. Amelie Kretz (CAN) – 1:01:31
4. Dominika Jamnicky (CAN) – 1:02:05
5. Erica Hawley (BER) – 1:02:13
Elite Men
1. Charles Paquet (CAN) – 54:19
2. Jeremy Briand (CAN) – 54:40
3. Darr Smith (USA) – 54:53
4. Josiah Ney (CAN) – 54:57
5. Andrew Shellenberger (USA) – 55:04