Almost every athlete competing in Saturday's IRONMAN World Championship felt the pain dished out by that brutal course in St George – and defending women's champion Anne Haug was no different.
The 39-year-old German star finally had to give up the crown she won in Kona in 2019, finishing third behind a revitalised Daniela Ryf and Britain's Kat Matthews.
Haug's race went to plan right at the start, as she emerged from the waters of Sand Hollow sandwiched right between the other big guns Ryf and Matthews.
Haug on the swim
She explained: "The start was quite rough, but then I got in a good rhythm and I was able to swim in the first big pack. So I was very pleased with that.
"And I'm more than pleased that the water had warmed up, because, like Ruth (Astle) said I would really struggle with that because I really hate the cold!"
But if the swim had been perfect in terms of the overall strategy, things started to go wrong even before Anne could get on her bike.
Anne bikes solo
"I think I messed up my transition completely because I was alone from the start," she revealed.
"So I thought: 'Where's everyone gone?' Then I did my own race."
For the next 112 miles Anne was pretty much alone as she desperately tried to stay in contention for her great strength, the closing marathon. It wasn't pretty.
She revealed: "It was really tough. I thought I bonked maybe five times. And I said 'how can I run a marathon after that?' I was really really hurting on the bike, and the run was like a real struggle to be honest."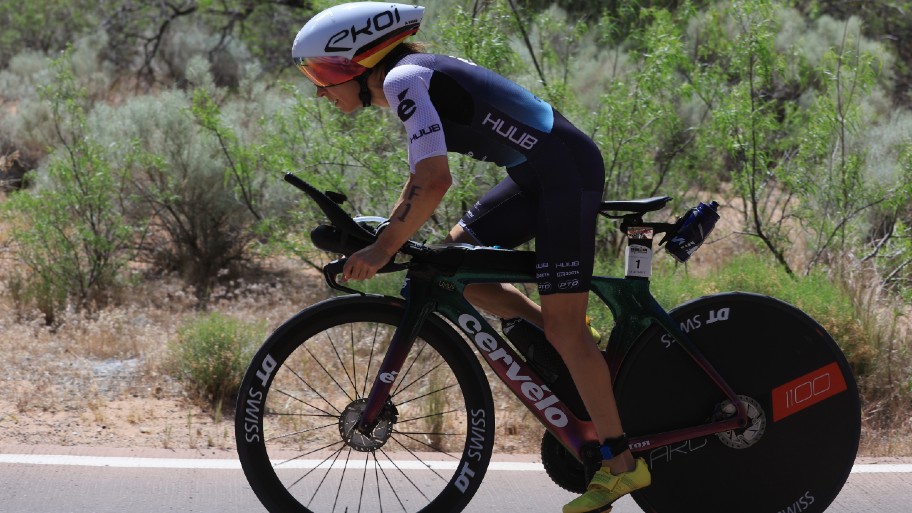 Despite the brutal exertion of that bike leg, Anne would still produce the fastest marathon of the day – 2:56:00. Good enough for third, but there was never any chance of closing the 15-minute gap to a dominant Ryf.
Running for a podium
Watching Haug storm out onto the run course as she set about chasing the leaders down was one of the day's most enduring sights. She admitted afterwards that she pushed it to the max, almost too far.
"Yeah. I mean, maybe I pushed it, I was a bit too excited in the first lap, and I definitely wanted to get the podium spot. And then it made a big bang.
"Then after 30km, I wish the finish line would be there. But then there was a brutal steep hill coming, and I said 'everything but not walking' because I had my German camera team all the time next to me, so it would be a little bit embarrassing.
"But I made it to the finish line. I'm very happy with the third spot."