Arena Games – and Super League Triathlon – has a knack of showcasing talent of the future and Jack Stanton-Stock could be the latest on the burgeoning production line.
His name jumped out in the heats as he had a terrific battle with Lionel Sanders for the fourth and last automatic spot from the second semi-final.
It was long-course legend 'No Limits' who prevailed in that skirmish but Stanton-Stock made it through as one of the fastest losers – and how he took advantage.
'I couldn't have asked for anymore'
From the moment his long, loping stride went into overdrive on the curved treadmill, he was a real focus of attention.
Chase McQueen had looked to be cruising towards the win in Stage 1 until that point and Stanton-Stock continued the good work to such effect that he'd end up finishing in third place behind the American and Henri Schoeman.
That was two places ahead of fellow 20-year-old Brit – and longtime training partner – Dan Dixon, who himself had made the headlines on his own Arena Games debut last year when fourth ahead of a list of more established names in Singapore.
Speaking afterwards, Stanton-Stock, who had raced in the junior Super League, said: "I couldn't have asked for anymore – I just wanted to get to the final and see how I could do.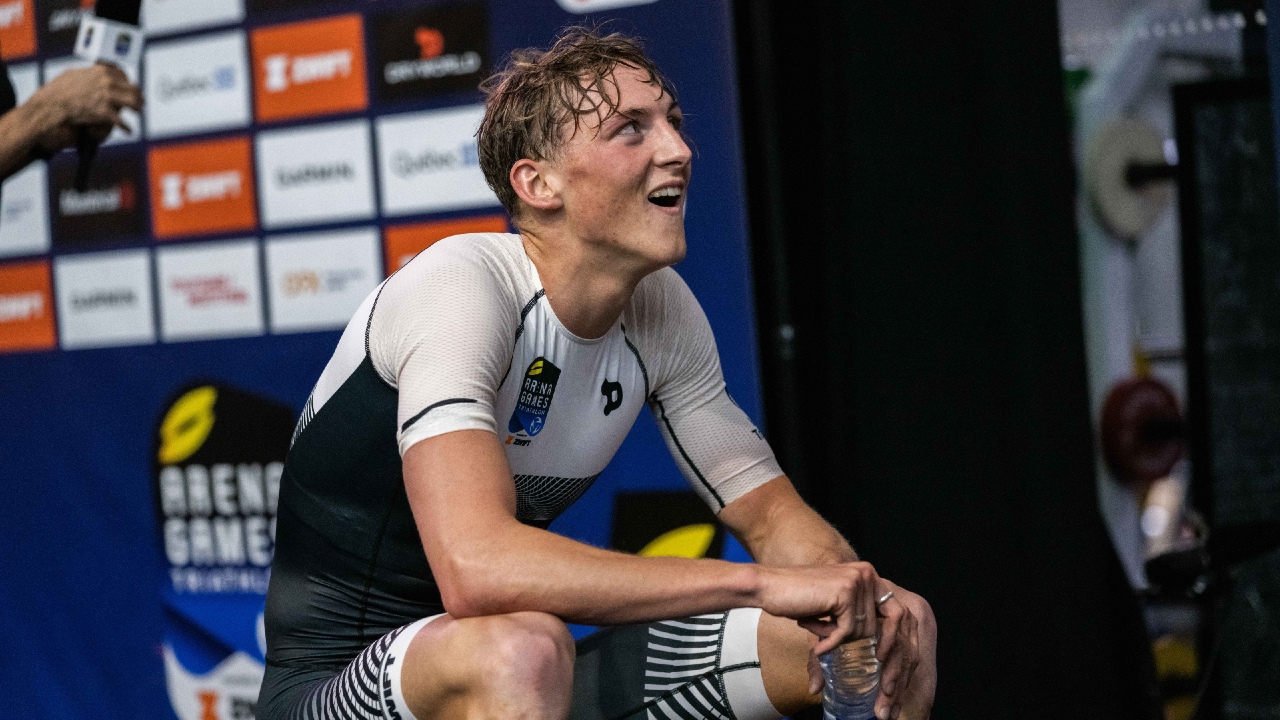 "From the get-go I felt strong and for me it was about holding it on the bike power which I managed to do a lot better than in the heat.
"I'm just in disbelief right now – Chase, Henri and Lionel Sanders, those guys are just amazing."
Derailed by food poisoning
Dixon himself was fifth, a result he was pleased with given a somewhat troubled build-up. He explained: "I've been training with Jack for goodness knows how long, we've been friends for 10 years or so, so it's great to see him doing so well and I'm now looking forward to more training with him over the next few weeks.
"My preparation had gone really well until Tuesday before the race where I got food poisoning, that had me in bed all day throwing up. It became a mental and physical battle more than anything from then. It would have been easy to sack it in there and not race but I wanted to give myself an opportunity as I knew I had been working hard so off to Montreal it was.
"I started coming around late Friday and it was awesome to be in that atmosphere in the arena and race against some top guys. I had to really dig on that final round where I was battling with [Aurelien] Raphael for fourth until the final few hundred meters where he had more in the sprint.
"I think my fitness showed as I was very consistent but lacked top end which is likely due to losing a lot early week. It's mega to be a part of the Super League series again, the setup for athletes is second to none and yet again they are pushing the sport forward to new levels."
And Dixon was another hugely impressed with Sanders' display on his short-course bow, adding: "He is a bit of a Zwift monster but to be able to catch up the deficit he's been losing on the swim and take sixth overall is bloody impressive when the guy focusses on Ironman.
"And it's quite cool for a lot of us to have the chance to race him as growing up some of us have watched him on YouTube."