The Arena Games powered by Zwift reaches its climax in Singapore this weekend as the first esports World Champions will be crowned – and there's everything to play for!
Our explainer and guide gives you the lowdown on what awaits the athletes and Super League's data guru Graeme Acheson has again joined us to provide insights and analysis, rounded off with his all-important predictions – this time both in terms of the overall titles and the likely race winners.
The Garmin ecosystem has produced some fascinating data and no one has a better handle on it than Graeme – he's the co-founder and CEO of Sports4Cast and the man behind SLT's Stats Hub.
Predictions are based on a machine-learning algorithm that looks at previous SLT Arena Games, SLT Championship events, WTS sprint, super sprint and relay events to produce a ranking for each athlete in each discipline.
From this we can then run a simulation of the race and the athletes competing to see who is most likely to win based on their previous results, and the competition. So here goes…
Men – overall title
Justus Nieschlag and Aurelien Raphael are in the driving seat, both on the maximum 250 points so far thanks to their wins in London and Munich respectively.
But both Alex Yee and Max Stapley control their own destiny and can take the title if they win in Singapore with no other permutations of results required.
There are a few other permutations for other athletes to win, but they are quite unlikely to happen.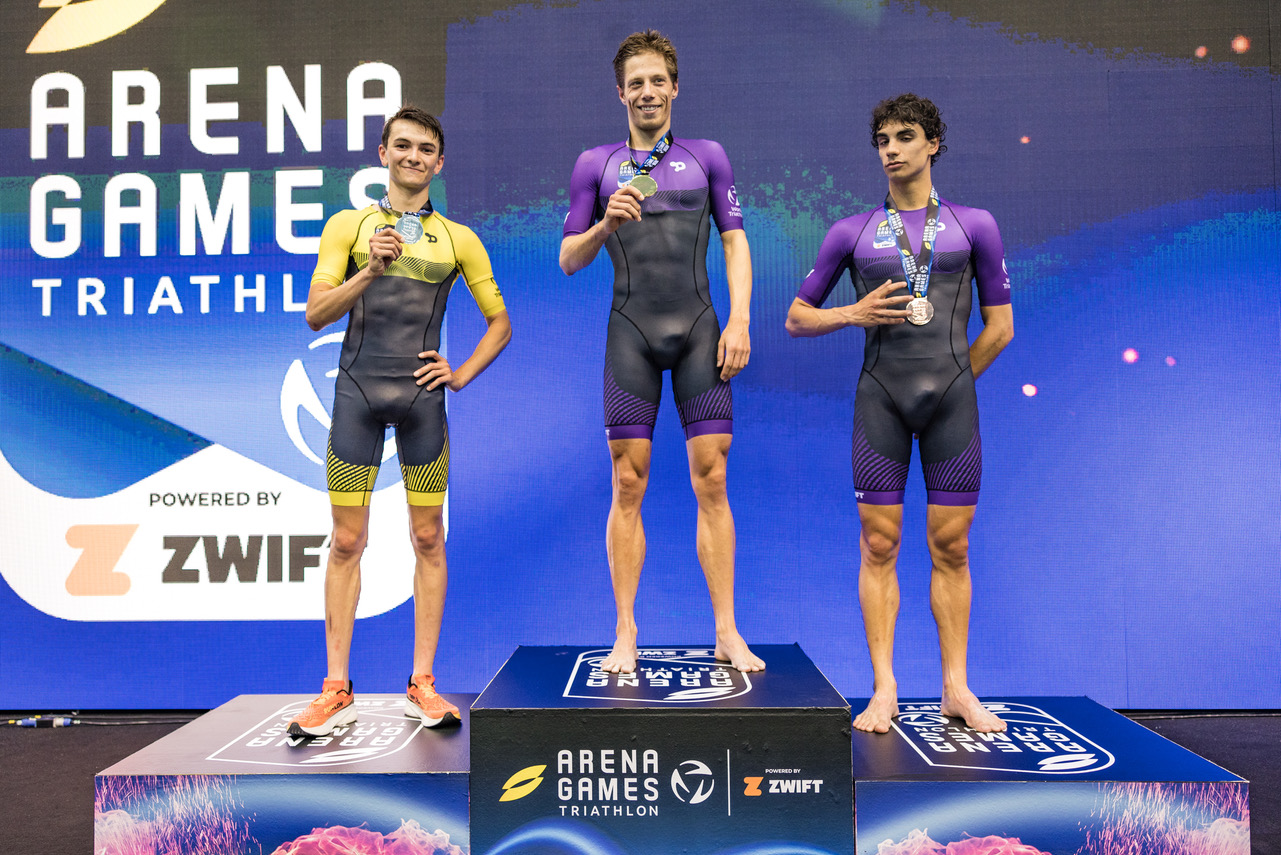 Nieschlag is the favourite for the title at 34% or one in three. His history at the Arena Games, combined with his performance last week, leads him to be looked upon favourably by the computer simulation.
However, Yee is a close second at 31%, with Raphael not far behind on 25%. Yee is ahead of Raphael despite being behind in the current standings as we believe he has a better chance of finishing higher in the Singapore race. Stapley rounds out the realistic contenders for the title at 7%, with everyone else at 1% or below.
For example, for Marten Van Riel to win, he would be required to win the race and have none of Nieschlag, Yee, Raphael and Stapley finish inside the top four, which is unlikely.
Essentially, whoever finishes highest of Nieschlag, Yee, Raphael and Stapley will very likely win the title, and the simulation puts the Singapore finishers in roughly that order!
Men – Singapore race
As mentioned above, we have Nieschlag, Yee and Raphael as favourites for the title, but this race also includes some big guns in Van Riel and Hayden Wilde. Van Riel is likely out of title contention by virtue of his poor performance in Munich, and Wilde as this is his first race, but both could play a part in which way the title goes if they shake up the race.
Those five are the realistic contenders for the race win in Singapore, and it'll be interesting to see how Wilde gets on in his first Arena Games. He proved he is a serious contender in these things with his Olympics and Championship Series results last year, but the AGT is a different beast!
Van Riel will also be keen to prove that his Munich result was just a blip in his Arena Games dominance. The prospect of these five duking it out for the title with Stapley, Chase McQueen and Gordon Benson all in the mix is enticing – it should be a good race!
In terms of the race predictions, the 1-2-3 is Nieschlag at 25%, Yee on 21% and Raphael at 18%. Next come Van Riel (15%) and Wilde (10%).
Women – overall title
Dominant Munich winner Beth Potter is the clear title favourite with Cassandre Beaugrand not racing. This means that only Lena Meissner, Anabel Knoll and Jess Learmonth can stop Potter with a win, and Learmonth is the most likely to do that – which makes her second favourite.
Georgia Taylor-Brown is the third favourite, but she needs to win, Potter to finish third and neither Knoll or Meissner to come second.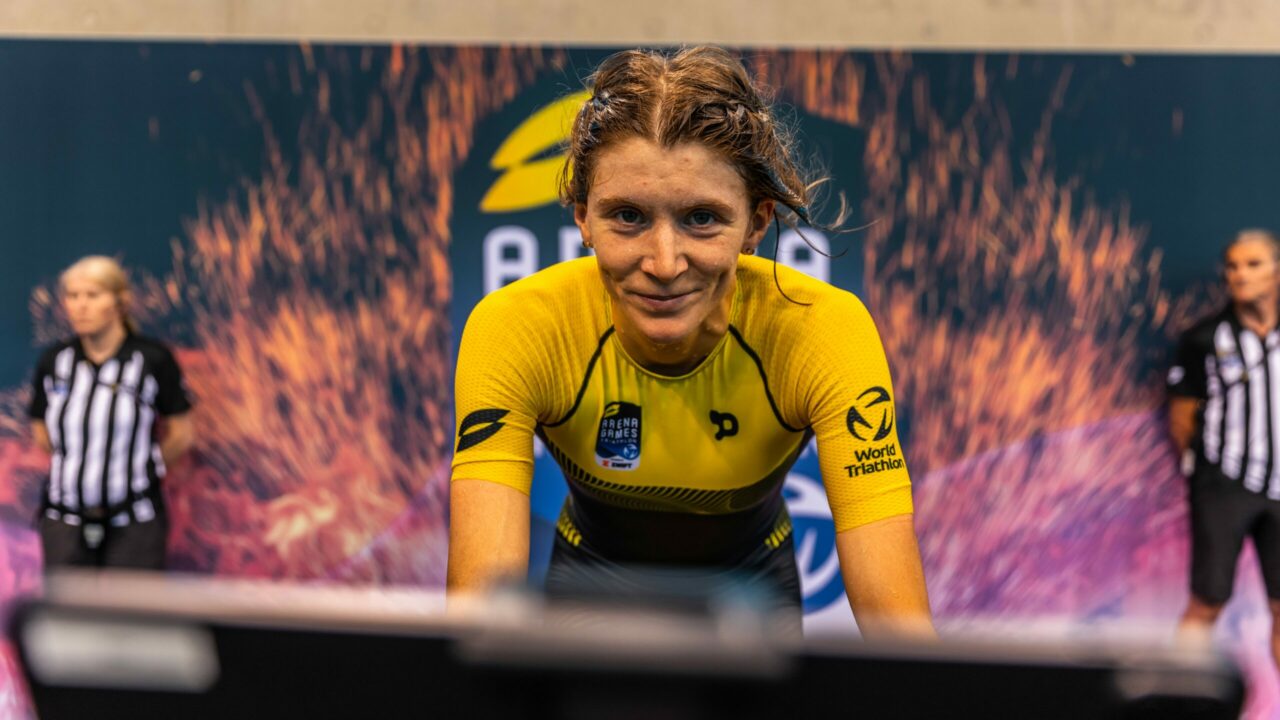 Potter is the clear favourite at 58%, so better than a one-in-two chance, and practically it's likely only Learmonth (19%) can stop her outright. GTB needs a few things to go her way… but it happened for her in Malibu!
Women – Singapore race
The women's race has fewer big hitters in it, but it's still exciting. It's almost certainly going to be a three-way battle between Potter (42%), GTB (22%) and Learmonth (15%), with Potter the strong favourite based on her previous performances.
The open water swim may favour Learmonth, she dominated the swim portions in the Championship Series last year, so she may be able to use that to her advantage here.
Potter has the run though, and was considerably faster than Learmonth (10 seconds per leg roughly) in those sections in London.
GTB seemed to struggle there in relative terms, across the board. She lost consistent time in nearly every discipline. It's tough to say why but she hasn't managed to produce to the same degree that we know she's capable of elsewhere.