This is a preview feature ahead of the Arena Games Triathlon Finals Singapore. You can read about how the races played out in out post-race reports here as Beth Potter and Alex Yee lifted the overall titles: Elite Women | Elite Men
With Munich and London now in the books, the first World Triathlon eSports World Champions will be crowned this weekend at the Arena Games Triathlon Finals Singapore powered by Zwift.
That will mean that we'll have two new World Champions confirmed before lunchtime (in the UK at least), before grabbing a sandwich and doing it all again at the other end of the distance spectrum, for the IRONMAN World Championship in St George.
Saturday should be a great day to be a triathlon fan. And a busy one for us!
Here is the deep-dive on what you need to know ahead of Singapore – where the first action actually happens on Friday – and the format might not be exactly what you are expecting, if you've been watching the series so far…
Start times and how to watch it all live
Unlike Munich and London, the Arena Games Triathlon Finals in Singapore are a two-day affair. The Heats will take place on Friday 6 May 2022, with the Finals (and Repechage) on Saturday 7 May 2022. There is good news, as Arena Games will be all wrapped up and done, before the IRONMAN World Championship even starts.
You can watch all of the action live via Super League Triathlon's website and YouTube channel, on TriathlonLIVE.tv and via Eurosport, Discovery+, L'Equipe, Viaplay, OutsideTV and others, dependent upon the specific broadcast rights in your region. The Super League Triathlon website has a breakdown of which broadcasters will operate in your region.
And here at TRI247 we'll be bringing you all the latest coverage as it happens and will also have expert insight and analysis from elite coach Mark Buckingham as well as embedding the live coverage right here.
Friday 6 May
Women's Heat 1 – 13:00 (06:00 UK)
Women's Heat 2 – 13:50 (06:50 UK)
Men's Heat 1 – 15:30 (08:30 UK)
Men's Heat 2 – 16:20 (09:20 UK)
Men's Heat 3 – 17:10 (10:10 UK)
Saturday 7 May
The live broadcast show for the Finals runs from 16:00 to 18:30 local time. That's 09:00 to 11:30 in the UK, 10:00 to 12:30 CET, and 04:00 to 06:30 Eastern time.
Women's Repechage #1: 10:00 (03:00 UK)
Men's Repechage #1: 11:00 (04:00 UK)
Men's Repechage #2: 12:00 (05:00 UK)
Broadcast show starts: 16:00 (09:00 UK)
Women's Final: 16:20 (09:20 UK)
Men's Final: 17:32 (10:32 UK)
Broadcast show end: 18:30 (11:30 UK)
Elite Women – Potter vs. Learmonth?
Arena Games London on the women's side saw an incredibly impressive display from Cassandre Beaugrand. With the French athlete absent this weekend, that would seemingly make the chances of a British athlete topping the standings and earning a World Championship title, highly likely.
Overall points are on a 'best performance from with Munich or London, plus the Finals' basis. With double points on offer in Singapore, that leaves things even more open. Add in an open water swim – details below – plus likely heat and humidity in an outdoor venue, and it's a bit more than a copy/paste this weekend.
With maximum points from Munich, Beth Potter heads the table into Singapore, but with 500 (rather than 250) points on offer this weekend, were Jess Learmonth (third in London) to win and Potter take second, then Learmonth would come out on top when the points were calculated, even if Beth was second.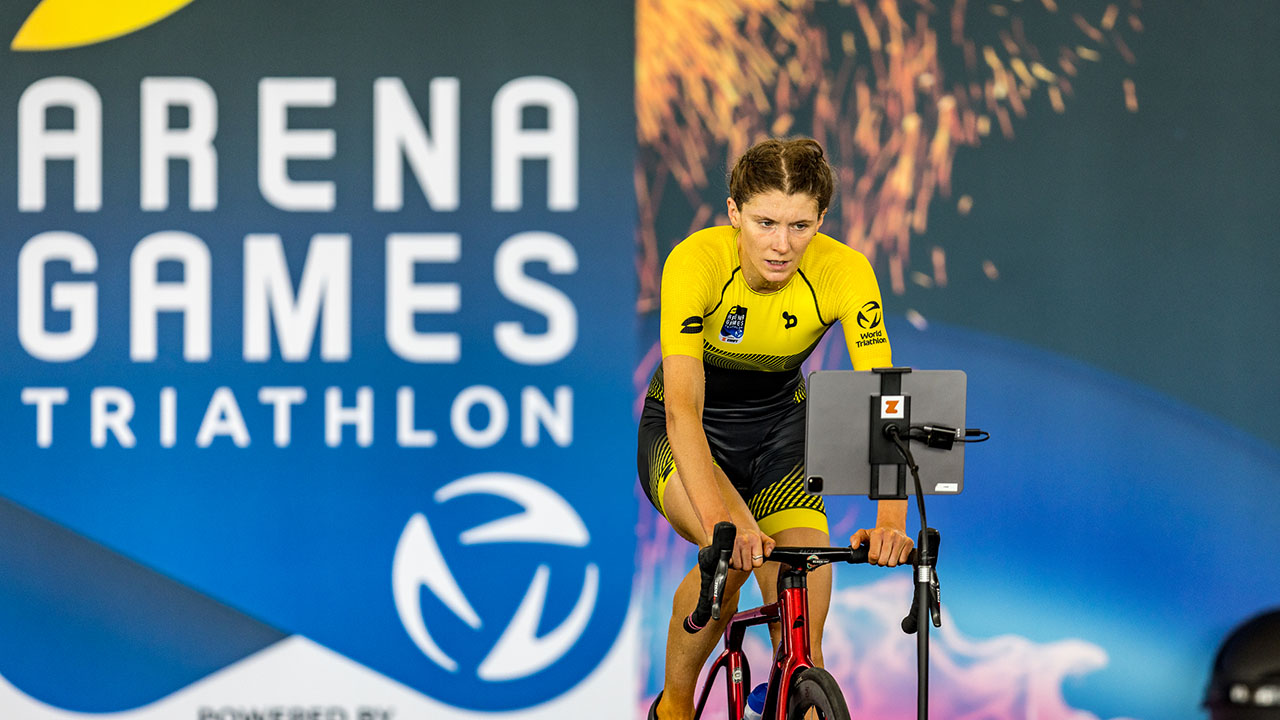 Looking at the Heat lineups, it would be a surprise to me to see anything other than Learmonth and Georgia Taylor-Brown (Heat 1), plus Beth Potter and (probably) Sian Rainsley (Heat 2) secure the 'direct to the final' qualification, while everyone else has to go again on Saturday morning in the Repechage.
When all is said and done, I think it will be an all British podium. The more popular thought seems to be that the revised format (open water) will play to towards the strengths of Learmonth, making her the favourite.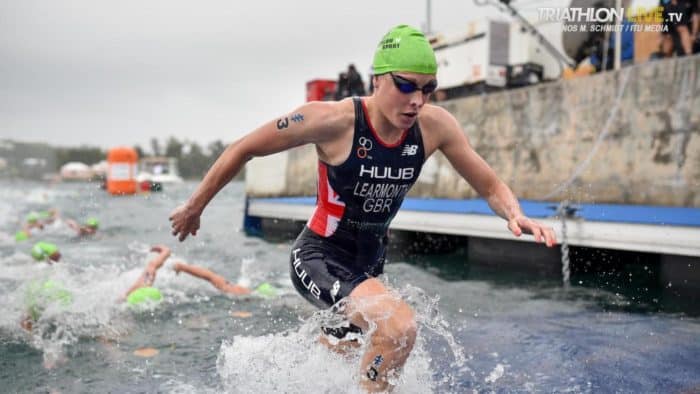 I don't disagree with that in principle… but I do think that Potter can overcome that. In a small field, over just 200m – and with perhaps the best transitions in the sport – I think Beth is race sharp and will (continue to) show the progress in her skills that I believe will see her reach a WTCS podium at some point during 2022.
I think the race will finish Potter / Learmonth / Taylor-Brown, in that order.
You can find the Elite Women start lists here: Heat 1 | Heat 2
Elite Men – Take your pick
While the Elite Women have just 14 starters, it's a different story for the Elite Men, who offer a full field of 30.
There's almost two races going on – for the win in Singapore and (for a subset of athletes), for the eSports World Championship.
In the case of the former only we see the name of Hayden Wilde (NZL) in his first Arena Games event. The Olympic bronze medallist has been on a winning streak in Oceania Cup races recently, but it's difficult to apply that form line to how it was translate to Arena Games. He's a class act that never races to make up the numbers.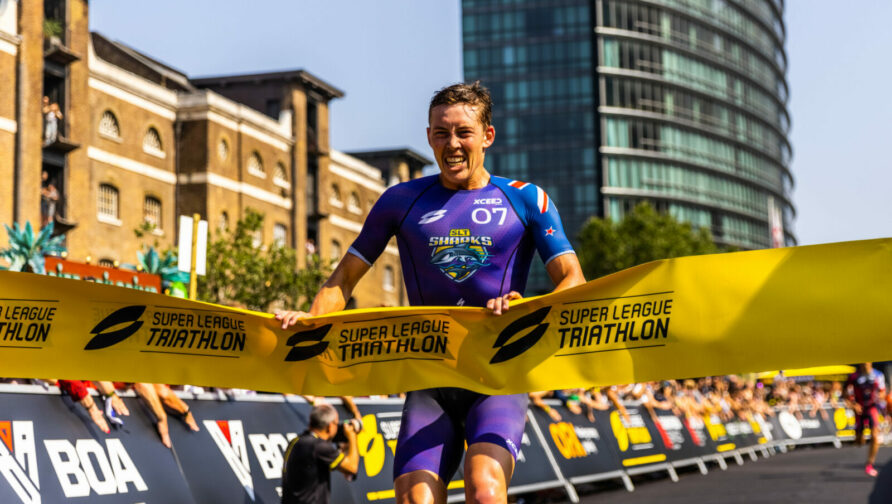 After skipping London, we also see the return of Marten Van Riel (BEL). His disappointing eighth place in Munich likely leaves him out of realistic contention overall, but having won in London and Rotterdam last year, he will be motivated to perform better than he did the Olympiapark.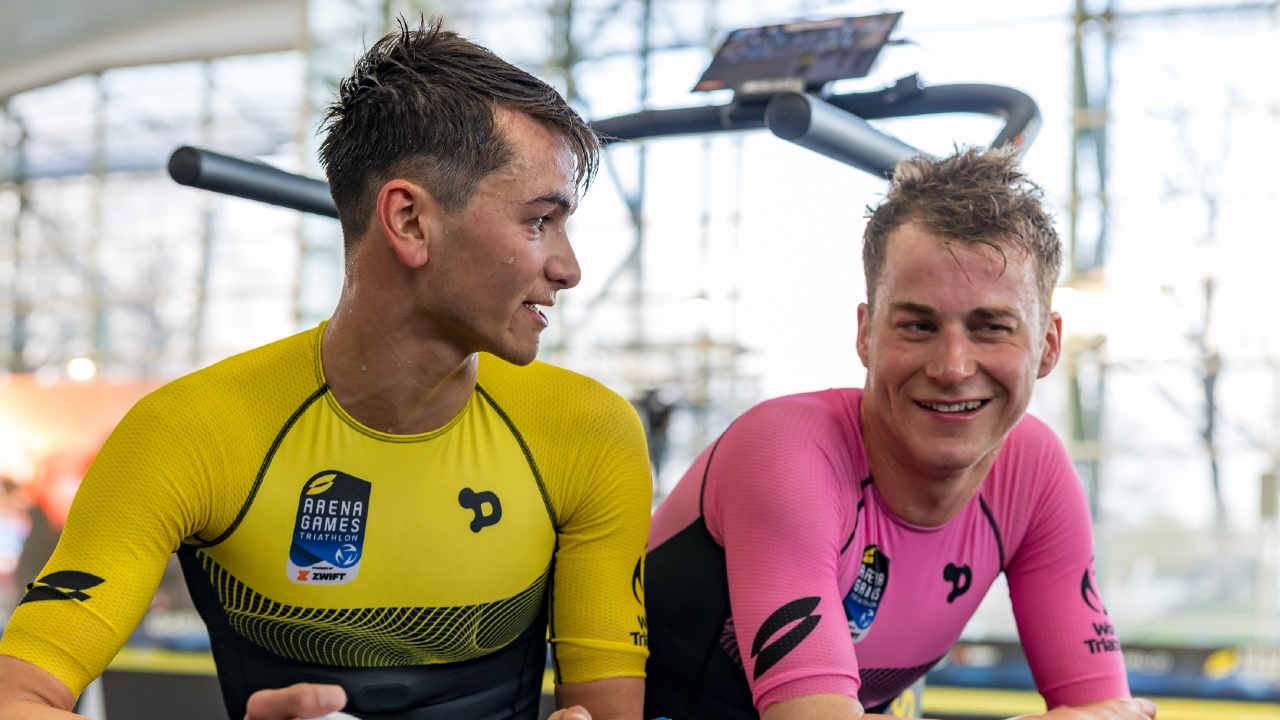 The overall standings look set to be decided between Justus Nieschlag (GER), Aurelien Raphael (FRA), Max Stapley (AUS) and Alex Yee (GBR). Given the tiny margins for error, the consistency of Nieschlag in making the podium four times from four career Arena Games starts is remarkable. He was so, so impressive in London two weeks ago.
Looking ahead, the German says: "I am super excited about the series finale in Singapore. Super League has done a great job in cooperation with World Triathlon by offering the first eSports World Championship title. It's going to be a really tough race again.
"I think the lack of drafting effect works in my favour a bit. So far, I've always had very good performance on the bike, which is why I also expect to be able to show something on the bike again. I am especially excited about the open water swim, hopefully the weather will not affect the swim.
"No matter which other athletes will be there, for me it means to race smart and then in the final to knock out everything that is in the tank! I'm definitely going to try everything to be on top at the end!"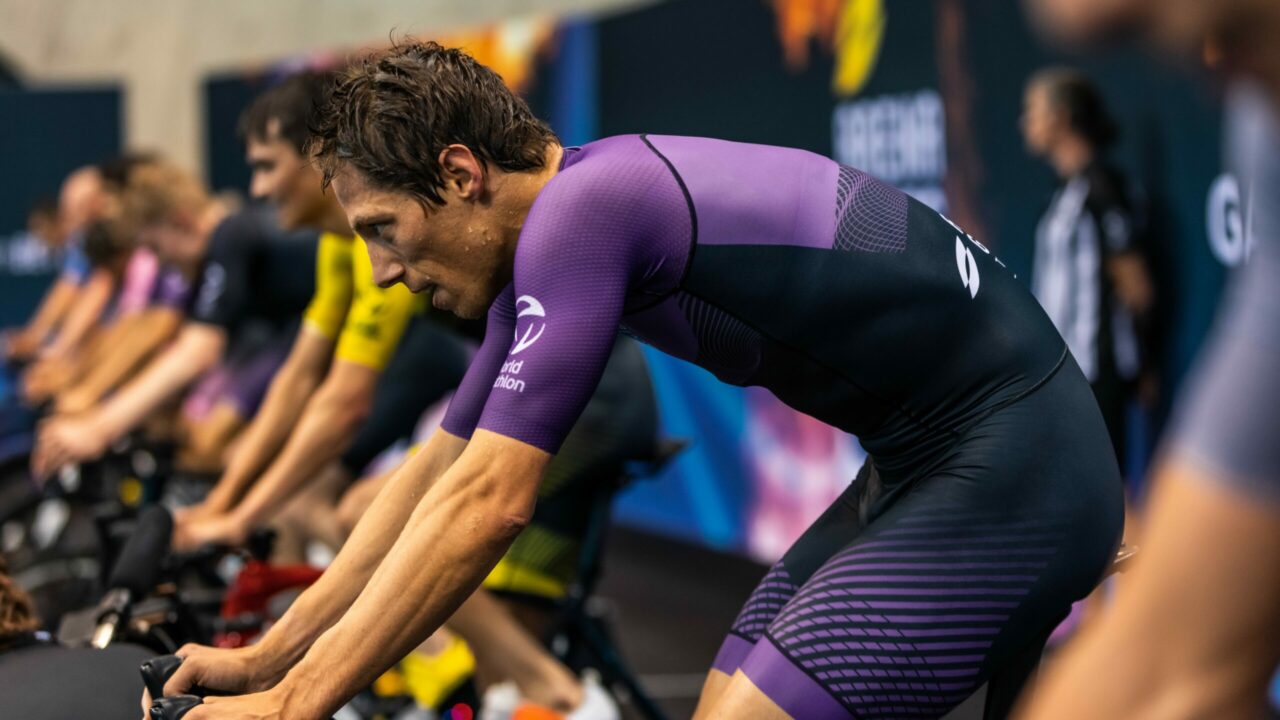 If the 'trend is your friend', then what could be an unpredictable format, I'm going to apply the the horses-for-courses approach and back the consistency and focus of Justus to continue his run of success.
Third in Munich, the no-draft cycling function here surely benefits him relative to Raphael and Stapley who narrowly edged him out there.
You can find the Elite Men start lists here: Heat 1 | Heat 2 | Heat 3
Race Distances
Super League Triathlon events are never plain vanilla, and they have applied a change it up approach once again in Singapore. Rather than the 50metre, Olympic Games swimming pools of Munich and London, this weekend the swim legs will be raced outside in the Marina Reservoir 1 of Marina Bay. The smart trainers and treadmills will be housed along the promenade.
Almost taking the 'Arena' out of the Arena Games, and taking it to the streets!
While the order may change (see format details below), across all events the distances raced in each discipline will be as follows.
SWIM: 200m in Marina Reservoir
BIKE: 4km, ridden on Zwift, athletes all using Tacx NEO 2T smart trainers (athletes weigh-in ahead of the race on Garmin Index S2 Smart Scales). As with the event in London, the Zwift draft function will be switched off in Singapore.
RUN: 1km, run on a self-powered curved treadmill, linked to Zwift.
Format in Singapore
The racing will be over two days, with three stages involved: Heats (Friday), Repechage (Saturday), Finals (Saturday).
Heats: In the heats, athletes will race twice. Both stages will be in swim-bike-run format.
The times from the first stage will provide a pursuit start style start order for the second. Thus, in the second race, the winner of the first stage will start, and the second place finisher will start behind them, the number of seconds slower than they were in the first race. Overall Heats results will thus be based on when you finish the run portion of that second stage. No requirement for points accumulation etc.
Here is the qualification process from the Heats:
Athletes ranked 1-2 in each Heat progress directly to the Final (Men and Women)
Elite Men only: Athletes ranked 3-7 in each Heat go into the Repechage (second chance) event, with the next fastest five athletes outside of those top 7 positions across the three Heats also go into the Repechage.
Elite Women only: All of the athletes that are not in the top two finishers from the Heat, will race again in the Repechage.
Repechage: In format terms (two races / both swim-bike-run / pursuit style start for stage two), the Repechage will run in exactly the same format as outlined above for the Heats.
Here is the qualification process from the Repechage(s).
Elite Men only: the top two in each race qualify for the final
Elite Women only: there will be one Repechage event, with the first six finishers joining the automatic qualifiers in the final.
This will leave 10 athletes ready to race in both Finals.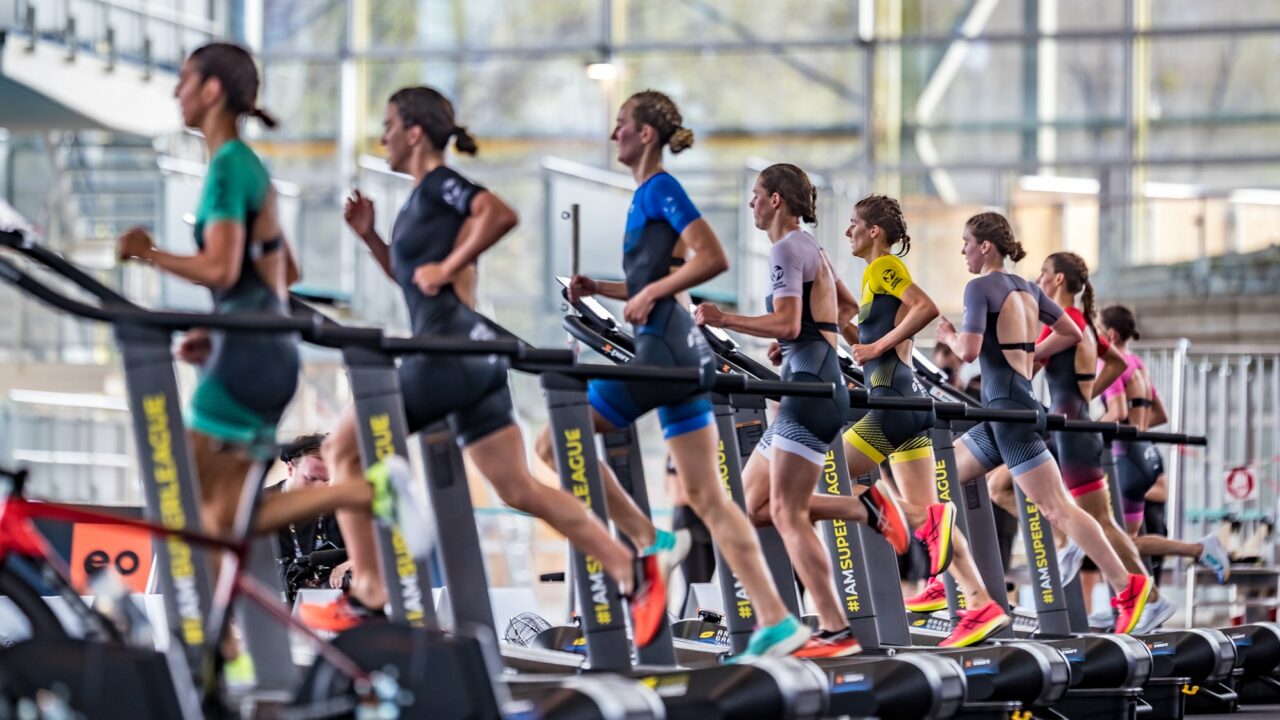 Finals: how will they work?
Athletes that qualify for the finals will race three more times, over these formats:
Stage 1: Swim-Bike-Run
Stage 2: Run-Bike-Swim
Stage 3: Swim-Bike-Run
There will be a very short gap between each of the stages to allow the athletes to prepare their kit etc, but the action barely stops.
In a similar manner to the Heats, the last stage will be in a pursuit start style, based on accumulated times from the first and second stages. Once again therefore, the first to finish that final run in stage 3 will be the event winner, no points accumulation or calculations to be made.
Prize Money
There's a series high prize purse of $57,000 on offer this weekend in Singapore – which is almost exactly in line with a World Triathlon Cup event, second only to WTCS in terms of short-course status
Race winners will collect $7,500 each, with the total pot paying ten-deep – thus, every finalist will take home some winnings from their efforts at Marina Bay.
| | |
| --- | --- |
| Position | Purse |
| 1 | $7,500 |
| 2 | $6,000 |
| 3 | $4,500 |
| 4 | $3,000 |
| 5 | $2,100 |
| 6 | $1,800 |
| 7 | $1,500 |
| 8 | $900 |
| 9 | $675 |
| 10 | $525 |
In addition to the race day prizes, there will be a further bonus pot $36,000 to the top three athletes in the series.
You can find the current Arena Games Points Standings here.
The top three finishers across the series will receive an additional $8k/$6k/$4k respectively. Including the Munich and London races, a total of $175k will be earned across the three events over the series.