Beth Potter says a first WTCS world title would be a significant and welcome bonus, but her clear priority as she heads into this week's Paris Test Event is qualifying for next year's Olympic Games in the French capital.
The Scot went to the Rio Olympics in 2016 as a 10,000 metres runner and is currently enjoying the best season so far in her triathlon career.
She notched a maiden WTCS victory in the season opener in Abu Dhabi and wasted little time in adding a second in Montreal, all of which sees her top the overall series standings with Paris and the Grand Final in Pontevedra still to come.
Brownlee predicted Potter magic
None other than Jonny Brownlee had predicted that win in Abu Dhabi after a training block in Spain with her – something Potter admits was a confidence fillip in itself.
Speaking to TRI247 ahead of this week's Test Event, she said: "I think it's always quite hard to see it from your own point of view. But when I've got my very accomplished training partners backing me, then it gives you a bit of a boost. So, yeah, he definitely called that one right which was good.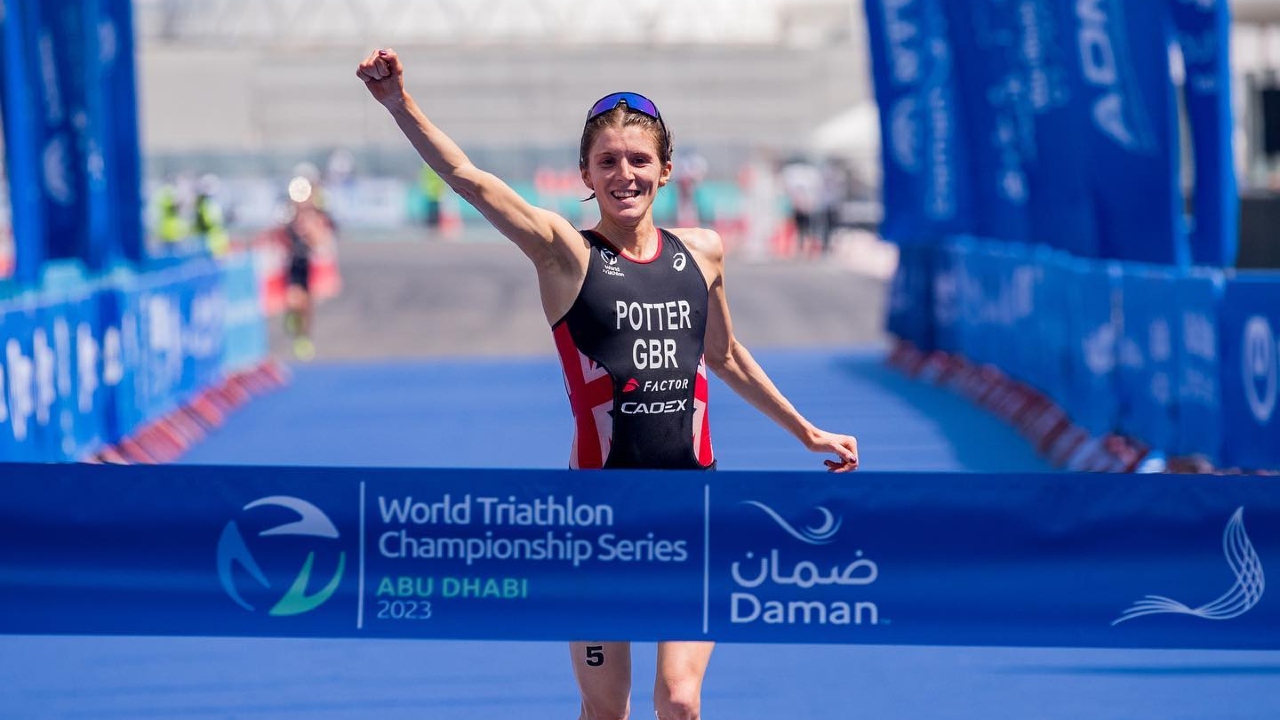 "I felt like it was coming, but to come out this year and get three podiums [she was also second in Hamburg], I'm pretty happy with that. And I think I'm on a good projectile for next year hopefully."
She's in a strong position for both Olympic qualification and the world title, but says she's taking nothing for granted and will just be focussing on one race at a time.
My last Olympic Games was nearly eight years ago. So it hasn't been easy. It never is easy.
"I think I'd feel very proud if I get there and am standing on the start line. It'll be very exciting and I'll make sure I soak up every moment in case it's my last."
In terms of possibly becoming World Champion, she added: "To be honest, I didn't expect to be in this position at this point in the year, especially going in as number one in Paris. My main goal for the whole season has been to qualify for Paris for next year.
"My coach always said if I win races and go for that top three in Paris then the world title might come, so just go for that. And that's my focus. And if the world title comes, it comes. If it doesn't, then it doesn't happen. My goal was to qualify for the Olympics and be in the best shape possible for next year. So that's what I'm going for."
Team dynamic
Potter's latest appearance saw her help drive what was a relatively inexperienced Team GB line up to a silver medal in the Mixed Team Relay in Sunderland.
They have already qualified for Paris in that sphere and will go in as the defending champions after that memorable success in Tokyo.
She hopes to be part of that and added: "I've obviously not had that many opportunities to do the team relay and I really enjoyed that in Sunderland. I enjoy that sort of racing. I like Super League and, yeah, I think it's been really good to get experience on both legs and just try it out.
"I think the team in Sunderland really delivered and, apart from me, it was quite a young team in terms of experience. I think we were just very clinical and we definitely did better than we should have done on paper, so I think it was a good confidence boost."