France underlined their position as pre-race favourites – but not without some drama – as they claimed a clear-cut victory in the Mixed Team Relay at WTCS Sunderland.
With both Saturday's winners Pierre Le Corre and Cassandre Beaugrand in their ranks they were always going to be the team to beat but a 10-second penalty and a fall for Emma Lombardi on leg two added to the challenge.
However Beaugrand was able to take the penalty after the first of two run laps on the final leg and still rejoin the race in the lead, allowing her to cross the line in splendid isolation.
In behind a relatively inexperienced Team GB produced a superb display in front of big home crowds for second while Norway bagged their first ever Mixed Relay podium place in dramatic late circumstances.
That performance could be all the more significant as France and Team GB have already qualified their teams for the Paris 2024 Olympic Games, so it's a rankings battle for the rest.
Leg 1 – Tight start
Chase McQueen (USA) and Tayler Reid (NZL) were first out of the water after the 300m swim but less than 10 seconds separated the top 14 teams.
On the bike a front pack of nine initially created a bit of a gap but by the end of the first lap the second group, driven by Tom Richard (FRA), had brought it back together.
Vetle Bergsvik Thorn (NOR) put in a late burst to get into T2 first and he led out the run. Barclay Izzard gave the British crowds plenty to cheer as he briefly moved to the front but it was Vasco Vilaca (POR) who proved strongest as he reached the handover first.
The top 13 were all in close proximity and the first real gap came when McQueen handed over in 14th place to Gwen Jorgensen giving her 10 seconds to make up on the rest.
Leg 2 – Tough times for Lombardi
Superb swims from Zsanett Bragmayer (HUN) and Jorgensen saw them roar back into contention.
That meant they were able to get onto the back of the chase pack on the bike – and with Lotte Miller (NOR) powering that it wasn't long before they were able to bridge the gap.
It created a front group of 10 and set up an intriguing run, with uber runners Jorgensen and Beth Potter (GBR) right in the mix.
That was when dramatic news came through that pre-race favourites France had just collected a 10-seconds penalty for "swim behaviour" and things went from bad to worse for them when Lombardi hit the deck after a collision in T2.
She showed great character to get off the floor and chase her way up to fourth, just a place behind Jorgensen. Classy performances from both.
But three seconds ahead in front were Great Britain with Potter, followed closely by Julie Derron (SUI). All to play for at the halfway stage, especially with that upcoming penalty for France.
Leg 3 – Flourish from Stapley
Max Stapley (GBR) not only maintained his slender lead but extended it a fraction as he had three seconds to spare from Darr Smith (USA) coming out of the water.
And Stapley put the hammer down on the first real uphill on the bike to solo clear of a four-man chase group that featured Smith, yesterday's individual men's winner Le Corre (FRA), Ricardo Batista (POR) and Adrien Briffod (SUI).
A further 10 seconds behind was Hayden Wilde (NZL) along with Casper Stornes (NOR) and Antonio Serrat Seoane (ESP) though the Spanish were another team with a penalty to serve after Miriam Casillas Garcia rode over the dismount line on the second leg.
Stapley stretched it out to 11 seconds but the two groups behind joined forces and coming into T2, Team GB's lead had been reduced to five seconds, with Wilde the closest pursuer.
And it didn't take Wilde – a late call up to the New Zealand team after initially being rested – long to join the Brit and then ease past and he handed over to Brea Roderick on the final leg with a five seconds advantage.
But it was incredibly close behind, with France, Norway, Portugal, Switzerland, Great Britain and Spain all covered by just a further five seconds.
Leg 4 – No fuss for Beaugrand
It was another exhibition swim from Beaugrand (FRA) and it needed to be as she still had that 10 seconds penalty to serve.
And that was her exact advantage leaving T1 solo!
In behind Roderick (NZL) and Jess Fullagar (GBR) were together and they had 20 seconds to spare from the rest.
The chase pair bridged up to Beaugrand, with Fullagar looking the strongest at this stage and what was now a trio were together throughout the second and final loop, with the Brit just taking a couple of seconds out heading into T2,
In behind there was another terrific display from in-form Solveig Løvseth (NOR) to close the gap on the front three to 22 seconds.
And their claims of a podium place were boosted when Roderick lost vital seconds in transition when initially going to the wrong bike rack.
So could Beaugrand run away on the 1.7km finale and give herself enough of a buffer to serve her penalty? She'd done the same at WTCS Leeds last year of course.
The answer was an emphatic yes – so much so that she served it at the end of the first lap and was still able to get out in the lead.
That meant it was all but a formality for the gold but there was drama aplenty in behind as Roderick's transition woe was compounded by a penalty for her.
It was Fullagar who was a clear second after a superb Team GB performance while Norway grabbed their first Mixed Relay medal in third thanks to Løvseth's heroics, with New Zealand having to settle for fourth.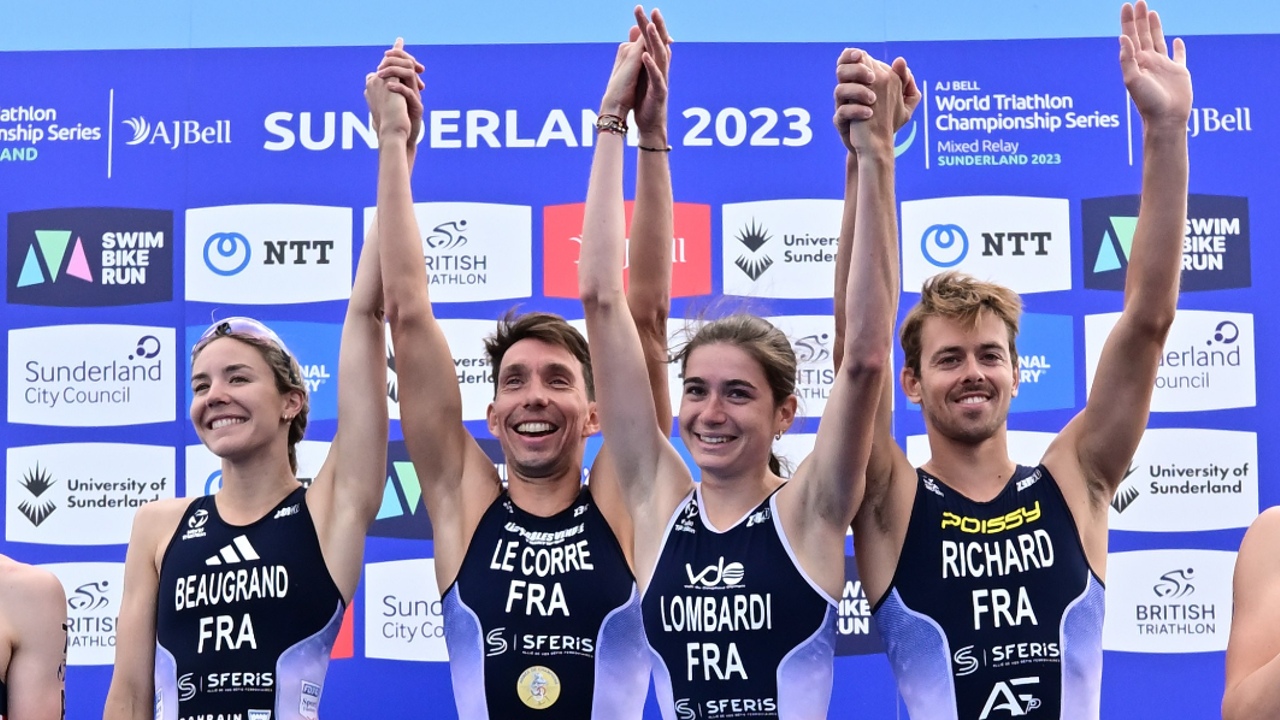 WTCS Sunderland results
Sunday July 30, 2023
Mixed Team Relay – 300m swim, 7km bike, 1.7km run
1. Team France – 1:26:53
2. Team Great Britain – 1:27:16
3. Team Norway – 1:27:27
4. Team New Zealand – 1:27:42
5. Team Spain – 1:28:17