Jonathan Brownlee won gold and Jessica Learmonth achieved her first ever ITU World Triathlon Series podium to win silver in the women's race in Stockholm.
After a season of illness and injury, Brownlee celebrated a brilliant gold medal in Stockholm and said: "I was worried about not winning one this year, but I've got one now!"
Brownlee attacked the race in typical fashion. He emerged second out of the choppy 1500m swim and immediately put the pressure on his rivals on the bike. A lead group of six athletes moved away from the rest of the field, which included the reigning ITU World Champion, Mario Mola (ESP) and Britain's Tom Bishop and Adam Bowden.
Brownlee was back to his best on the run, and took a clear victory. He added: "It's been a tough few months with my body not being right. I'm just pleased to feel normal again. I hate having bad races, I hate feeling rubbish in a race, and that's how I like racing."
Mola was in contention for silver, but faded in the final 2km and finished seventh. Norwegian, Kristian Blummenfelt, lead the charge, surging and changing the pace before the uphill climb to the finish. He took it ahead of Pierre Le Corre (FRA) and Tom Bishop finished sixth.
Brownlee now moves up to sixth place in the overall Series standings going into next month's Grand Final in Rotterdam. Bishop is eighth, whilst Mola hangs on to his lead.
Jessica Learmoth achieved her first ever Series podium with silver behind the ITU world champion, Flora Duffy. The medal was reward for her hard work at the front of the choppy swim, tenacity on the bike, and a gutsy run that saw her hold off Australia's Ashleigh Gentle.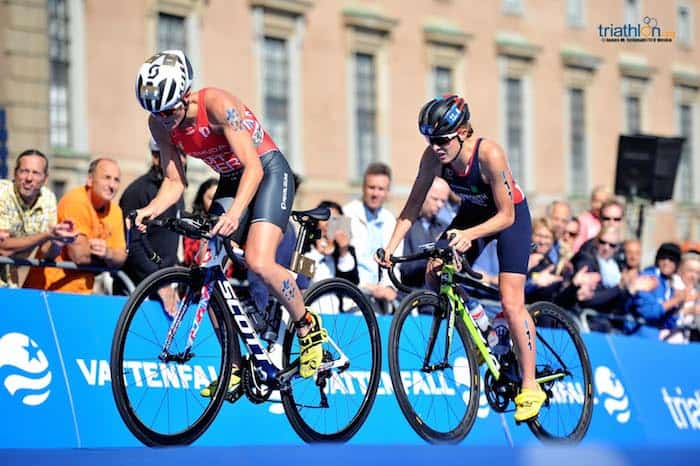 Learmonth is only in her third year as an international triathlete. The Leeds based 29 year-old has made significant improvements this season and commented; "I can't really believe it to be honest, it was hard work but I'm delighted."
After exiting the swim in first place, Learmonth got away on the bike with Duffy and Katie Zaferes (USA). They were a formidable trio, extending their lead over the chasing pack, which contained Britain's Jodie Stimpson, who could have been in the lead group were it not for a 15second penalty for an early start from the swim pontoon.
Learmonth added: "Flora corners so fast, I was really struggling the first few laps to get used to flying round the corners. There were a few hairy moments, but I'm glad I got around safe."
Zaferes unfortunately didn't get around safely. She crashed on a tight corner and Learmonth did well to avoid running over her.
Stimpson finished 13th having not raced since March through injury. She can take confidence from one of her best ever swims, and she will have gained valuable fitness to take through to the Grand Final. Lucy Hall and India Lee both finished inside the top twenty.
The ITU World Triathlon Grand Final will take place in Rotterdam, 14-17 September and will decide the 2017 ITU World Champions.
Results; ITU World Triathlon Stockholm; 1500m swim, 40km bike, 10km run:
Men
1. Jonathan Brownlee, GBR, 1:49:10
2. Kristian Blummenfelt, NOR, 1:49:28
3. Pierre Le Corre, FRA, 1:49:28
6. Thomas Bishop, GBR, 1:49:39
13 Adam Bowden, GBR, 1:50:56
LAP Marc Austin, GBR
Women
1. Flora Duffy, BER, 2:00:09
2. Jessica Learmonth, GBR, 2:01:30
3. Ashleigh Gentle, AUS, 2:01:42
13. Jodie Stimpson, GBR, 2:04:28
17. Lucy Hall, GBR, 2:06:22
19. India Lee, GBR, 2:08:17