Completing a full-distance race in under seven hours, impossible, surely? Not if you are Kristian Blummenfelt. Kristian stopped the clock at Sub7 in 6.44.25, and his success was heavily built on riding 112 miles on his CADEX Tri in a rapid 3.24.22. Here is how he did it.
All eyes on 'Big Blu'
One of the most striking images from the Sub7 project was Blummenfelt and his team of loyal domestiques, lined out, riding harmoniously all astride CADEX Tri bikes – Kristian's bike looking particularly eye-catching with the golden decals, befitting the reigning male Olympic triathlon champion.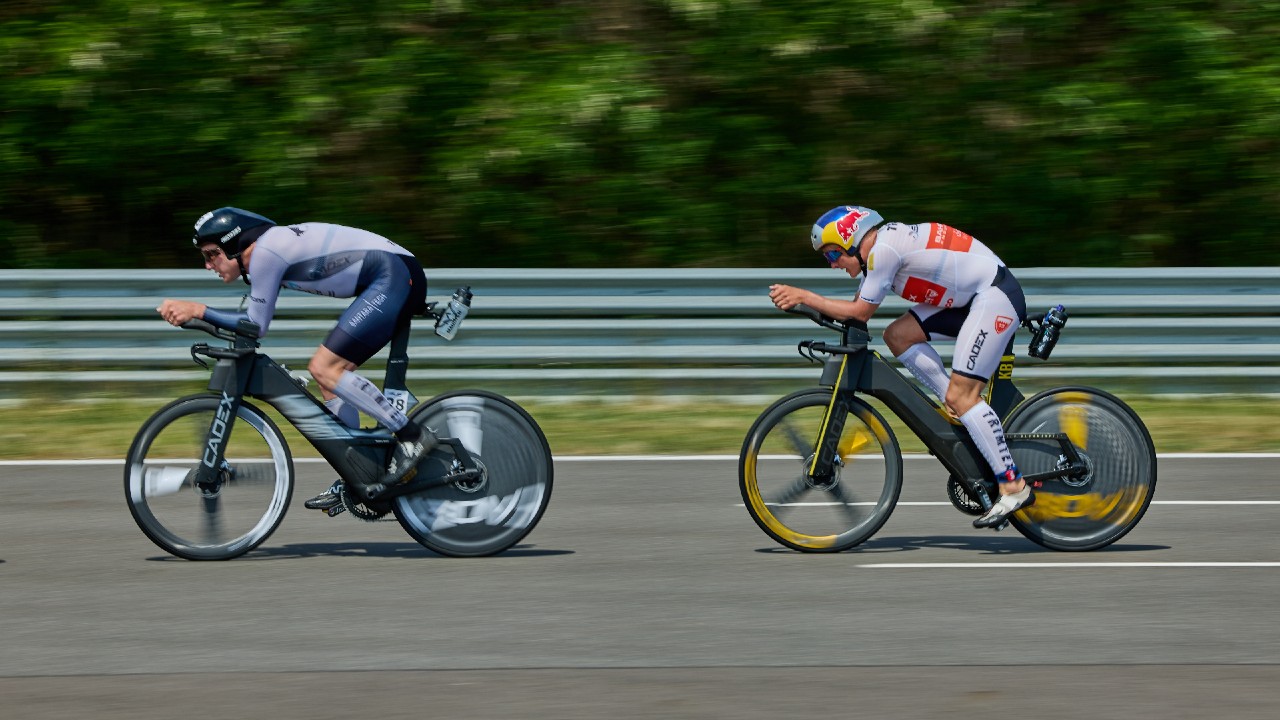 Riding close to your limit for 112 miles is challenging in normal circumstances. When you add that you are required to do so at a speed north of 32 miles an hour, with only centimetres between riders, and with your effort (win or lose, success or failure) being televised to the world, it becomes just a little bit harder.
Triathlon is predominantly an individual sport, indeed the Sub7 was billed as Blummenfelt vs Brownlee / Skipper (see below). Yet, to be successful in the Sub7 project, Kristian was going to need a dedicated and elite team to assist him. Arguably the most fundamental cog of the Team Kristian machine was Matt Bottrill.
Bottrill brings it all together
Bottrill is owner and head coach of Matt Bottrill Performance Coaching, and has worked with elite triathletes such as Tim Don, Will Clarke, and Rachel Joyce.
However, Bottrill's involvement in the Sub7 project was more down to his stellar cycling career, and specifically his ability to (and knowledge of how to) ride very quickly against the clock.
Bottrill is a Giant and CADEX ambassador and has one of the best palmarès for a time triallist, ever. He's also renowned for his attention to detail when working out how to get from A to B as quickly as possible, making the most of what talent you have available.
For a period, Bottrill dominated the British domestic time trialling scene, and was undoubtedly ahead of the curve in regards to training to power and understanding aerodynamics. His most productive racing season came in 2014, when he won every major domestic time trial he entered and broke records over both the 25 mile and 50 mile distances (2013 wasn't bad either, in the British Cycling Time Trial Championships he finished second to World Tour Pro Alex Dowsett – who rode for Team Skipper at Sub7 – and ahead of other professionals).
Bottrill shares with us how he, and the team of intrepid riders, worked with Kristian to help give the Norwegian the best chance of victory.
Taking on an additional role
Sub7 took place on 5 June 2022. Bottrill came on board for Team Kristian in October 2021, more than six months before race day, and interestingly two weeks before Kristian's epic full-distance debut in Cozumel. Of note, Kristian raced that day on a Giant Trinity with CADEX wheels whereas at the IRONMAN World Championships in St George and at Sub7 he utilised the CADEX Tri.
Bottrill's primary role as part of Team Kristian was to create the best bike team and to execute the optimal bike-split to ensure the fastest overall finishing time – it was not about completing the fastest bike leg, rather Kristian breaking seven hours and beating Joe Skipper.
At the outset, Bottrill wasn't planning on racing, after all he is 45. But that changed after the first training camp and his role developed.
Bottrill explained: "My role was the team manager of the cycling team, liaising with all the riders and working with the team at CADEX to arrange getting all the bikes and equipment sorted. We all worked as a team arranging cycling camps and key training days so we could deliver Kristian to the finish line in the best possible way.
"After the first training camp we all decided that if I could get into shape I should then ride and act as the road captain."
Finding the right balance
In his manager capacity, the first big challenge Bottrill faced was selecting the correct riders. The team were to ride CADEX Tri bikes with CADEX four-spoke front wheels and disc rear wheels. Such elite kit would be a pleasure to ride, but at the same time would present challenges where riders had other sponsor obligations.
"Trying to get the whole team together was hard but also getting the right athletes. Number one they had to be team players and commit to the programme, we had one mission not to just break Sub7 but to win. Next, they had to be able to ride CADEX and other brands we had associated with the project . Also, [they had to] commit the next six months to the project, that's why getting World Tour riders was never going to work."
The final line-up was a good mix of riders with different attributes, that when combined could ensure Kristian got onto the run in the best shape possible.
"When you looked at the athletes, we had a mixture of long-distance specialists and high-power riders. Plus, they needed to have good aerodynamic drag. Finally, they needed to handle pressure and have a good laugh!"
Despite the kit restrictions, as you might expect from a Giant and CADEX athlete, Bottrill is confident they had the best kit available.
"[Regarding] equipment we had some limitations with what we could test, [but] we knew from all the data we had the fastest equipment out there."
Fine margins
The team came together quickly, with the first camp in early December 2021. Bottrill emphasised the importance of confidence in your teammates, which makes sense if you are planning to ride north of 30 miles an hour, centimetres away from someone, wearing lycra – there is certainly some jeopardy in that situation, only one mistake from disaster, as we nearly saw on race day.
"The first meet up was early December, we then had a week's training camp in France in March with Kristian. Followed by a test event at Mallory Park where we went at 80 miles at race pace to see if we could ride the pace. Then we had a week in Amsterdam and then a week in Germany to put the final preparation in. So, loads of time building the confidence in the pacers and team," detailed Bottrill.
Bottrill continued to say: "Ideally you want to be within 10cm-30 cm of the rider in front of you. Once you start to lift that, the drag really lifts. That's why we had to do so much training with the team!"
Final tweaks
Reflecting Kristian's reputation for leaving no stone unturned it is no surprise that Team Kristian were the first team on site in Dresden. The race course recce allowed them to make some changes and finalise plans.
Bottrill explained: "We arrived in Dresden one week before race day, we were the first team to arrive. We recced the course, and we just changed the formation of the team opting for myself to stay in front of Kristian the whole race, while the other pacers would take turns on the front pulling 410-450 watts and would then take time out at specific points. We also worked out that we would only use six pacers."
To non-experts, riding at above 30 miles an hour for towards three and half hours is impressive, but the effort feels even more tangible and super-human when you look at the watts required.
The general consensus is that drafting behind another cyclist can require 30% less effort than if you were riding alone. However, with Kristian riding behind multiple riders in a line, is it still a momentous effort and what would the watt savings be? Bottrill confirmed it was still a rather testing ride:
"There's a difference of around 140 watts in terms of the front pacers to being on the back of the line. The turns on the front only last between 90secs and four minutes depending on the level of fitness and how aero the riders were on the front. I rode second to last man and did 290 watts for the duration with pretty good CdA [Coefficient of Drag Area]. So, it's a BIG effort."
Complex challenges
You'd expect riding at the required speed would be challenging, and probably expect simply riding that fast would be the problem. However, interestingly, Bottrill mentioned that riding quickly, on its own, wasn't the real issue, overheating was:
"The speed is fine, it just takes a lot of concentration. The hardest part was the heat build up; I think that's what everybody struggled with in the final 30 minutes. But loads of practice made everything just flow easy."
Bottrill added that the CADEX Tri's storage and hydration options were advantageous as they allowed the riders to optimise their aero position:
"We had built in hydration and fuelling that meant we hardly had to come out of position. Then based around the course profile we knew how to use the TT position in different ways to ride the fastest time – 85% of the drag is from the rider (rather than the bike), so with these keys we sustained the highest speeds but also could protect Kristian from the wind."
"[The fuelling was] so good, it just means you can sustain the position for longer and also have much more sustainable power and comfort. It's also a lot less stress knowing you have everything [nutrition and hydration] on board," continued Bottrill.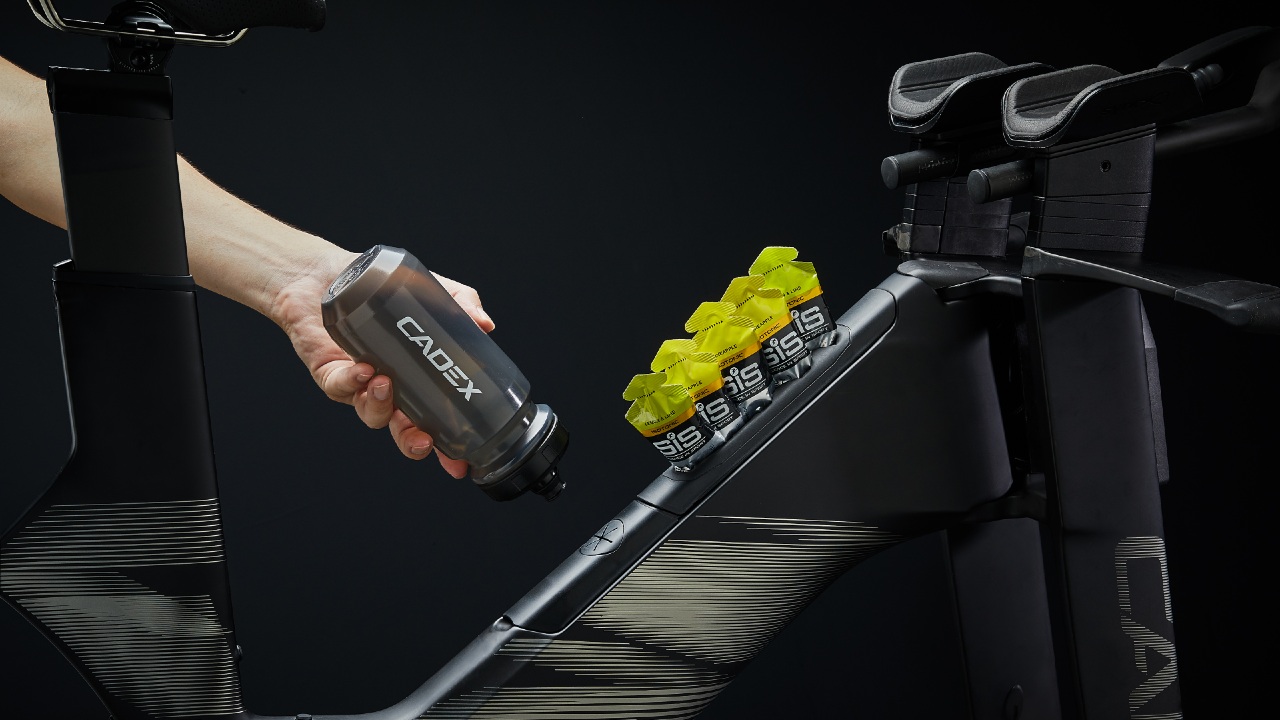 The Skipper Express
The original match-up was Kristian against Alistair Brownlee, but a last-minute change saw Joe Skipper step in.
Brownlee's reputation proceeds him, a stellar all-round athlete. Bottrill explained that although they had always been focussed on what they could control (rather than the competition), had Brownlee been racing they may have had a slightly different approach:
"We never ever focused on the other team, we knew the limitations of each rider and Kristian, and worked out our process for the fastest time overall. I think the tactic would have changed if Alistair had had ridden, we would have pushed the bike more. We still had more to give but we had calculated what we knew Kristian needed to run off the bike."
Skipper is a very different athlete to Brownlee. Skipper is an uber-biker, who runs exceptionally well off the bike, but his swim is his weaker discipline. In fact, Skipper's cycling prowess is quite epic – he rode a staggering 325 miles in a 12-hour race.
In line with his cycling strength and his gregarious nature, Skipper made some bold statements about his expected bike speed. To his credit he backed this up, finishing the bike-leg in three hours 16 minutes, and giving Kristian the junkyard dog bark as they overtook.
We asked Bottrill, what was it like having Team Skipper fly past, and were they at all flustered? Short answer, no.
He expanded on that by explaining: "We knew that would happen, it was just a matter of when. The talk all week for Joe's team was about the fastest bike split and with the firepower they had, you could understand why they pushed it so hard. But my job was always calculating the pace we should travel and when you're riding at 33mph average you know they're [Team Skipper] never going to take enough time to beat you.
"So, to be honest we hardly noticed, we had tunnel vision on our task and doing what was best for Kristian. Olav [Aleksander Bu, Kristian's manager] came up in the car and let us know we were way on target, so we just kept our focus on our team's job. If you look at the splits, we never slowed down where the other team did. So we completed the perfect job of pacing and my splits of power were identical."
'It was never a bike race'
When pushed on what he would do differently, for example push the bike harder, Bottrill was equally steadfast and explained the risk/reward of doing so:
"It was never a bike race! That's why we won. We could have gone 4-4:30 minutes faster but that would also require another 10-12 watts of power or we could have found more from being more aero. You always have to break multi-sport down into the fastest time overall. Nobody will remember the time of the swim, bike or run in years to come but they will remember the time overall of Sub7 and the winner. However, to answer your question we could have gone sub 3:20 if we had needed to."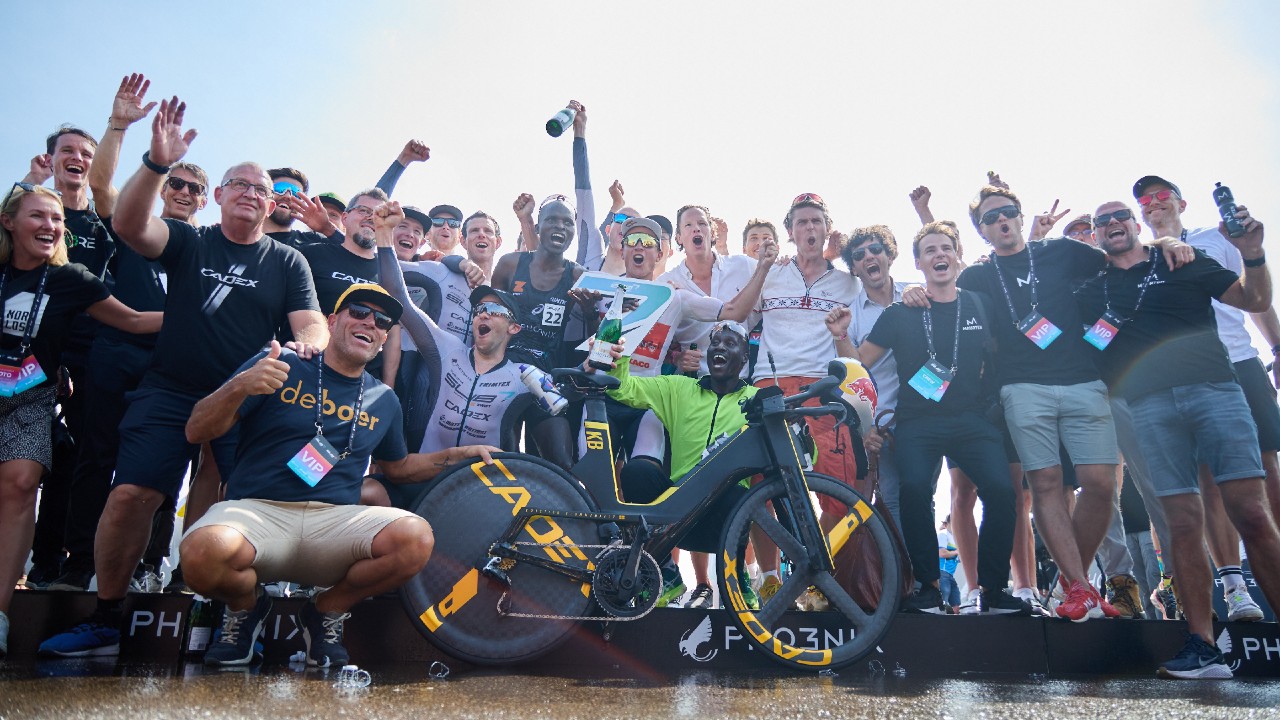 Bottrill concludes that being part of the successful Team Kristian, the build-up and executing the plan, were up there with his best sporting achievements. Maybe, considering that Bottrill is a former postman, we should have known the result was never in doubt, and that he always delivers…
Support Jonny & Beth in London
Support the best of the Brits like Jonny Brownlee and Beth Potter battling it out against the world's best triathletes including Gustav Iden and Cassandre Beaugrand in The Arena Games Triathlon grand finale at London's Olympic Park.
Use code AGTLDN_TRI247 for 20% off tickets.