There was a significant silver lining for Cameron Wurf in a thrilling finale to IRONMAN Vitoria-Gasteiz last weekend and he's now focussed on being at his very best for Kona.
Wurf balances his triathlon career with his life as a pro cyclist for the INEOS Grenadiers, who he helped to a milestone victory at Paris-Roubaix earlier this season.
His cycling commitments mean triathlon plans have to be hugely flexible but he took full advantage of the opportunity that presented itself in Northern Spain on Sunday.
A strong swim was followed by a stunning 4:01 on the bike which gave him a lead of approaching 10 minutes starting the run.
Crowd favourite
Fortunes ebbed and flowed in the marathon as his lead was whittled down and in the closing stages in the searing heat it all boiled down to three men chasing two IRONMAN World Championship slots.
Just 91 seconds separated them on the line as fellow Aussie Nick Kastelein took the win ahead of Wurf, with Germany's Dominik Sowieja the unlucky man to miss out in third.
Looking back on the race, Wurf explained his strategy: "I've had – for me at least – a good block of swimming over the last four weeks and it showed as I was in that second group.
"And it put me in a position to do a good bike and try and get as far in front as I could.
"I didn't know how my run was as I haven't done as much running as I'd have liked to. And sure enough that second [10km] lap I was really struggling. But I just thought I have a good lead and need to make sure I don't panic.
"I just walked all the aid stations, got as much Coke in as I could to get the sodium as I was cramping in my calves.
"And slowly but surely it started to come together and I really felt like the crowd favourite – that really spurred me on, I didn't want to let them down.
Fight to the end
"I certainly wasn't going to give up – you just can't in this sport as you never know when someone's going to have a bad moment."
That was perfectly illustrated when Spaniard Emilio Aguayo Munoz was the first to catch him but couldn't go past and started suffering with cramp himself as he dropped out of contention.
That left Kastelein to pounce but Wurf held strong as he battled for second: "When he caught me I thought right, just go all in now and fight. And I hung on and have qualified for Kona which was a really big hurdle for me for some reason this time around."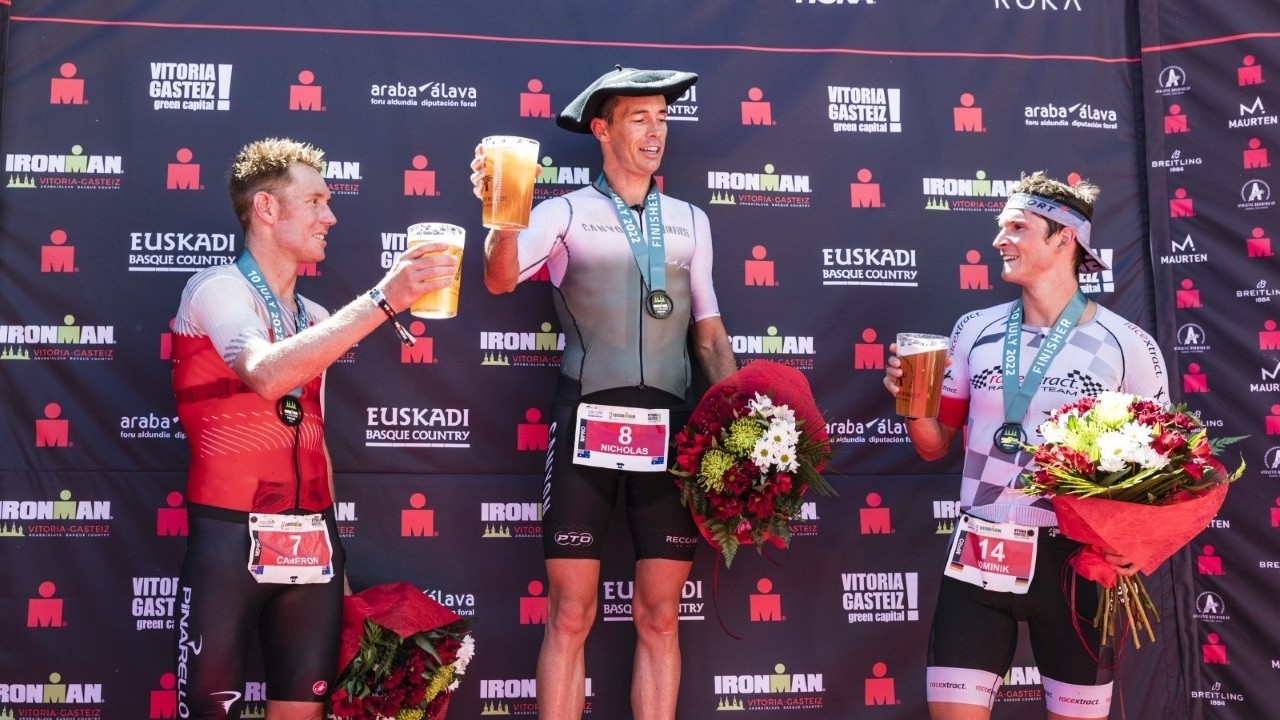 And advice from his triathlon coach Tim Kerrison proved crucial: "Tim is no longer working with the cycling team but he's still guiding me and he'd done some research on cooling and gave me a pretty amazing tip just before the start which I think really helped bring me back in that last part of the race."
Highest level in both sports
And it was clear in his post-race interview just how much the achievement had meant to him.
He explained: "It feels really special to be honest because it's been tougher than I expected to try and balance both sports.
"It was a dream to do both sports at the highest level and I finally genuinely feel like I'm doing that. I've made it to Kona for the World Championship and I've raced – and my team won – Paris-Roubaix this year, the biggest one-day race in cycling."
The focus now returns to cycling – an INEOS training camp in Andorra with Richie Porte among others – but all the while, Wurf will be building up towards Hawaii.
He added: "I just can't wait to go back home and really get the training in. Really work on that run and keep improving the swim and bring my best to Kona."
Aussie double act
And Wurf was quick to pay tribute to the man who beat him, with Kastelein's victory an emotional one following his comeback from serious injury.
Writing on Instagram Wurf had said: "Couldn't imagine anyone I'd be happier to be beaten by in an IRONMAN by 38 seconds."
Expanding on that, he added: "Nick's a great athlete and has been for a very long time. I raced him in IRONMAN Switzerland back in 2017 and I never even saw him all day – he led the swim, same on the bike and won the race and he looked like he'd really kick on and be one of the big guys in the sport.
"And this was a very classy performance by him and as a fellow Aussie it's really great to see him back at the top and performing like that.
"I know he's had a really tough few years and has worked really hard this year and I'm really happy to be on the podium with him and to qualify for Kona alongside him is really special."